These super easy Apple Cream Cheese Danishes get a little help from pre-made puff pastry and are filled with a sweet cream cheese layer and homemade apple pie filling! This recipe is perfect for breakfast, brunch, or even dessert!
Golden, flaky pastry combines with simple homemade fillings to create these Apple Cream Cheese Danishes that will impress! Based off of our Strawberries and Cream Danishes, these also get a little help from store-bought puff pastry.
You could take the time to make your own, but there is no judgement here if you just run out to the store and buy it! Sometimes easy is the way to go!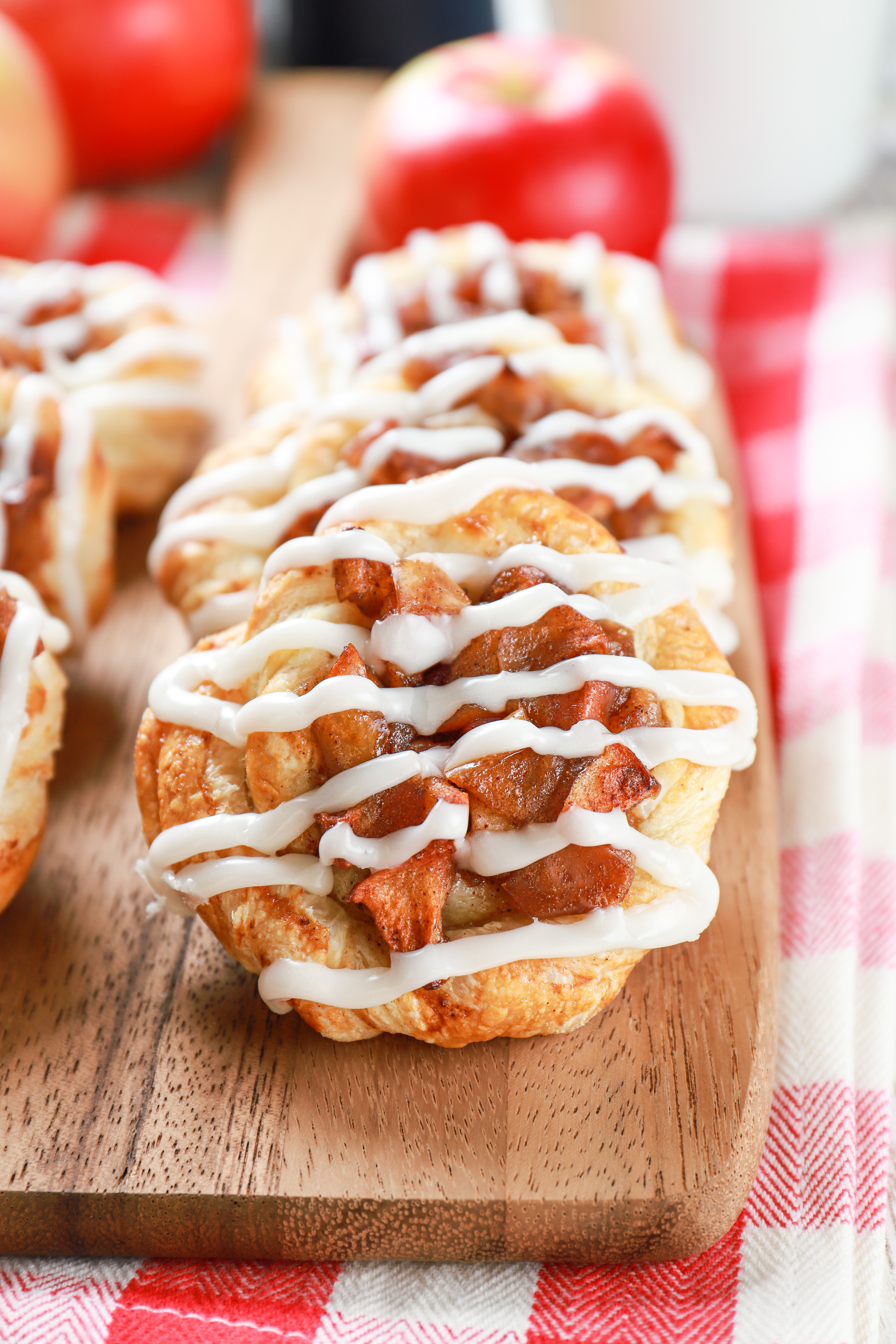 A quick homemade apple pie filling made with tart, fall apples and cozy spices is the star of these danishes and makes the house smell amazing for the remainder of the day!
I used in-season Zestar apples, and their sweet/tart flavor and firm texture worked well for a flavorful filling.
The creaminess of the sweetened cream cheese layer combined with the slight crunch of the flaky pastry is a perfect combination of textures.
Topping them off is a simple confectioner's sugar glaze that ties everything together and makes the danishes completely irresistible!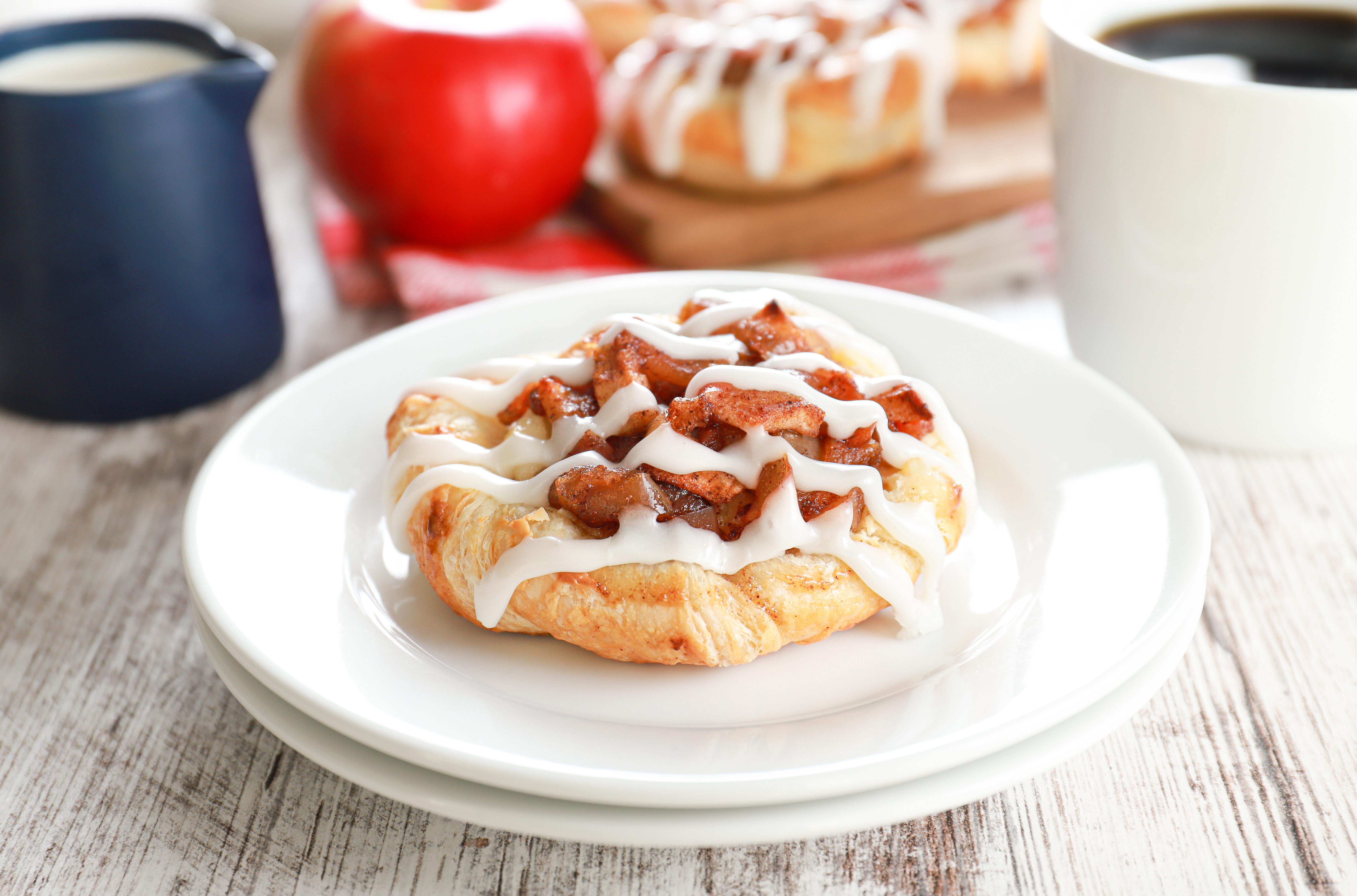 How to Make Apple Cream Cheese Danishes
The long list of instructions may seem daunting at first. Don't let them fool you! The steps are really quite simple.
You first make your apple pie filling by simmering the ingredients together until thickened. Then you set it aside to cool.
Next you stir together the cream cheese, sugar and vanilla extract until well-combined for the cream cheese layer.
The puff pastry is then rolled out and cut into strips. These strips are then twisted and coiled into a spiral.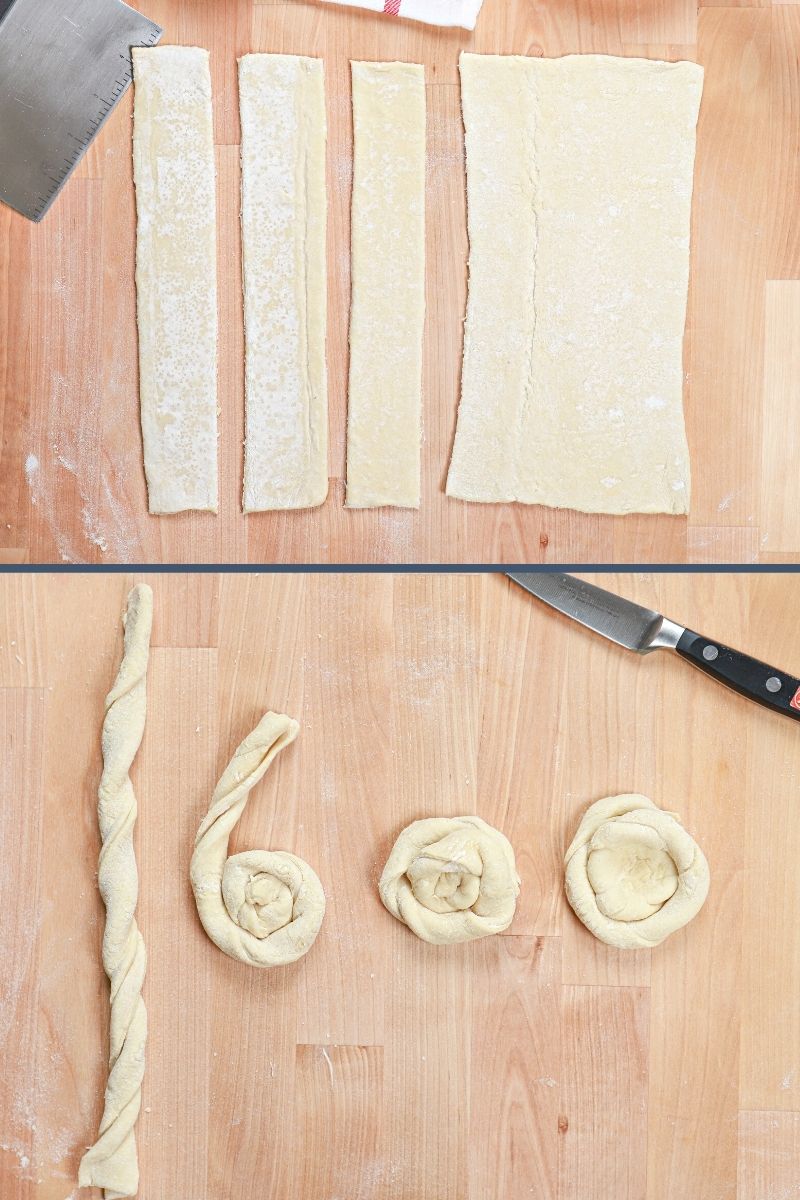 One of the most important steps of the recipe is pressing down to create a well in the center and scoring the center of your puff pastry spirals.
Take a knife and cut about 1/4 inch deep into the dough all around the center well that you created.
Then cut a few marks in the center area. This keeps the pastry from rising in the middle and spilling all of your filling out onto the pan.
Fill your spirals with your fillings and bake.
Make an optional glaze by stirring together some confectioner's sugar and half and half until smooth and drizzling over the slightly cooled pastries.
Allow the glaze to harden, and dig in!
Tips for Making Apple Cream Cheese Danishes
Make sure your puff pastry is completely thawed. Also, make sure your puff pastry isn't too warm that it's sticky. Follow the instructions on the package for optimal performance.
If you don't have all of the individual spices listed, you can substitute 1 teaspoon apple pie spice for them.
Allow your apple pie filling to cool before using. If it is still hot, it won't set up when baking. You'll end up with more apple pie filling on your pan than in your danishes. 🙂
Don't forget to press down and score the center of the pastry before filling it. If you don't, the center will puff and your filling will run out all over your pan.
You can make the apple pie filling ahead of time. Just store it in the refrigerator, and pull it out when you pull your puff pastry out to thaw. You want to make sure that the filling is room temperature by the time you go to use it. You could also use store bought apple pie filling, if you don't have time. Just try not to use too much of the liquid and cut the apple slices into small pieces.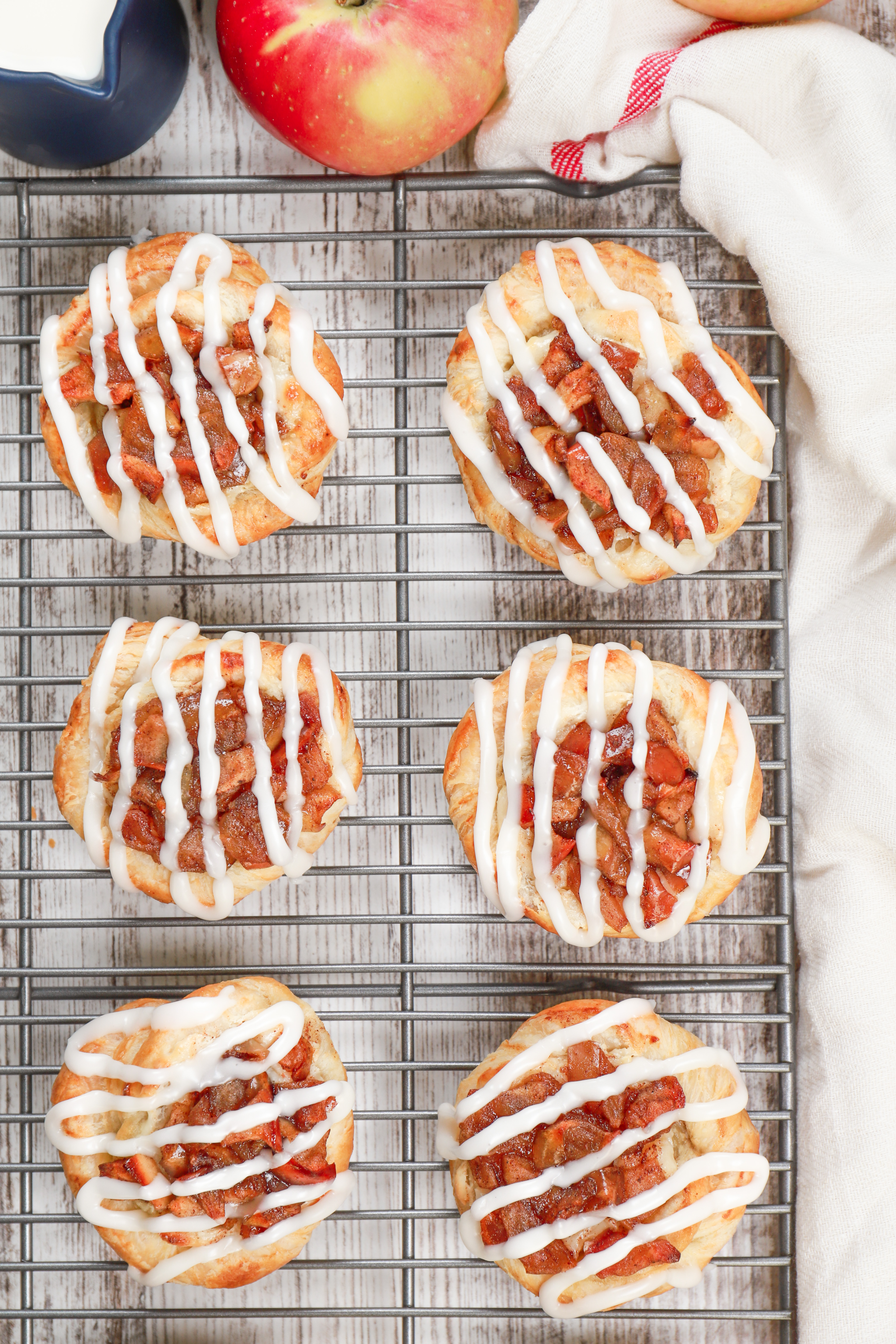 Love making danishes? More easy danish recipes to try!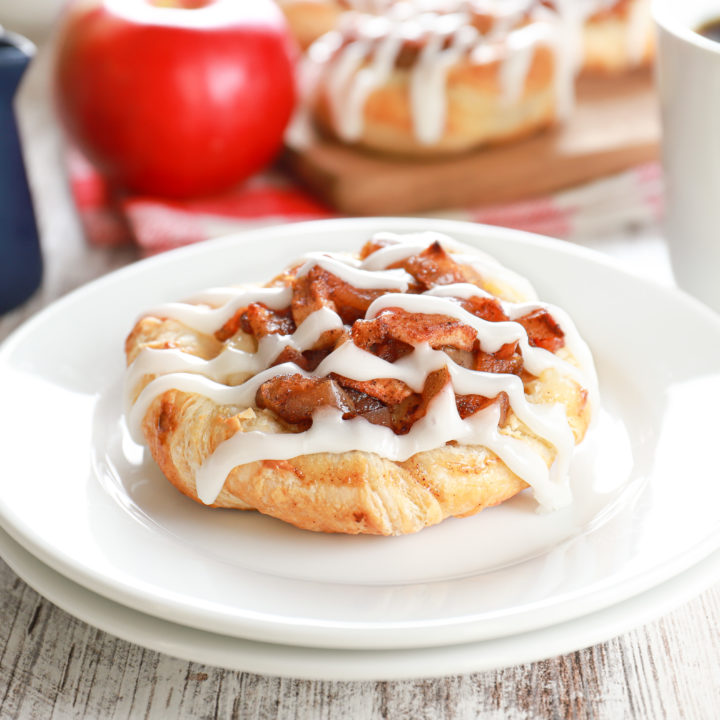 Apple Cream Cheese Danishes
Yield: 12 danishes

Prep Time: 45 minutes

Bake Time: 20 minutes

Total Time: 1 hour 5 minutes

These super easy Apple Cream Cheese Danishes get a little help from pre-made puff pastry and are filled with a sweet cream cheese layer and homemade apple pie filling!
Ingredients
For the Apple Pie Filling
1 1/2 Cups chopped baking apples
2 Tablespoons brown sugar
2 Tablespoons sugar
1/2 teaspoon cinnamon**
1/4 teaspoon nutmeg**
1/8 teaspoon allspice**
1/8 teaspoon cloves**
1/8 teaspoon cardamom**
For the Cream Cheese Layer
4 ounces cream cheese, softened
2 Tablespoons sugar
1 teaspoon vanilla extract
For the Danish
2 sheets puff pastry, thawed
1 egg
1 Tablespoon water
For the Glaze, optional
3/4 Cup confectioner's sugar
3-5 teaspoons half and half or milk
Instructions
Combine chopped apples, brown sugar, and sugar in a small saucepan over medium heat. Bring mixture to a boil. Reduce heat to medium-low, and allow to simmer for 15-20 minutes or until apples soften and mixture thickens. Remove from heat, and stir in cinnamon, nutmeg, allspice, cloves, and cardamom. Allow to cool.
Stir together cream cheese, sugar, and vanilla extract until well-combined. Set aside.
Preheat oven to 400 degrees Fahrenheit. Line a baking sheet with parchment paper or a silicone baking mat.
Place sheets of puff pastry on a lightly floured surface and roll sheets out so that the length of the sheets is 10-12 inches long. (If the sheets have cracks in them, sprinkle cracks with a bit of water. Then roll out the sheets of puff pastry with a rolling pin to even out the cracks.) Cut 6 strips lengthwise per sheet. Take each strip and gently twist. Take each twist and coil it into a spiral. Tuck the end piece under the spiral. Press down the center of the pastry leaving about 1/4 inch all around on the sides.
Score the pressed down center with a knife. Poke a few holes in the center with fork or knife. This will keep the center from rising too much and making the filling fall out. Place on prepared baking sheet.
Fill each center with about 1 Tablespoon of cream cheese mixture. Top with a heaping Tablespoon of apple pie filling.
Whisk together egg and water. Brush edges of danishes with egg wash.
Bake for 20-25 minutes, or until edges are golden brown.
Remove to a wire rack to cool slightly.
While danishes are cooling, whisk together confectioner's sugar and half and half for optional glaze. Drizzle over slightly cooled danishes.
Allow glaze to set, and serve.
Store leftovers in the refrigerator for optimal freshness. Remove, and allow to come to room temperature before serving.
Notes
**If you don't have all of the individual spices, you can substitute 1/2 to 1 teaspoon apple pie spice for them.
Recommended Products
As an Amazon Associate and member of other affiliate programs, I earn from qualifying purchases.
Nutrition Information:
Yield: 12 Serving Size: 1
Amount Per Serving: Calories: 138Total Fat: 6gSaturated Fat: 3gTrans Fat: 0gUnsaturated Fat: 3gCholesterol: 27mgSodium: 59mgCarbohydrates: 19gFiber: 1gSugar: 16gProtein: 2g

Nutrition information shown is an estimate provided by an online calculator and may not always be accurate. Nutrition values can vary greatly based on brand used. It should not be considered a substitute for a medical professional's advice.