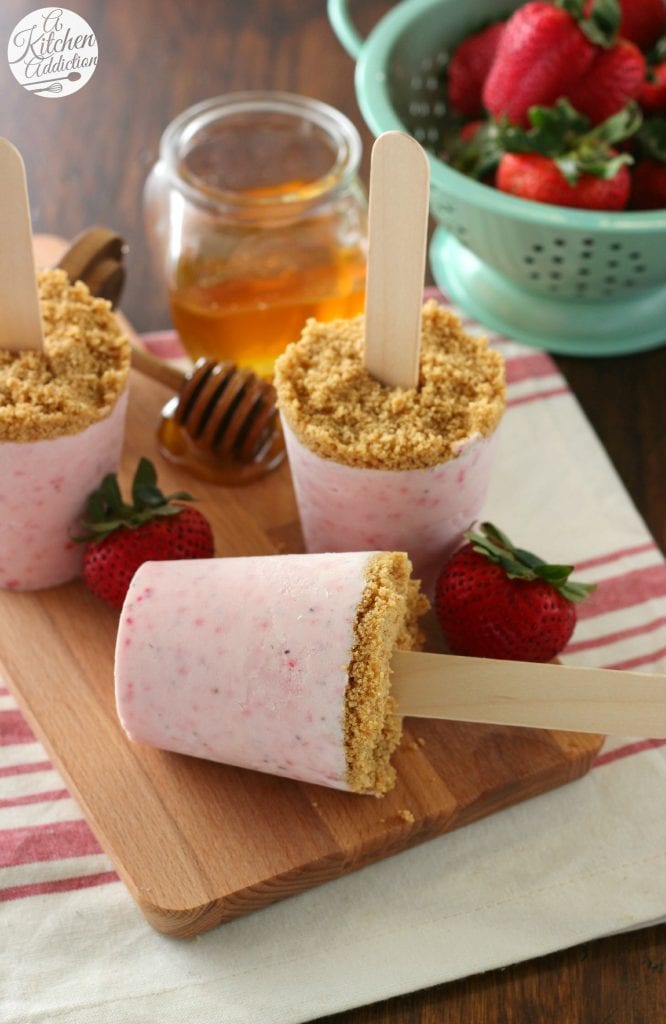 This is a sponsored conversation written by me on behalf of Yulu. The opinions and text are all mine.
They say that it's spring and that summer is just a month and a half away. Well, yesterday it was in the 30's when I got up and the day before that it barely got into the 50's! That is not spring weather. Definitely not summer weather.
But somehow, all this cold weather isn't stopping me from pretending like there's warm weather and making all kinds of warm weather recipes! Ice cream, no-bake deserts, yogurt pops. . .they're all coming out of my kitchen.
It didn't take long for these strawberry cheesecake yogurt pops to disappear even if it did involve turning the heat back on and wrapping up in a fleece blanket!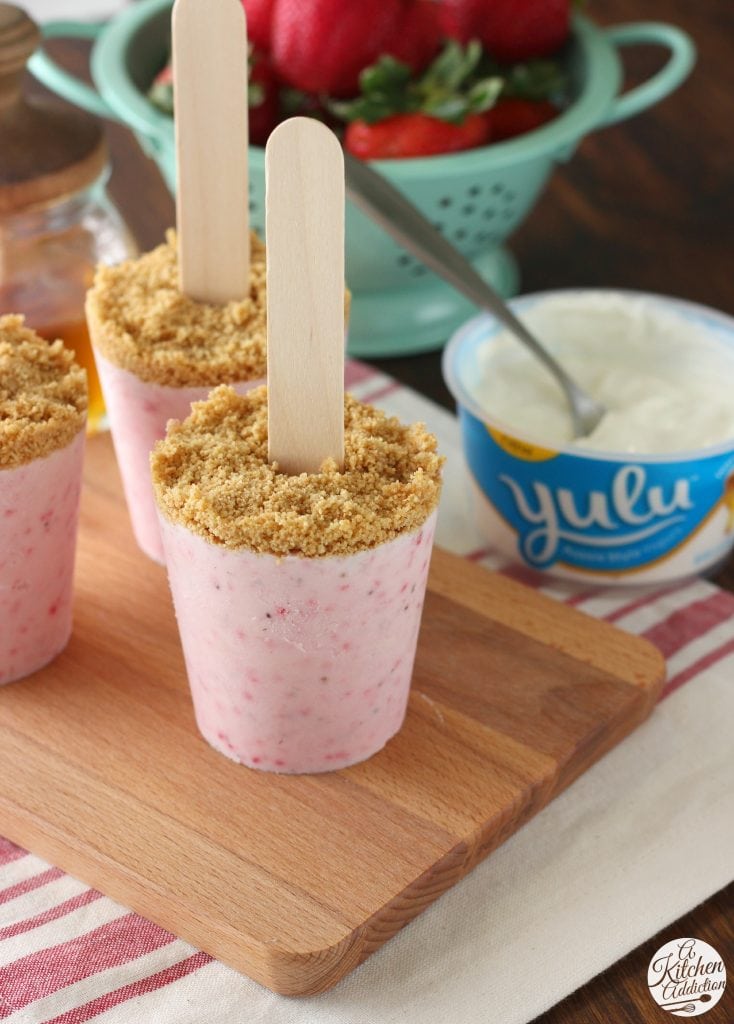 We just couldn't resist the creamy, sweet yogurt pops that were sweetened with honey and packed with fresh strawberries.
The yogurt pops are extra creamy thanks to Yulu yogurt. Ever since tasting Yulu yogurt, I've been hooked.
If you haven't tried it yet, Yulu is an Aussie-Style yogurt that is smoothed twice for extra creaminess and is made with only honest ingredients. They even pack it in a clear cup so you can see exactly what you're getting.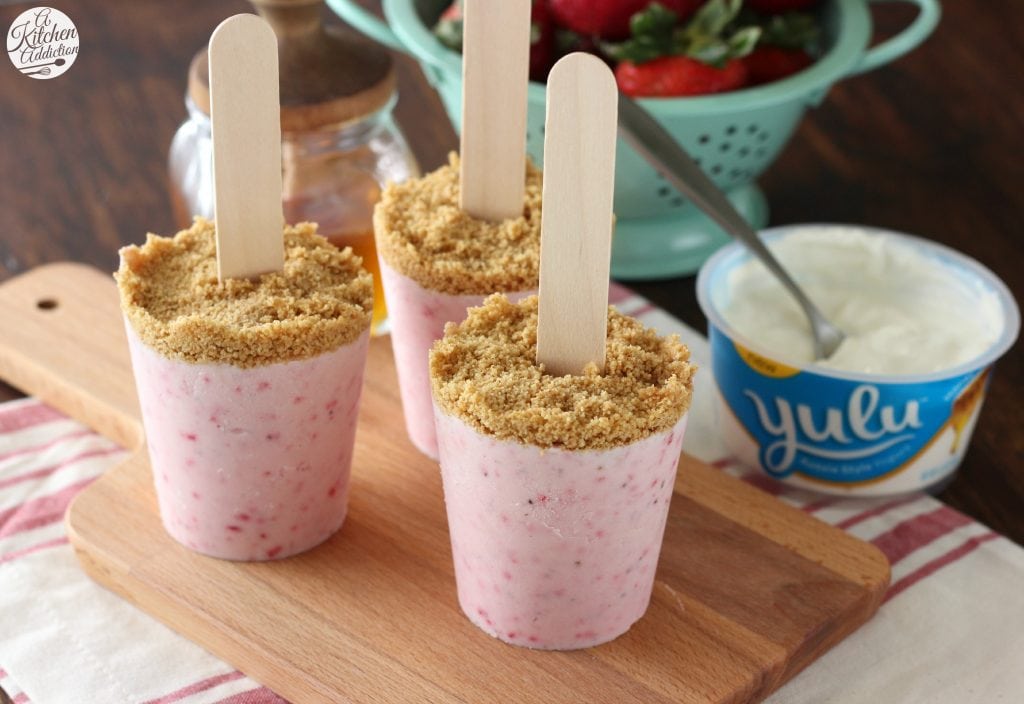 It's luxurious texture made it a perfect choice for these yogurt pops. Even after the mixture was frozen, the texture was still smooth and creamy.
And while all of those attributes make it great enough, Yulu yogurt also packs in 9 grams of protein per serving! You can enjoy a cool treat while also getting nourishing benefits!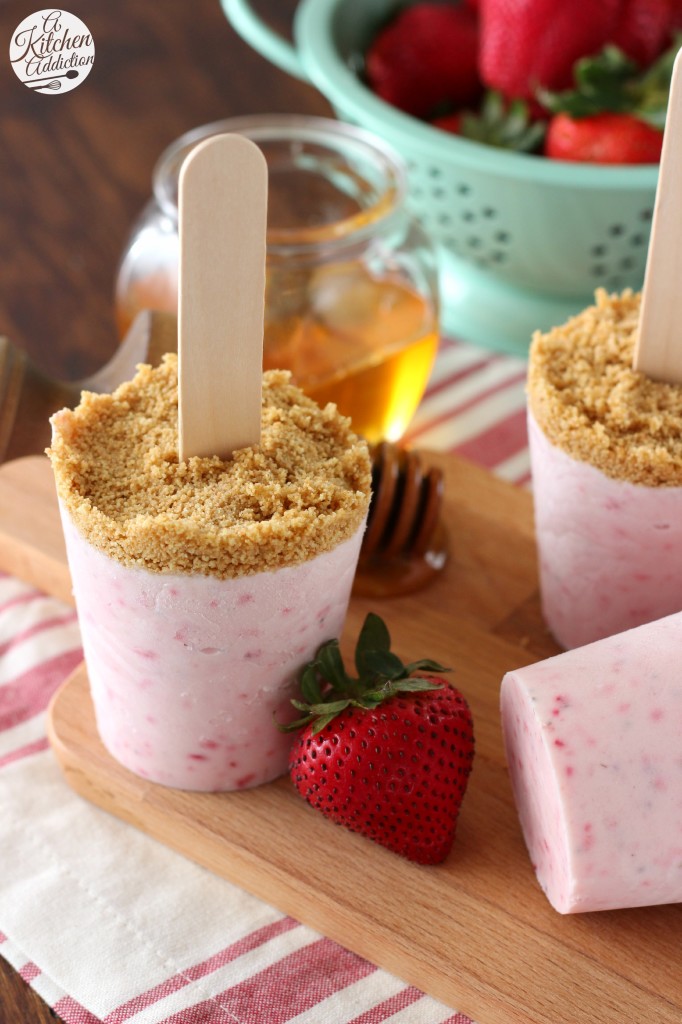 So while it may not be warm yet, I know exactly how I plan on staying cool this summer in the midst of our busy schedules.
Strawberry cheesecake yogurt pops for snack, strawberry cheesecake yogurt pops for dessert, strawberry cheesecake yogurt pops for breakfast. . .you get the picture!
Once you get a taste of these, you'll be thinking the same thing. When the warm weather finally comes, we'll be ready with a stash of these yogurt pops in our freezer!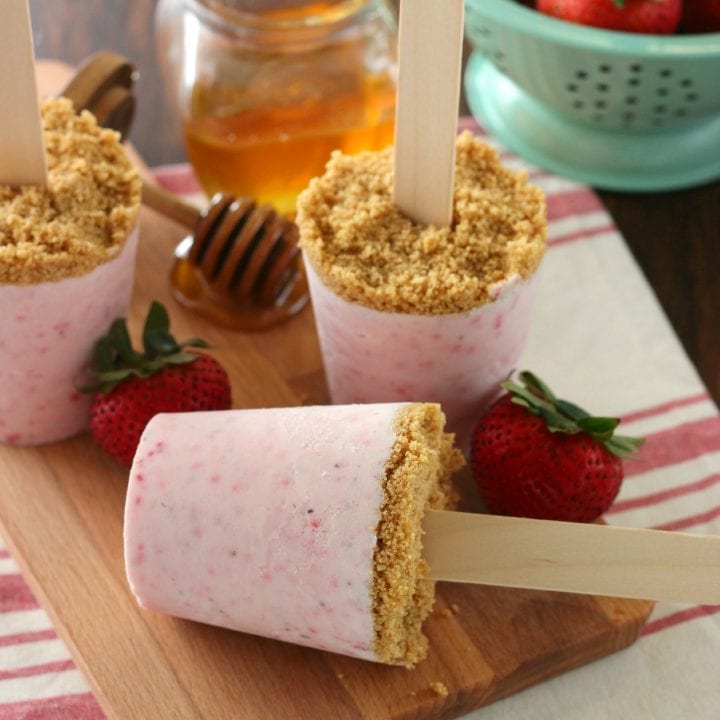 Strawberry Cheesecake Yogurt Pops
Yield:
4-6 pops depending on size
Total Time:
4 hours
10 minutes
Ingredients
1 C Yulu Honey Yogurt or other brand of honey yogurt (Vanilla yogurt can also be used)
8 oz 1/3 of the fat cream cheese, softened
6 tbsp honey
2 tsp vanilla extract
2 C strawberries, chopped
4 graham crackers, crushed
2 tbsp butter, melted
Instructions
In a food processor, pulse the yogurt and cream cheese together until smooth. Add in the honey, vanilla extract, and strawberries. Pulse until strawberries are almost pureed.
Evenly divide mixture into paper cups. (I used 8 oz cups, but you could use smaller cups if you are making these for children.)
Stir together crushed graham crackers and butter. Top filling with graham cracker mixture. Stick a popsicle stick in the center of each cup.
Freeze for 4 hours or until firm.
Recommended Products
As an Amazon Associate and member of other affiliate programs, I earn from qualifying purchases.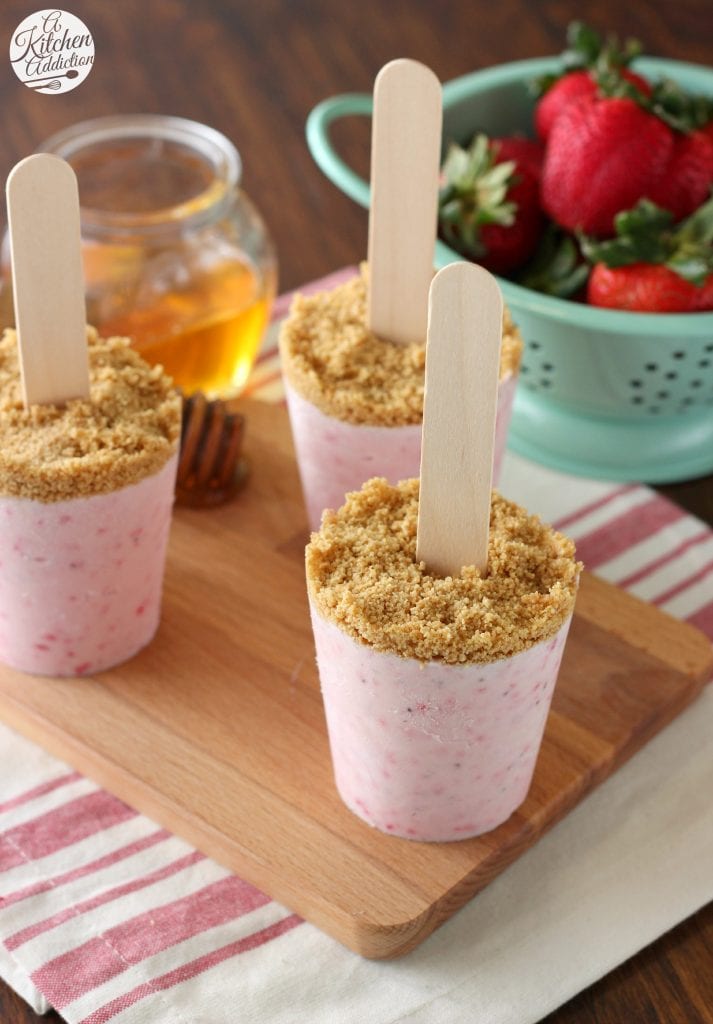 This is a sponsored conversation written by me on behalf of Yulu. The opinions and text are all mine.