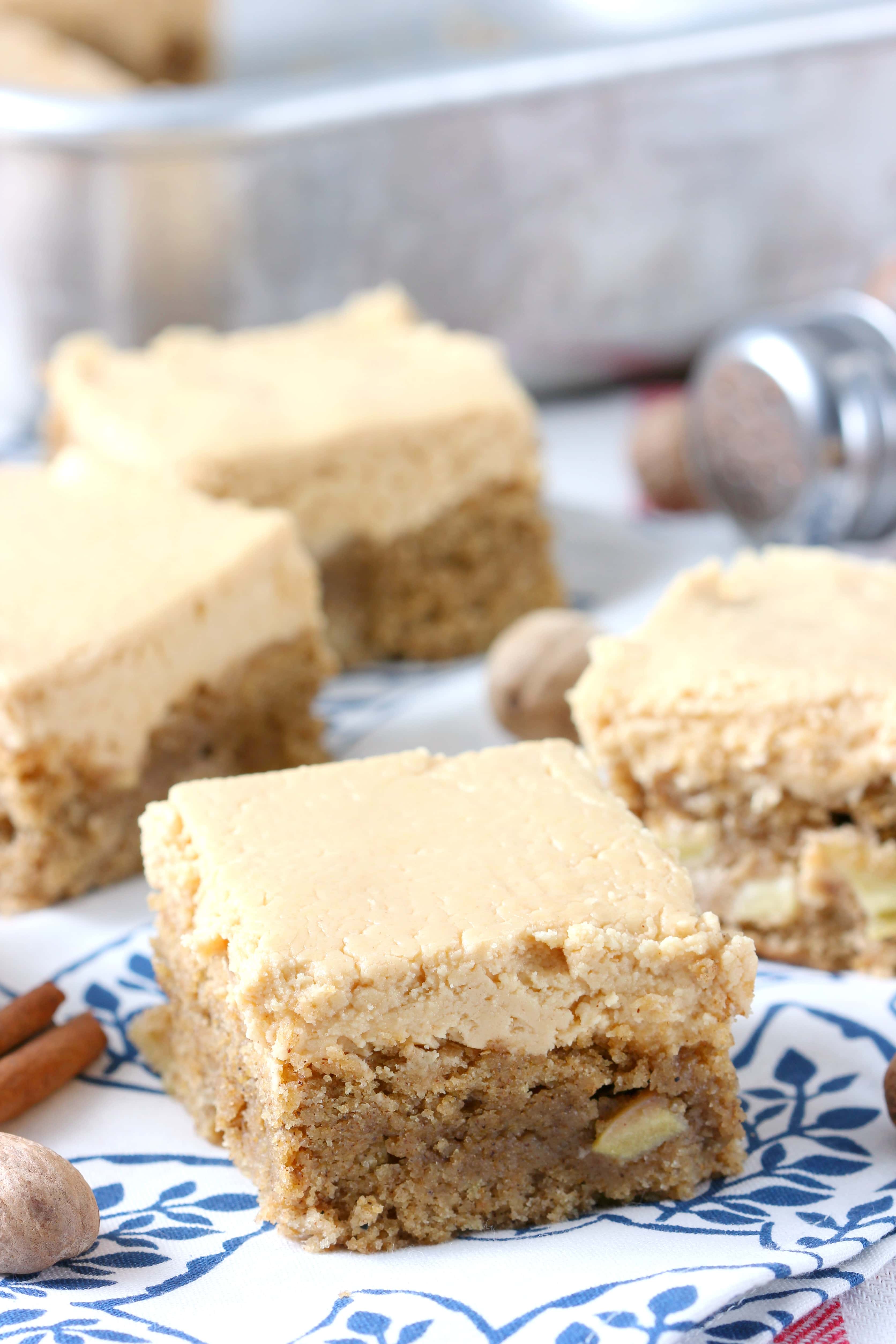 It's been a weird summer around here. For the first time in a few years, I'm actually not thinking about pumpkin. I'm still clinging to summer berries, sunshine, and warm evenings. But the other day I opened my container of allspice for these spiced apple bars. And, suddenly, I could imagine cool mornings, sweaters, and pumpkins!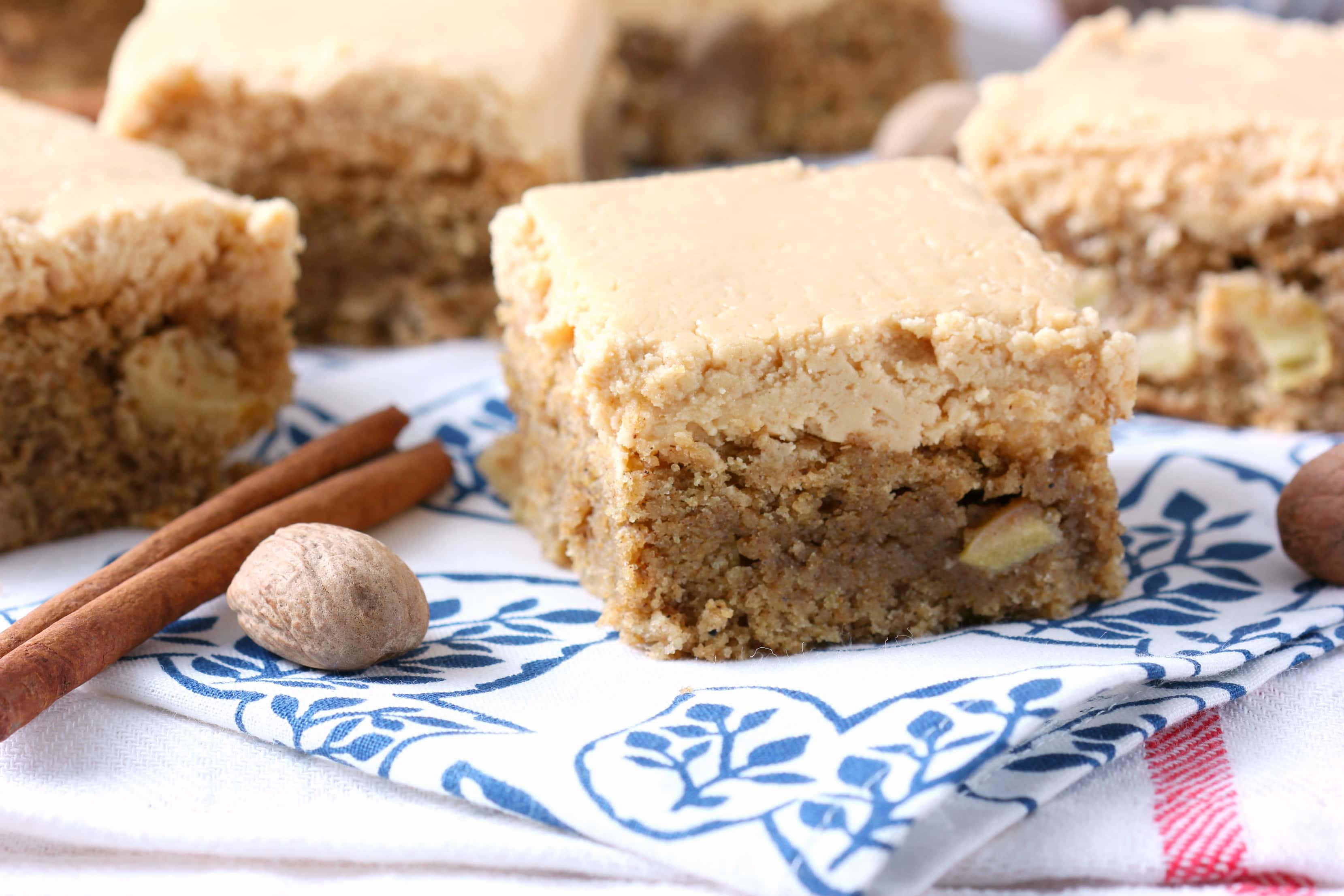 Though I'm still trying to find as many ways as possible to enjoy summer, I'm slowly easing into the thought that fall is right around the corner. Having a pan of these spiced apple bars around complete with a rich peanut butter frosting has definitely helped with the excitement of fall!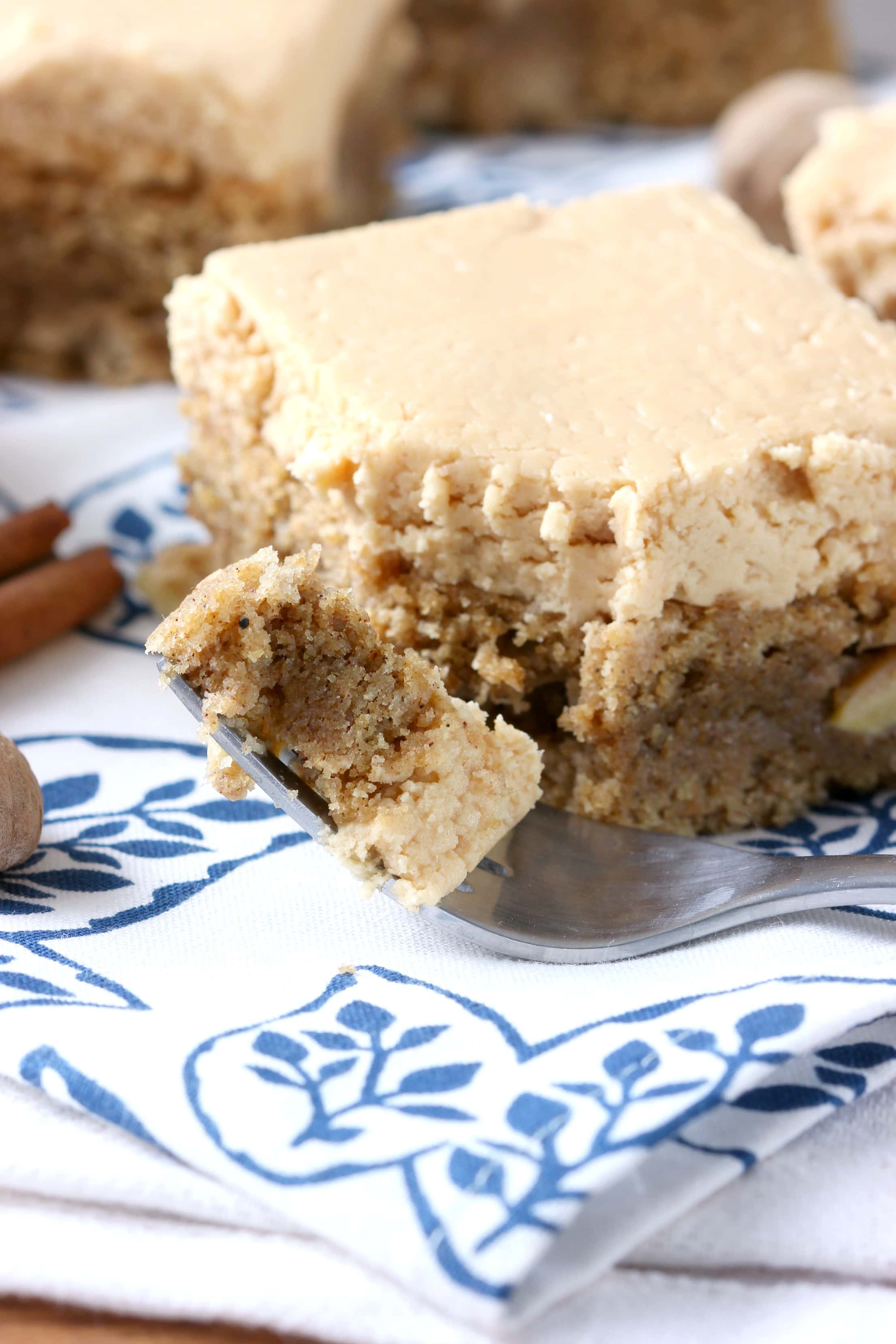 I love the flavor of fall apples, and can't wait to hit up the orchards as soon as they open! Another batch of these bars will definitely be making an appearance. Cinnamon, nutmeg, allspice, cloves, and a pinch of cardamom make these apple bars irresistible. Then there's the peanut butter buttercream frosting. Rich, creamy and good enough to eat on its own. Just make sure to save a little to top off the bars!
Spiced Apple Bars with Peanut Butter Buttercream
Author:
Ingredients
For the Bars
1/2 C butter, softened
1/2 C brown sugar
1/4 C sugar
2 eggs
2 tbsp milk
1 tsp vanilla extract
2 C white whole wheat flour or all-purpose flour
1/2 tsp baking soda
1/4 tsp baking powder
1/4 tsp salt
1 tsp cinnamon
1/2 tsp nutmeg
1/4 tsp allspice
1/4 tsp cloves
1/8 tsp cardamom
1 C finely chopped apples
For the Buttercream
1/2 C creamy peanut butter
1/4 C butter, softened
2 C confectioner's sugar
3 tbsp milk
1 tsp vanilla extract
Instructions
Preheat oven to 350. Spray a 9×9 inch baking dish with non-stick cooking spray.
In the bowl of a stand mixer, or with an electric mixer, cream together butter and sugars. Beat in eggs, milk, and vanilla extract until creamy.
In a separate bowl, whisk together flour, baking soda, baking powder, salt, and spices. Add dry ingredients to wet ingredients and beat until combined. Stir in chopped apples.
Spread batter into prepared baking dish. Bake for 15-20 minutes or until bars start to turn light golden brown or a toothpick inserted in the center comes out mostly clean. Do not overbake.
Remove to a wire rack to cool. While bars are cooling, prepare frosting. Beat together peanut butter and butter. Slowly beat in confectioner's sugar, milk, and vanilla extract.
Spread frosting over cooled bars, cut into pieces, and serve.