It's hard to believe that the first day of fall is tomorrow! But with all the things I will miss about summer, there is one major one that I won't. . .the heat! It was so hot this summer! Because of sustained 100 degree days that barely got into the 80's at night, I spent way more time on the treadmill than I desired! I much prefer being outside, so I am really excited about the cooler weather that is moving in now.
Speaking of cooler weather, this past Saturday we ran a 5K in our neighborhood that supported families affected by Spinal Muscular Atrophy. Well, Saturday was the day that the weather decided to finally cool off. And by cool off, I mean it was 44 degrees at 7! Welcome fall! 🙂 Yeah, it took a little longer to warm up those muscles!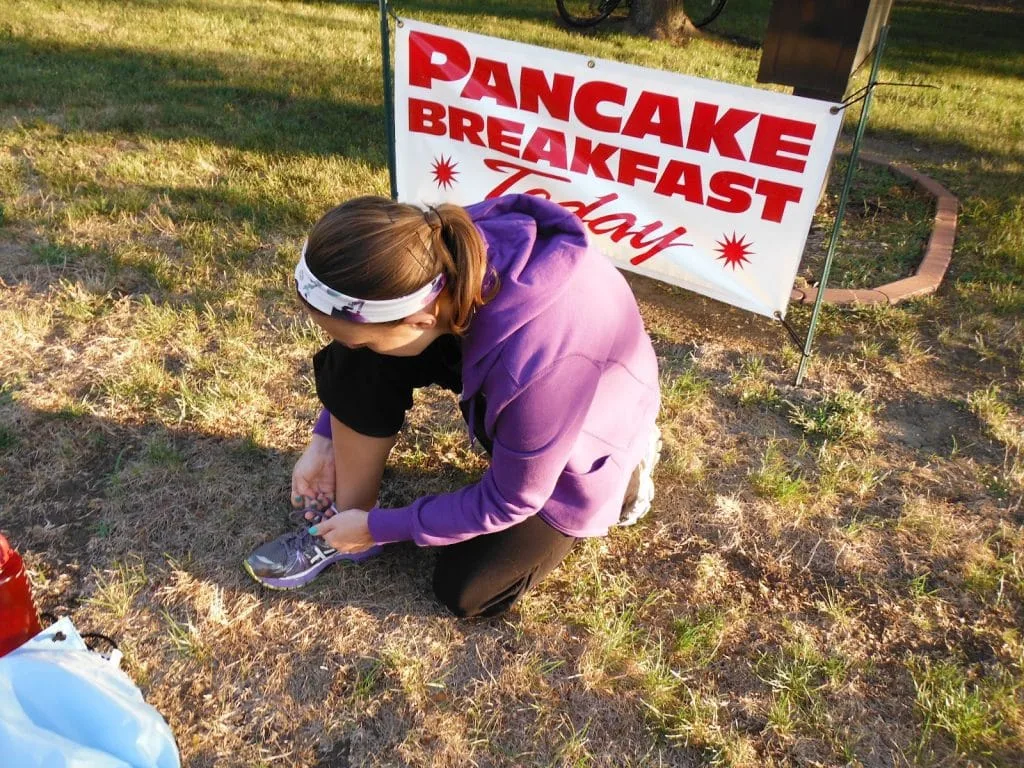 Notice the pants and sweatshirt. . .and the multiple bobby pins along with a headband! Yes, I really need all of that to keep my hair from flying all over the place. That's what you get for having fine hair!
This race was part of our neighborhood's fall festival that they hold each year. We live in the Beaverdale Neighborhood Association. Can you guess what our mascot is? (Yes, we actually have a mascot!)
Yep, Dale the Beaver! He was out bright and early helping runners get ready for the race. Don't you just love small Midwest towns?!
The race ended up being not that great for me. As you can tell by the look on my face! (At least I now know why my eyes were so puffy and my face looked bruised!) Remember how I mentioned that I'm sick? Well, I was sick then, but I didn't realize to what extent. Just a note of warning. . .don't run when you have Strep B and a fever, it may or may not end up with a couple of bouts of dry heaving when you enter the chute. 🙁 But my husband looks great, so we can just forget that I'm in the picture!
Here's a list of my summer favorites:
Shorts
Source: Nike Store
I don't know about you, but built in underwear just isn't my thing. It's always too big and bunchy. . .which doesn't make for the most comfortable runs! So, I tend to look for shorts that have compression shorts built in. My favorites this summer were Nike's Phantom Training Shorts. Not only are they comfortable but they come in lots of colors! (Since we all know that is an important aspect of running clothes!)
Shoes
Source: Running Warehouse

Asics Gel Kayano 18
Since I have the joints of an 80 year old, okay, not really but some days it sure feels that way. I need to have structure and cushioning. I have been running in Asics since high school track and I am excited that Asics is finally getting around to lightening their shoes. I pretty much spend most of my time in these!
Source: Running Warehouse
Asics Gel Lyte 33
Speed work-outs, short runs, and treadmill.
Headbands
Pretty sure I wore either this style or this style headband every day! I still like the Lululemon headband the best but found that the Nike double band headband works great for shorter runs and cross-training.
Watch
Source: Amazon
I still love my Garmin Forerunner 210.
I can't wait to dig out all of my comfy fall running gear! 🙂
What season is your favorite running season?