These easy, baked Pumpkin French Toast donuts have all the flavors of french toast! Complete with streusel pieces and an irresistible maple glaze!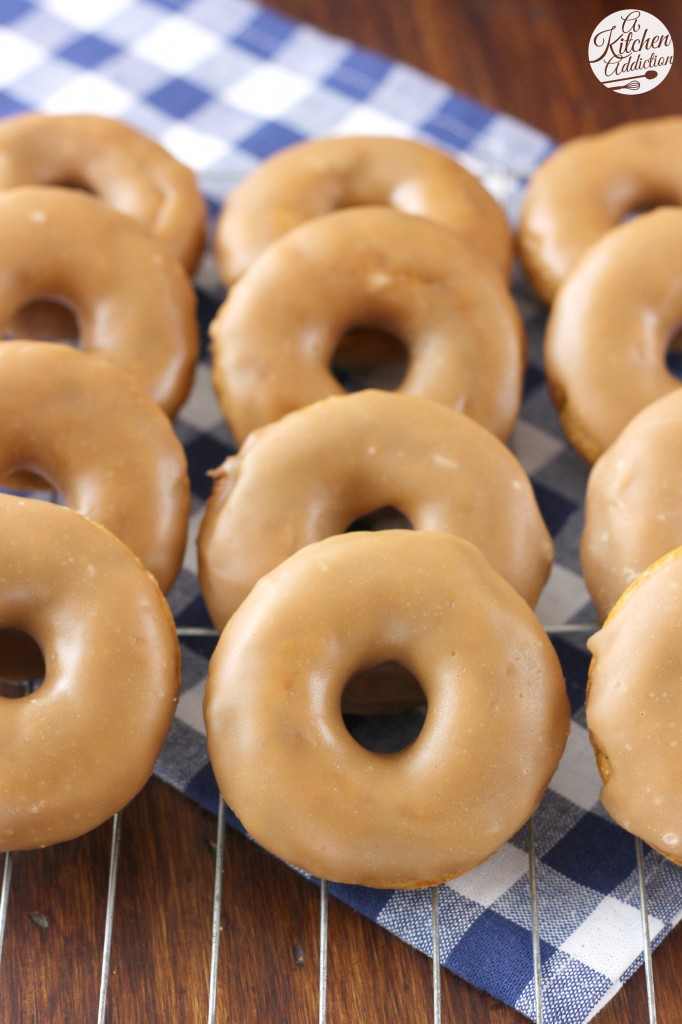 Fall has arrived! (At least for a little bit. . .) We went running in 60 degree weather yesterday and it felt so good! No instant sweating, no choking humidity. . .just crisp, cool air. Definitely excited about more cool runs ahead.
Equally exciting is the realization that my house won't heat up when the oven is on for more than 10 minutes.
That is something to celebrate! With donuts, of course!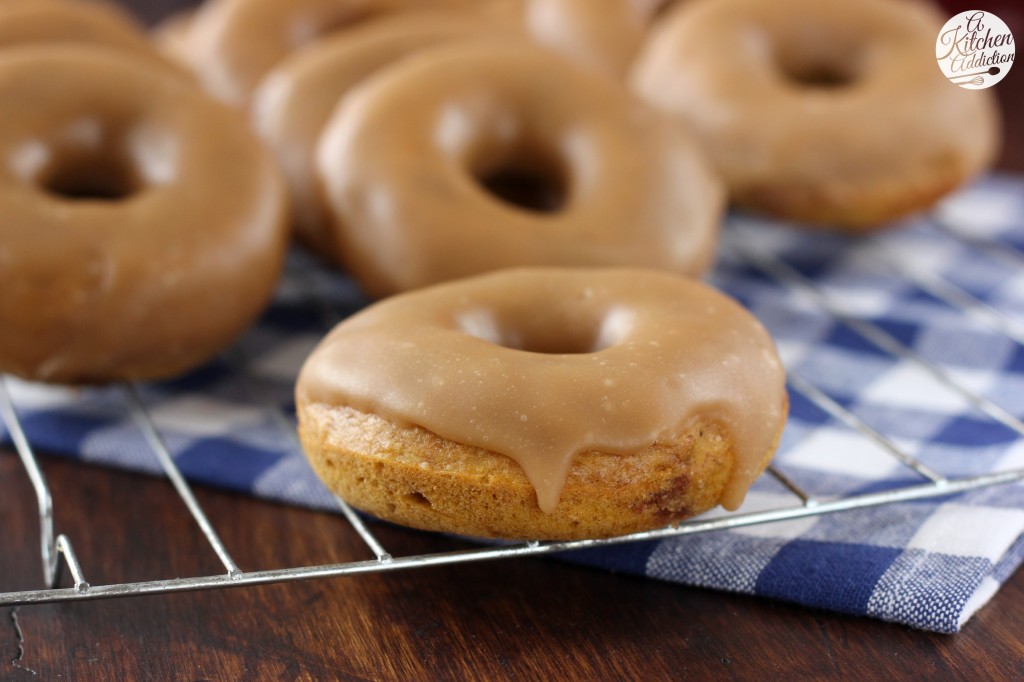 A pumpkin donut with a hint of cinnamon, nutmeg and maple, studded with brown sugar-cinnamon streusel, and topped with a light maple glaze to be exact. What's not to like?!
Pumpkin french toast donuts are the perfect way to welcome fall.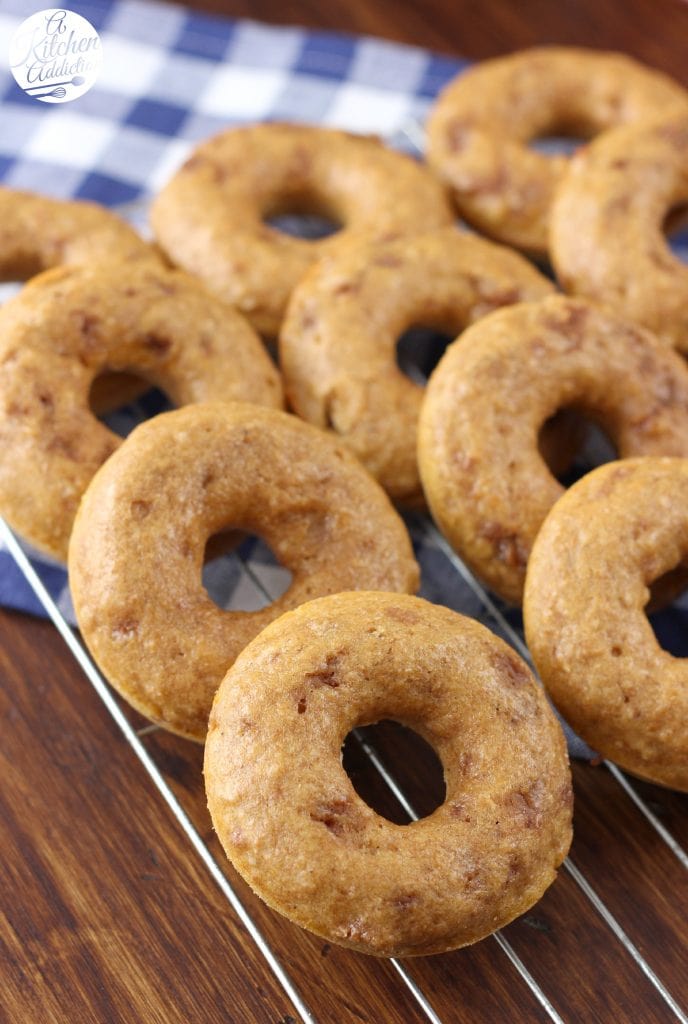 Don't be turned off by the longer list of ingredients. The streusel is worth it! It helps give the donuts the authentic french toast flavor.
The light maple glaze on top is like the syrup poured over french toast. Just the topping to finish them off! Welcome fall, celebrate the weekend, or make them just because.
Whatever your reason, these pumpkin french toast donuts are sure to make your day a little happier!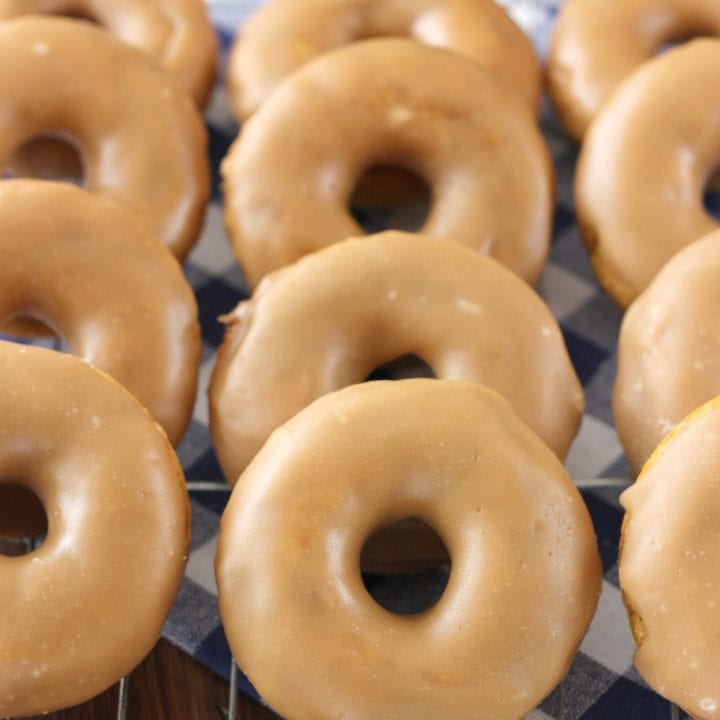 Pumpkin French Toast Donuts
These easy, baked Pumpkin French Toast donuts have all the flavors of french toast! Complete with streusel pieces and an irresistible maple glaze!
Ingredients
For the Donuts
1 C whole wheat flour
1 C all-purpose flour
1/3 C sugar
1/4 C brown sugar
2 tsp baking powder
1 tsp cinnamon
1/2 tsp nutmeg
1/4 tsp salt
1 C milk (soy milk or almond milk would work)
1/2 C pumpkin puree
2 eggs
3 tbsp butter, melted and cooled
1 tsp maple extract
1/2 tsp vanilla extract
For the Streusel Pieces
1/4 C brown sugar
3 tbsp all-purpose flour
1 tsp cinnamon
1/2 tsp nutmeg
1/8 tsp salt
3 tbsp butter, cold
For the Glaze
1/2 C brown sugar
1/4 C butter
2 tbsp milk
1/2 C confectioner's sugar
1 tsp maple extract
Instructions
Preheat oven to 350. Spray donut pan with non-stick cooking spray.
In a large bowl, whisk together flours, sugars, baking powder, cinnamon, nutmeg, and salt. Stir in milk, pumpkin, eggs, butter, and extracts until just combined.
In a small bowl, stir together all ingredients for the streusel pieces except butter. Cut in butter until mixture resembles coarse crumbs. (If you don't mind getting your hands dirty, mix the butter in with your fingers and create bigger chunks of streusel.) Stir streusel into donut batter.
Pour batter into a pastry bag or a ziploc bag with the corner cut off. Fill each donut cavity about 1/2 full.
Bake for 9-11 minutes or until edges just start to turn light golden brown. Remove to a wire rack to cool for 2 minutes before removing from pan.
While donuts are cooling, prepare glaze by melting together sugar and butter in a small saucepan over medium-low heat. Bring to a boil and allow to boil for 2 minutes. Add milk and boil for another minute. Add confectioner's sugar and maple extract and stir until smooth.
Keeping heat on low, carefully dip each donut in glaze to cover tops. You may need to stir glaze occasionally to keep it from hardening.
Allow glaze to harden before serving.
Recommended Products
As an Amazon Associate and member of other affiliate programs, I earn from qualifying purchases.
Nutrition Information:
Yield:

18
Serving Size:

1
Amount Per Serving:
Calories:

193
Total Fat:

8g
Saturated Fat:

5g
Trans Fat:

0g
Unsaturated Fat:

2g
Cholesterol:

39mg
Sodium:

172mg
Carbohydrates:

29g
Net Carbohydrates:

0g
Fiber:

1g
Sugar:

17g
Sugar Alcohols:

0g
Protein:

3g