This Pumpkin Cheesecake French Toast Bake is made with layers of pumpkin french toast that sandwich a layer of sweet cheesecake and that are topped with a crunchy streusel! Make it the night before for a fast and easy breakfast!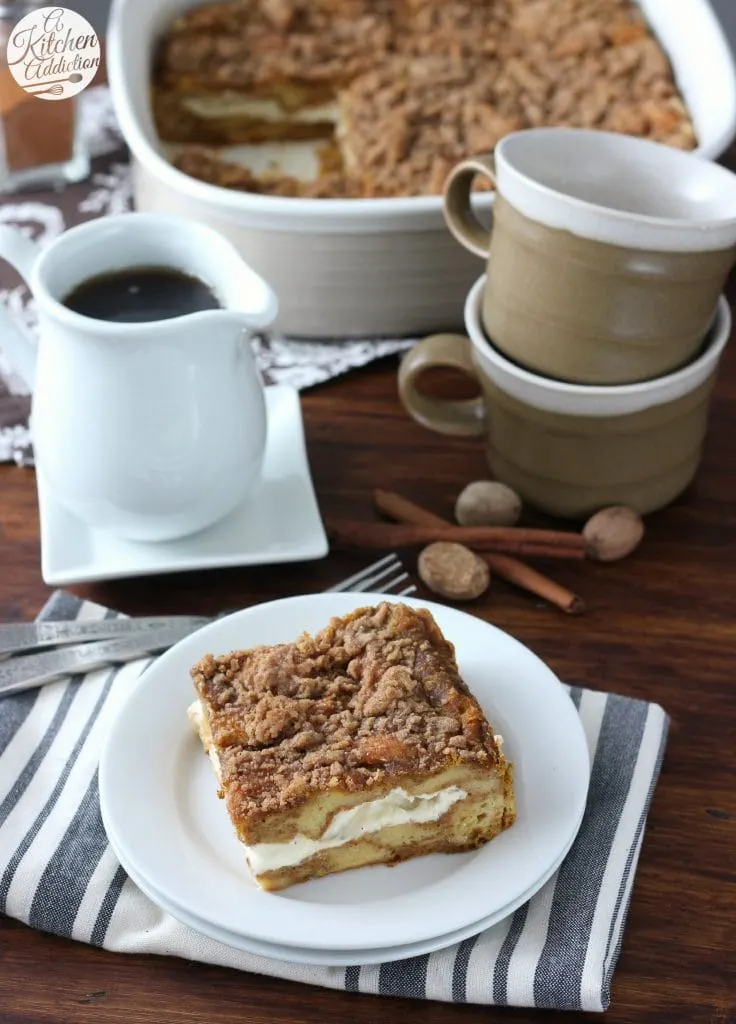 We've all heard about how breakfast is the most important meal of the day. We've also heard that it's important to start the day with a nutrient rich meal. And I wholeheartedly agree. But sometimes you just need to indulge. And when you do, you should indulge in a slice of this pumpkin cheesecake french toast bake!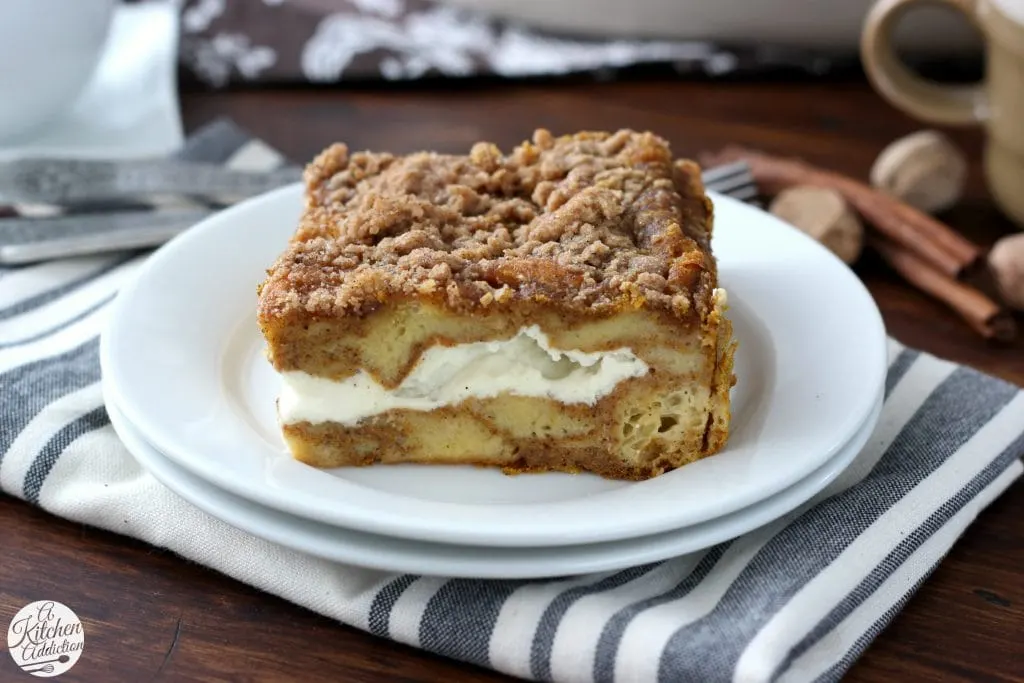 A whole cup of pumpkin and lots of pumpkin pie spices give this french toast bake a boost of fall flavor. To make the bake have even more of the flavor you expect from a stack of french toast, real maple syrup and maple extract are added.
But that's not all, sandwiched between these two layers of pumpkin french toast is a layer of sweet, creamy cheesecake.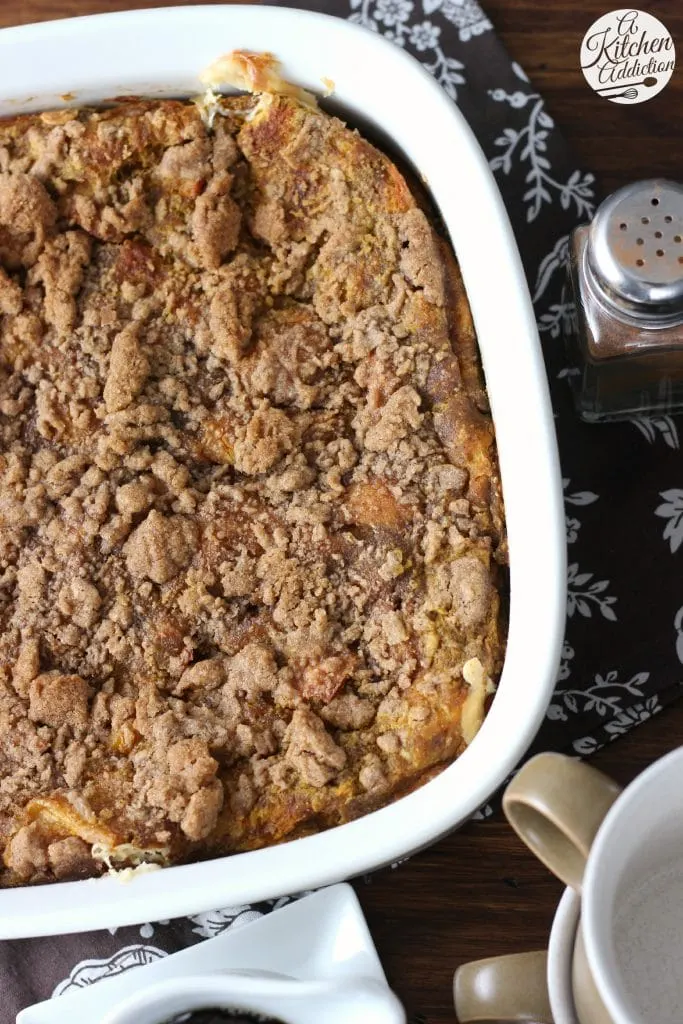 Of course, we can't forget the streusel topping. Big chunks of buttery, cinnamon-y streusel make just about anything better! This french toast bake is no different. The sweet, crunchy topping is the perfect way to finish off the bake.
And since you can make it the night before and bake it the next morning, this french toast bake allows you to enjoy for a weekday breakfast what is usually reserved for a weekend breakfast!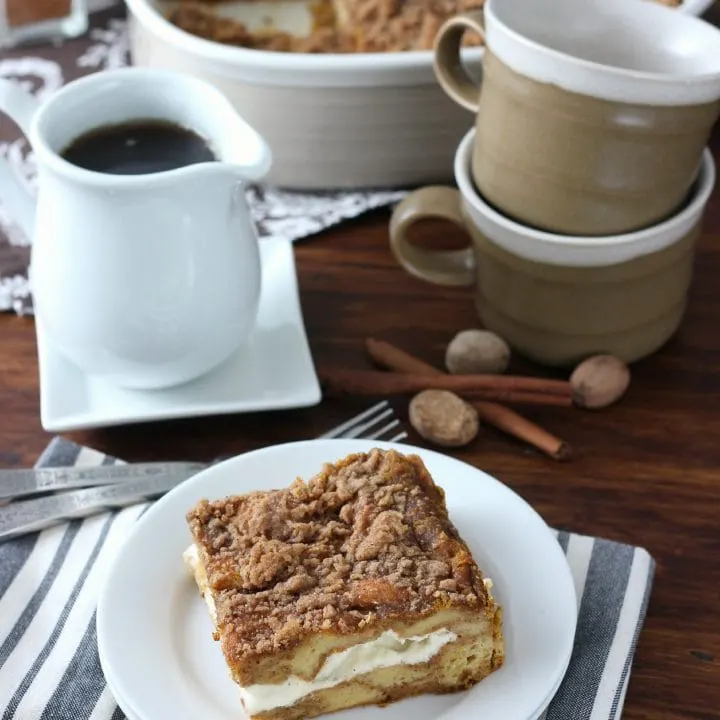 Pumpkin Cheesecake French Toast Bake
Ingredients
For the French Toast
7 C day old French bread, cubed
5 eggs
1/4 C maple syrup
1 C milk
1 C pumpkin puree (not pumpkin pie filling)
2 tsp vanilla extract
1 tbsp cinnamon
1 tsp nutmeg
1 tsp ginger
1/2 tsp allspice
For the Cheesecake Layer
8 oz cream cheese, softened
1/3 C confectioner's sugar
1/4 tsp cinnamon
1/4 tsp salt
For the Streusel Topping
2 tbsp butter, softened
2 tbsp brown sugar
2 tbsp all-purpose flour
1/2 tsp cinnamon
1/4 tsp nutmeg
1/8 tsp ginger
1/8 tsp salt
Instructions
Preheat oven to 350 degrees F. Spray an 8x8 or 9x9 inch baking dish (french toast bake pictured was made in a 9x9 inch dish) with non-stick cooking spray.
Place bread cubes in a large bowl.
In a separate large bowl, whisk together eggs, maple syrup, milk, pumpkin puree, and vanilla extract. Whisk in cinnamon, nutmeg, ginger, and allspice. Pour over cubed bread and stir to combine. Set aside.
In a medium bowl, beat together cream cheese, confectioner's sugar, cinnamon, and salt until smooth.
Pour half of bread mixture into the bottom of the prepared baking dish. Spread cream cheese filling over the top. Top with the remaining bread mixture.
In a small bowl, stir together brown sugar, flour, cinnamon, nutmeg, ginger, and salt. Cut in butter until crumbly. Sprinkle over the top.
If baking the next day, cover and place in refrigerator until ready to bake. If baking immediately, bake for 40-50 minutes or until topping browns and center is puffed. (Center will deflate as it cools)
Remove to a wire rack and allow to cool for 10 minutes before cutting into pieces and serving.
Store leftovers in the refrigerator.
Recommended Products
As an Amazon Associate and member of other affiliate programs, I earn from qualifying purchases.