Super easy to prep, this Slow Cooker Barbecue Chicken Bacon Dip is perfect to throw together for your next game day party! Just combine the ingredients and let the slow cooker do the work!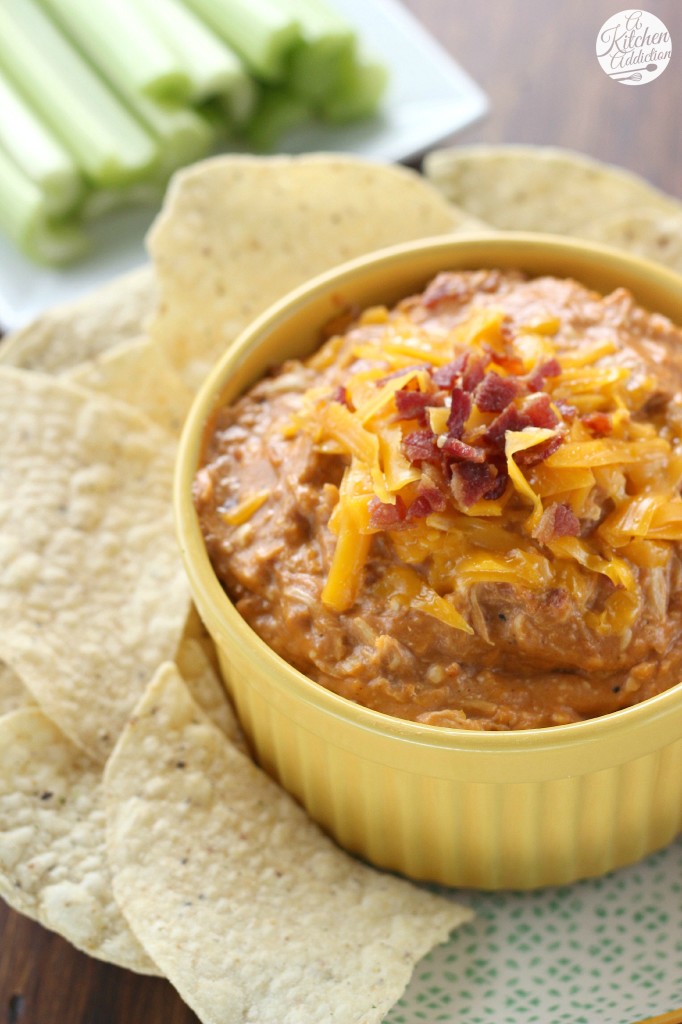 We're officially in Minnesota. Yes, I know we moved a few weeks ago, but the weather the last couple of days has cemented that fact in our minds and hands and joints and . . .I think you get the picture. It's been cold, windy, and snowy.
Call me crazy, but it really doesn't bother me. Yes, I get cold (in fact I'm sitting here right now with a big blanket and a space heater!).
I, however, love winter in Minnesota. The way the snow clings to the trees. The sparkly white yards after a fresh snow. And, since we are renting a summer vacation rental on the lake for the winter, we're also able to walk out our back door and go ice skating whenever we want! It's all worth it.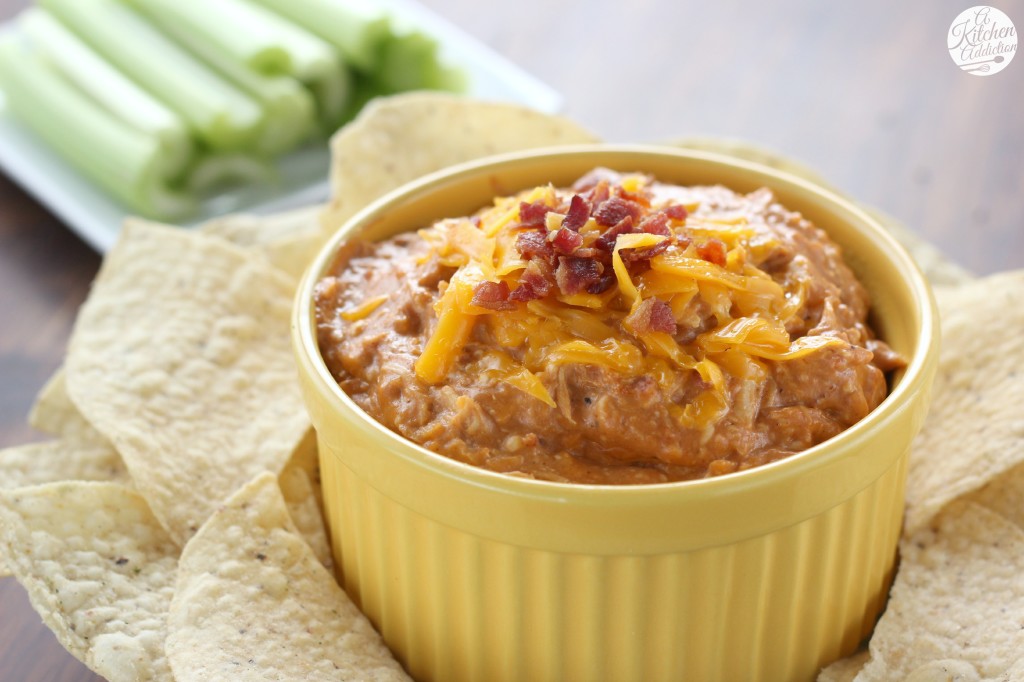 Plus, it's perfect weather for comfort food. You have to stay warm somehow! Comfort food warms you from the inside out on chilly days. This slow cooker barbecue chicken bacon dip is just that kind of food.
It can be turned into a meal or served as an appetizer at your next game day gathering! Who doesn't love a warm, cheesy dip?!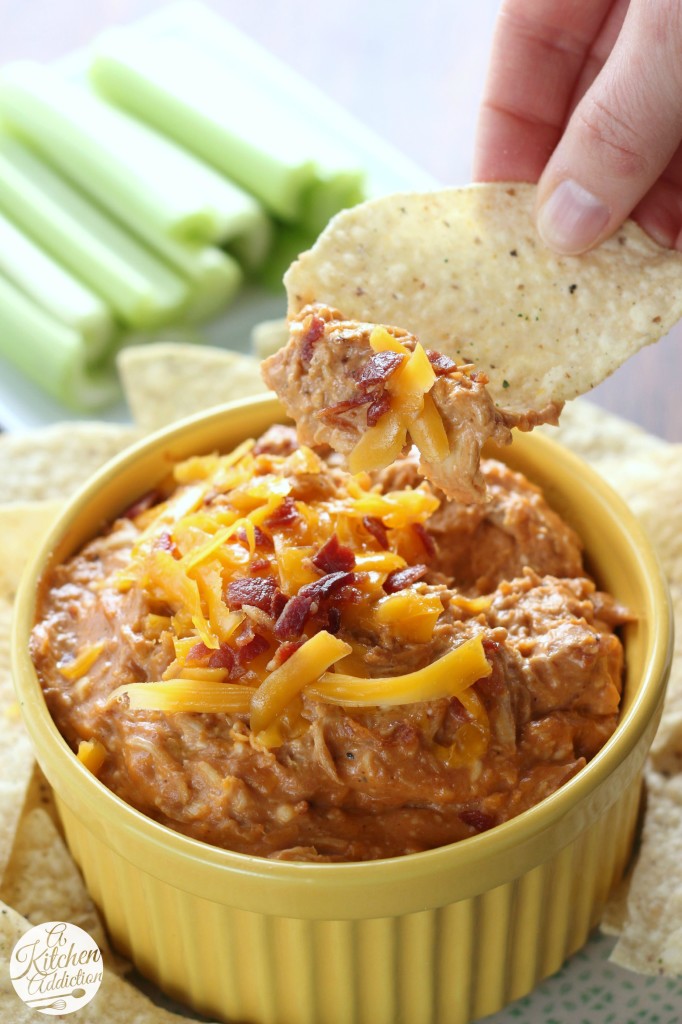 This slow cooker dip will disappear in no time. Warm, gooey cheddar cheese, rich cream cheese, tangy sour cream, and sweet & spicy barbecue sauce create the base of this tasty dip. Shredded chicken and crumbled bacon are stirred in and it's all poured in the crock pot.
Turn the slow cooker on and let it do the work. About an hour and a half later, you'll have a hot, bubbly dip ready for you to dig in with your favorite chips and veggies!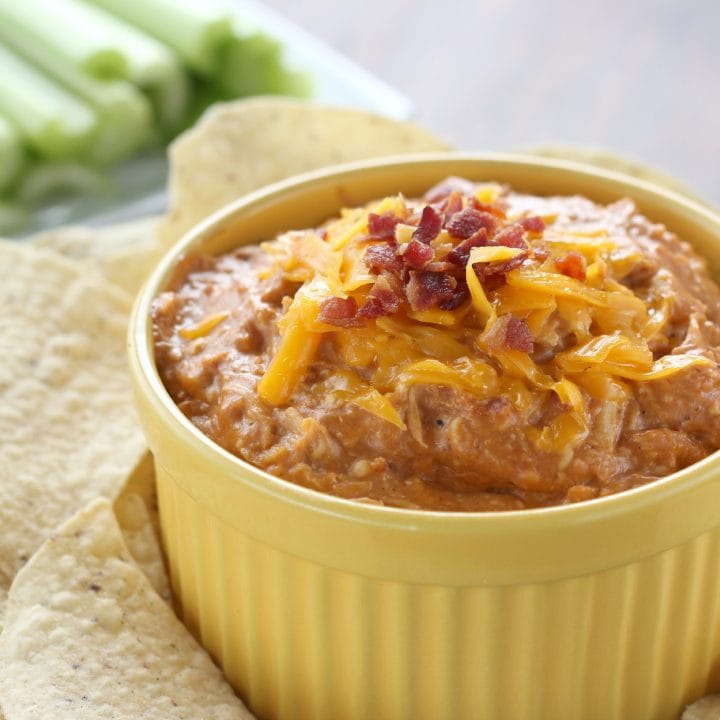 Slow Cooker Barbecue Chicken Bacon Dip
Ingredients
1 (8 oz) cream cheese, softened
3/4 C sweet & spicy barbecue sauce (I recommend using a sauce that isn't that sweet so your dip doesn't end up being too sweet)
1/4 C sour cream
1/4 C ranch dressing, homemade or store bought
2 1/2 C shredded, cooked chicken (Rotisserie chicken works well)
1 1/4 C cheddar cheese, shredded
4 slices cooked bacon
Instructions
Stir together all of the ingredients except the chicken, cheese, and bacon in a large bowl until well-combined. Stir in chicken, 1 cup of cheese, and 3 strips bacon crumbled. Spoon mixture into a 2.5-3 quart slow cooker.
Cook on low for 1 1/2 hours or until cheese is melted and dip is bubbly on edges. Stir occasionally to ensure even cooking.
Garnish with remaining cheese and strip of bacon crumbled and serve with your favorite chips and veggies.
Recommended Products
As an Amazon Associate and member of other affiliate programs, I earn from qualifying purchases.