Banana bread is one of those things that you can never have too many recipes for. Well, aside from a really good plain recipe. You need one of those. But when it comes to variations, I love trying all kinds of flavor combinations. Since it's fall, it was about time that I tried a fall flavored banana bread. Since I've been all about maple lately, it shouldn't surprise you that a maple pecan banana bread was the first one out of my oven!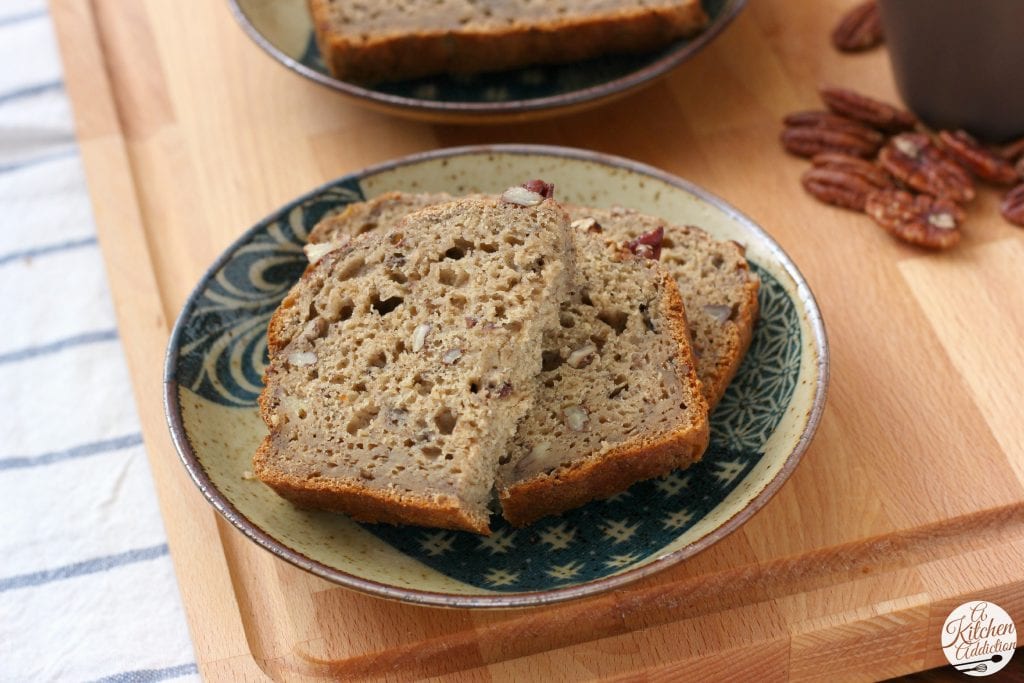 Maple syrup and honey are the sweeteners in this bread and yogurt replaces the use of oil. Chopped pecans add a bit of crunch and a hint of cinnamon gives a boost of flavor. What I think may be my favorite part of this bread is the pecan topping. Chopped pecans are tossed with cinnamon and maple syrup and toast up nicely while the bread bakes. I may have been picking the pecans off the top of the bread because they were so good!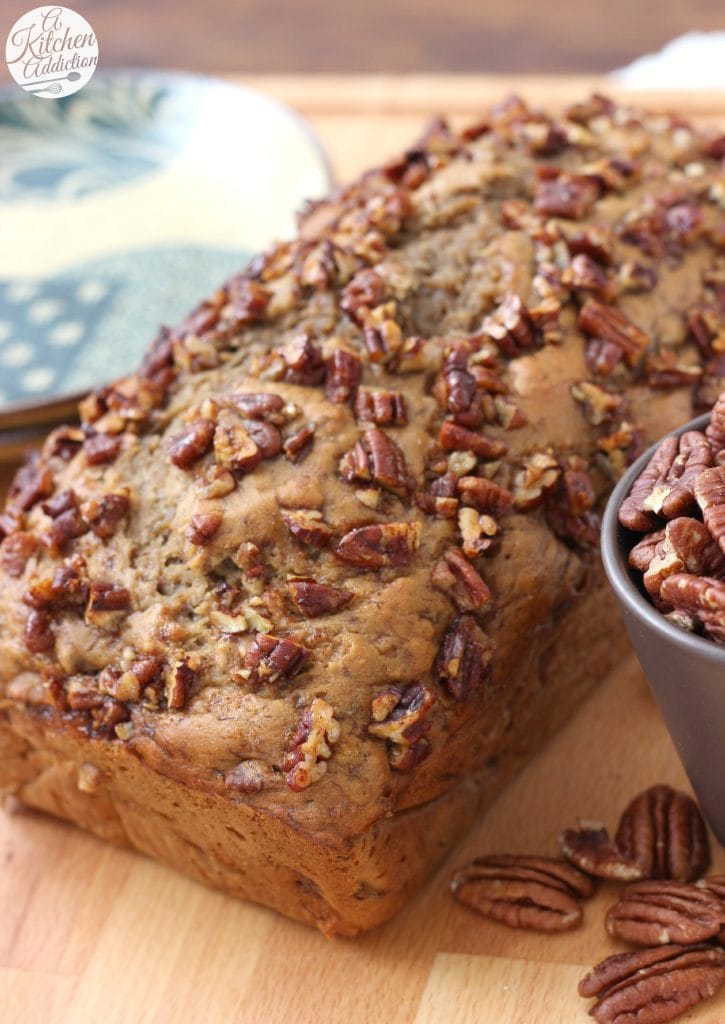 But if you can refrain from picking off all of the candied pecans, they make a great topping to this fall flavored banana bread! If you're looking for a new banana bread recipe to add to your collection, this one won't disappoint. You'll find yourself making loaf after loaf when they keep disappearing!
Maple Pecan Banana Bread
Author:
Ingredients
For the Banana Bread
2 1/4 C white whole wheat flour
1 tsp baking powder
1/2 tsp baking soda
1/2 tsp salt
1 tsp cinnamon
1 1/2 C mashed banana
1/2 C plain yogurt
1/4 C maple syrup
1/4 C honey
2 eggs
1 tsp vanilla extract
1 tsp maple extract
1/2 C chopped pecans
For the Pecan Topping
6 tbsp chopped pecans
1/4 tsp cinnamon
1 tbsp maple syrup
Instructions
Preheat oven to 350. Spray a 9×5 inch loaf pan with non-stick cooking spray.
In a large bowl, whisk together flour, baking powder, baking soda, salt, and cinnamon.
In a medium bowl, whisk together mashed banana, yogurt, maple syrup, honey, eggs, vanilla extract, and maple extract.
Add wet ingredients to dry ingredients and stir until just combined. Stir in chopped pecans. Pour batter into prepared loaf pan.
Stir together chopped pecans and cinnamon for the topping. Stir in maple syrup. Sprinkle over top of batter.
Bake for 55-65 minutes or until toothpick inserted in the center comes out clean. You will want to check the bread at 30 minutes to see if your pecans are getting too browned. If they are, just place a piece of aluminum foil over the top for the remainder of the baking time.
Remove to a wire rack to cool.