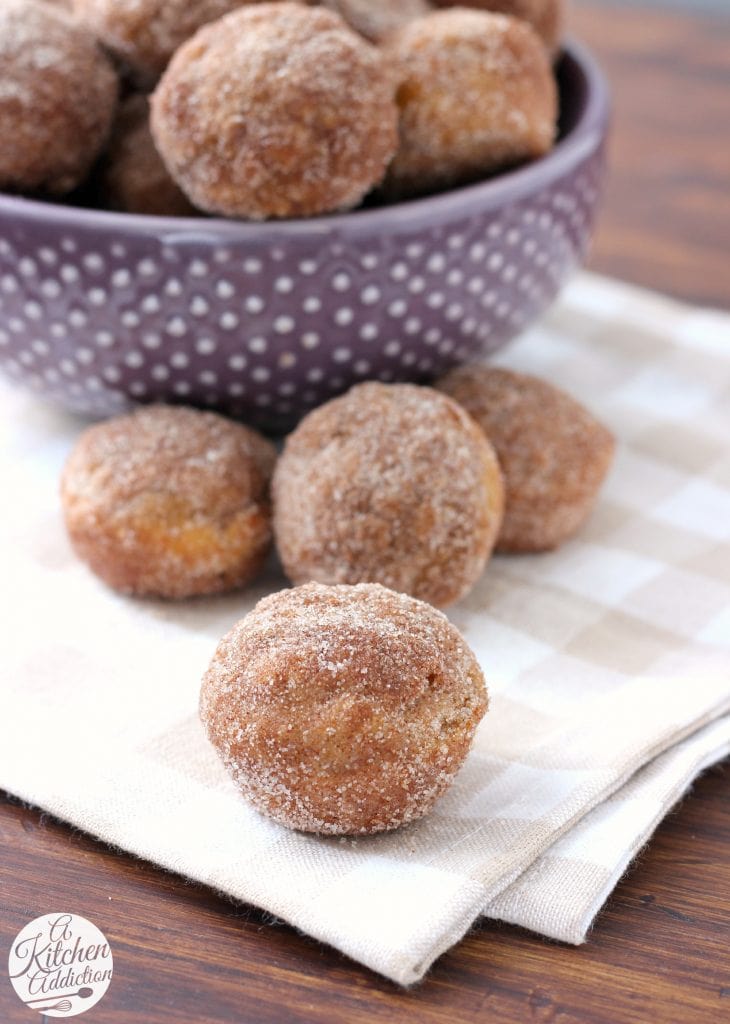 My husband offered to go to the grocery store with me on Saturday. I don't even like going to the grocery store on Saturday! Way too many people that make it hard to get in and out without wasting a lot of time navigating your cart through the aisles.
But I kind of needed to go before the pantry became completely bare after being gone for a week. So we braved the crowds and went. I had already been to this store since we moved, however, my husband had not, and I'm afraid I left him in the dust with the cart a few times when I took off down an aisle forgetting that he was stuck in the crowds with the cart! Oops.
I just like to get things done quickly, and I would much rather spend time with my husband at someplace more exciting than the grocery store.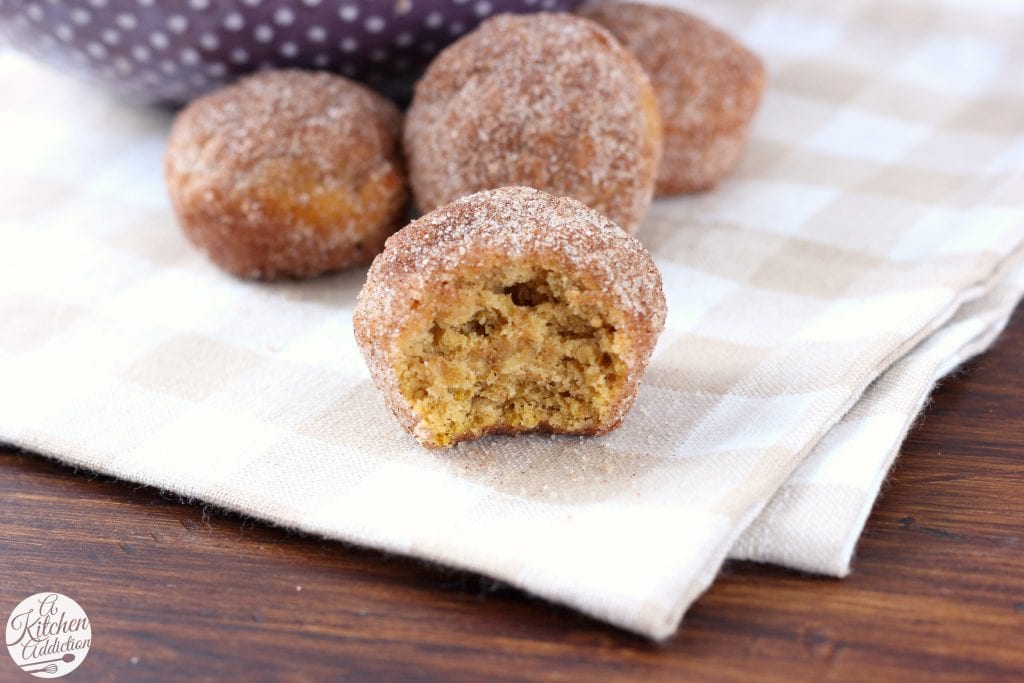 That really has nothing to do with cinnamon sugar pumpkin donut muffins except for the fact that most of my recipes reflect the way I grocery shop. Quickly and efficiently. Not spending a lot of time on prep so that I can move on to enjoy more time with my husband.
Don't get me wrong, there are times when I love spending long amounts of time in the kitchen creating breads, desserts, etc. It just doesn't fit into my everyday schedule. Thankfully donut muffins fit just fine!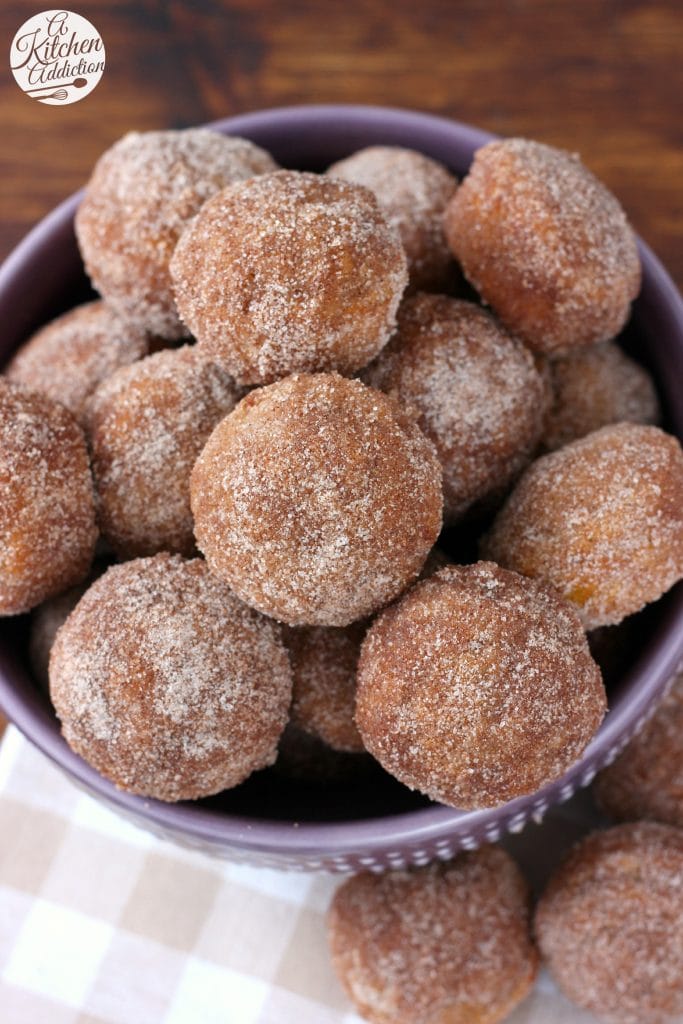 There's just something about donut muffins that makes them irresistible. They are super easy to make and taste amazing. You don't need a special donut pan, just scoop the batter into a mini muffin tin, and they'll bake into tender little donut muffins.
These are loaded with both pumpkin puree and pumpkin pie spices and taste good all by themselves. But if you really want to up the flavor, give them a quick dip in melted butter and then roll them in cinnamon sugar.
The perfect finishing touch (and one that doesn't take much time!)!
Cinnamon Sugar Pumpkin Donut Muffins
Yield: 36 mini donut muffins
Ingredients
For the Donut Muffins
2 Cups white whole wheat flour (or all-purpose flour)
1/3 Cup brown sugar
1/3 Cup sugar
1 1/2 teaspoons baking powder
1/4 teaspoon baking soda
1/2 teaspoon salt
1 teaspoon cinnamon
1/2 teaspoon nutmeg
1/4 teaspoon ginger
1/4 teaspoon allspice
1/4 Cup butter, melted and cooled
1/2 Cup pumpkin puree, not pumpkin pie filling
1 1/4 Cups milk (if using all-purpose flour, you will just need 1 cup milk)
1 egg
For the Cinnamon Sugar Topping
1/4 Cup sugar
1 teaspoon cinnamon
3 Tablespoons butter, melted
Instructions
Preheat oven to 375 degrees Fahrenheit. Spay a mini muffin tin with non-stick cooking spray.
In a large bowl, whisk together four, brown sugar, sugar, baking powder, baking soda, salt, cinnamon, nutmeg, ginger, and allspice.
Stir in butter, milk, and pumpkin puree, and egg until just combined.
Spoon batter into prepared muffin tin, filling each cup about 3/4 full. I used about a tablespoon of batter per cup.
Bake for 5-7 minutes, or until edges just start to turn golden brown. Move to a wire rack to cool.
Stir together sugar and cinnamon. Dip tops of muffins into melted butter, then dip into cinnamon sugar. Repeat with remaining donut muffins.
Notes
If you want to roll the entire muffin in the cinnamon sugar, as pictured, you will need to double the ingredients for the topping.
Recommended Products
As an Amazon Associate and member of other affiliate programs, I earn from qualifying purchases.