Ever have one of those days when you look in the refrigerator and cupboards and see a bunch of ingredients but can't decide what to make?? I have! (My husband usually walks by and says, "Why are you staring aimlessly into the refrigerator??") This recipe is one that I often turn to on days like that.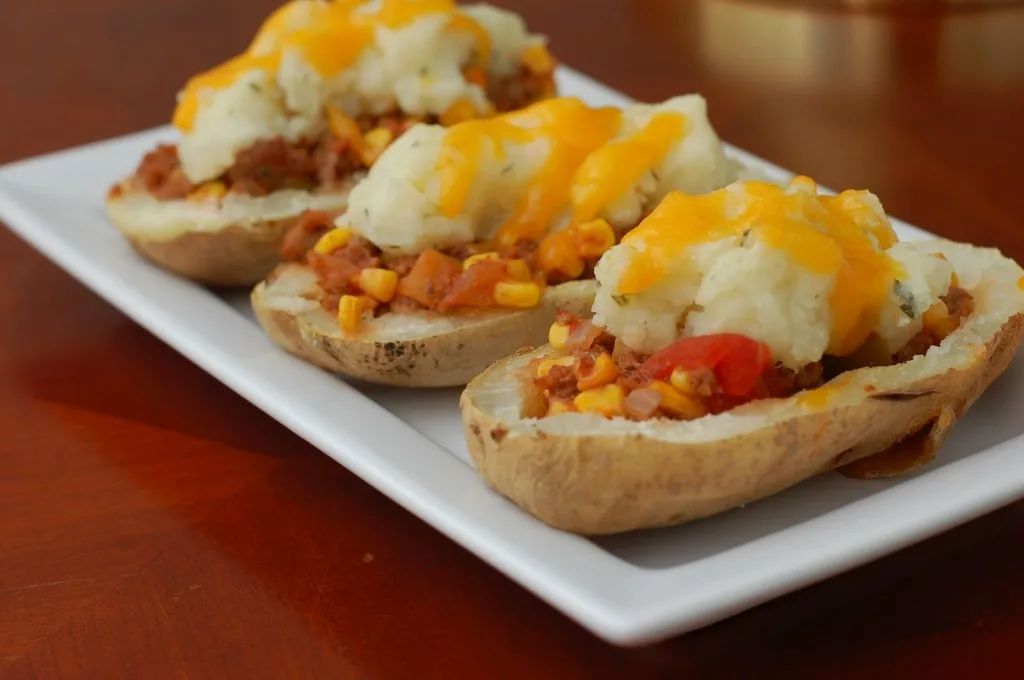 It is easy and flexible. We have added black beans or chili beans, sprinkled in chili powder, used all salsa instead of half tomato sauce. . . Whatever sounds good to you (or whatever you have on hand!), try it! Plus, you can make the meat filling while the potatoes are baking and can have a hearty dinner on the table in no time!


Makeover Mexican-Style Loaded Baked Potatoes

Yield: 6-8 servings
Ingredients
4 large baking potatoes, scrubbed and pierced with a fork
1/4 C plain Greek yogurt or reduced-fat sour cream
1 tbsp chopped chives
1 lb 93% lean ground beef
3/4 tsp salt, divided
1./4 tsp pepper
1/2 of a medium-sized onion, coarsely chopped
2 garlic cloves, minced
1 12oz can no salt added kernel corn
1 6oz can no salt added tomato sauce
3/4 C salsa
shredded reduced-fat cheddar cheese, optional
Directions
Preheat oven to 375. Place potatoes in a shallow baking dish and bake for 30-40 minutes or until skin is crispy and center is tender when pierced with a fork. Let stand about 5 minutes or until cool enough to handle.
Cut potatoes in half lengthwise. Scoop out insides, leaving about 1/4 inch on the sides to support the skins. Reserve skins. Place the scooped out potato in a medium-sized bowl. Mash in 1/4 tsp salt, yogurt, and chives. Set aside.
Meanwhile, in a skillet, cook beef, salt, pepper, onion, and garlic over medium-high heat. Stir frequently until beef is thoroughly cooked. Drain off excess fat and rinse with hot water in colander. (See Healthy Habits: Blotting and Straining Ground Beef for a more in-depth description.)
Return beef mixture to skillet. Stir in corn, tomato sauce, and salsa. Cook for 3-4 minutes, stirring occasionally, until hot and bubbly.
Spoon beef mixture evenly into potato skins. Top each with mashed potatoes. Sprinkle with cheese. Return to oven and bake until thoroughly heated and cheese is melted.