These Loaded Southwestern Pork Nachos are filled with tender, shredded pork, beans, corn, tomatoes, jalapeños, and, of course, lots of cheese! Serve these at your next game day party!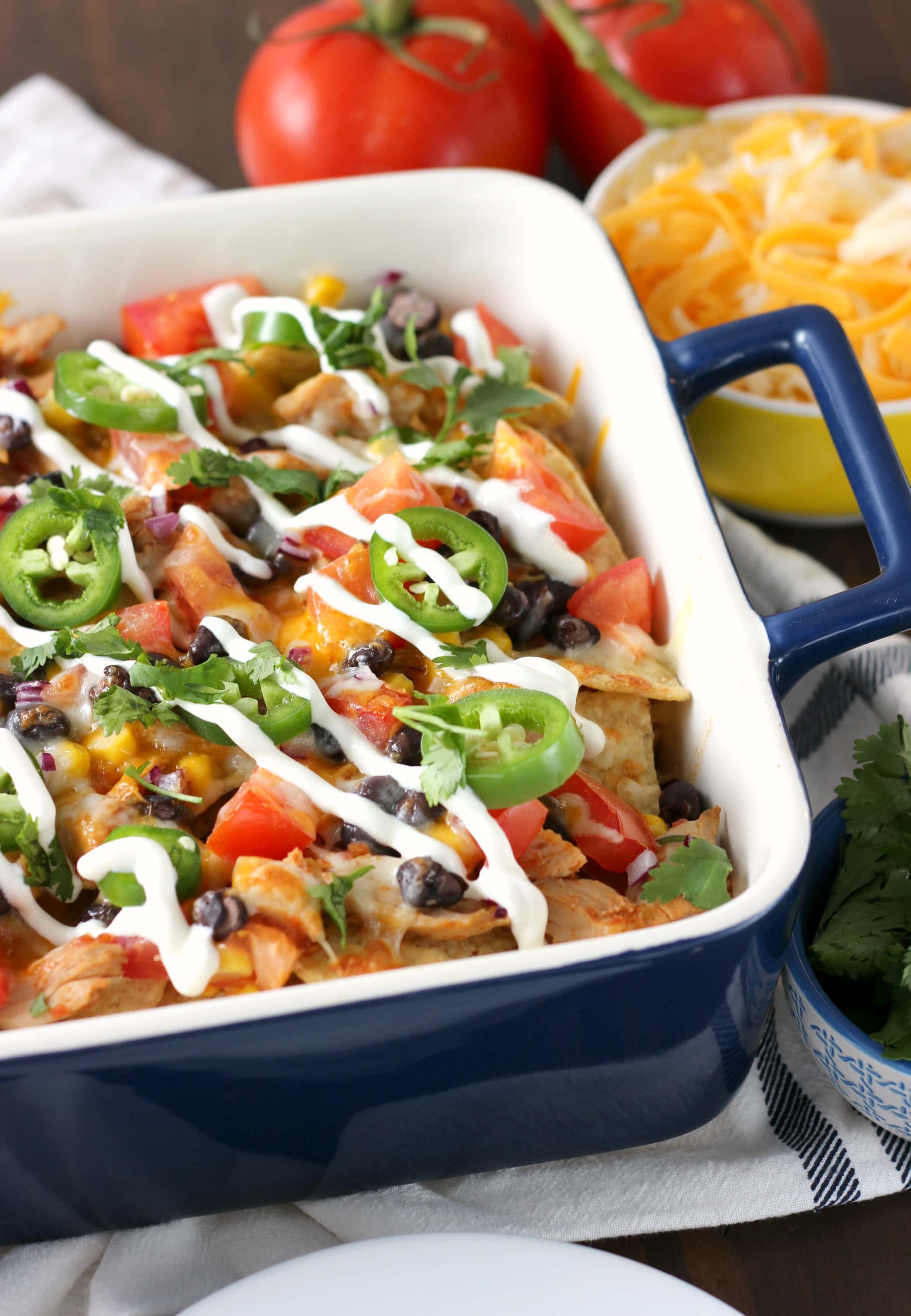 Are you a sports fan? There are so many sports going on right now. Football is on practically every night. Hockey has started. The World Series is happening. Basketball is starting up.
Whether you're a sports fan or not, I think we can all agree that at least all these games provide lots of opportunities to eat good game day food!
And what better food to be eating while watching the game than nachos! Loaded southwestern pork nachos!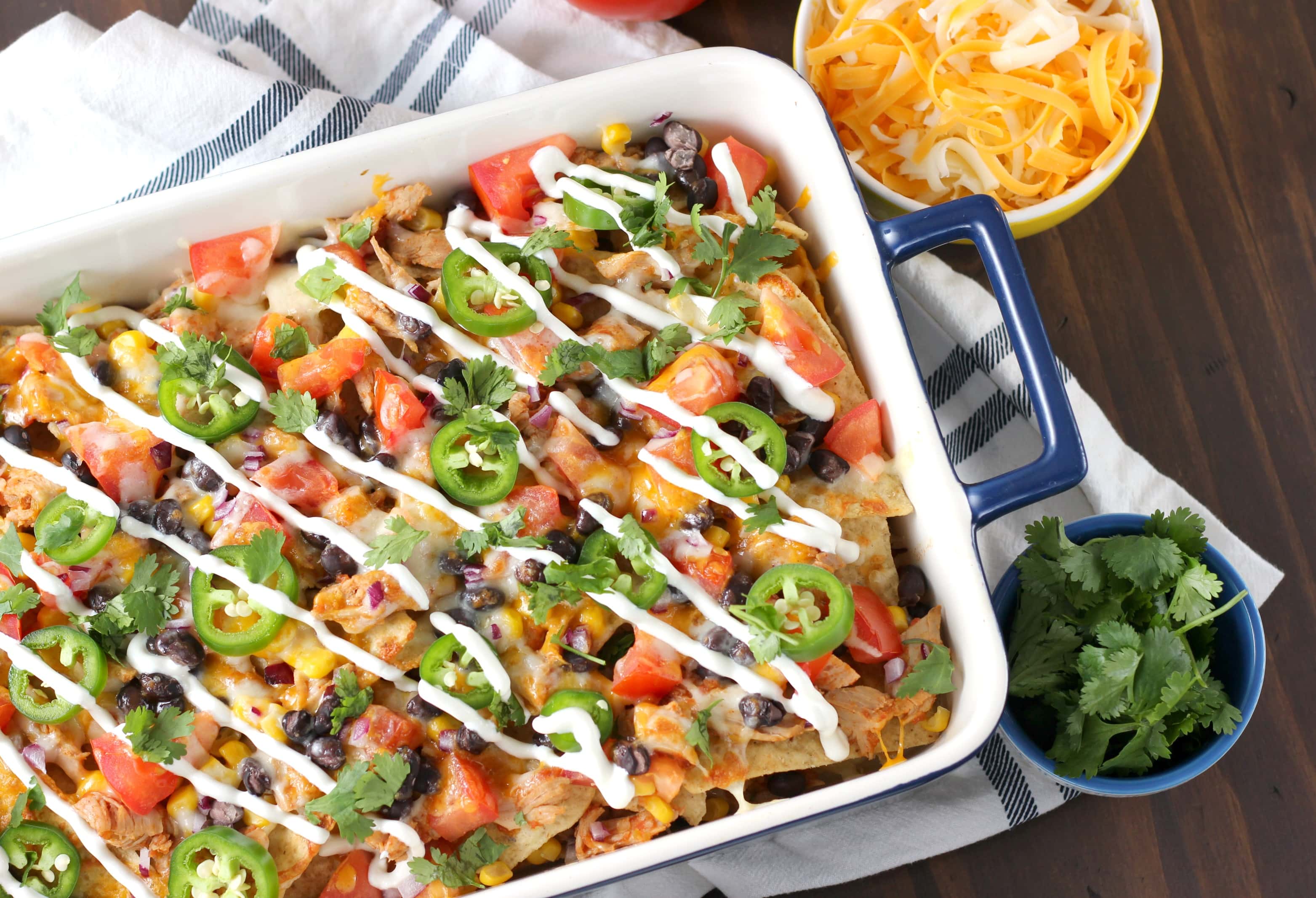 These pork nachos are loaded with pork (made in the slow cooker!), veggies, and cheese. More fresh veggies are added right before serving for a delicious, quick and easy meal! Yes, I said meal.
Haven't you ever turned nachos into a meal?! But, if you don't want to turn it into a meal, serve these nachos up at your next game day party. They're sure to be a hit!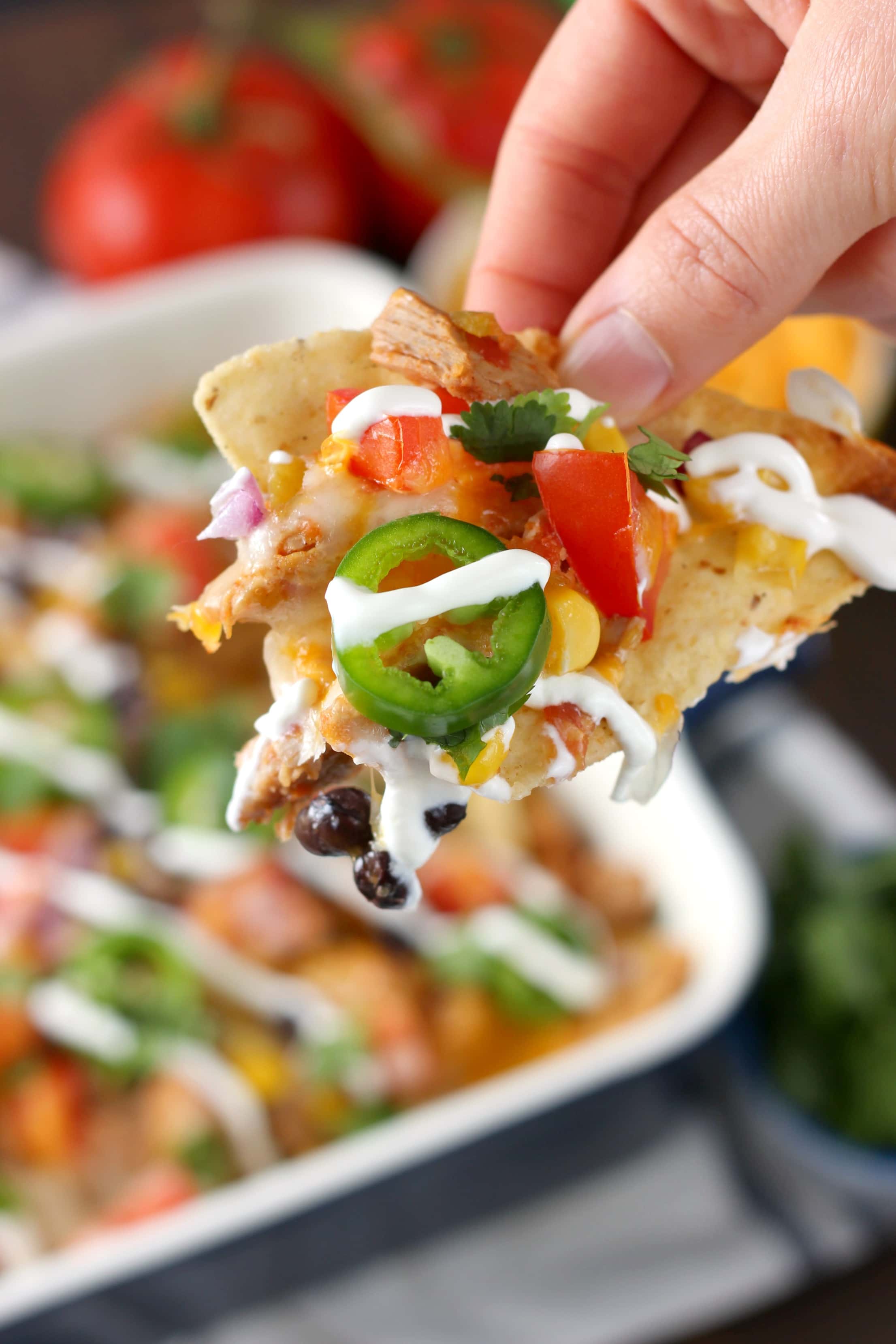 This is a versatile recipe that you can mix up as much as you want. Like more heat? Add more jalapeños and perhaps a splash of hot sauce!
Don't want as much heat, skip the jalapeño and add more tomatoes, beans, and corn. Its up to you!
Loaded Southwestern Pork Nachos
Author:
Ingredients
For the Pork
1 1/2 – 2lbs pork loin roast
1 (14.5 oz) diced tomatoes, no salt added
1 (4 oz) diced green chiles
3 garlic cloves, minced
1 tbsp chili powder
For the Toppings
Tortilla Chips
1 C shredded cheese (I used a mixture of cheddar and monterey jack)
1 C chopped tomatoes
2/3 C corn
2/3 C black beans
4 tbsp chopped red onion
4 tbsp chopped jalapeno
sliced jalapeno, for garnish
2 tbsp chopped tomatoes, for garnish
chopped cilantro, for garnish
sour cream, for garnish
Instructions
Blend together tomatoes, green chiles and garlic. Add 1/3 of the mixture to the bottom of a slow cooker. Place roast on top. Pour remaining tomato mixture over the top. Cook on low for 4-5 hours or on high for 2-3 hours.
Remove roast from slow cooker and shred. Stir in sauce from slow cooker until meat is covered with sauce.
Turn broiler on high. Arrange tortilla chips on the bottom of a 9×13 inch baking dish or a large baking sheet with a lip. Top with half of shredded pork. Top with 1/2 cup shredded cheese, 1/2 cup chopped tomatoes, 1/3 cup corn, 1/3 cup black beans, 2 tablespoons chopped red onion, and 2 tablespoons chopped jalapeno.
Top with another layer of tortilla chips. Top with remaining shredded pork, tomatoes, corn, black beans, red onion, and jalapeno. Sprinkle remaining shredded cheese over the top.
Broil for 6-8 minutes or until cheese is melted and starts to turn a light golden brown.
Carefully remove from oven and top with sliced jalapeno, chopped tomato, cilantro and sour cream. Serve.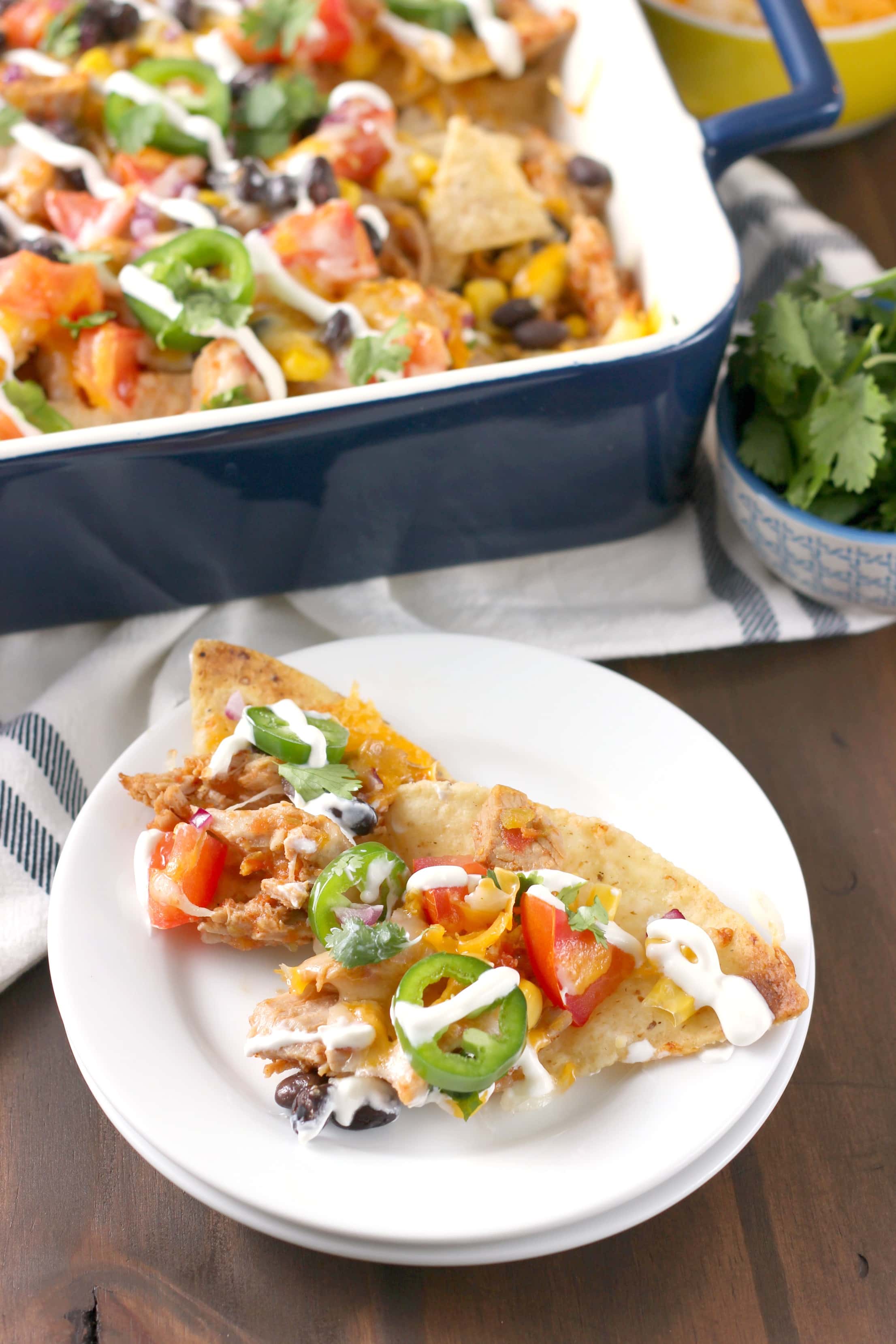 This post was made in partnership with the National Pork Board. As always, all opinions are still my own. Thanks for supporting brands that make A Kitchen Addiction possible!