This Lightened Up Ranch Taco Dip is layered with flavor! A creamy ranch salsa layer is topped with lots of fresh veggies and a sprinkle of crunchy tortilla chips! Serve it alongside your favorite chips for an irresistible snack!
It's that time of year again. Football non-stop. Which means snacks non-stop. And if your teams are no longer in the playoffs, then game day really is all about the snacks!
Since game day food tends to be on the heavy side, why not switch up a favorite and make one of your snacks a bit healthier. That's what we did with this lightened up ranch taco dip.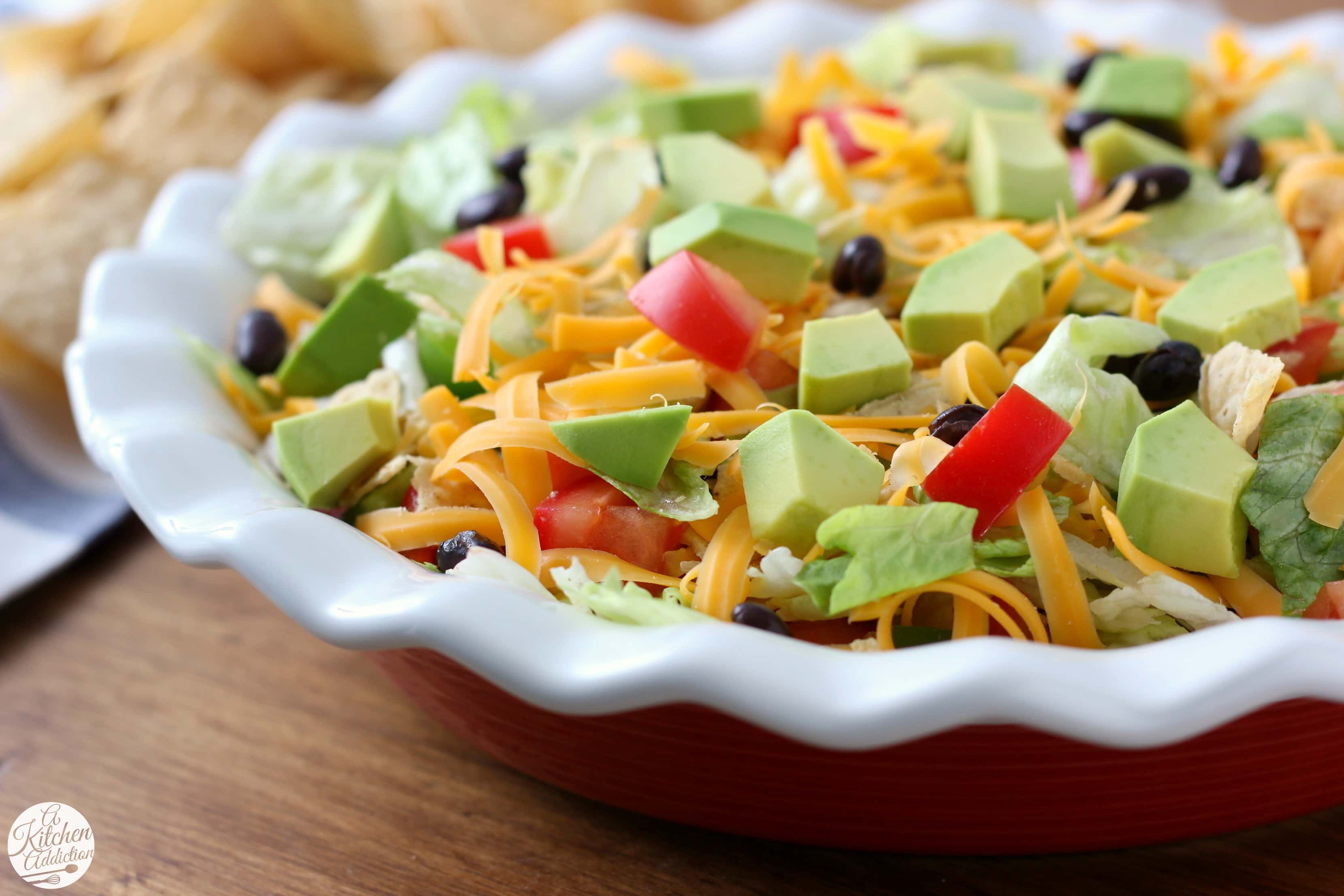 This taco dip doesn't contain the heavy sour cream, refried beans, and loads of cheese that other taco dips contain. But don't worry, there's still loads of flavor. The creamy base of this dip is a combination of reduced fat cream cheese and Sabra's Farmer's Ranch Greek Yogurt Dip.
The yogurt dip adds a burst of flavor without going overboard in fat and calories, and the cream cheese adds a richness that you expect from a traditional taco dip.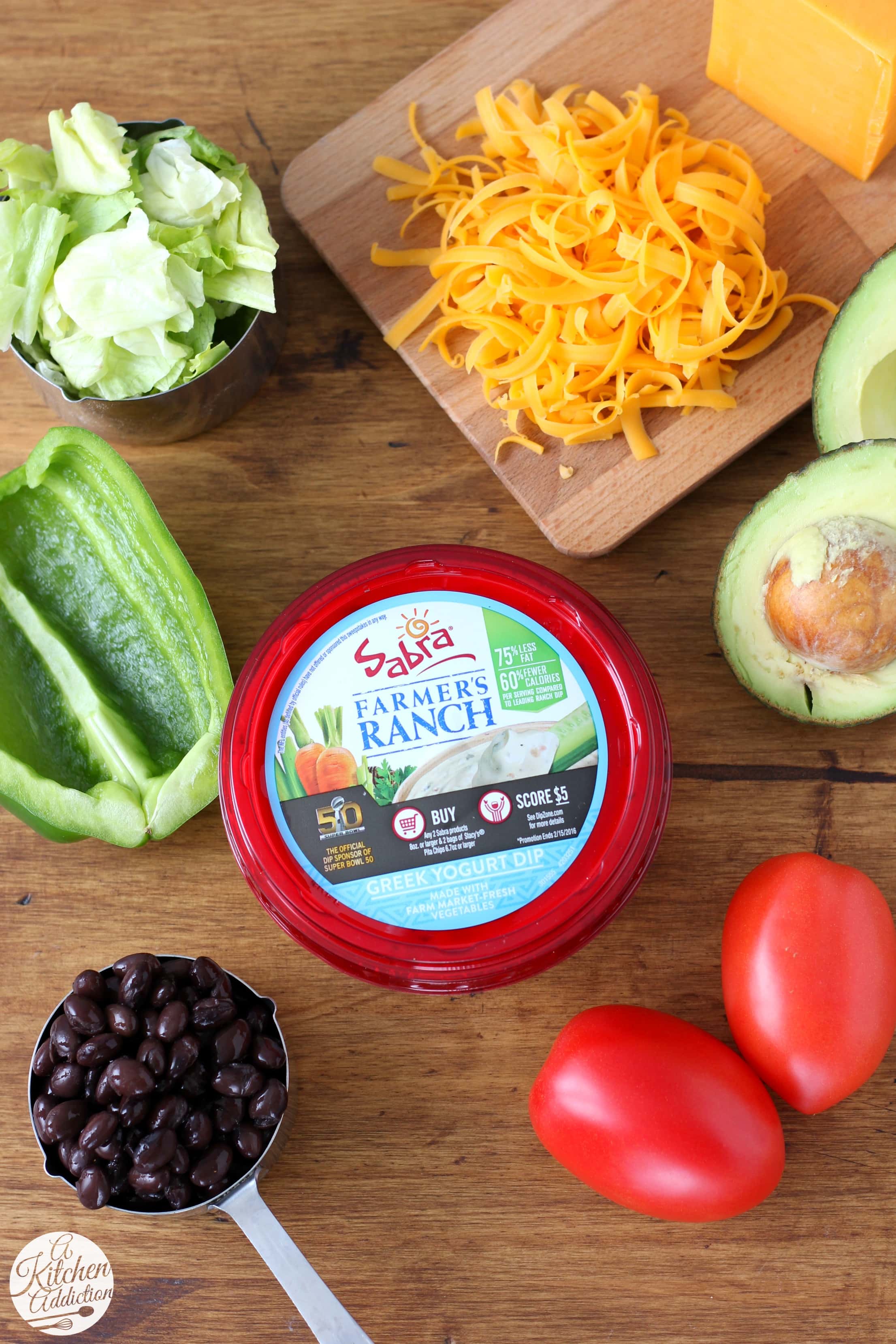 Salsa, black beans, tomatoes, peppers, a smattering of diced avocado, and a bit of cheese (because you just have to have cheese!) add the flavors that you love in a taco dip.
Serve it alongside your favorite tortilla chips, and you have an irresistible snack that will be a hit at your next game day party!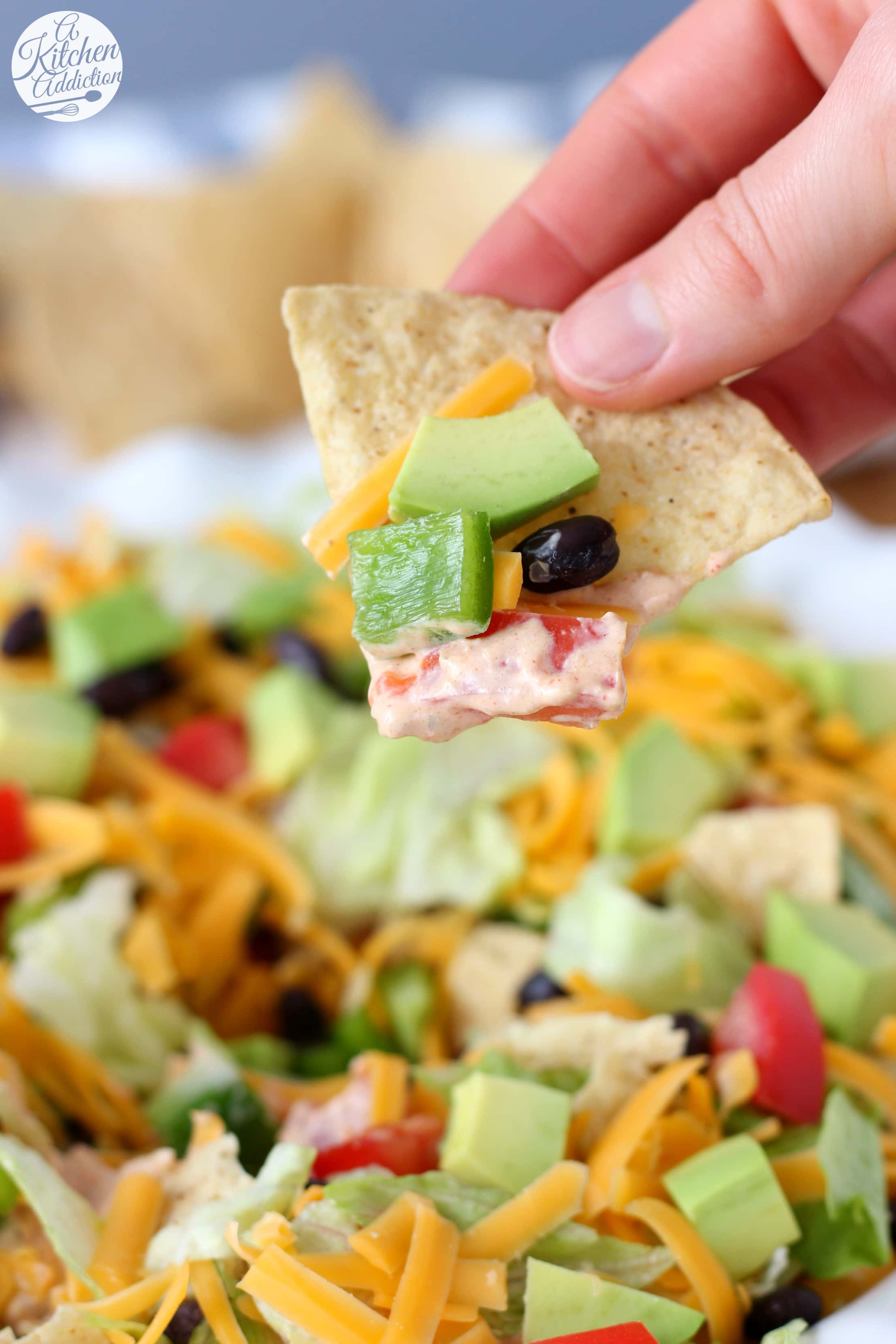 Love chips and dip? If you buy 2 Sabra® products (8 oz. or larger) and 2 bags of Stacy's®Pita Chips (6.7 oz. or larger) together before 2/15/216, you can score a $5 gift card! You can find out more about Sabra's Buy, Snap, Score promotion here.
Lightened Up Ranch Taco Dip
Author:
Ingredients
8 oz 1/3 of the fat cream cheese, softened
3/4 C Sabra Farmer's Ranch Greek Yogurt Dip
1 C salsa of your choice
1 tbsp reduced-sodium taco seasoning
2 C shredded lettuce
2 roma tomatoes, diced
1/2 C green pepper, diced
1/2 C black beans
1/2 C cheddar cheese, shredded
1 avocado, diced
1/2 C tortilla chips, crushed
Instructions
Mix with a blender, or by hand, cream cheese, dip, salsa, and taco seasoning until well combined.
Spread in the bottom of a 9 inch pie plate or a 9×9 baking dish. Top with lettuce, tomatoes, green peppers, and black beans. (If making ahead of time, stop at this point and refrigerate.)
Garnish with cheese, avocado, and tortilla chips right before serving.
Disclosure: This post is sponsored by Sabra as part of their Sabra Tastemakers program. All opinions are my own. Thanks for supporting brands that make A Kitchen Addiction possible!