These Honey Cranberry Apple Crumb Bars are made up of a filling of spiced honey cranberry apples that is sandwiched between two layers of buttery streusel and drizzled with a spiced glaze!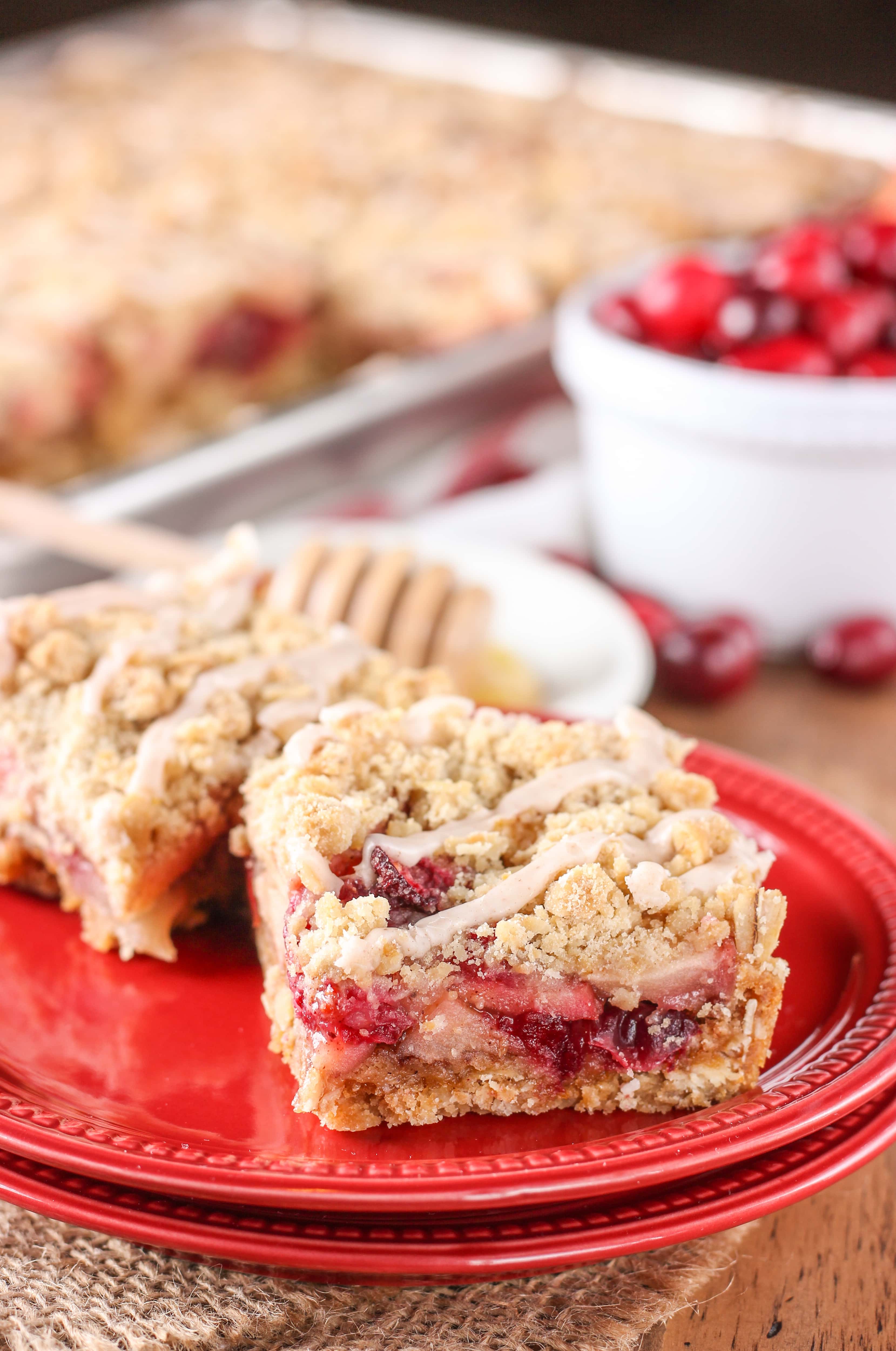 This is a sponsored conversation written by me on behalf of Beesponsible® and Bee Harmony Honey. The opinions and text are my own.
Thanksgiving week has arrived! I thought I would share one last easy dessert idea before the big day. I don't know about you, but sometimes I'm not up for making a bunch of pies. I would rather throw a pan of bars together and call it good!
If you're feeling like you could use an easy dessert to round out your dessert table, make these honey cranberry apple crumb bars! A traditional Thanksgiving pie flavor found in an easy to make bar.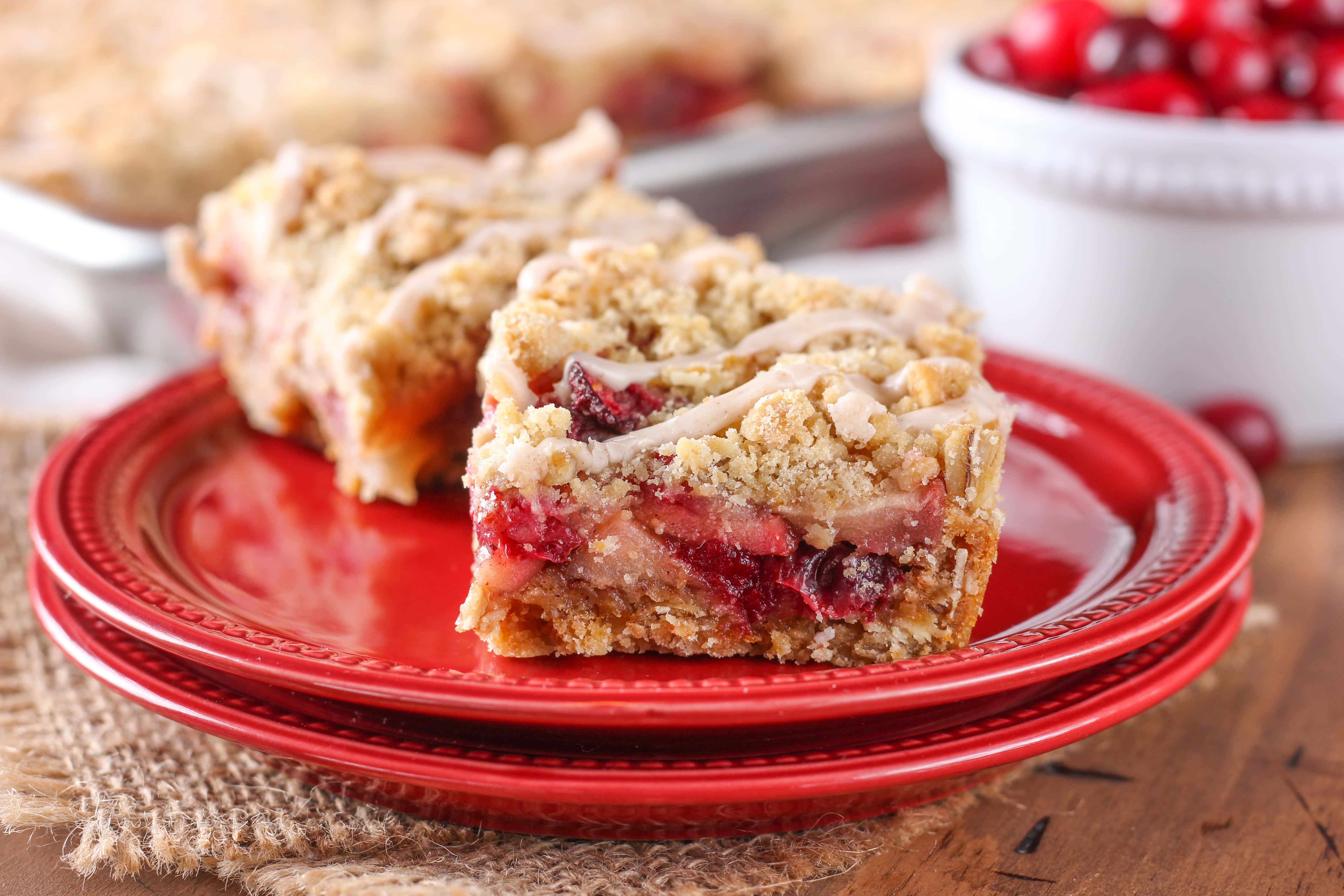 Crumb bars usually make an appearance around here in the summer when I have all kinds of berries that I need to use up before they go bad. But, I've never really made them in the fall or winter.
That's changing. This cranberry apple combination is the perfect filling to a buttery crust and crumb topping!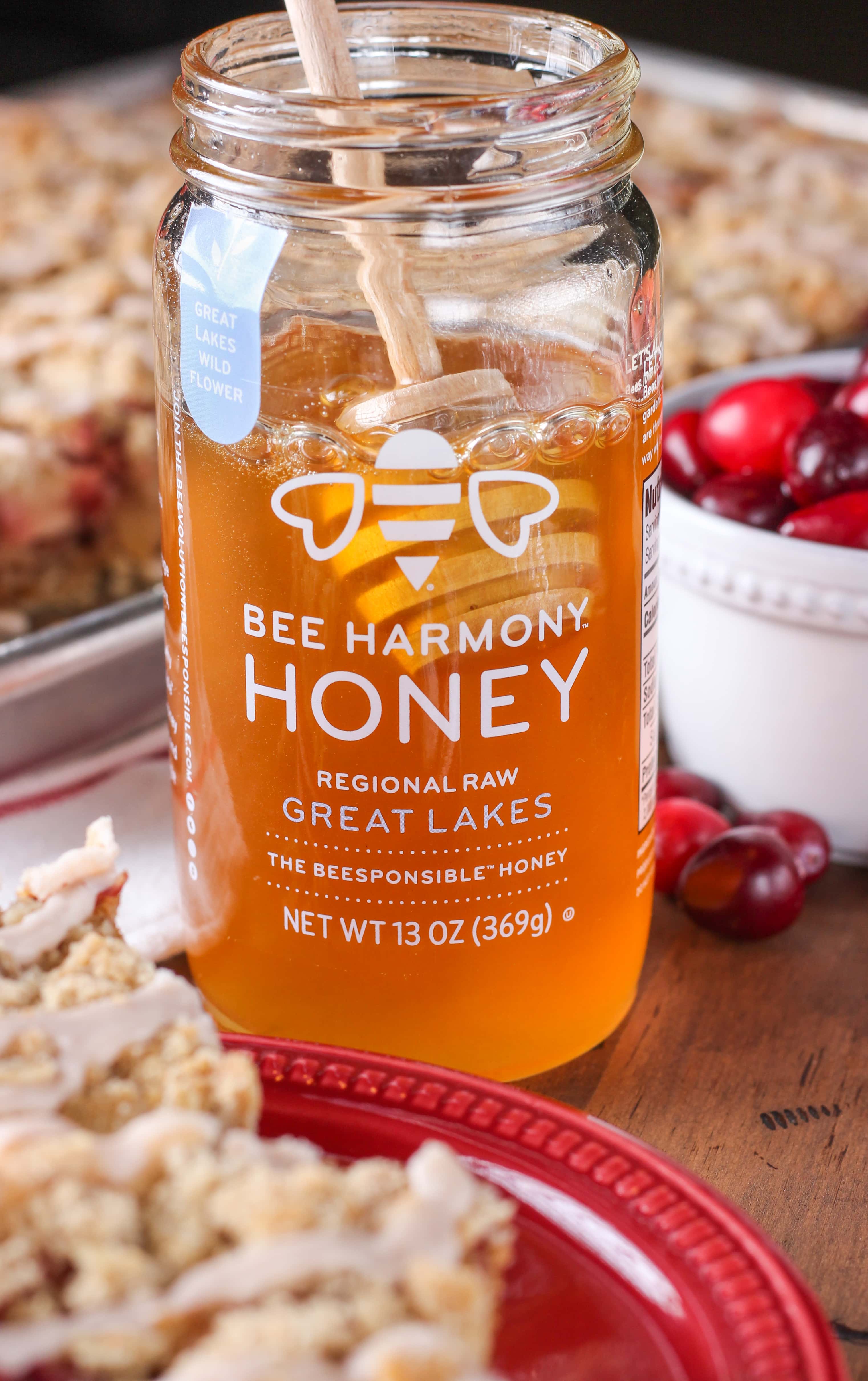 Thanks to some help from Bee Harmony Honey from Beesponsible®, the filling is only sweetened with honey. Beesponsible® is bringing awareness to the plight of bees that are being threatened by pests, pathogens, pesticides, and poor nutrition (habitat loss).
As part of the initiative, they are introducing 100% raw honey made from bees drawing nectar from wildflower blossoms across superior forage lands, tended by trusted beekeepers, using responsible practices that respect the environment.
Bee Harmony Honey is available in several regional varieties (check out if there's honey from your region!), and the Great Lakes variety was the perfect sweetener for these bars!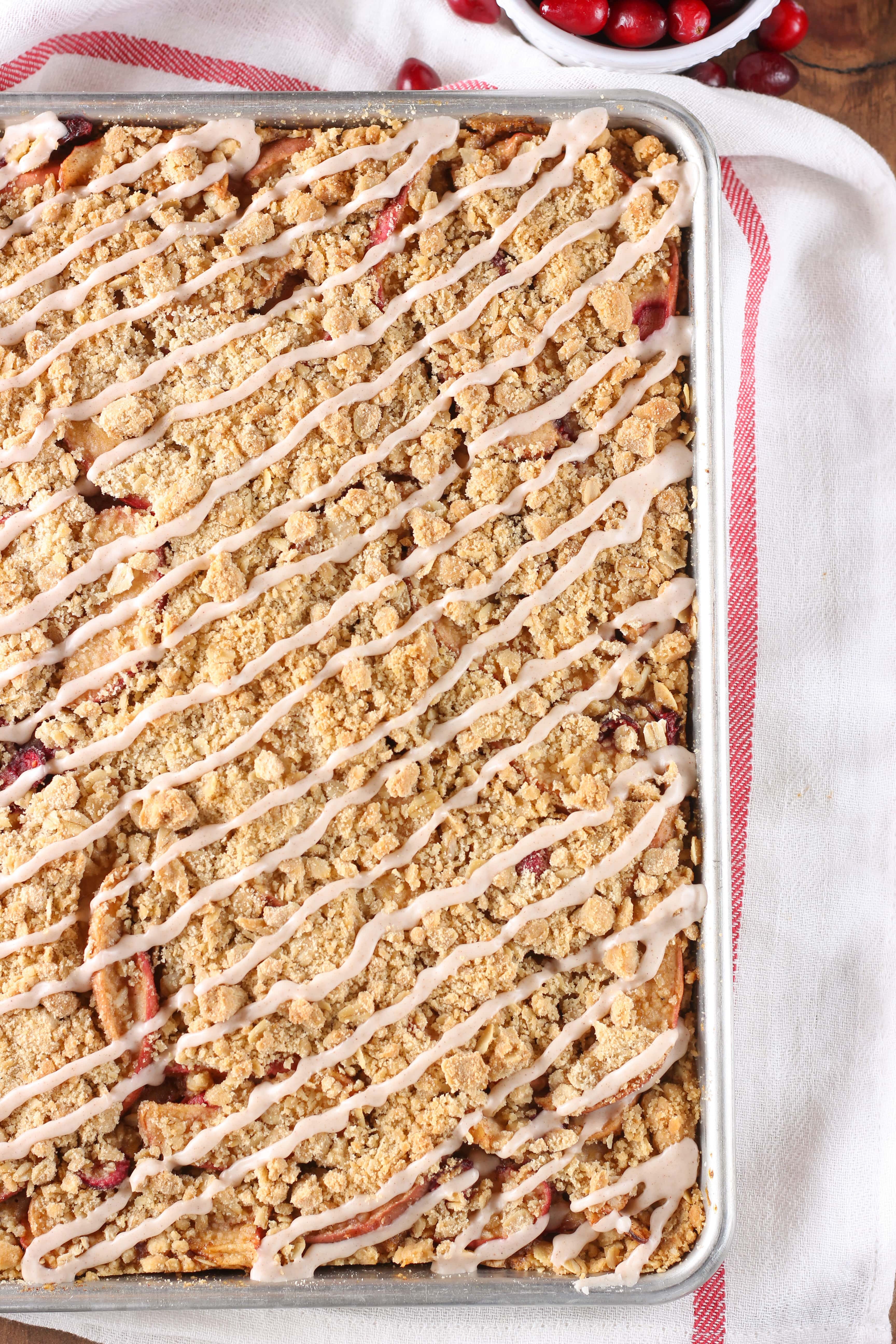 Many of the baked goods on this blog are sweetened with honey, especially fruit fillings. The honey complements the fruit without overpowering the natural flavors of the fruit or making the dessert too sweet. Since the richness of the crumble doesn't need a lot of sweetness to go with it, a honey fruit filling is perfect.
Not a fan of cranberries? Leave them out and add more sliced apples. But you really should use cranberries, the cranberry apple combo might surprise you!
Topping the bars is cinnamon glaze that adds a bit more of that warm fall spice to these already irresistible bars! Make your holidays a bit easier, and throw together these easy crumb bars!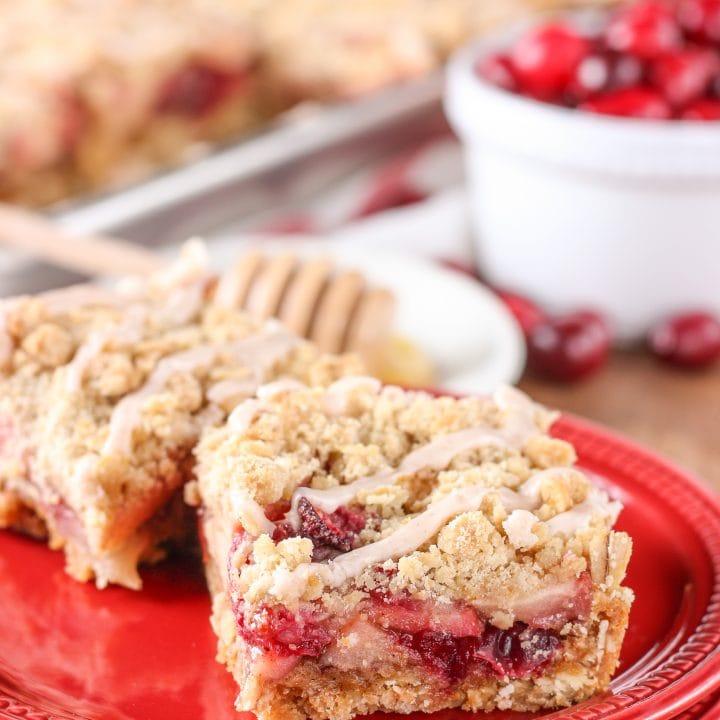 Honey Cranberry Apple Crumb Bars
Ingredients
For the Base and Topping
1 1/2 C + 1/4 C all-purpose flour
1½ C regular oats
¾ C brown sugar
½ tsp baking soda
¼ tsp salt
¾ C butter, softened
For the Filling
4 C sliced apples
1 C fresh or frozen and thawed cranberries, chopped
1/2 C honey
2 tbsp cornstarch
2 tsp cinnamon
1/2 tsp nutmeg
1/4 tsp allspice
For the Drizzle
3/4 C confectioner's sugar
1/4 tsp cinnamon
3-4 tsp milk
1 tsp vanilla extract
Instructions
Preheat oven to 350 degrees F. Spray a 9x13 inch baking dish with non-stick cooking spray.
In a large bowl, stir together 1 1/2 cups flour, oats, brown sugar, baking soda, and salt. Cut in butter until mixture resembles coarse crumbs. Reserve 1 1/2 cups mixture and press the remaining mixture into the bottom and slightly up the side of prepared baking dish. Stir remaining 1/4 cup flour into reserved mixture until well-combined. Set aside.
In a separate large bowl, whisk together apples, cranberries, honey, cornstarch, cinnamon, nutmeg, and allspice. Spread apple mixture over the top of crust. Sprinkle with remaining oat mixture.
Bake for 40-45 minutes or until filling is bubbling and topping is golden brown. If filling isn't bubbling, cover top with aluminum foil and bake for an additional 5-10 minutes. Remove to a wire rack to cool for 15 minutes.
While bars are cooling, prepare drizzle. Stir together all ingredients for drizzle until smooth, adding additional milk as needed to reach desired consistency. Drizzle glaze over cooled bars.
Cut into pieces and serve.
Recommended Products
As an Amazon Associate and member of other affiliate programs, I earn from qualifying purchases.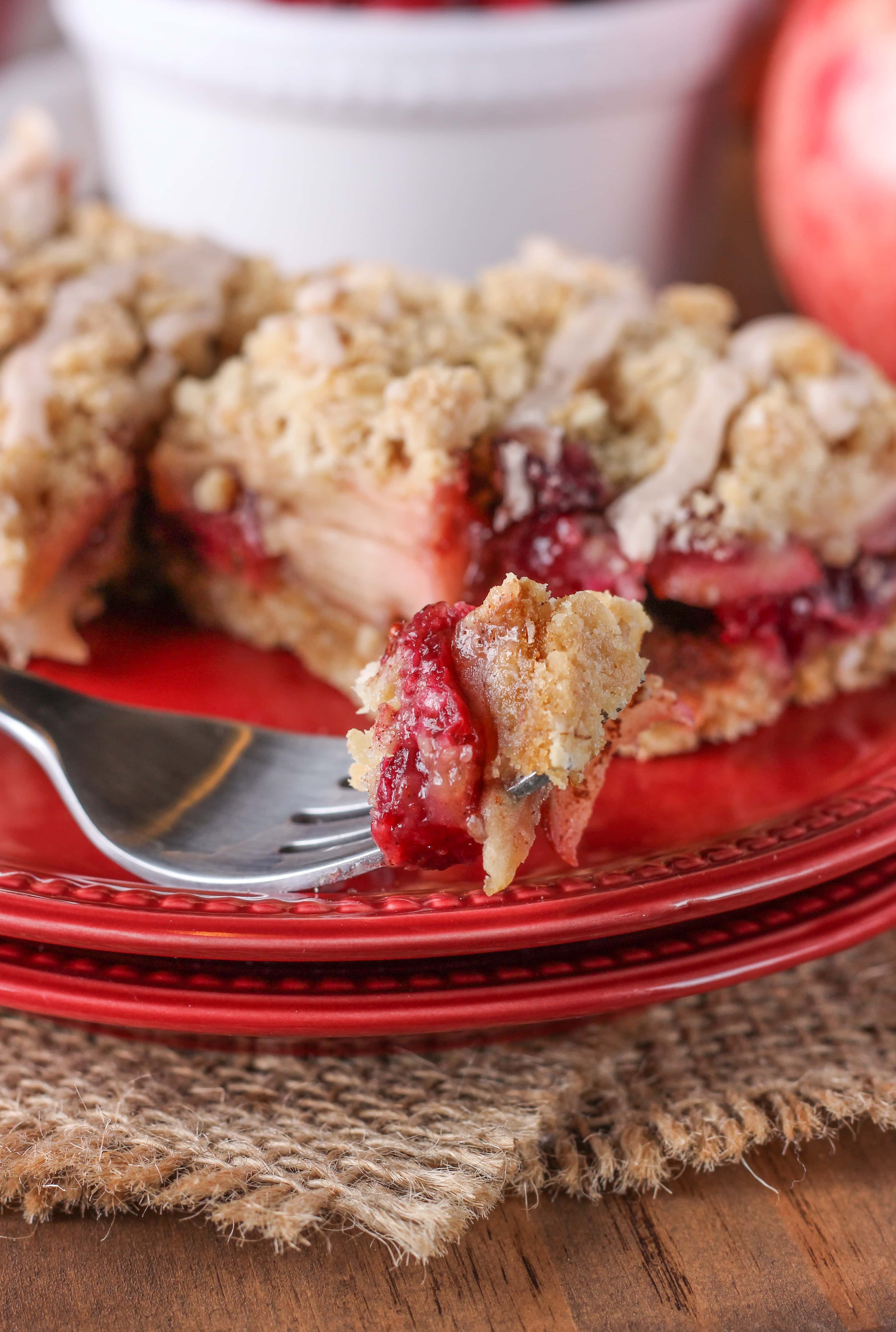 This is a sponsored conversation written by me on behalf of Beesponsible® and Bee Harmony Honey. The opinions and text are my own.