These Cinnamon Apple Bars are filled with an entire cup of fresh apple and lots of warm cinnamon. Topping these bars is a fluffy spiced brown sugar buttercream!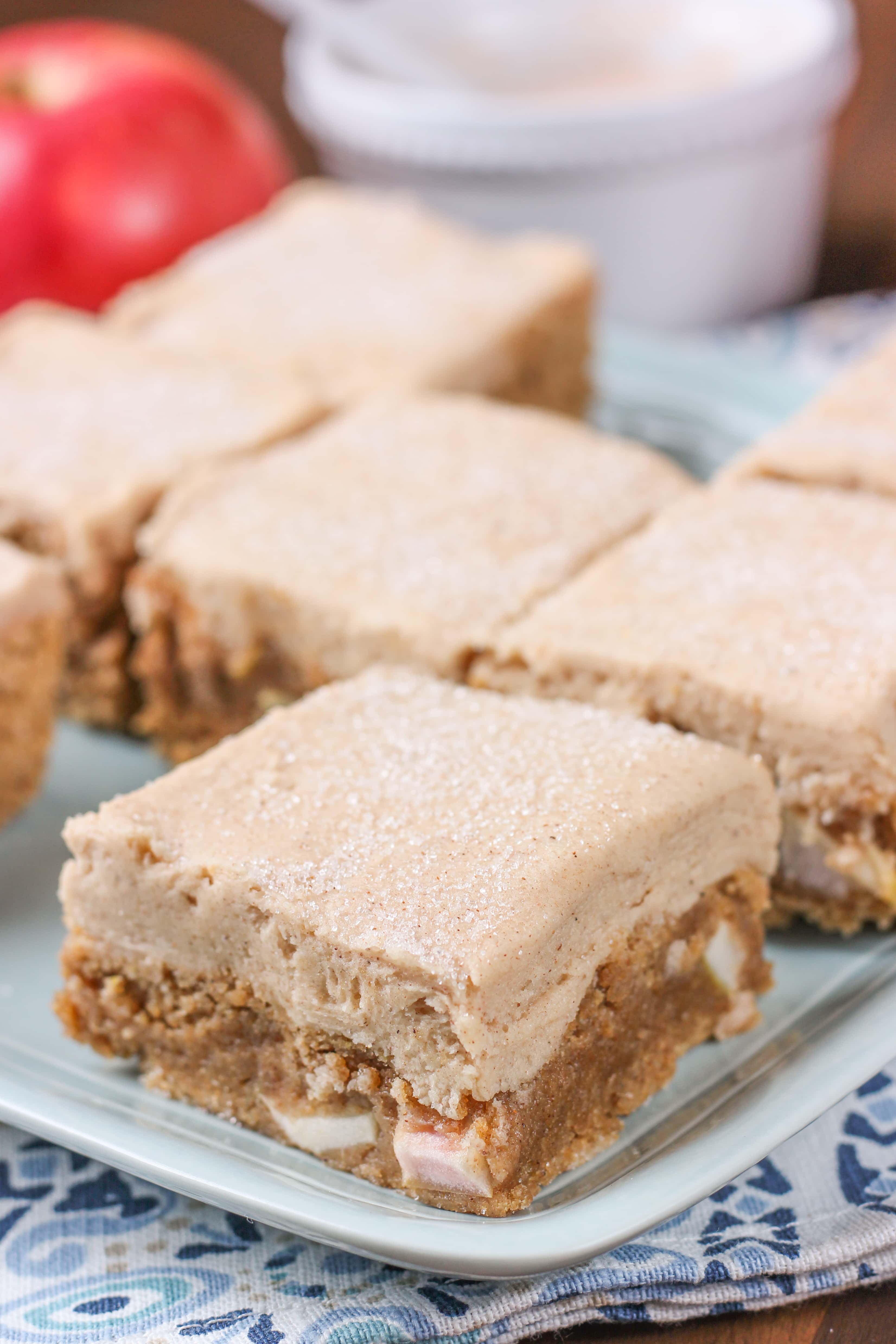 I know most people have moved on to all things peppermint, gingerbread, and eggnog, but I'm still hanging on to fall and apples just a little longer! So, before I start with all of the winter flavors (don't worry, you'll get them by the end of the week!), I have one more apple dessert to share with you!
Maybe you have apples leftover from the apple pies you made for Thanksgiving, or you're just like me and usually have apples in the house at all times. Either way, put those apples to good use and make one more apple dessert to enjoy while you get out all your Christmas decorations!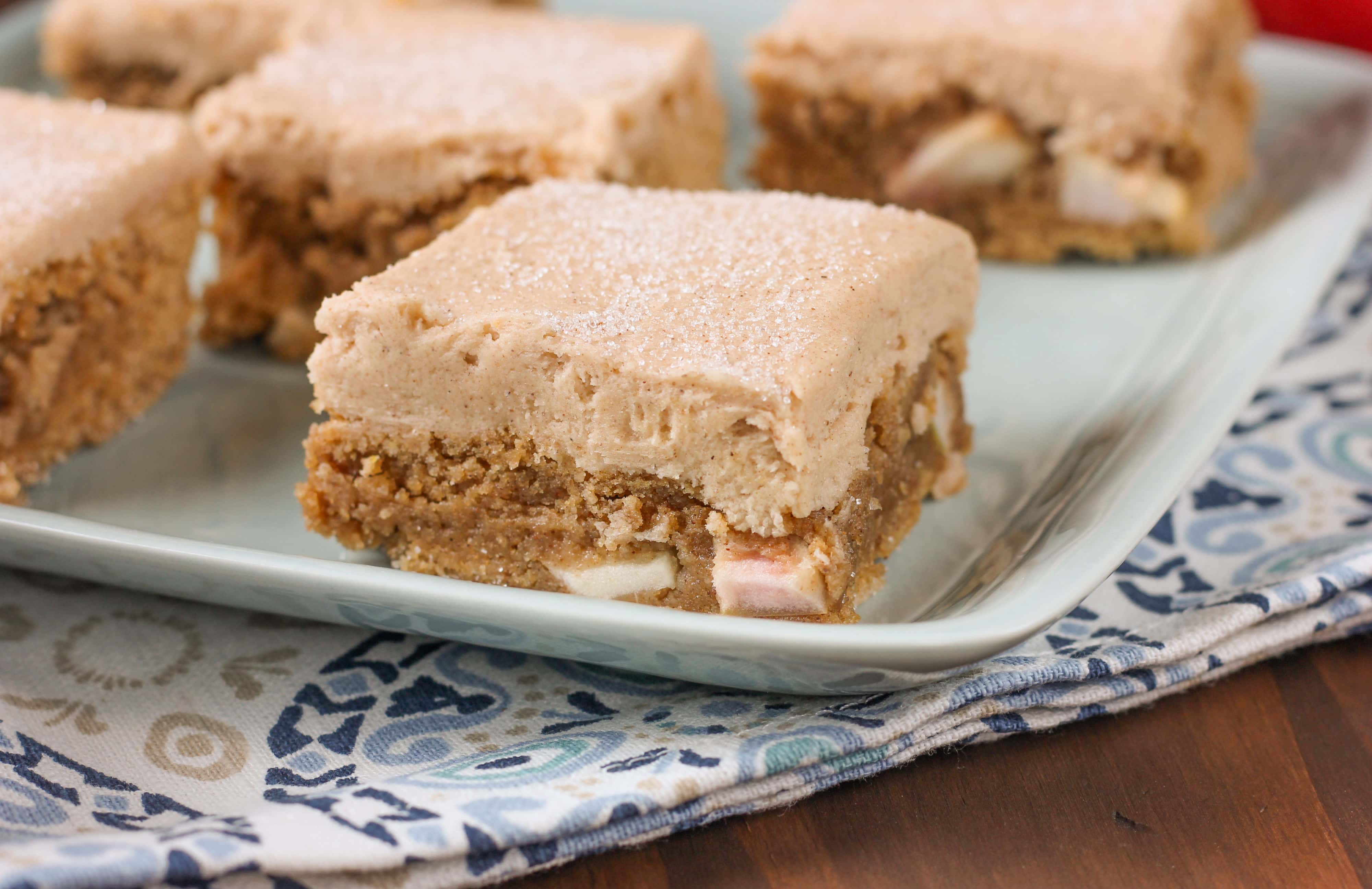 All the smells and flavors of fall wrapped up in one easy dessert! These soft bars are filled with cinnamon and stuffed with an entire cup of chopped apples.
Forget plain buttercream frosting. These bars are topped with a fluffy spiced brown sugar buttercream!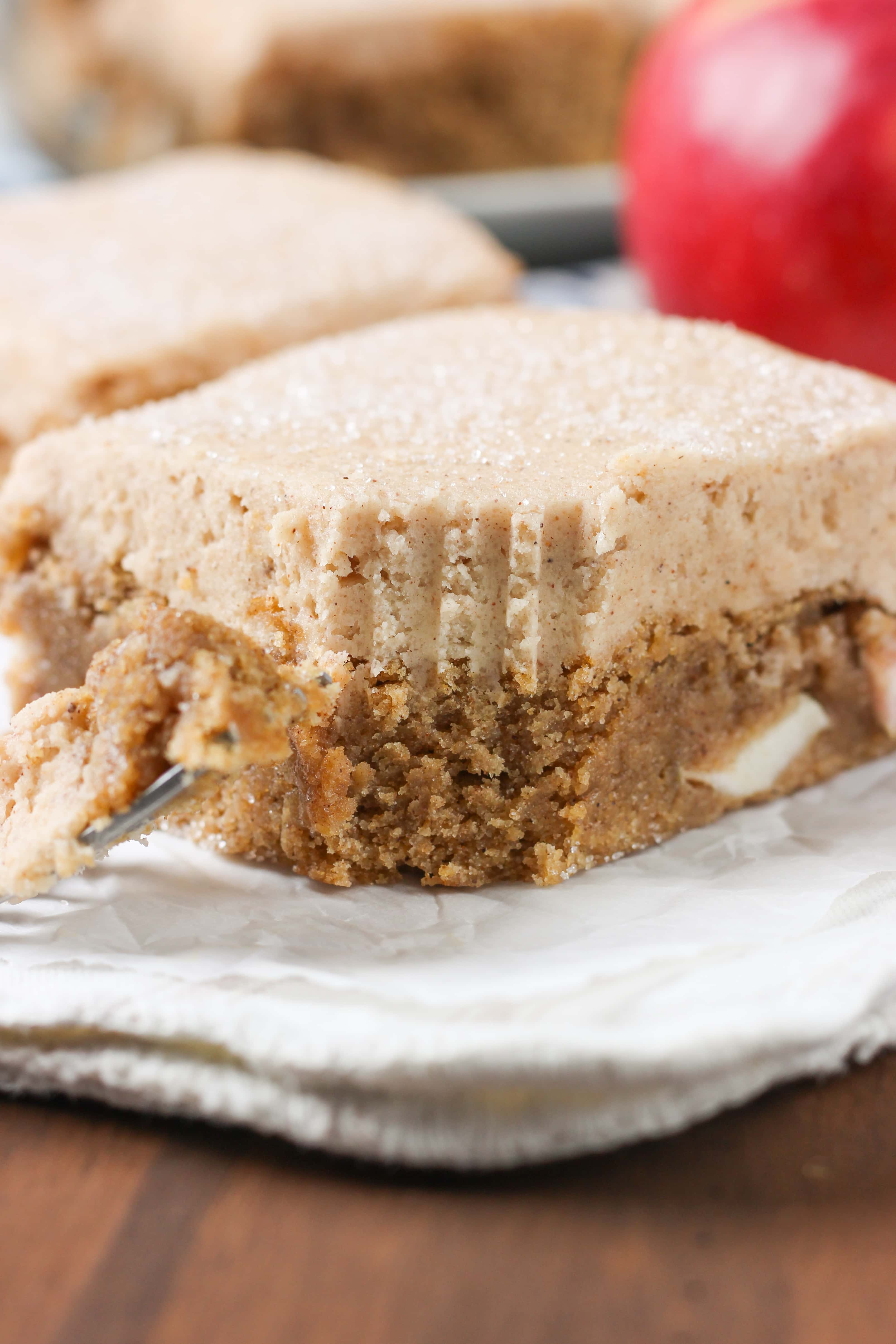 A light sprinkle of cinnamon sugar tops these bars to give them a bit of texture and another layer of cinnamon flavor.
And not only are they super easy to make, but the smell they create while baking makes it difficult to wait for the bars to cool so you can frost them and dig in!
Cinnamon Apple Bars with Spiced Brown Sugar Buttercream
Author:
Ingredients
For the Bars
1/2 C butter, softened
1/2 C brown sugar
1/4 C sugar
2 eggs
2 tbsp milk
1 tsp vanilla extract
2 C white whole wheat or all-purpose flour
1/2 tsp baking soda
1/4 tsp baking powder
1/4 tsp salt
2 tsp cinnamon
1 C chopped apples
For the Frosting
2 C confectioner's sugar
1/2 C butter, softened
1/3 C brown sugar
1 tsp cinnamon
1/4 tsp nutmeg
1/4 tsp allspice
1/8 tsp cloves
1 tbsp milk
1 tsp vanilla extract
Optional Cinnamon Sugar
1 tbsp sugar
1/4 tsp cinnamon
Instructions
Preheat oven to 350. Spray a 9×9 inch baking dish with non-stick cooking spray.
In the bowl of a stand mixer, or with an electric mixer, cream together butter and sugars. Beat in eggs, milk, and vanilla extract until creamy.
In a separate bowl, whisk together flour, baking powder, baking soda, salt, and cinnamon. Add dry ingredients to wet ingredients and beat until combined.
Spread dough into the bottom of prepared baking dish. Bake for 15-20 minutes or until bars just start to turn light golden brown. Do not over bake.
Remove dish to wire rack to cool. While bars are cooling, beat together frosting ingredients for frosting until light and fluffy.
Spread frosting over cooled bars. Sprinkle with optional cinnamon sugar. Cut into bars and serve.