These Grilled Pineapple Chicken Strips are tender, juicy and filled with tropical pineapple flavor! Serve these chicken strips with a creamy cilantro lime jalapeño dipping sauce or creamy honey lime dipping sauce for your family's new favorite summertime meal!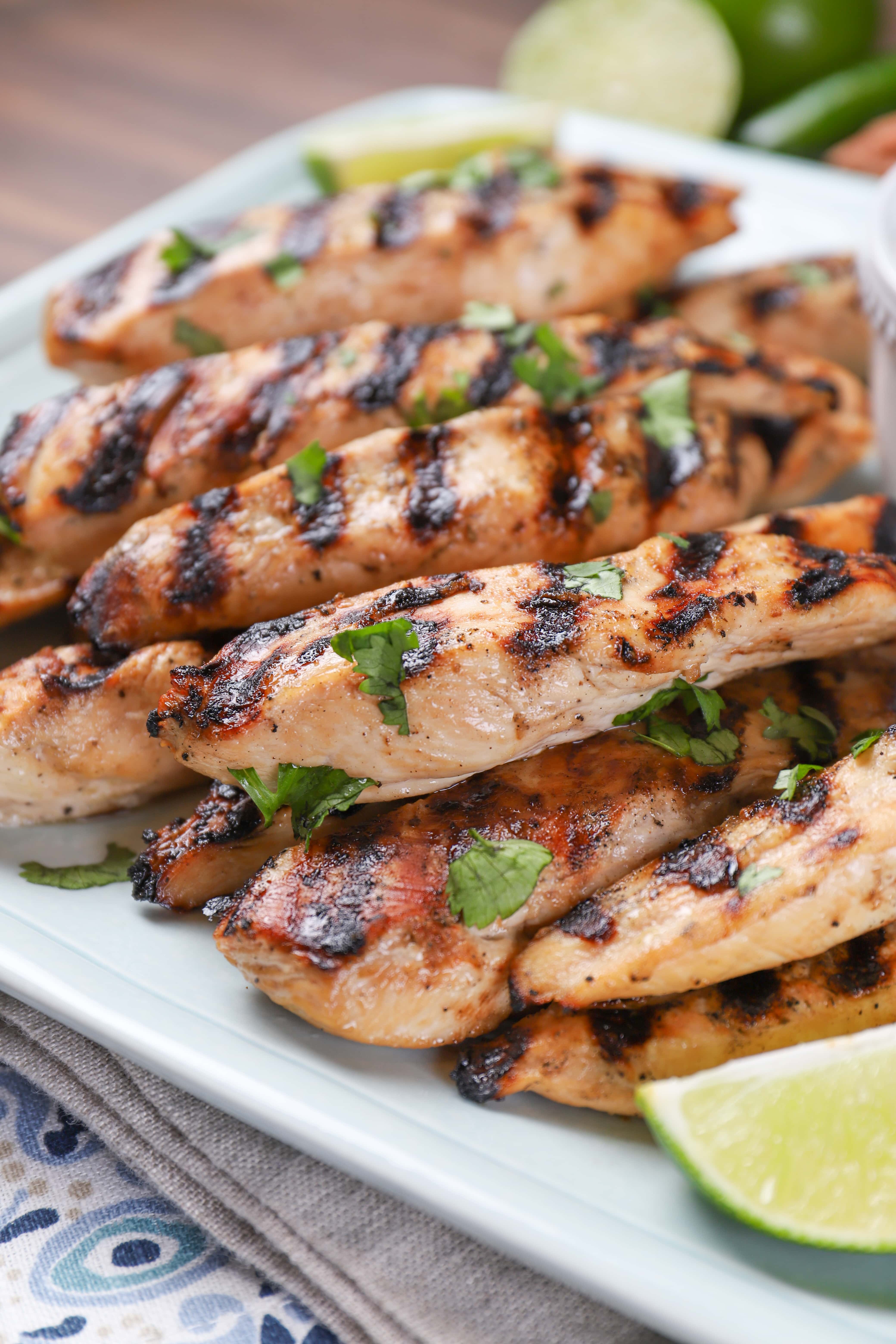 *This recipe is created in partnership with Gold'n Plump®. As always, all opinions are still my own.
I realized the other day that I haven't turned our oven on in a month! Our grill has clearly been getting a workout in these past few weeks. We've been grilling everything from our side dishes, to our main dishes, to our desserts!
Chicken is a staple in our grilling rotation. Whether we're grilling up a whole chicken so we can have leftovers, throwing some chicken breasts on the grill for a quick last minute meal, or taking the time to marinade and cut the chicken into strips, grilled chicken is our main source of protein most summers. This summer is no different!
Lately we've been trying different marinades on our meats to switch up the flavor profile a bit. There are so many combinations to try that it's been a good way to get out of a flavor rut! This grilled pineapple chicken strips recipe came about as a result of one of our flavor experiments and got some help from Gold'n Plump boneless skinless chicken breast fillets.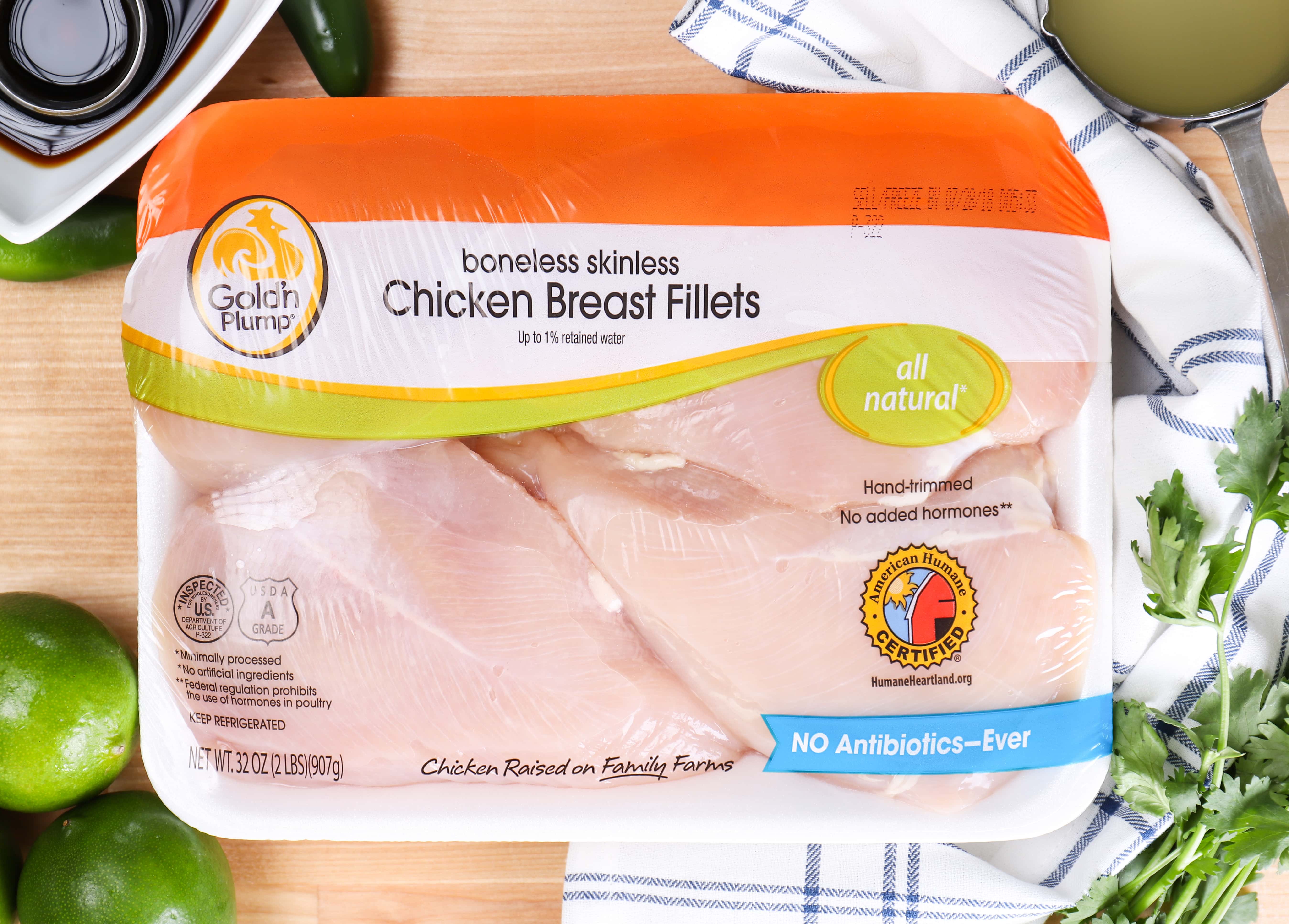 I love being able to share high quality, local products with you that are raised with care by brands who do it right. Gold'n Plump, a Pilgrim's brand, is one of those companies. I'll be sharing some recipes over the rest of the year using some of their products.
Gold'n Plump chickens are raised on family farms in Minnesota and Wisconsin. Keeping it local is great, and their chickens are given locally sourced nutritious feed rations created by a nutritionist.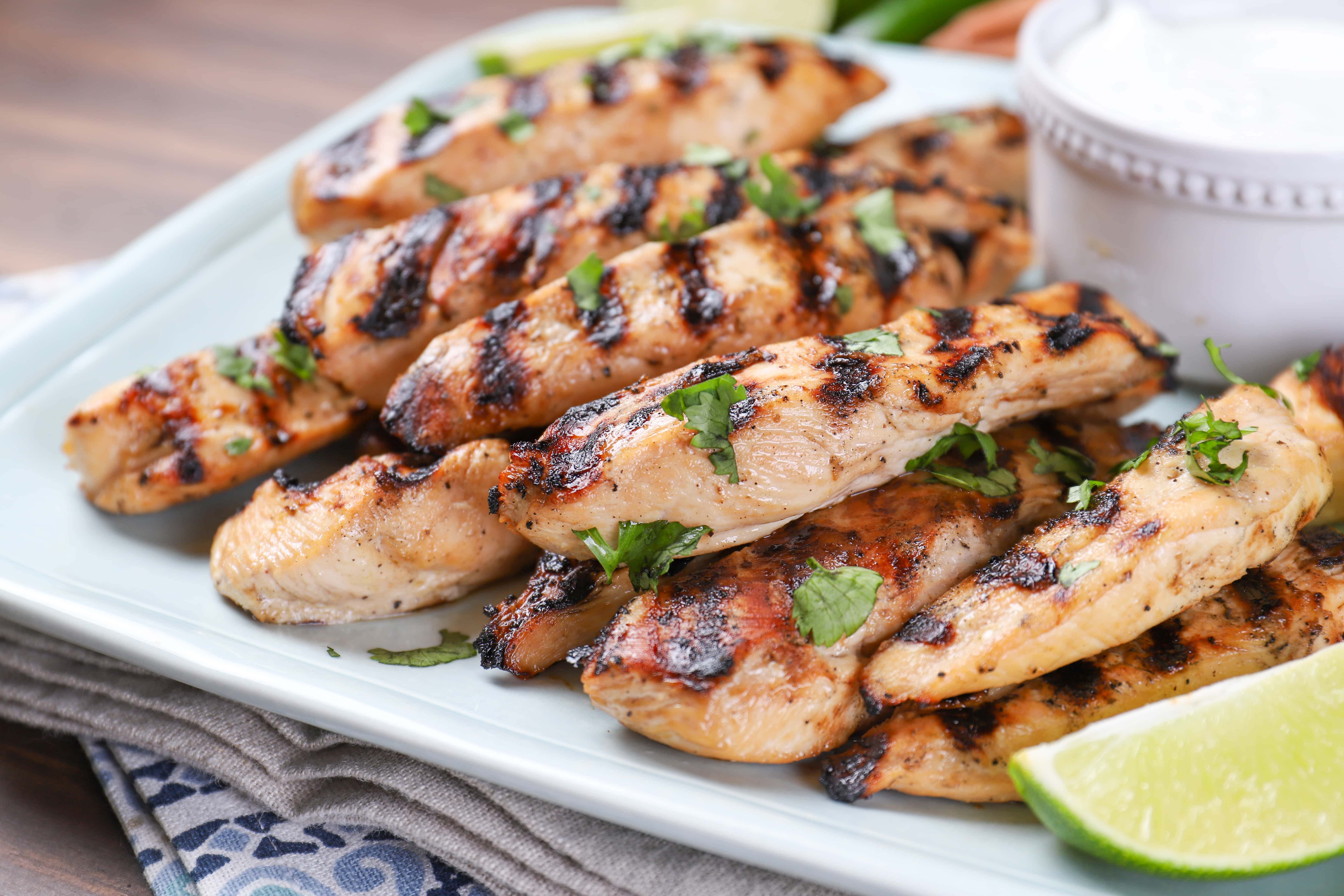 Gold'n Plump chicken is all-natural with No Antibiotics Ever and no added hormones. Their chicken is hand-trimmed and free of unwanted ingredients and solutions, so you get high quality, fresh tasting chicken to feed your family.
As I mentioned before, this chicken strips recipe uses Gold'n Plump boneless-skinless chicken breast fillets and is simple enough to make for a weeknight meal.
Carefully pound the fillets to one-inch thickness or until the fillets are roughly the same thickness throughout.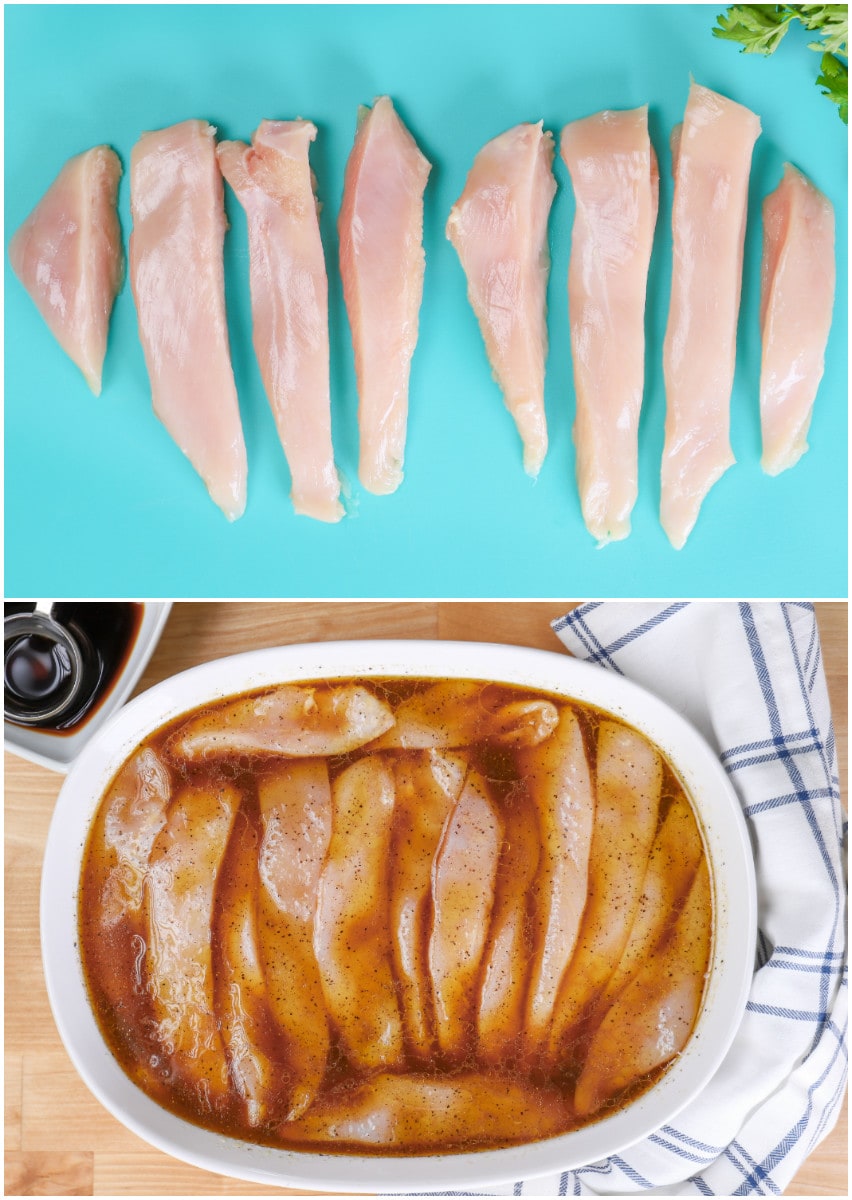 The marinade is a simple combination of pineapple, olive oil, soy sauce, and spices. Just whisk it all together, and let it sit while you cut the chicken fillets into four pieces each.
Place the chicken strips into a shallow dish or a gallon-sized ziplock bag. Pour the marinade over the top of the chicken strips, cover, and refrigerate while marinating.
Make sure that you let the chicken marinate for at least an hour. The longer you let it marinate, the stronger the pineapple flavor in the end product. And I love the tropical pineapple flavor!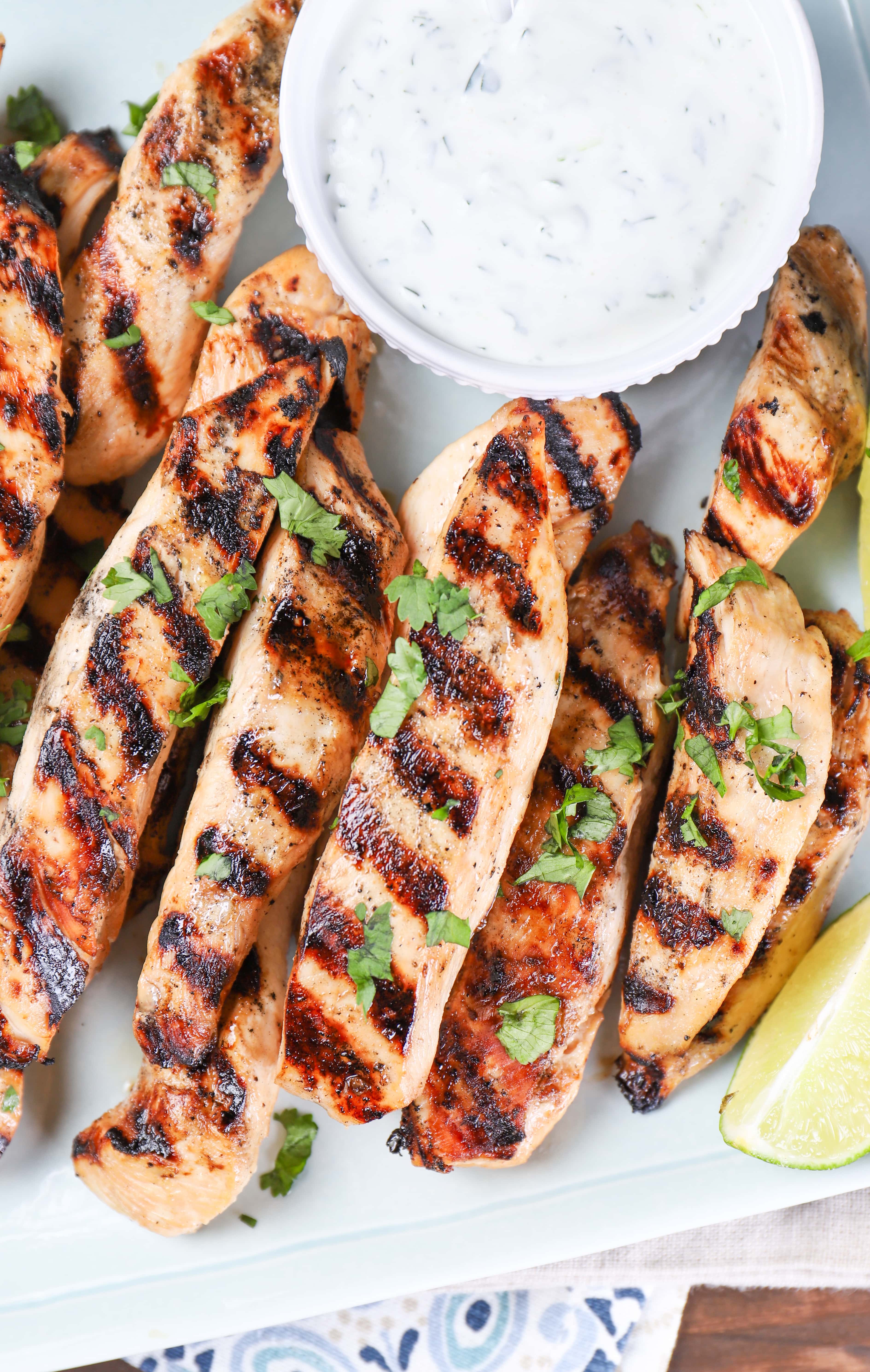 While the chicken strips are great all by themselves, they are even better with a dipping sauce. This is a dipping sauce that the whole family will love!
One simple creamy lime base is used to create two different sauces.
Like a bite of heat? Make the cilantro lime jalapeño dipping sauce. Fresh lime juice, lime zest, and a jalapeno combine with fresh cilantro and a bit of garlic powder
To make the dipping sauce kid-friendly, leave out the jalapeño, tone down the cilantro, and add some sweetness with a bit of honey.
Whichever dipping sauce you choose to serve with your chicken strips, I'm sure they'll soon become your family's new favorite summertime meal!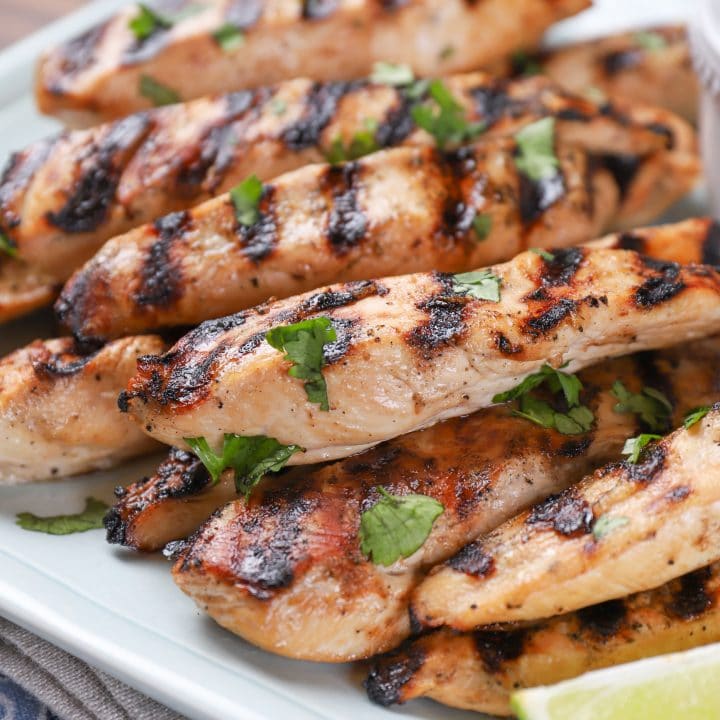 Grilled Pineapple Chicken Strips with Creamy Lime Dipping Sauce (Two Ways!)
Ingredients
For the Pineapple Chicken Strips
1 (2 lb) package Gold'n Plump® Boneless Skinless Chicken Breast Fillets
3/4 C pineapple juice
1/4 C olive oil
3 tbsp low-sodium soy sauce
1/2 tsp garlic powder
1/2 tsp onion powder
1/4 tsp ground black pepper
For the Cilantro Lime Jalapeno Dipping Sauce
1 C sour cream
1/4 C packed cilantro, finely chopped
1 jalapeño, finely chopped
1/2 tbsp fresh lime juice
2 tsp fresh lime zest
1/8 tsp garlic powder
For the Honey Lime Dipping Sauce
1 C sour cream
2 tbsp honey
1 tbsp finely chopped cilantro
1 tbsp fresh lime juice
1 tsp fresh lime zest
1/8 tsp garlic powder
Instructions
In a small bowl, whisk together pineapple juice, olive oil, soy sauce, garlic powder, onion powder, and ground black pepper. Set aside.
Place chicken breast fillets on a cutting board. Cover with a piece of parchment paper and lightly pound until fillets are about one inch thick or close to even in thickness across fillet. Cut each fillets into four strips.
Place chicken strips in a shallow dish and cover with marinade. Cover and refrigerate for at least an hour. Or place chicken strips and marinade in a gallon-sized ziplock bag and refrigerate for at least an hour.
While chicken is marinating, prepare dipping sauce by combining all ingredients for the sauce together, covering, and refrigerating until ready to use.
Bring grill to medium-high heat. Brush grates with oil.
Remove chicken strips from marinade and place on grill. Grill for 4-5 minutes per side until internal temperature reaches 165 degrees F.
Remove chicken strips from grill and allow to rest for 5 minutes before serving with dipping sauce.
Store leftover chicken strips and dipping sauce in refrigerator.
Recommended Products
As an Amazon Associate and member of other affiliate programs, I earn from qualifying purchases.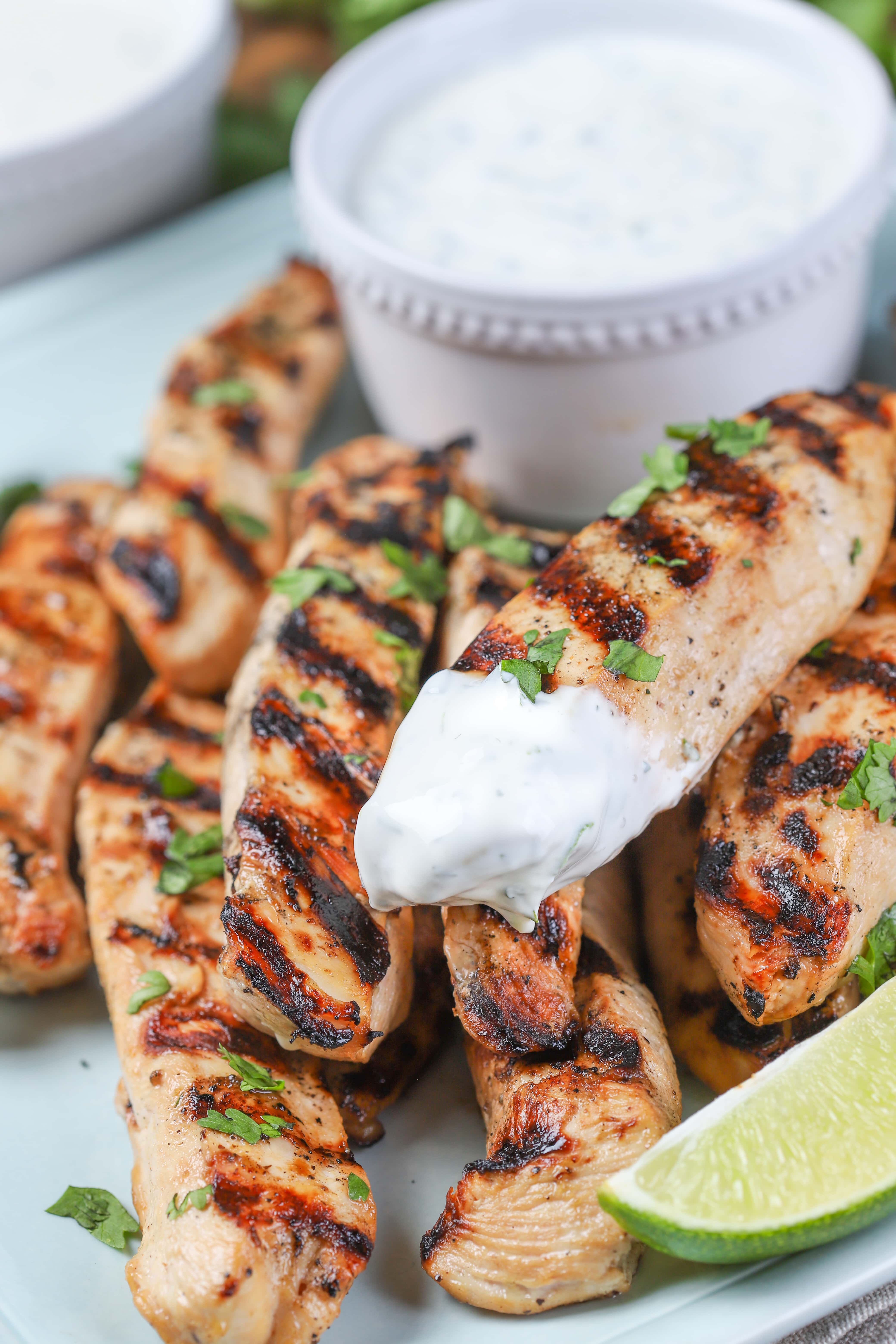 Be sure to check out Gold'n Plump on Facebook, Instagram, Pinterest, and Twitter for more recipe inspiration!