This easy Gluten Free Strawberry Lemon Poppy Seed Coffee Cake is bursting with sweet strawberries and fresh lemon juice and is topped with a thick layer of crunchy cinnamon streusel!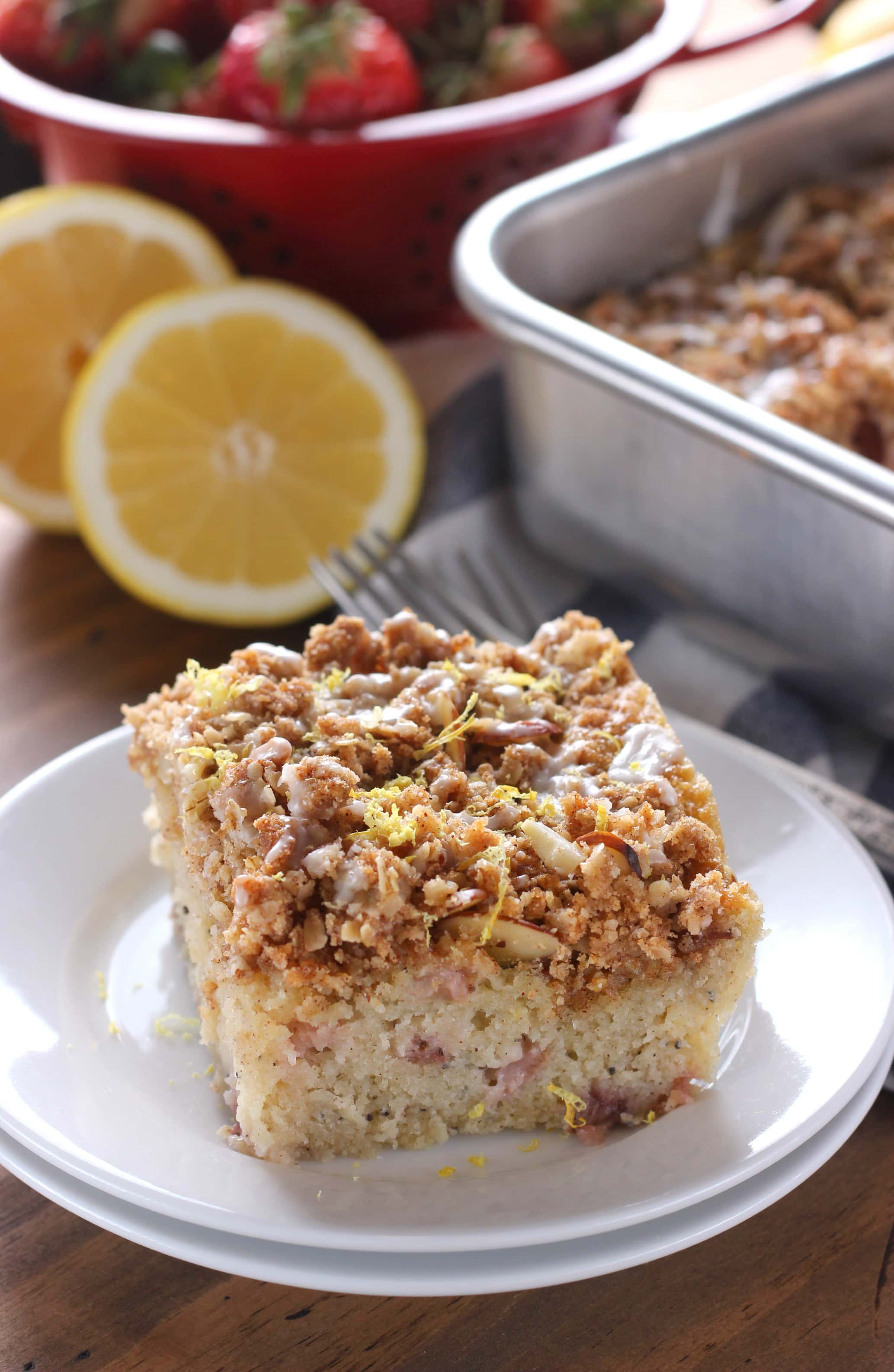 Easter is less than a week away! How's your menu coming? I know a lot of you probably have had your menu planned for weeks.
But for those of you who haven't and are still in need of an easy recipe to round out your menu, I have just the easy coffee cake recipe. Plus, even your gluten free friends and family can enjoy it!
This gluten free strawberry lemon poppy seed coffee cake is the perfect addition to Easter brunch!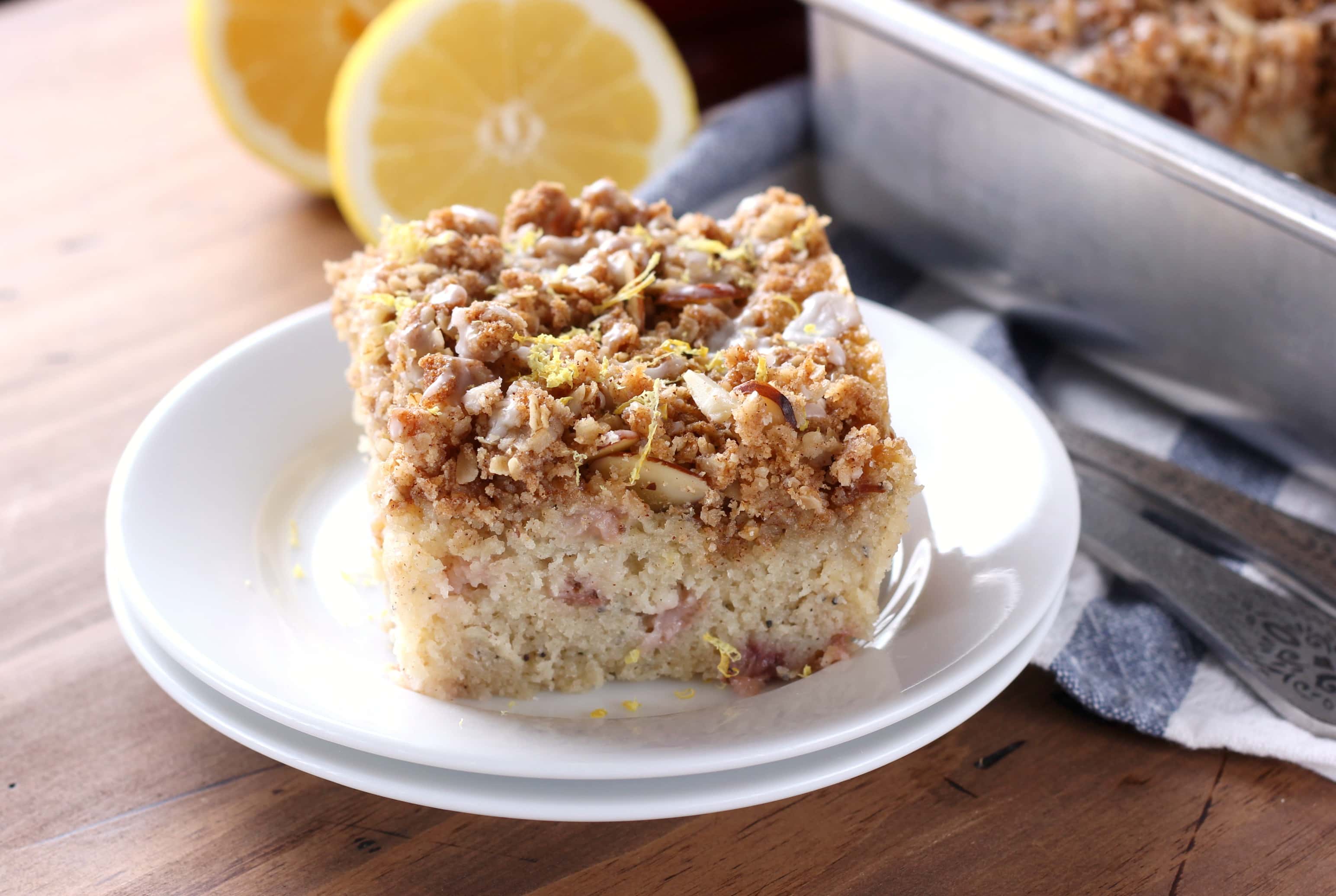 This time of year I find myself eating as many berries as I can get my hands on. Maybe it's my inner self longing for all of the fresh produce that warm weather brings, but there's something about berries and spring that make me want to bake with them as often as possible.
So, making a strawberry coffee cake seemed like the logical thing to do for Easter. Adding in the fresh, citrusy flavor of lemon seemed like an even better decision!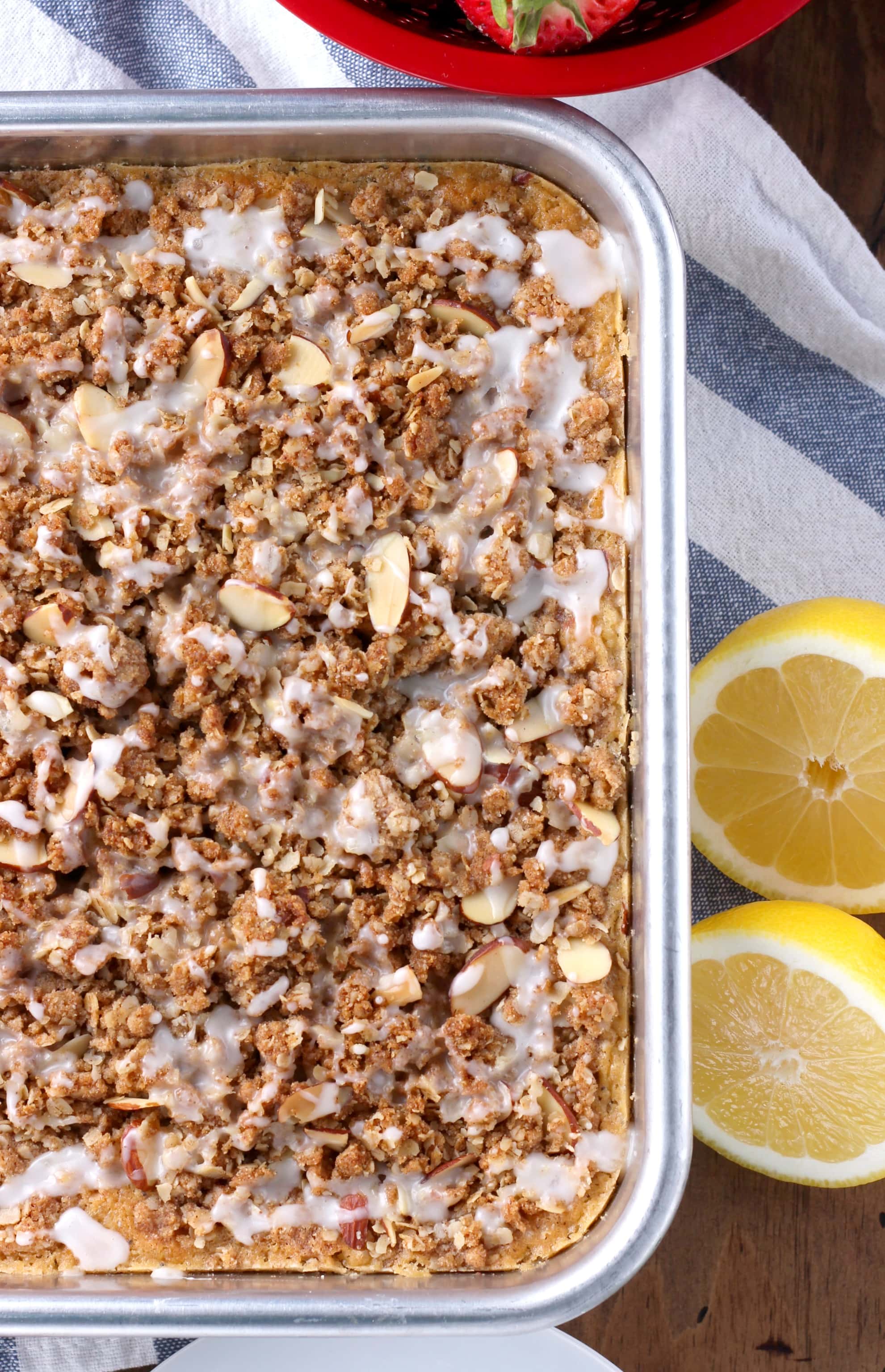 The result was a tender lemon cake that is bursting with fresh strawberries and lemon zest. Sitting on top of the cake is a thick layer of crunchy, cinnamon streusel.
Oats, almond flour, and sliced almonds get mixed with a bit of brown sugar and cinnamon to create ample coverage of the cake. No light sprinkling of streusel here!
For an extra bit of flavor, a sweet lemon glaze is drizzled over the top right before serving. This coffee cake is a keeper and just what your Easter brunch menu needs!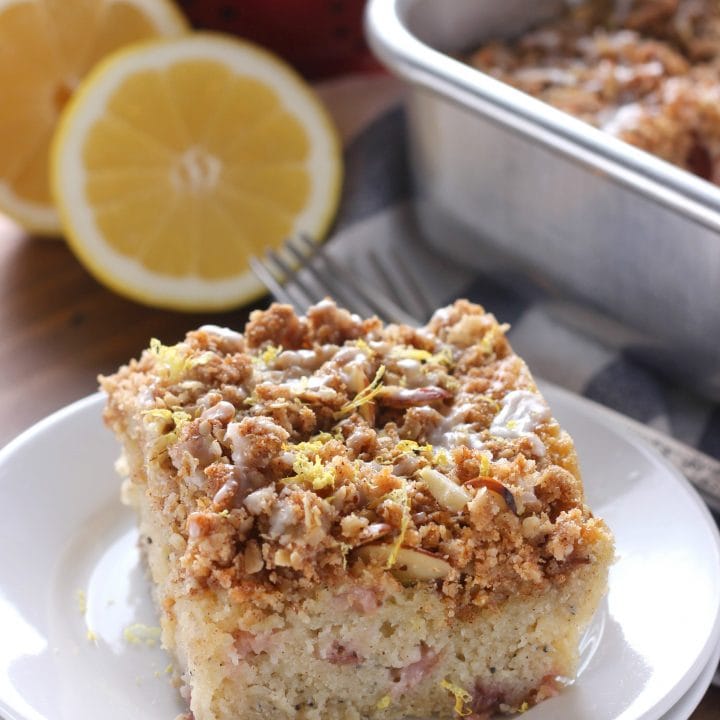 Gluten Free Strawberry Lemon Poppy Seed Coffee Cake
This easy Gluten Free Strawberry Lemon Poppy Seed Coffee Cake is bursting with sweet strawberries and fresh lemon juice and is topped with a thick layer of crunchy cinnamon streusel!
Ingredients
For the Cake
1 tsp baking powder
1 tsp salt
½ tsp baking soda
1 tsp cinnamon
1/4 tsp nutmeg
½ C butter, room temperature
¾ C sugar
2 eggs, room temperature
1½ C milk
2 tbsp fresh lemon juice
1½ tsp vanilla extract
1 tbsp fresh lemon zest
1/2 tbsp poppy seeds
1 C chopped fresh strawberries**
For the Topping
1 C gluten-free quick cooking rolled oats
1/2 C almond meal
6 tbsp brown sugar
2 tsp cinnamon
1/4 tsp salt
6 tbsp unsalted butter, cold
1/4 C sliced almonds
For the Glaze
1/2 C confectioner's sugar
1-2 tbsp fresh lemon juice
fresh lemon zest, optional
Instructions
Preheat oven to 350. Spray a 9x9 inch baking dish with non-stick cooking spray.
In a large bowl, whisk together flour, almond meal, baking powder, salt, baking soda, cinnamon, and nutmeg. Set aside.
In the bowl of a stand mixer (or with an electric hand mixer), cream together butter and sugar. Beat in eggs until creamy. Carefully beat in milk, lemon juice, and vanilla extract until combined.
Add dry ingredients to wet ingredients and stir until combined. Do not over stir. Gently stir in lemon zest, poppy seeds, and chopped strawberries.
Pour batter into prepared baking dish.
Stir together oats, almond meal, brown sugar, cinnamon and salt. Cut in butter until mixture resembles coarse crumbs. Stir in sliced almonds. Sprinkle over the top of batter.
Bake for 40-45 minutes, or until toothpick inserted in the center comes out clean.
Remove to a wire rack to cool for 15-20 minutes before serving.
While cake is cooling, prepare the glaze.
Stir together confectioner's sugar and lemon juice until smooth. Drizzle over the top of the cake. Allow glaze to harden before serving. Serve with additional lemon zest, if desired.
Notes
**Make sure that you strawberries are mostly dry after washing them as the extra liquid from the strawberries can make this coffee cake turn out somewhat soggy in texture.
Recommended Products
As an Amazon Associate and member of other affiliate programs, I earn from qualifying purchases.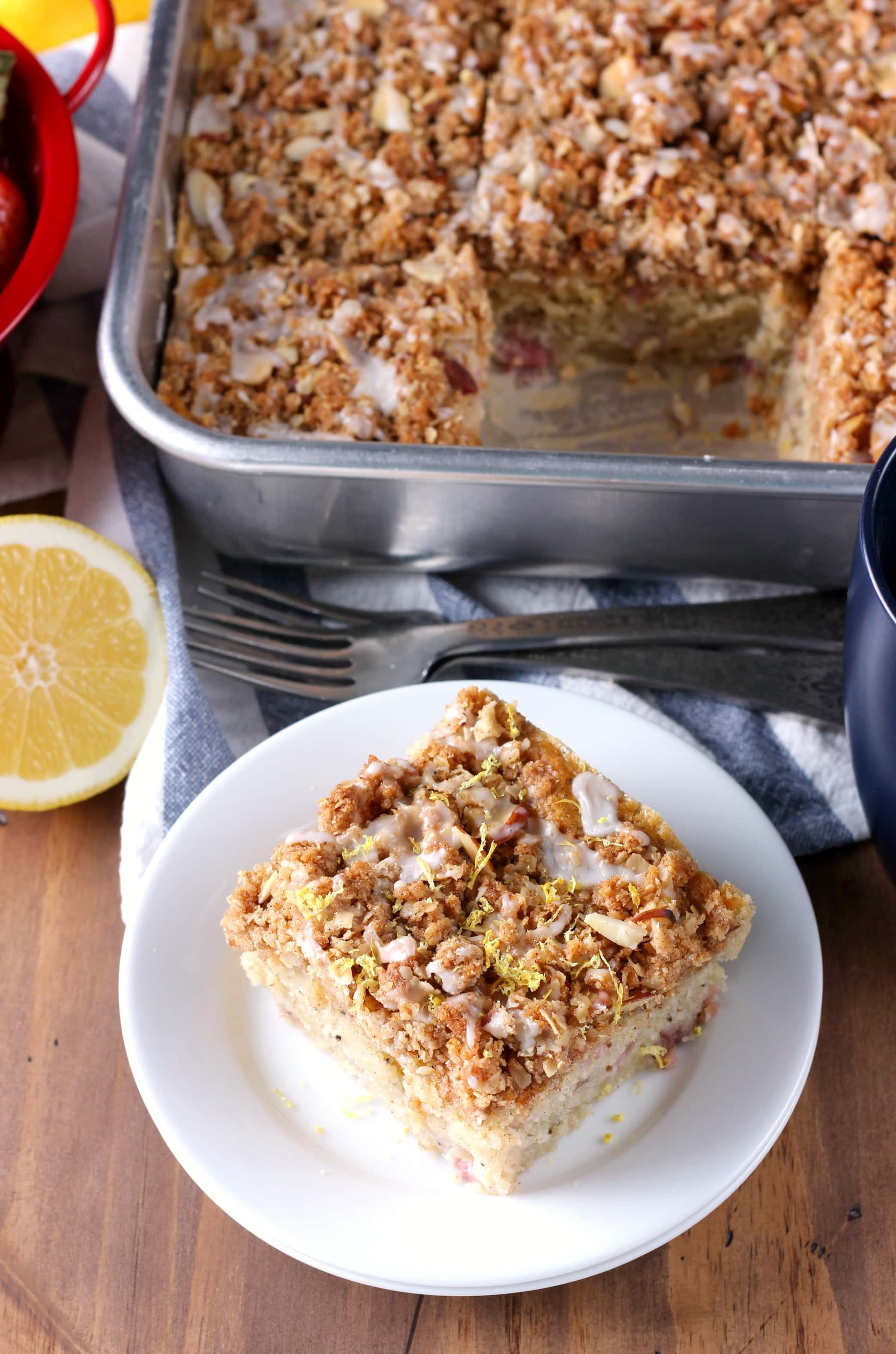 This post contains affiliate links.