Valentine's Day! A time for flowers and indulging in chocolate. . .and oftentimes feeling guilty over the chocolate indulgence! What if you could indulge in chocolate without feeling any guilt? That would make the day perfect wouldn't it?! Try these brownies and you can have that perfect day. 😉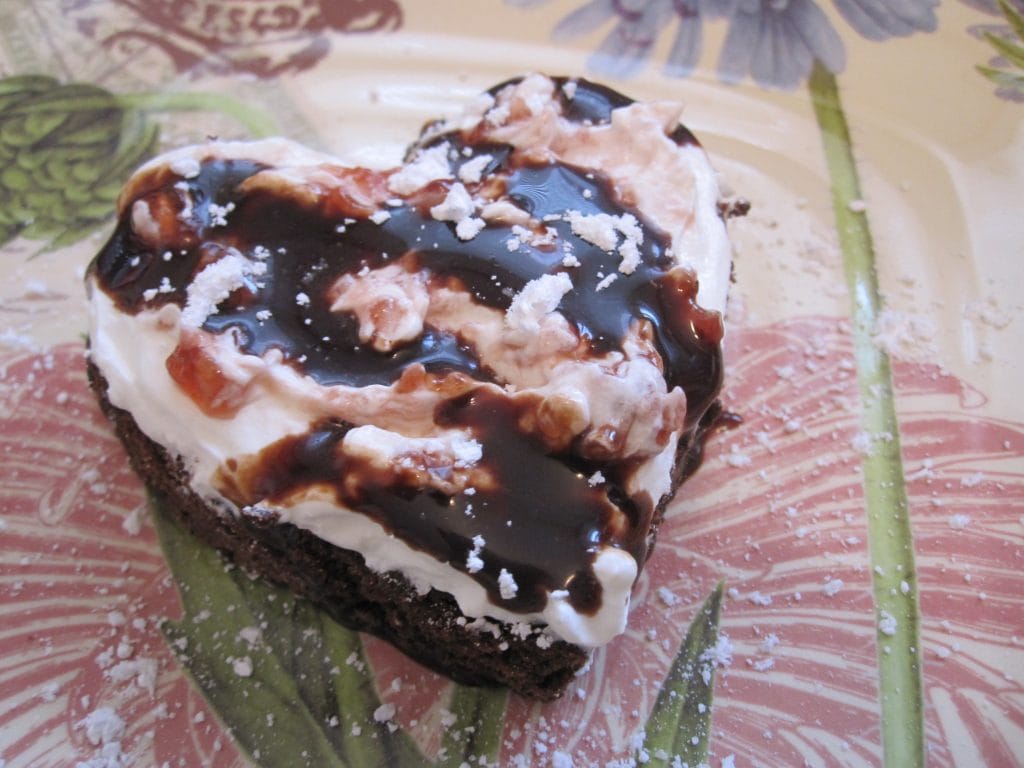 These brownies are both low in fat and sugar and they are quick to make using a boxed brownie mix.
Fudgy Brownies with Raspberry Swirled Cream Cheese
Ingredients:
1 box of reduced-fat brownie mix (20.5 oz)
1/2 C canned pumpkin (not pumpkin pie filling)
1 egg
Frosting:
1 8oz reduced-fat cream cheese, softened
1 80z container reduced-fat whipped topping, thawed
1 TBS vanilla extract
1/2 C raspberry or strawberry preserves, warmed
1/4 C fat-free hot fudge ice cream topping, optional
confectioner's sugar for dusting, optional
Directions:
Preheat oven to 350. Grease a 9×13 pan.
Mix together brownie mix, water, pumpkin, and egg.
Spread batter into pan.
Bake for 18-22 minutes or until toothpick inserted into the middle comes out clean. Make sure to not over bake!
Let cool on rack until completely cooled.
Meanwhile, beat together cream cheese and whipped topping in stand mixer until smooth. Blend in vanilla.
Once the cake has cooled, spread frosting onto bars. Warm preserves in microwave for 15-30 seconds.
Spoon the preserves randomly over the frosting. Take a knife and gently swirl the preserves through the frosting.
Cut the bars into squares or use a heart-shaped cookie cutter to make them more festive.
Drizzle the fudge topping over the top of each brownie and dust with confectioner's sugar.
What are some of your favorite Valentine's Day treats?