Skip the endless batches of cookies and just press the dough into a pan for these soft, thick Lemon Sour Cream Cookie Bars! Filled with the bright, citrusy flavor of fresh lemon, these cookie bars are topped with a fluffy lemon buttercream to make them irresistible!
*This post has been sponsored by Kemps. All thoughts and opinions are my own.*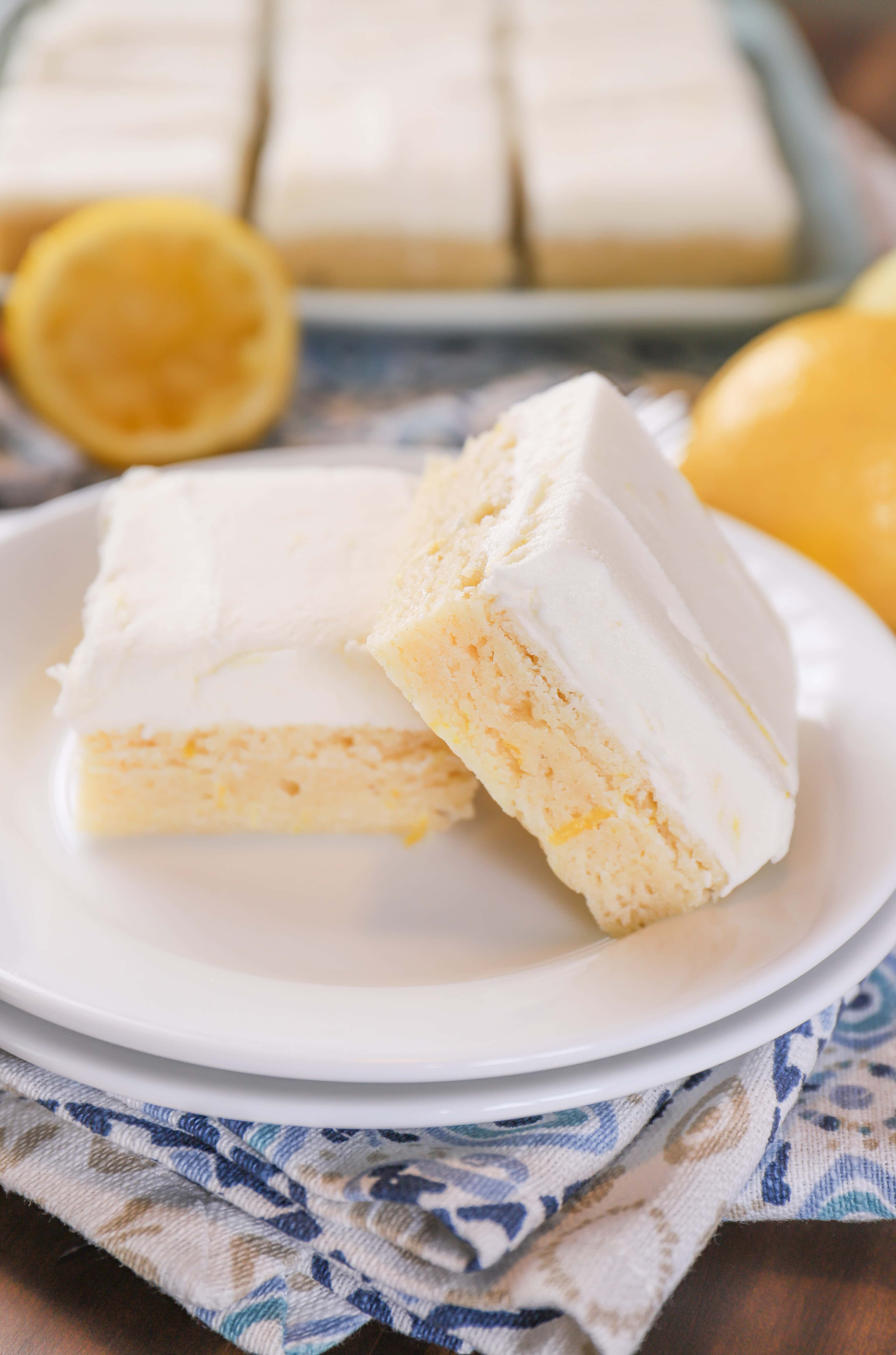 Do you have memories of baking from your childhood that just stand out from the others? Mine is making sour cream cookies as a kid.
One recipe made a giant batch of dough (although that could be my kid memory!) that we could use our cookie cutters to turn into all kinds of different shapes.
It may stand out to me because there is a picture of me covered in flour holding up one of the cookies I had just made, or it may stand out because I can still close my eyes and instantly remember the smell and taste of those cookies.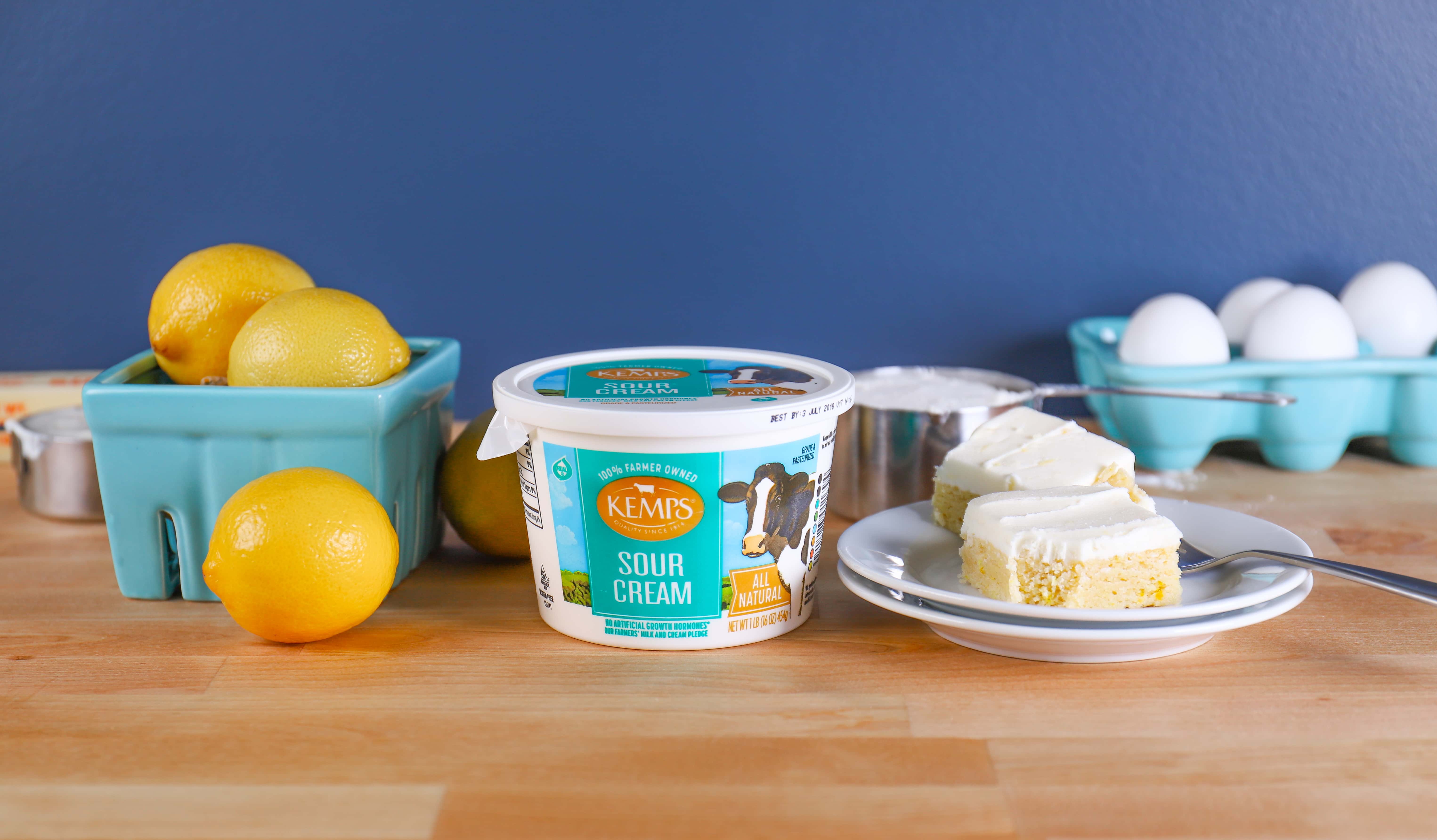 Either way, those cookies have always been some of my favorites, and now I've made them even easier to enjoy!
Instead of making individual cookies, I altered the dough a bit and pressed it all into a baking pan to make these Frosted Lemon Sour Cream Cookie Bars!
What makes these cookie bars different from traditional cookie bars is that instead of milk or yogurt being the fat and binding agent, these bars use sour cream!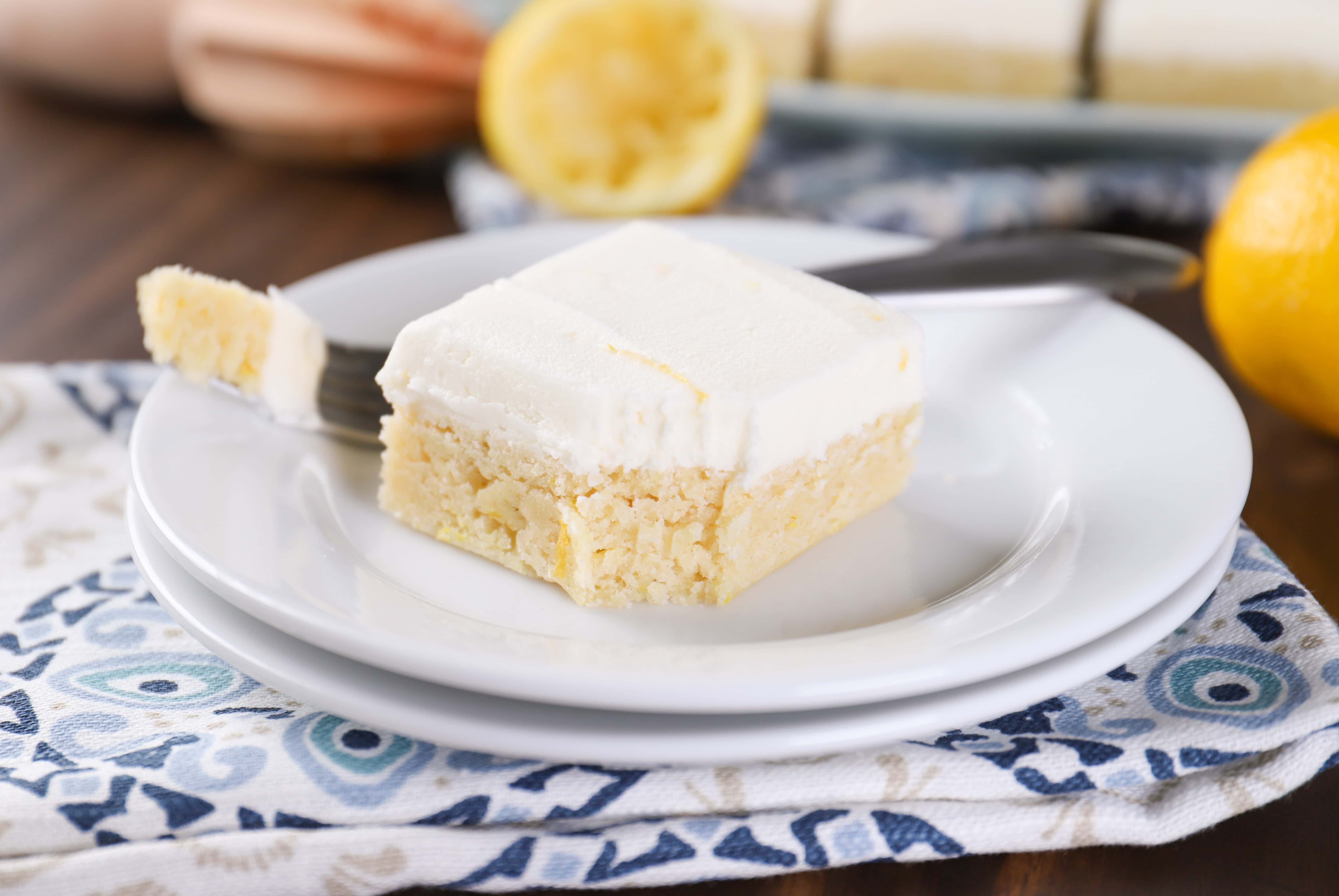 These cookie bars get a boost of rich, tangy flavor from Kemps® Sour Cream. If you look at our fridge on any given day, chances are you will find a container of Kemps Sour Cream sitting on the top shelf.
After moving back to Minnesota, I was excited to be able to purchase Kemps products again. I grew up on Kemps products and missed them while I was away.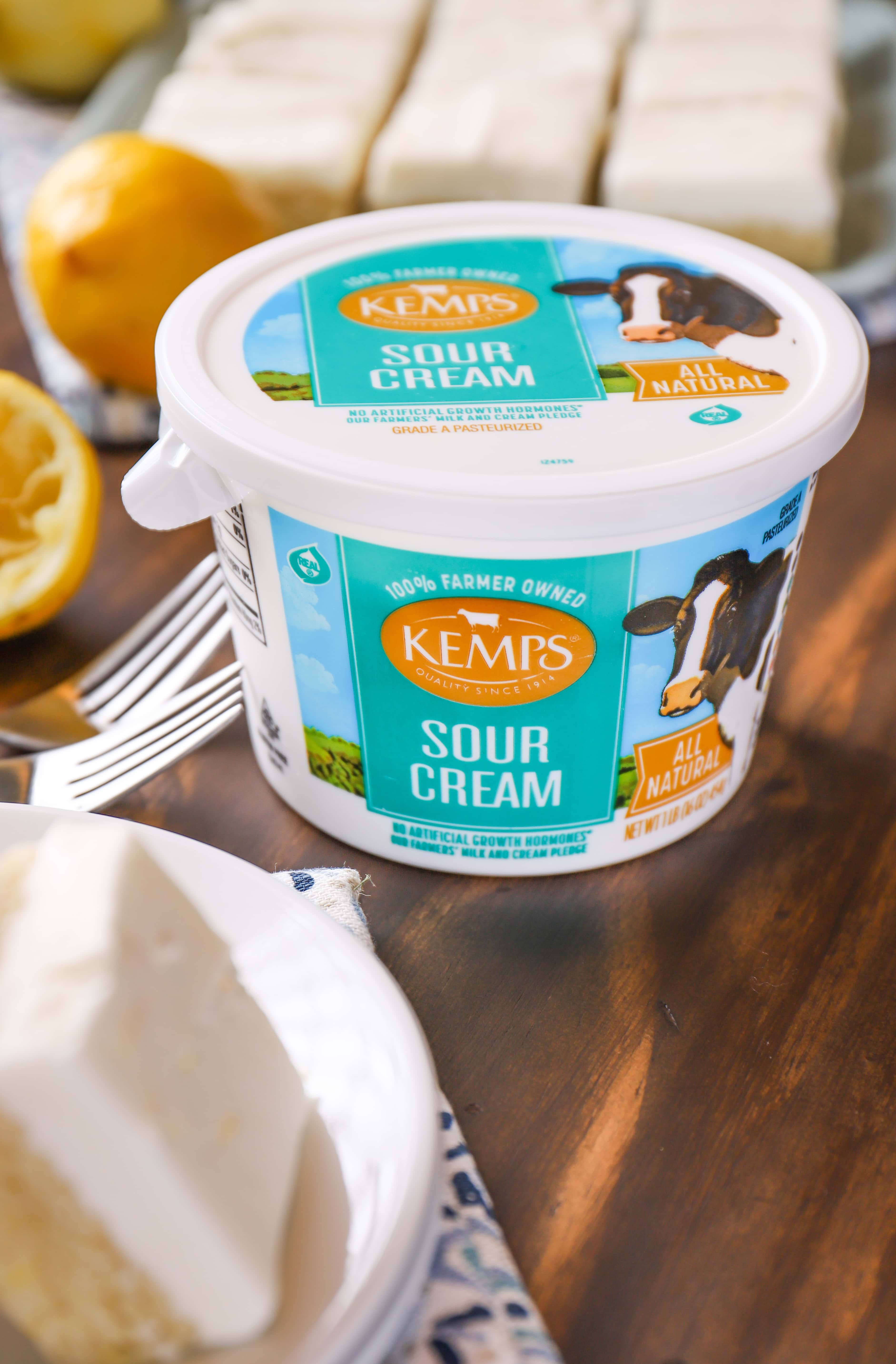 Kemps products are produced fresh from local family farms. In fact, Kemps is 100% family farmer owned. It didn't take long for my husband to see (and taste!) why I was so excited!
Thick and creamy, this sour cream is fresh and all natural. We love it on tacos, topping baked potatoes, stirring into salsa for a quick chip dip, and, of course, in baking!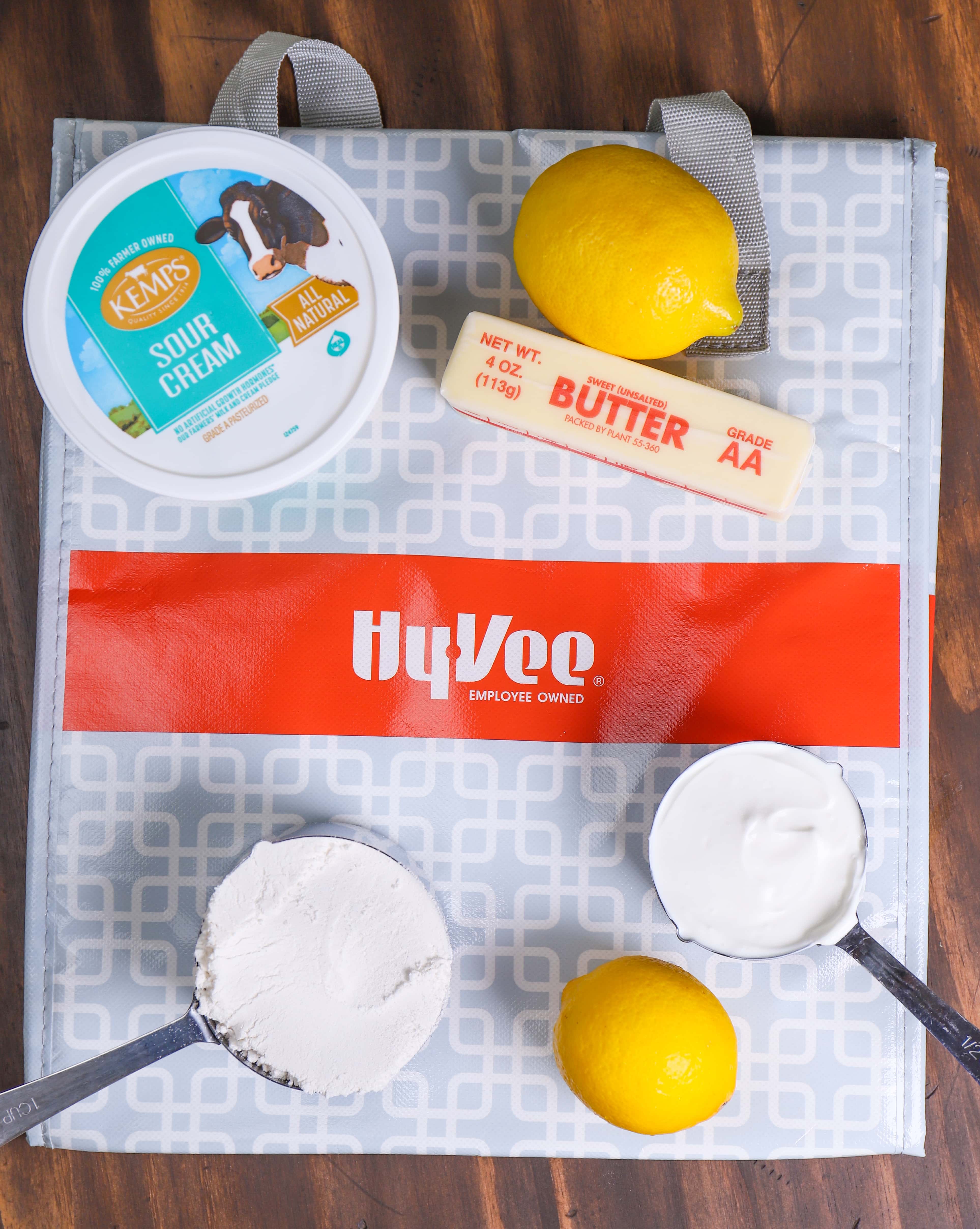 I picked up my sour cream at our local Hy-Vee in the dairy section. Hy-Vee has recently made it's way into the Twin Cities metro, and I love having access to their wide variety of fresh produce and quality brands!
Along with sour cream, I picked up some lemons. Growing up we usually made the sour cream cookies with no added flavor other than a hint of nutmeg, but I couldn't resist adding a bit of bright lemon to these cookie bars.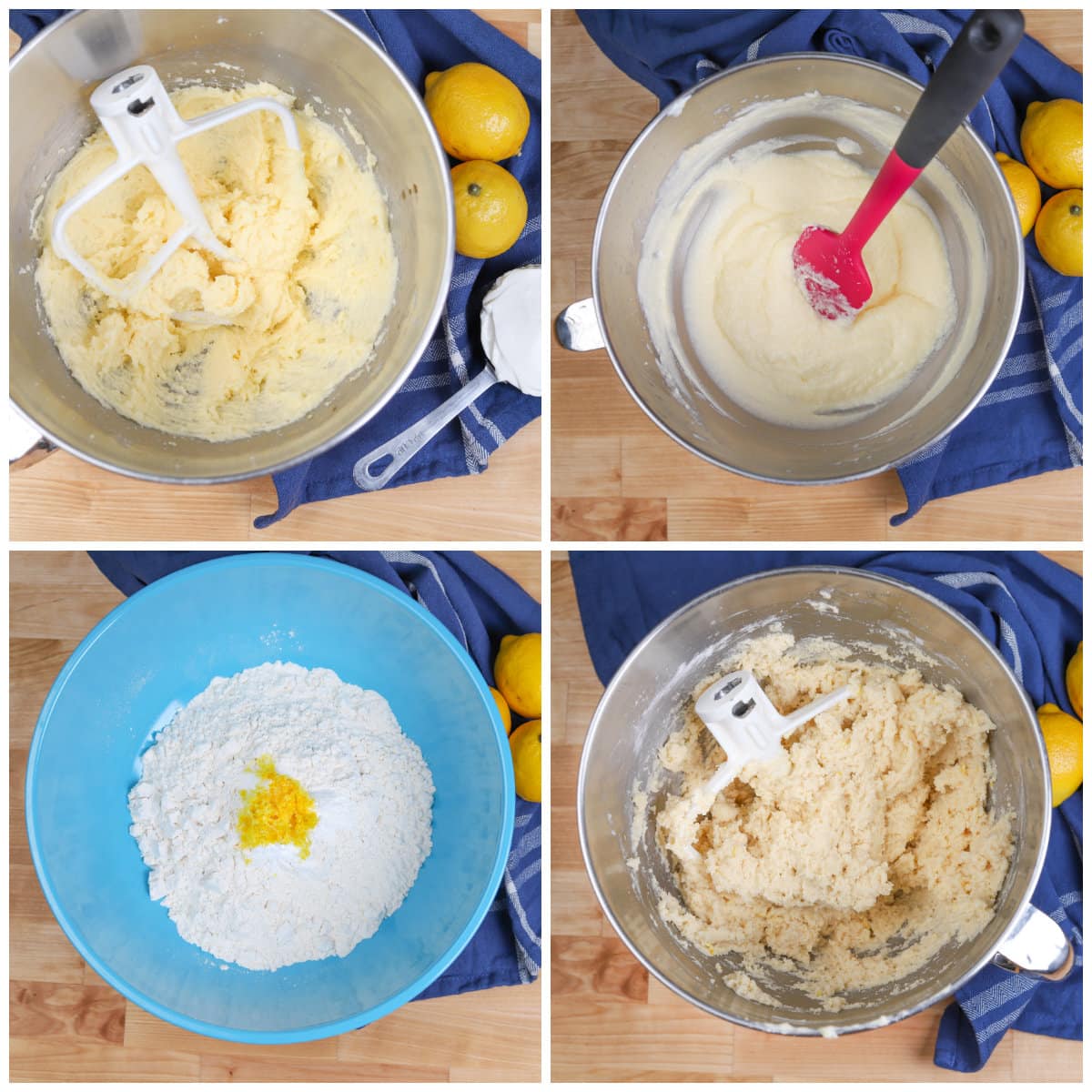 Lemon is one of those flavors that is enjoyed year round. Whether you want the cheery, citrus flavors of it in the winter or the refreshing bright flavor of it in the summer, lemon is welcomed any time of year. Plus, the flecks of fresh lemon zest add a pop of color to these bars!
Add to the sour cream and lemon a few simple ingredients that you most likely already have in your cupboards, and you are on your way to whipping up a batch of lemon sour cream cookie bars!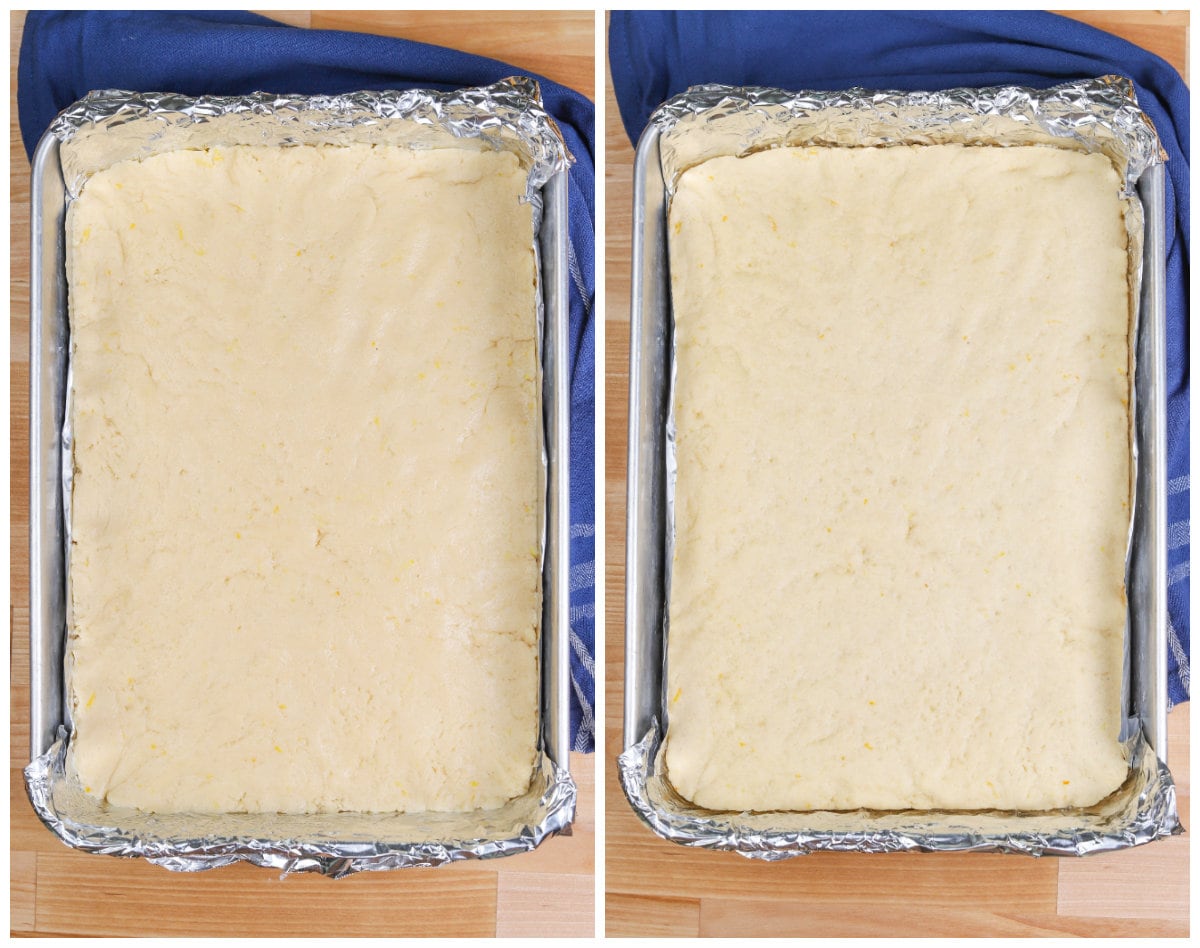 You'll want to bake these cookie bars just until the center is firm. As you can see from the pictures, the bars will be slightly puffed and just pulling away from the edges of the foil.
Because these bars are soft and tender and not your typical chewy bars, you'll want to make sure you don't over bake them to prevent them from being dry. No need to bake them until the edges are golden.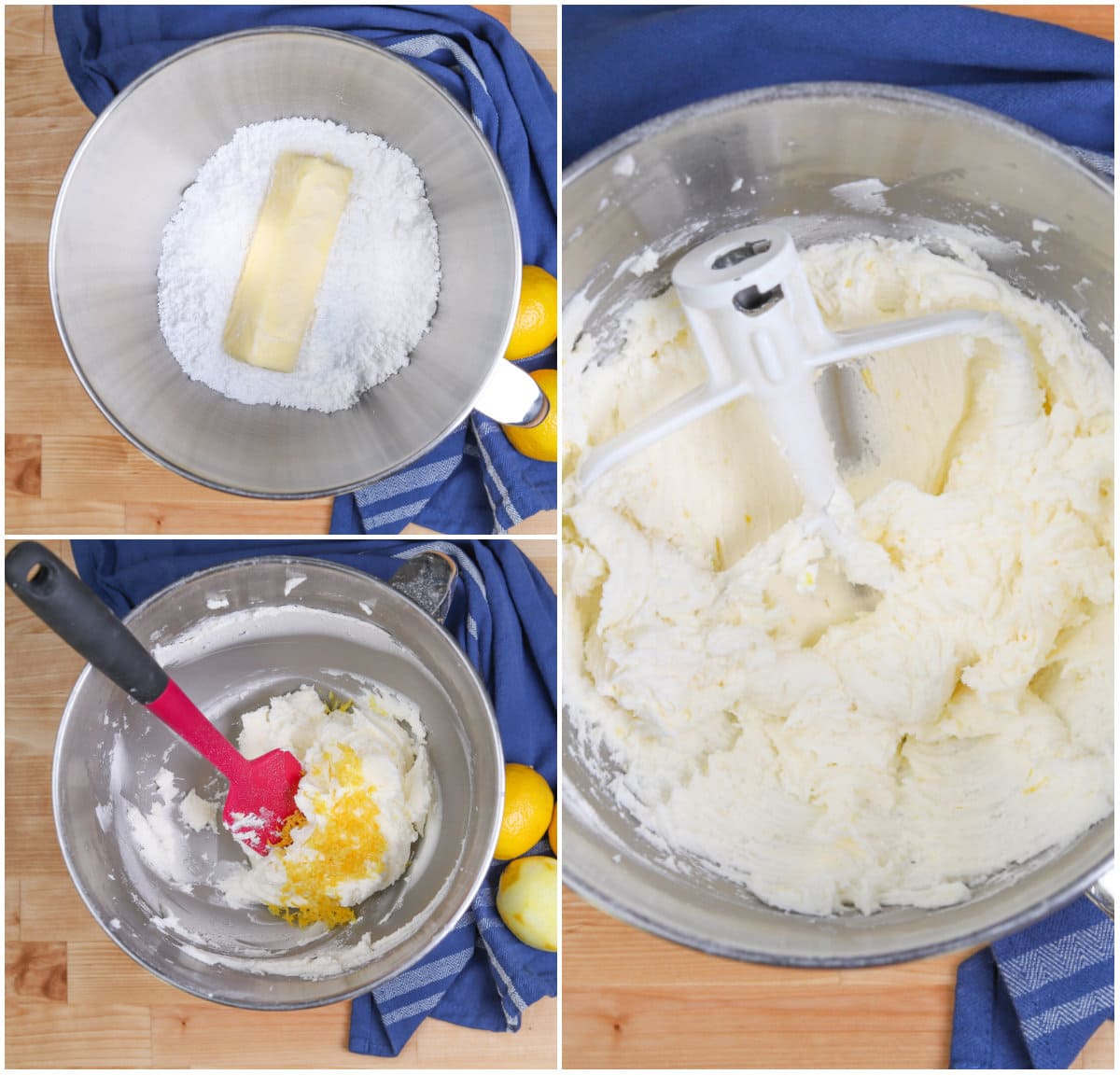 Growing up we didn't usually frost the cookie with a buttercream frosting, but I couldn't resist. Topping these cookie bars is a fluffy lemon buttercream frosting. Both fresh lemon juice and lemon zest are added to give the frosting as much bright, lemony flavor as possible!
Spread it over the cooled cookie bars and you're ready to serve!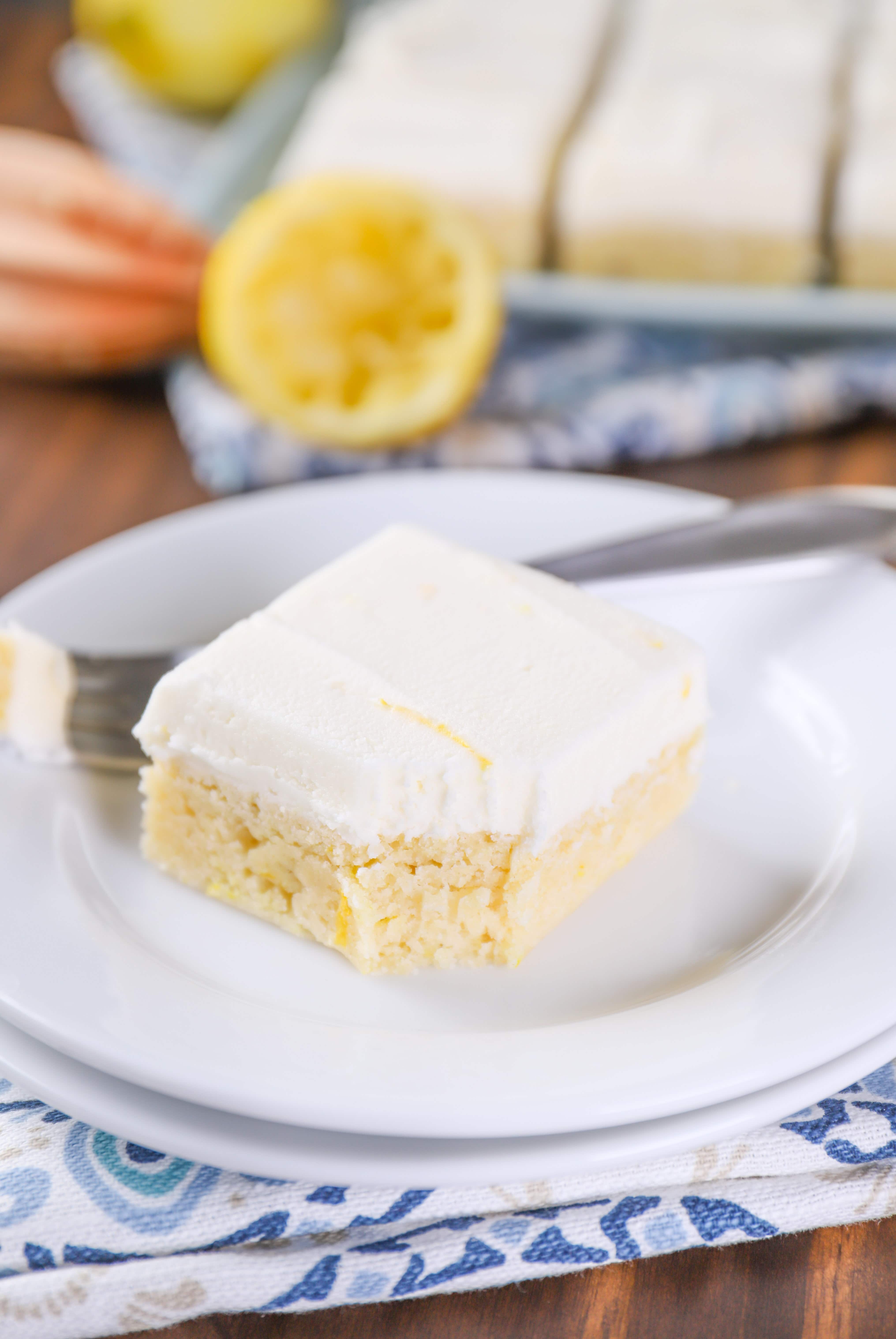 Because these cookie bars require common ingredients, simple directions, and a short bake time. they make a great recipe to have on hand for when you get unexpected company or are invited to a bbq at the last minute.
Or you can even make them the day before and cover them until ready to serve! Either way, don't be surprised if you need to make a double batch because the first pan disappeared so quickly!
Save some money on your next grocery run by grabbing this coupon to save $1.00 when you buy TWO (2) Kemps® Sour Cream Products!
Find out more great Kemps® Sour Cream Recipes here!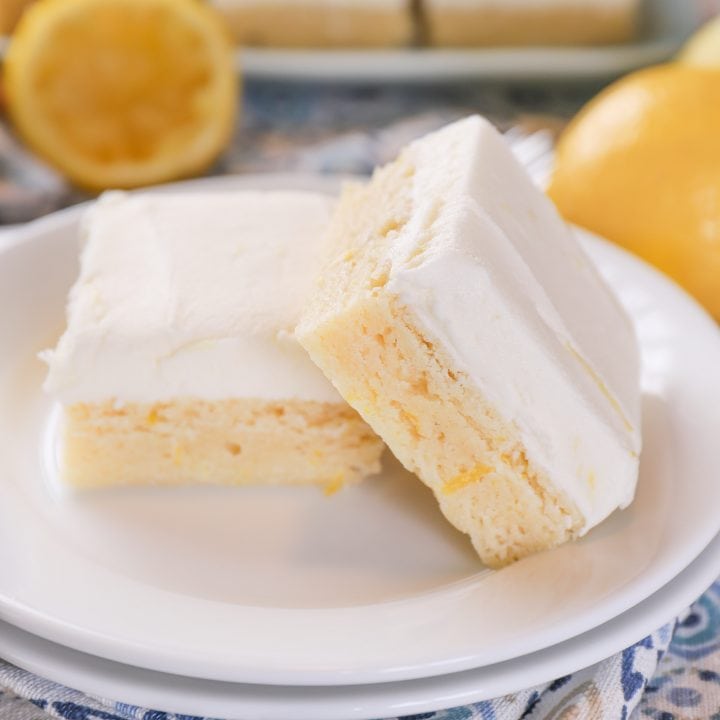 Frosted Lemon Sour Cream Cookie Bars
Skip the endless batches of cookies and just press the dough into a pan for these soft, thick Lemon Sour Cream Cookie Bars! Filled with the bright, citrusy flavor of fresh lemon, these cookie bars are topped with a fluffy lemon buttercream to make them irresistible!
Ingredients
For the Cookie Bars
1 C sugar
1/2 C butter, softened
1 egg
1 tsp vanilla extract
1/2 C Kemps sour cream
2 tbsp fresh lemon juice
2 2/3 C all-purpose flour
2 tsp lemon zest
1 tsp baking powder
1/2 tsp baking soda
1/2 tsp salt
1/4 tsp nutmeg
For the Frosting
1/2 C butter, softened
2 1/2 - 3 C confectioner's sugar
1 tbsp fresh lemon juice
1 tbsp fresh lemon zest
2 1/4 tsp half & half
Instructions
Preheat oven to 350. Line a 9x13 inch baking dish with aluminum foil and lightly spray with non-stick cooking spray.
In the bowl of stand mixer, cream together butter and sugar. Beat in egg and vanilla until creamy. Stir in sour cream and lemon juice until well-combined.
In a medium bowl, whisk together flour, lemon zest, baking powder, baking soda, salt, and nutmeg.
Slowly beat dry ingredients into wet ingredients. Depending on the strength of your mixer, you may need to finish stirring with a wooden spoon.
Spread dough into the bottom of prepared baking dish.
Bake for 12-15 minutes, or until center is firm and edges just start to pull away from foil. Remove to a wire rack to cool.
While cookie bars are cooling, prepare frosting. Cream together butter and 2 1/2 cups confectioner sugar. Add in lemon juice, lemon zest, half & half, and remaining confectioner's sugar. Beat until light and fluffy. Add more confectioner's sugar as necessary to reach desired consistency.
Recommended Products
As an Amazon Associate and member of other affiliate programs, I earn from qualifying purchases.