If you like ginger molasses cookies, you'll love this Double Ginger Molasses Cookies recipe!. They're thick, chewy and loaded with both ground ginger and crystallized ginger!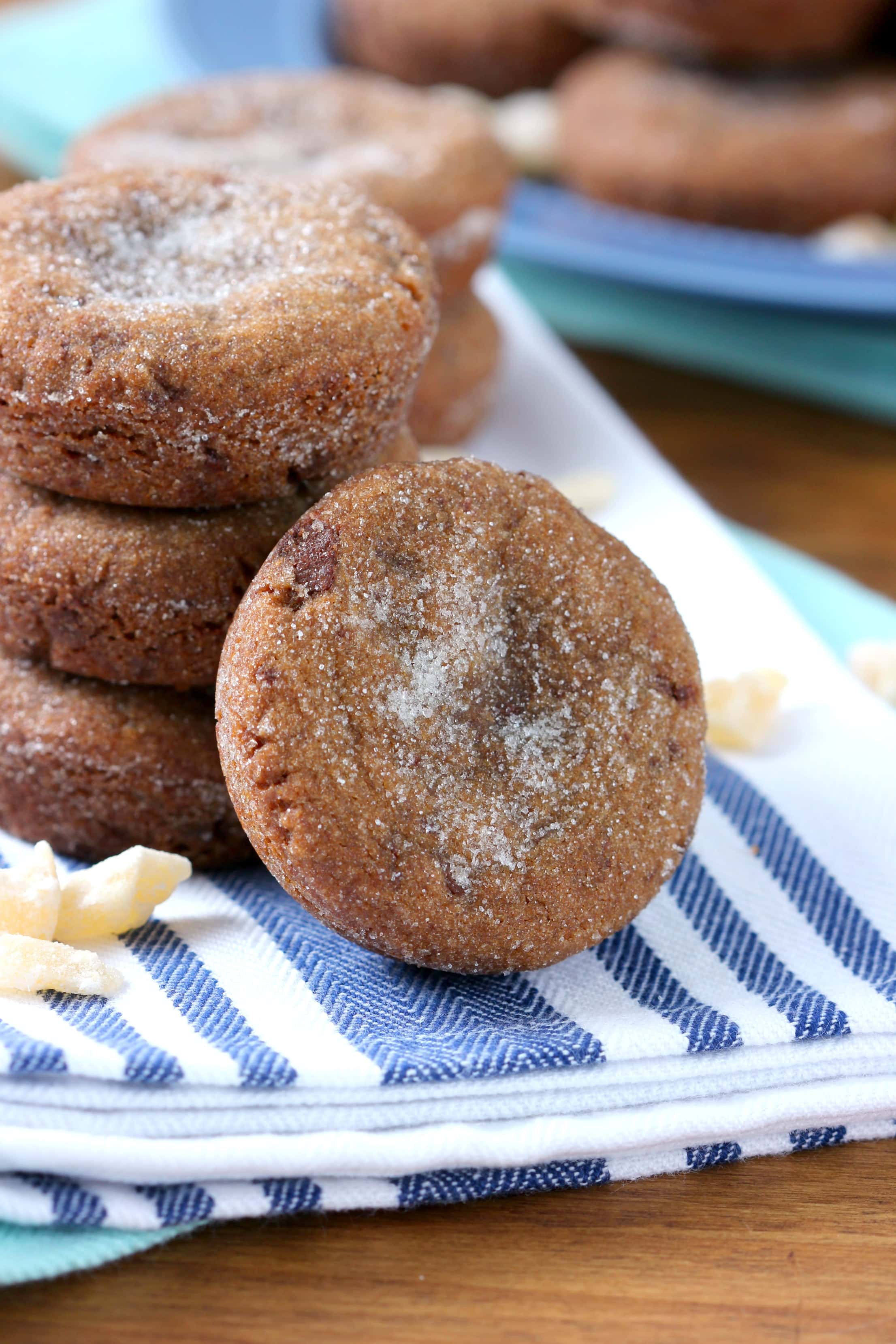 *These Double Ginger Molasses Cookies are made in partnership with OXO and Cookies for Kids' Cancer. I received product to facilitate this post. As always, all opinions are my own.*
Now that the evenings are getting slightly cooler and the trees are just starting to color, I've found that I'm back in the mood to bake! I'm afraid the oven is neglected most of the summer as we turn to the grill for most of our meals.
But as soon as the weather starts to cool, I'm back in the kitchen ready to get a start on my fall baking list. A list that just seems to get longer and longer!
But one recipe has been marked off the list, and that's these thick and chewy double ginger molasses cookies!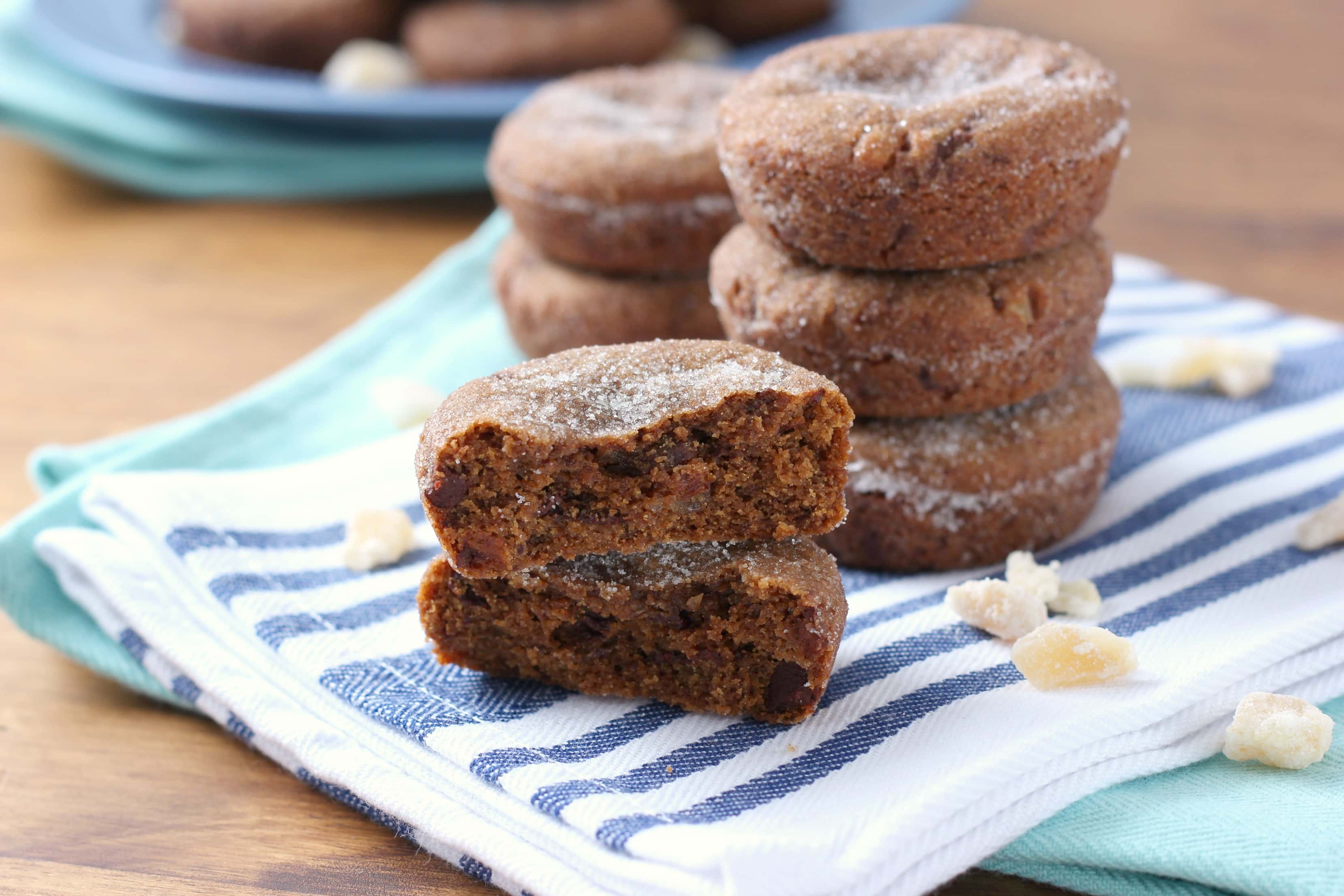 What makes these ginger molasses cookies even better is the fact that they are a part of OXO's Bake a Difference campaign in support of Cookies for Kids' Cancer, a non-profit organization founded by two OXO employees inspired by their son's battle with cancer.
Have you heard of this organization? You should check it out! I've partnered with OXO's campaign for the past three years and am excited to be able to help out again this year!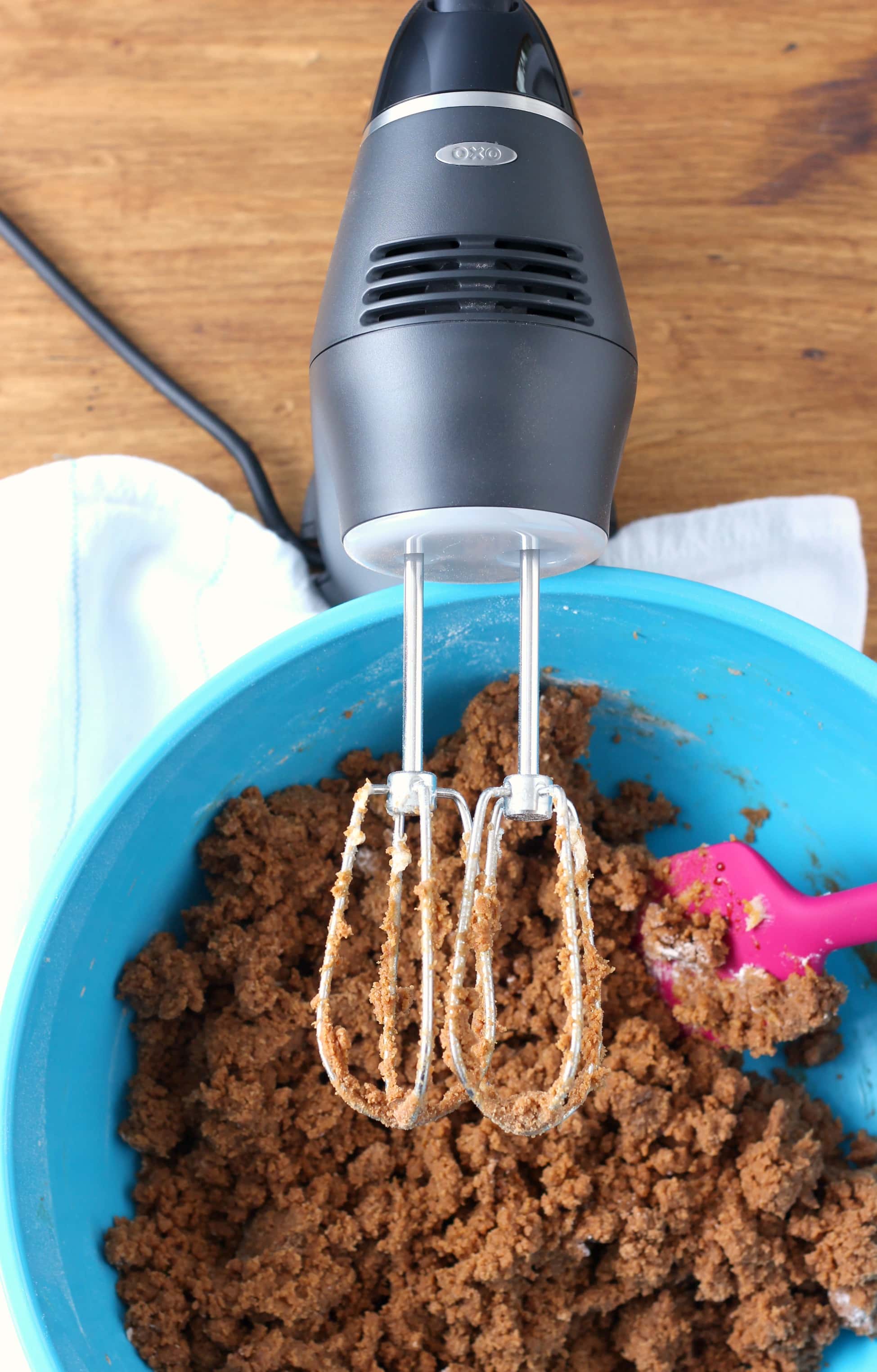 If you like ginger molasses cookies, you'll love these double ginger molasses cookies. They're thick, chewy and loaded with both ground ginger and crystallized ginger. This was my first time baking cookies in a muffin tin.
After trying it for the first time in OXO's Non-Stick Pro 12 Cup Muffin Pan, I'll definitely be baking cookies this way again. Just look at how thick they turn out!
Along with two kinds of ginger, you'll find chopped chocolate and a hint of expresso powder. These cookies are loaded with flavor!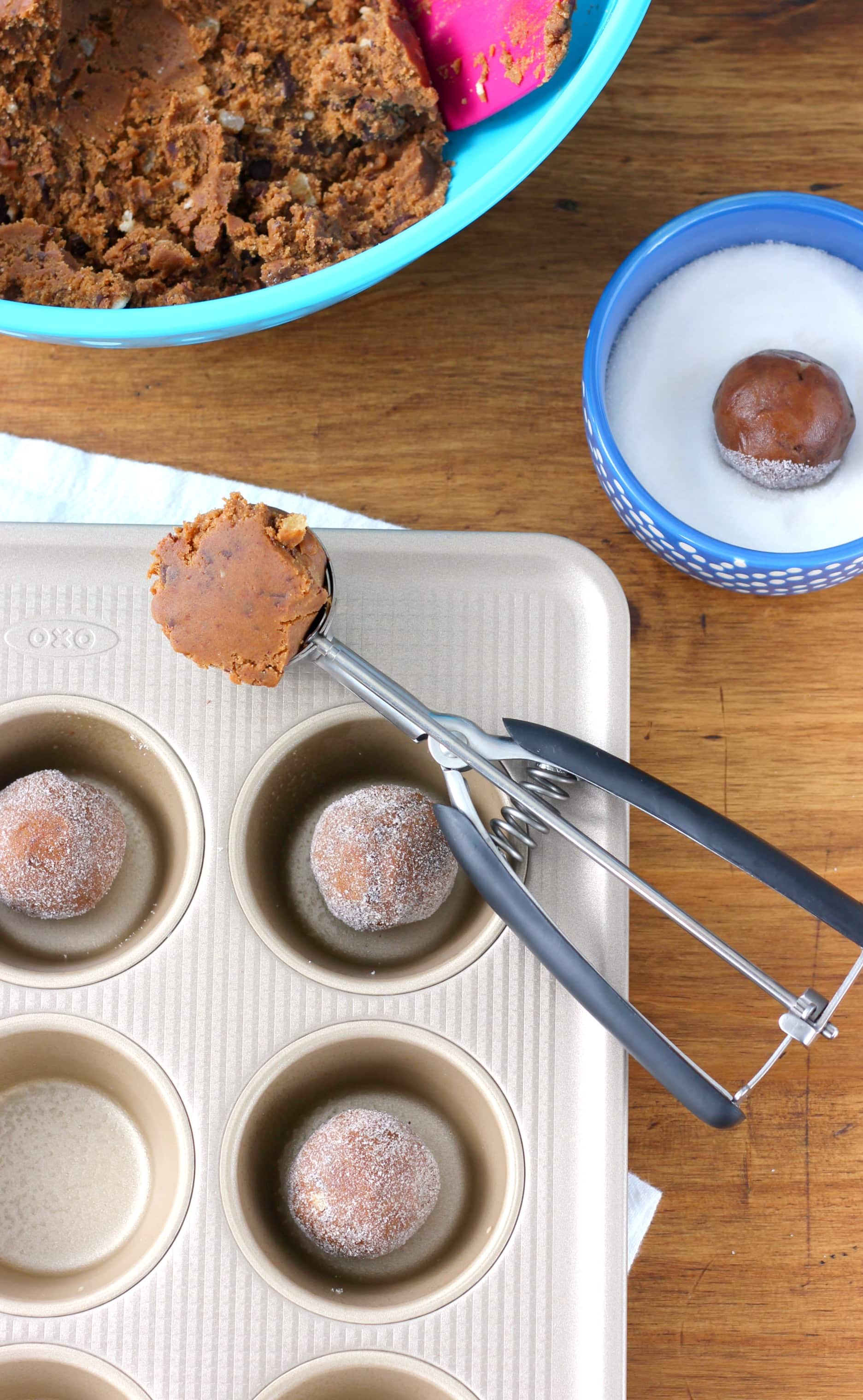 They're also super easy to make. Just mix everything together with an Illuminating Digital Hand Mixer, and finish it off with a stir with a Medium Silicone Spatula.
Refrigerate for a couple hours, scoop the dough up with a Medium Cookie Scoop, roll in sugar, place in muffin tin, and bake!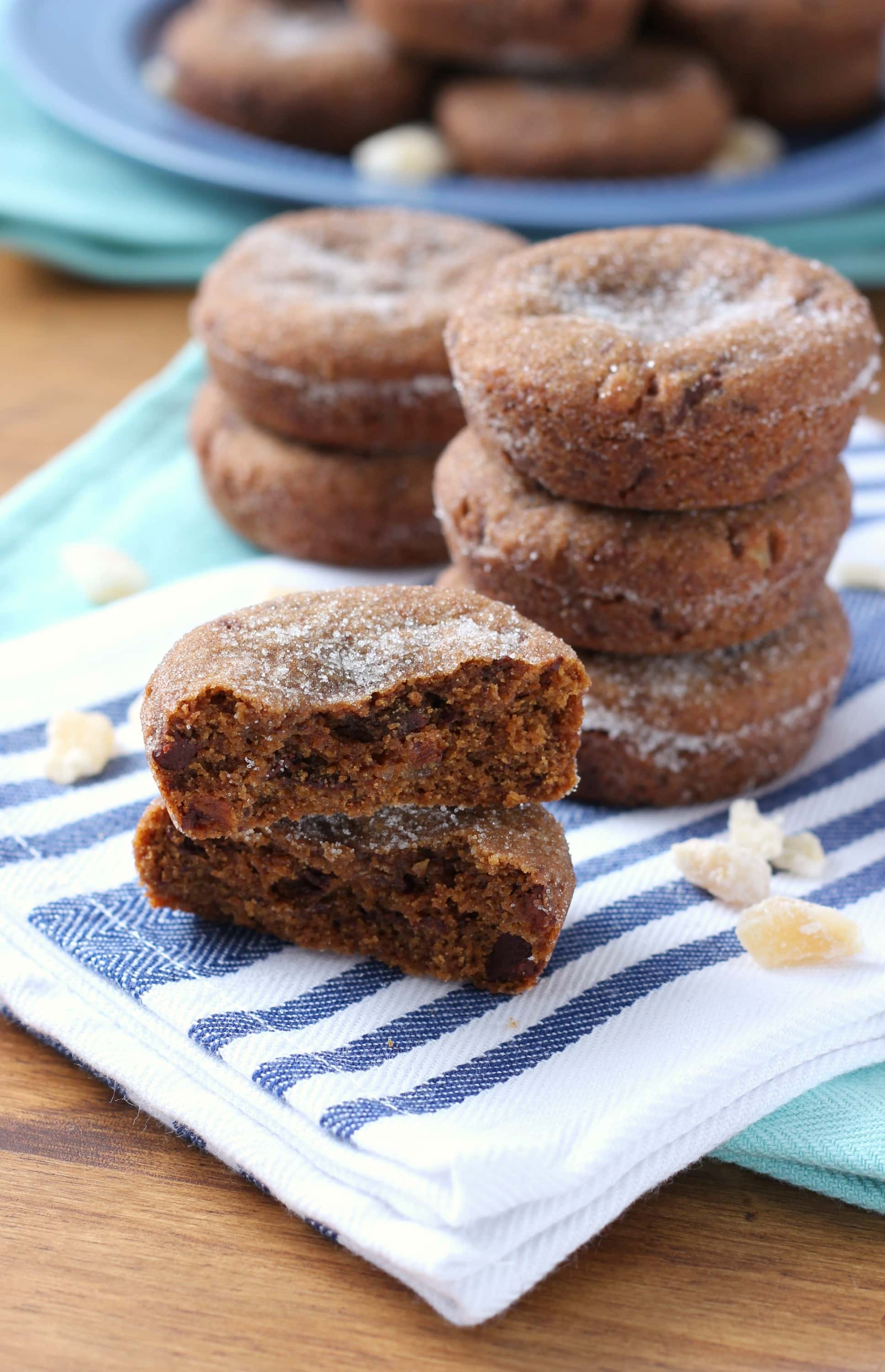 These rich, flavorful cookies are perfect addition to cookie tray for the upcoming holiday season. Or a way to make your week a little sweeter!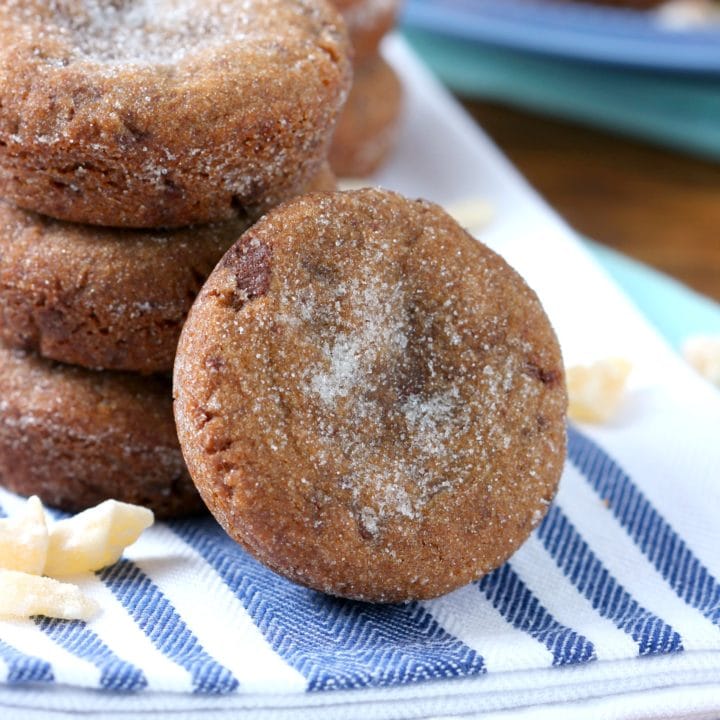 Double Ginger Molasses Cookies
Yield: 36 cookies

Prep Time: 15 minutes

Bake Time: 13 minutes

Refrigeration Time: 2 hours

Total Time: 2 hours 28 minutes

If you like ginger molasses cookies, you'll love this Double Ginger Molasses Cookies recipe!. They're thick, chewy and loaded with both ground ginger and crystallized ginger!
Ingredients
2¼ cups (306 grams) all-purpose flour
2 tablespoons unsweetened cocoa powder
1 to 2 teaspoons instant espresso, to taste (optional)
1½ teaspoons ground ginger
1 teaspoon ground cinnamon
¼ teaspoon ground cloves
½ teaspoon baking soda
½ teaspoon fine sea salt
1½ sticks (12 tablespoons; 6 ounces; 170 grams) unsalted butter, cut into chunks, at room temperature
1⁄3 cup (67 grams) sugar
1⁄3 cup (67 grams) packed light brown sugar
1 large egg yolk, at room temperature
½ cup (120 ml) unsulfured molasses
1½ teaspoons pure vanilla extract
1⁄3 cup (55 grams) chopped crystallized ginger or 2 tablespoons minced fresh ginger mixed with 2 teaspoons sugar (see headnote)
7 ounces (200 grams) semisweet or bittersweet chocolate, chopped chip-size
Sugar, for rolling
Instructions
Whisk the flour, cocoa, espresso (if using), spices, baking soda and salt together.
Working with a stand mixer fitted with the paddle attachment, or in a large bowl with a hand mixer, beat the butter and both sugars together on medium-low speed for about 3 minutes, scraping the bowl as needed, until fully blended. Add the yolk and beat for 1 minute, then add the molasses and vanilla, beating until smooth.
Turn off the mixer, add the dry ingredients all at once and pulse the mixer until the risk of flying flour passes. Working on low speed, mix the dough until the flour is almost but not completely incorporated. Add the crystallized ginger (or the sugared fresh ginger) and chocolate and mix until the dry ingredients disappear into the dough and the ginger and chocolate are evenly distributed. If you've got bits of dry ingredients on the bottom of the bowl, mix them in with a flexible spatula.
Gather the dough into a ball, flatten it and wrap it in plastic. Refrigerate for at least 2 hours.
Getting ready to bake: Position the racks to divide the oven into thirds and preheat it to 350 degrees Fahrenheit. Butter or spray regular muffin tins or, if making free-form cookies, line two baking sheets with parchment paper or silicone baking mats.
Have a medium cookie scoop at hand. Alternatively, you can use a rounded tablespoonful of dough for each cookie. If you're using tins, find a jar or glass that fits into them and can be used to flatten the dough; cover the bottom in plastic wrap. Spoon some sugar into a wide shallow bowl.
For each cookie, mold a scoop or spoonful of dough into a ball between your palms, then turn it in the sugar to coat and put in a muffin cup or on a baking sheet, leaving 2 inches between each ball of dough. If using tins, use the jar or glass to flatten each ball until it almost reaches the sides of the cup. If it's free- form, press to flatten to about 1⁄2 inch thick.
Bake the cookies for about 13 minutes, rotating the tins or sheets top to bottom and front to back after 7 minutes. The cookies should be lightly set around the edges and softer in the center. Transfer the tins or sheets to racks and let the cookies rest for 15 minutes before unmolding them and/or placing them on racks to cool completely.
If you're baking in batches, make certain to start with cool tins or baking sheets.
Store leftovers in an airtight container.
Recommended Products
As an Amazon Associate and member of other affiliate programs, I earn from qualifying purchases.
Nutrition Information:
Yield: 36 Serving Size: 1 cookie
Amount Per Serving: Calories: 117Total Fat: 4gSaturated Fat: 2gTrans Fat: 0gUnsaturated Fat: 2gCholesterol: 12mgSodium: 61mgCarbohydrates: 18gFiber: 1gSugar: 10gProtein: 2g

Nutrition information shown is an estimate provided by an online calculator and may not always be accurate. It should not be considered a substitute for a medical professional's advice.


Recipe used with permission from Dorie Greenspan's Dorie's Cookies.
Disclaimer: This post was created in exchange for OXO product and a donation to Cookies for Kids' Cancer. As always, all opinions are 100% my own.
This year, OXO will donate up to $100,000 to Cookies for Kids' Cancer. Cookies for Kids' Cancer is a recognized 501c(3) public charity duly incorporated under the laws of the state of New Jersey. 100% of proceeds raised by Cookies fund pediatric cancer research. Visit https://www.oxo.com/cookies-for-kids-cancer or cookiesforkidscancer.org for more information.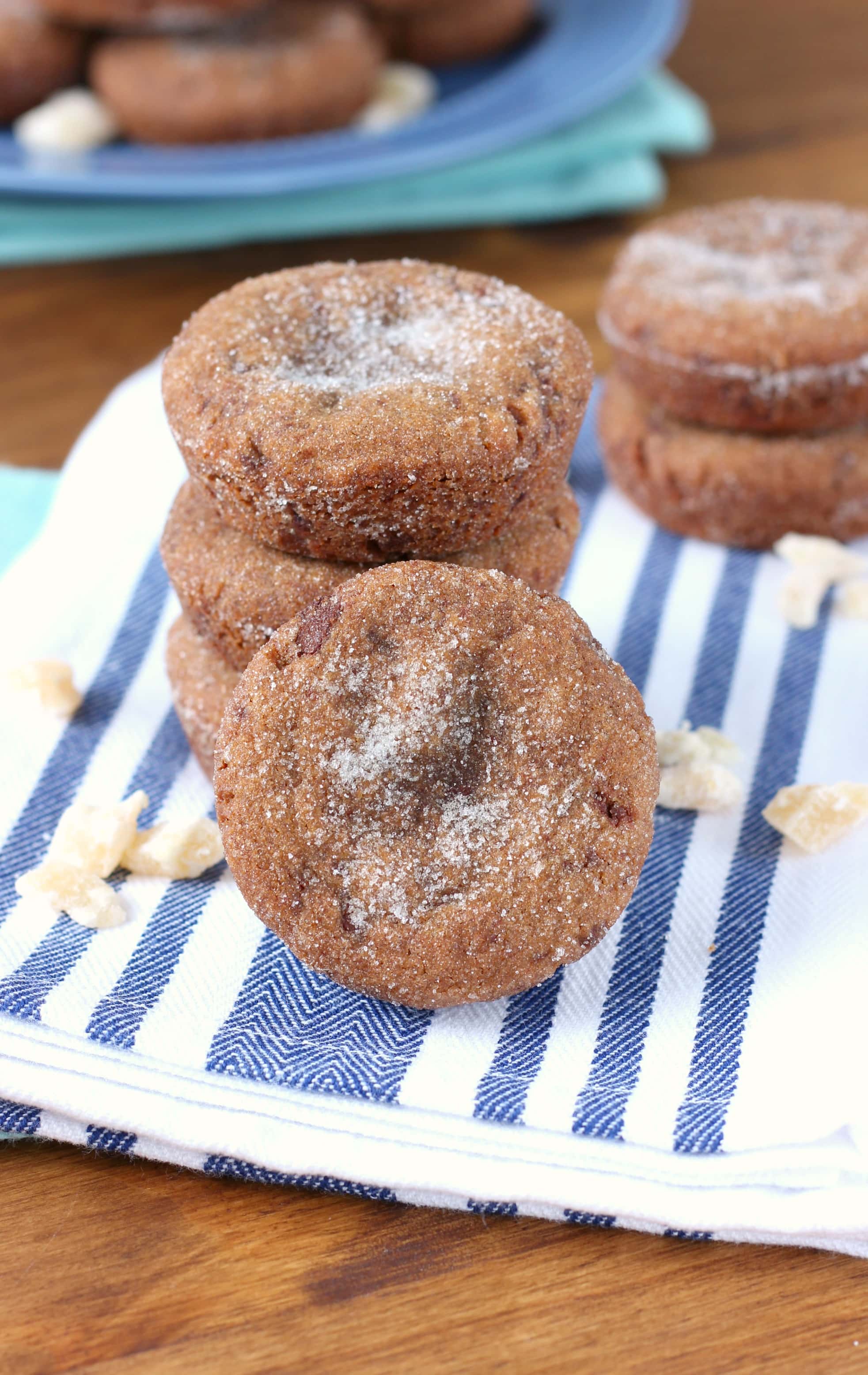 More about the products used in this post:
OXO On Illuminating Digital Hand Mixer — With a light to guide you, OXO On Illuminating Digital Hand Mixer includes intuitive digital controls to steadily increase or decrease speed. When you're finished, the on-board beater clip, wrap-and-secure cord, and flat, stable base allow for compact, upright storage.
Non-Stick Pro 12 Cup Muffin Pan — Made with a ceramic-reinforced, two-layer, commercial-grade coating that provides ultimate non-stick release and is scratch-, stain-, corrosion- and abrasion-resistant. Unique micro-textured pattern ensures even baking.
Medium Cookie Scoop — Designed for easy scooping and consistent shaping, the Medium Cookie Scoop's soft grip absorbs pressure while you squeeze to smoothly release your cookie dough.