Simple, fresh, and packed with flavor, this Creamy Ranch Tomato Cucumber Salad will soon be your go-to summer salad! Pair it with your favorite grilled meat for an easy weeknight meal!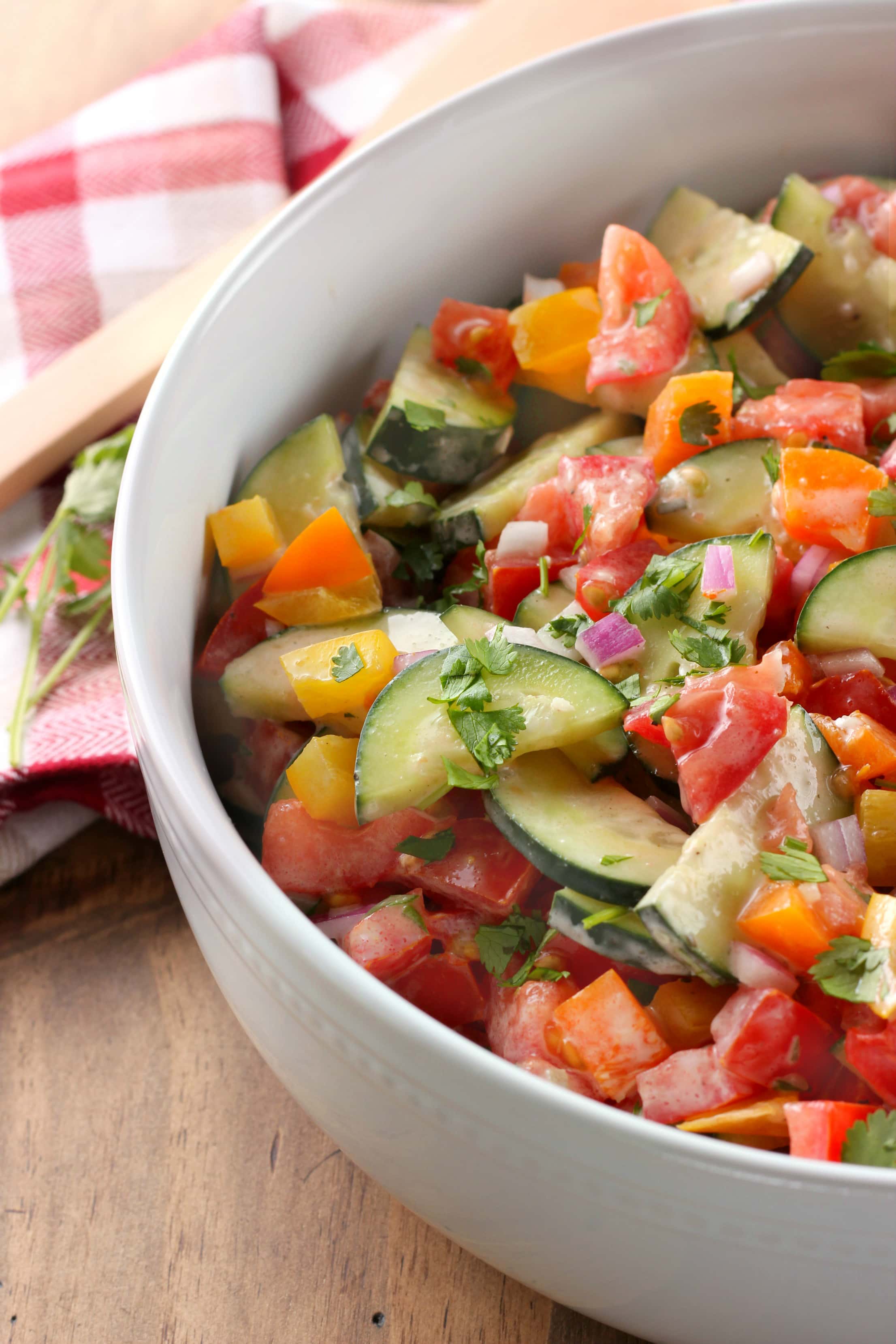 This recipe is sponsored by Litehouse Dressing. As always, all opinions are my own.
Summer is all about keeping it simple at our house. You can see this in our summer menus that reflect our desire to spend as much time as possible soaking up the long, summer days not working away in the kitchen!
Lots of grilling, fresh fruits, and easy salads. One salad that is a warm weather favorite around here is this creamy ranch tomato cucumber salad.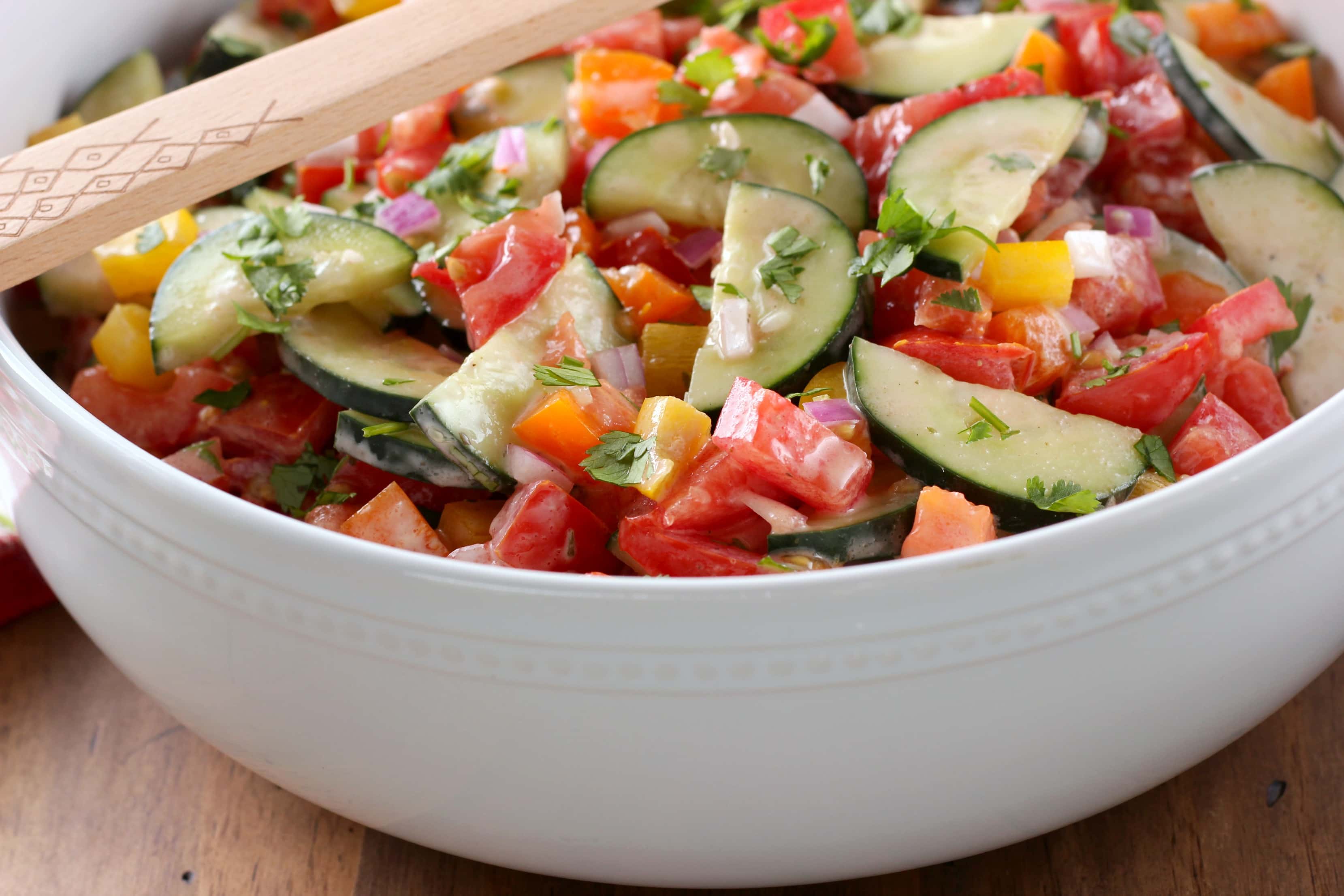 When my husband first introduced me to tomato cucumber salads, I was hooked. (Yes, I hadn't made one until after we were married!) Cool, fresh and loaded with fresh produce, what's not to like?
Since it's such a regular in our rotation, I decided to switch up one of our favorites and pack it with even more flavor!
All of the vibrant, colorful vegetables and herbs combine with a creamy dressing to create a dish that is full of fresh summer flavor.
Thanks to some help from Litehouse Homestyle Ranch Dressing, this salad is not only really flavorful, it's also really easy to make! The creaminess of this salad comes from the dressing. No need to make your own, when you can use one that's made with a delicious combination of fresh herb and vegetable flavors.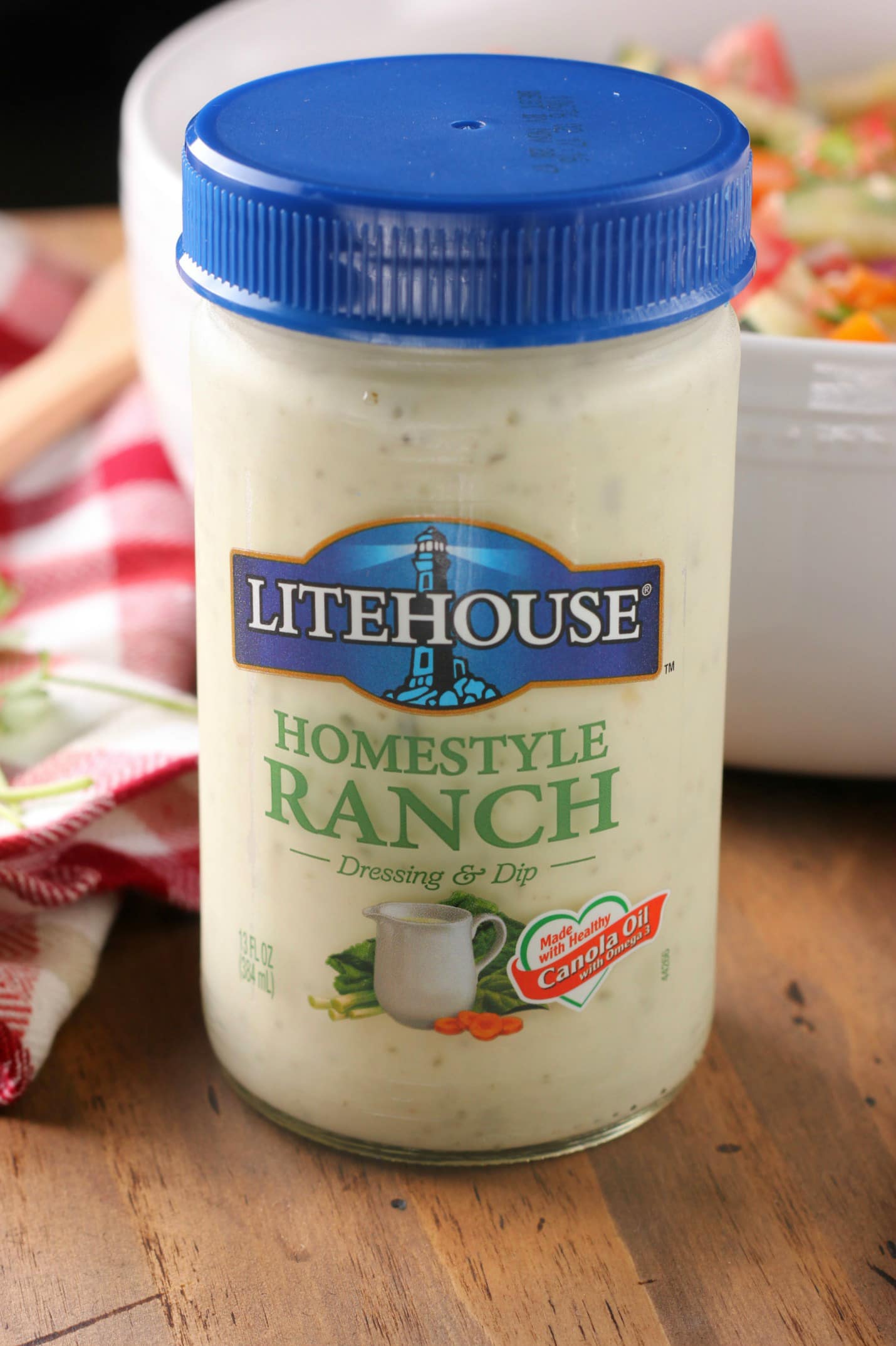 But you won't find this dressing in the typical dressing aisle in your supermarket. It's found in the refrigerated section, because fresh foods deserve fresh-tasting dressings that are packed with real ingredients like buttermilk and real blue cheese!
In fact, Litehouse Inc. is a leader in refrigerated salad dressings, veggie dips, sauces and Instantly Fresh™ Herbs. Because real vegetables deserve real dressing!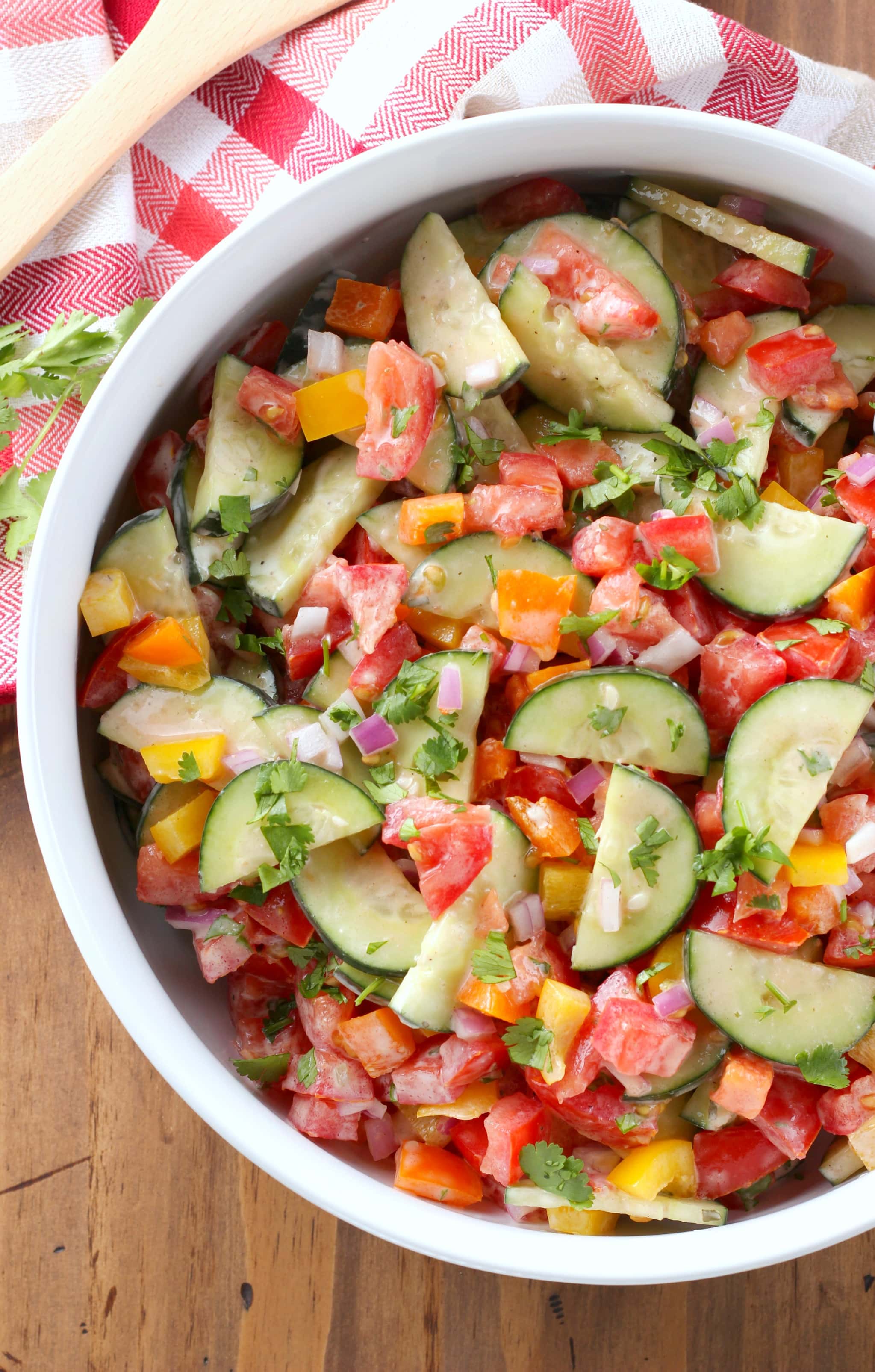 Just like this salad. Fresh and simple. All you have to do is combine sliced cucumbers, chopped tomatoes, a handful of chopped bell peppers, and a bit of red onion with some Litehouse Homestyle Ranch Dressing. Salt and pepper to taste. And you're done!
This salad is great for using up those abundant tomatoes that will soon be filling our gardens! Plus, since it's incredibly easy to make, you can quick whip it together whenever you need a side dish.
It pairs well with your favorite grilled meat and rounds out your summer meal perfectly!
I have to say that this creamy ranch tomato cucumber salad has now found its way into our menu rotation!
Check out where you can find Litehouse products near you and see what other products they have to offer here! You can also access a coupon by signing up for the Litehouse newsletter!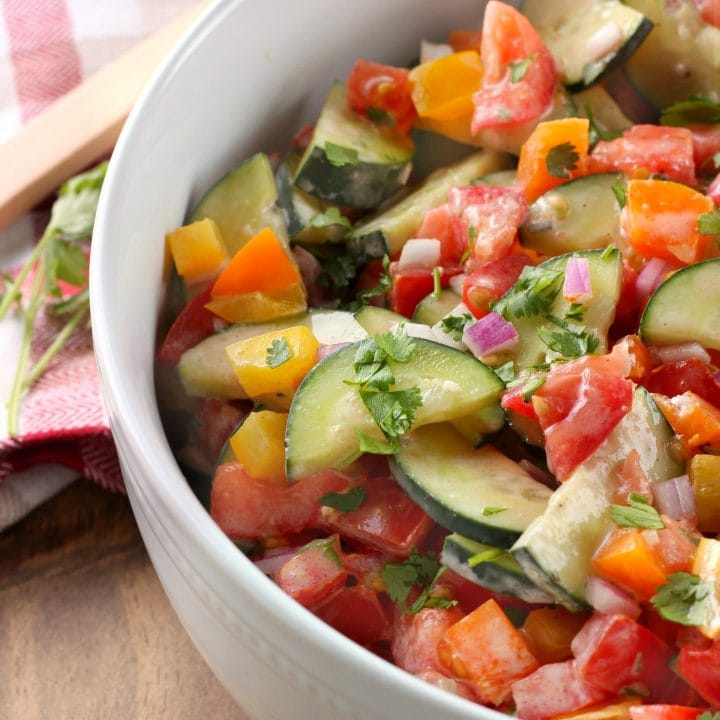 Creamy Ranch Tomato Cucumber Salad
Ingredients
4 C sliced cucumbers
2 C chopped tomatoes
1 C chopped bell peppers (I used a combination of yellow and orange)
1/2 C chopped red onion
1/3 C Litehouse Ranch Dressing
1/8 tsp ground black pepper
1/4 C chopped fresh cilantro
Instructions
In a large bowl, combine cucumber, tomato, peppers, and onion. Stir in dressing and black pepper.
Toss with fresh cilantro right before serving. Serve cold.
Best eaten same day. Store leftovers in the refrigerator.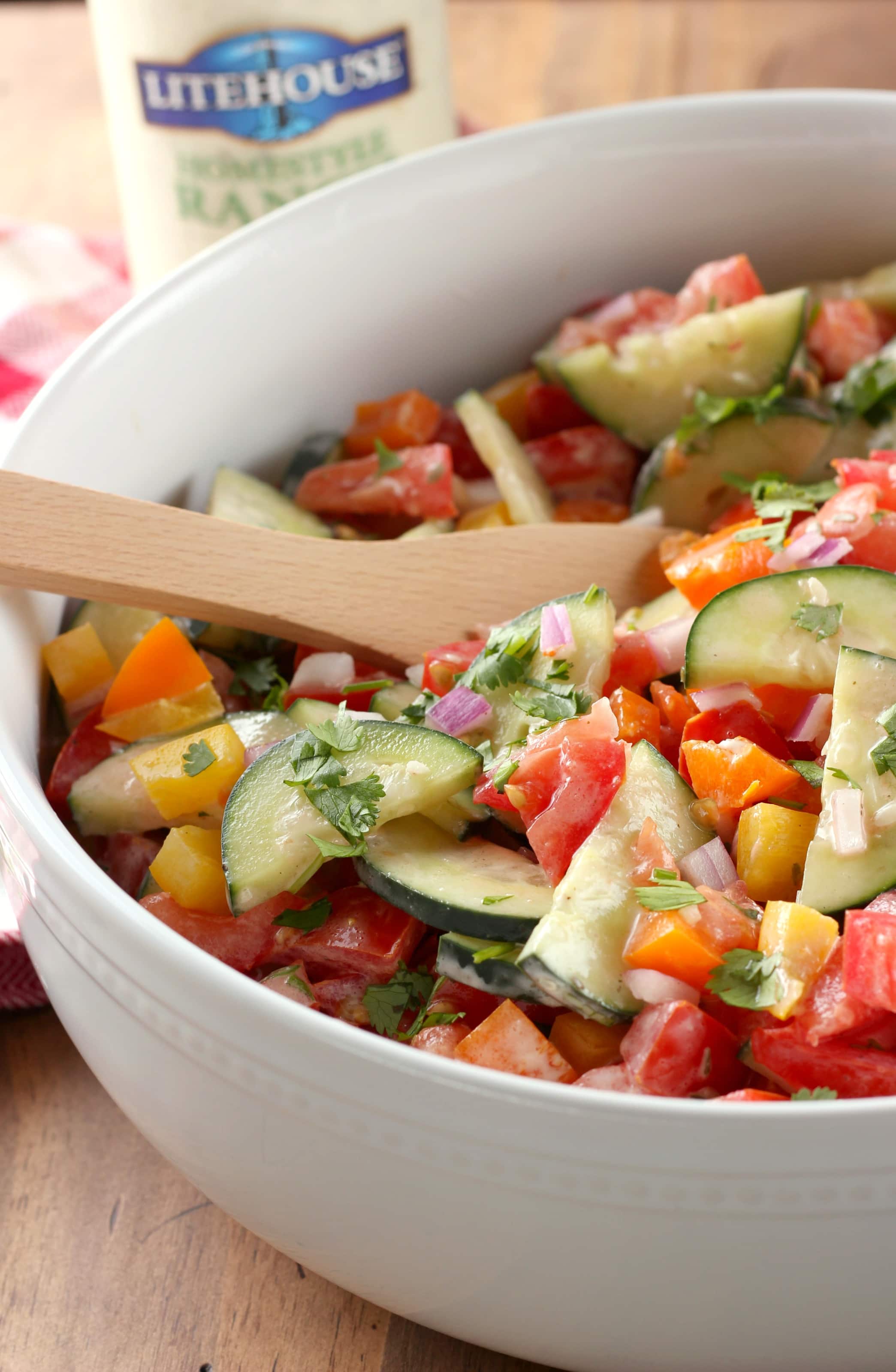 This is a sponsored post written by me on behalf of Litehouse Dressing. As always, all opinions are my own. Thanks for supporting brands that make A Kitchen Addiction possible!