I must admit, I was a little skeptical going into making this. The thought of cabbage mixed in with my mashed potatoes didn't sound the greatest. I really wanted to try it, though. (My skepticism turned into intrigue, I guess!) I read through many different recipes and realized that just about everybody has their own way of making colcannon. I decided to use the ingredients that showed up the most frequently in order to try mine. The result? Mashed potatoes loaded with flavor and a skeptic turned believer. 🙂
Yes, potatoes and cabbage do taste good together!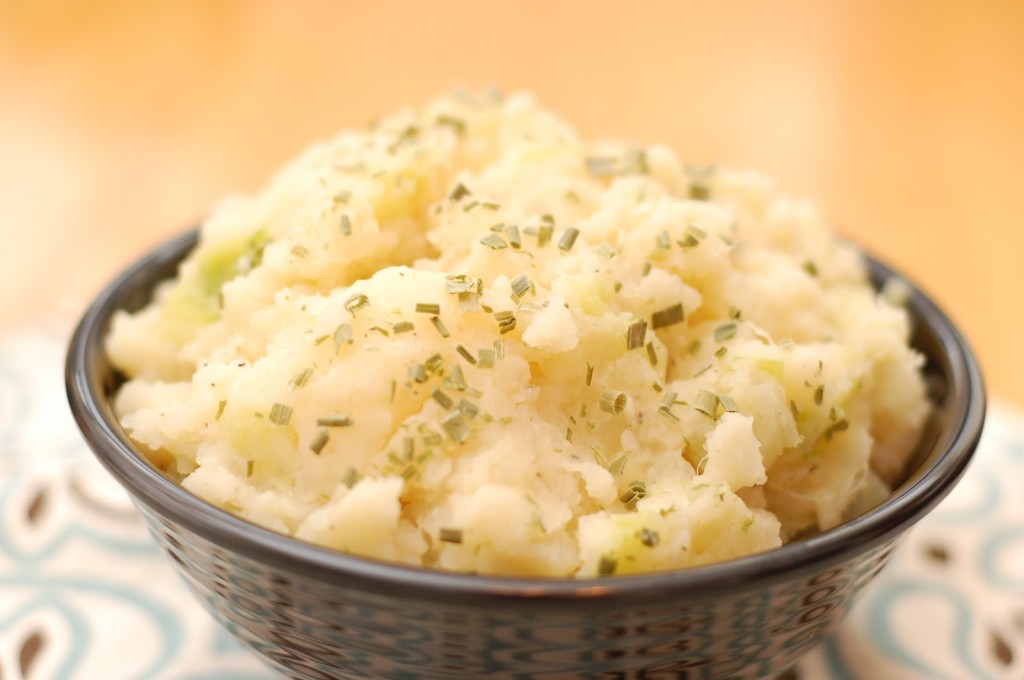 Colcannon – Irish Mashed Potatoes Pin It
Yield: 6-8 servings
Adapted from Simply Recipes and Tyler Florence
Ingredients:
4 Russet potatoes, about 2 1/2 lbs
1 medium onion, finely chopped
2 tsp olive oil
3 1/2 C green cabbage, shredded
1 C non-fat milk
1 tsp salt
1/2 tsp cracked pepper
4 tbsp unsalted butter
chopped chives, optional
Directions:
Peel potatoes and cut into pieces. Place in a large pot and add cold water until potatoes are covered at least an inch. Bring to a boil, lower heat to simmer and cook until tender, about 15 minutes.
Drain potatoes and return to saucepan. Cover to keep warm.
In a small saute pan, heat olive oil. Add chopped onion and cook until onion just starts to turn brown.
In another saucepan, add cabbage, milk, salt, pepper, and browned onions. Cover and cook over medium heat until cabbage is tender, about 15 minutes.
Add cabbage mixture to potatoes. Add butter and mash everything together. Sprinkle with chives and serve warm.