Happy Monday Morning! I hope all of you have had a good weekend and that you are not too groggy this morning with the loss of sleep! It was hard waking up Sunday morning, but it will definitely be nice to have that extra hour of sunlight in the evening to be outside. 🙂
This weekend was nice and relaxing, giving me time to experiment with pretzel recipes! My husband and I love soft pretzels and have yet to try making pretzel bites. I usually do not like taking the time with smaller pieces when I can just make the big ones, but these looked so good to eat and fun to make! These are just the traditional salted pretzels with cheese sauce, but they are worth the work and wait because they taste amazing!
Lots of little pretzel bites!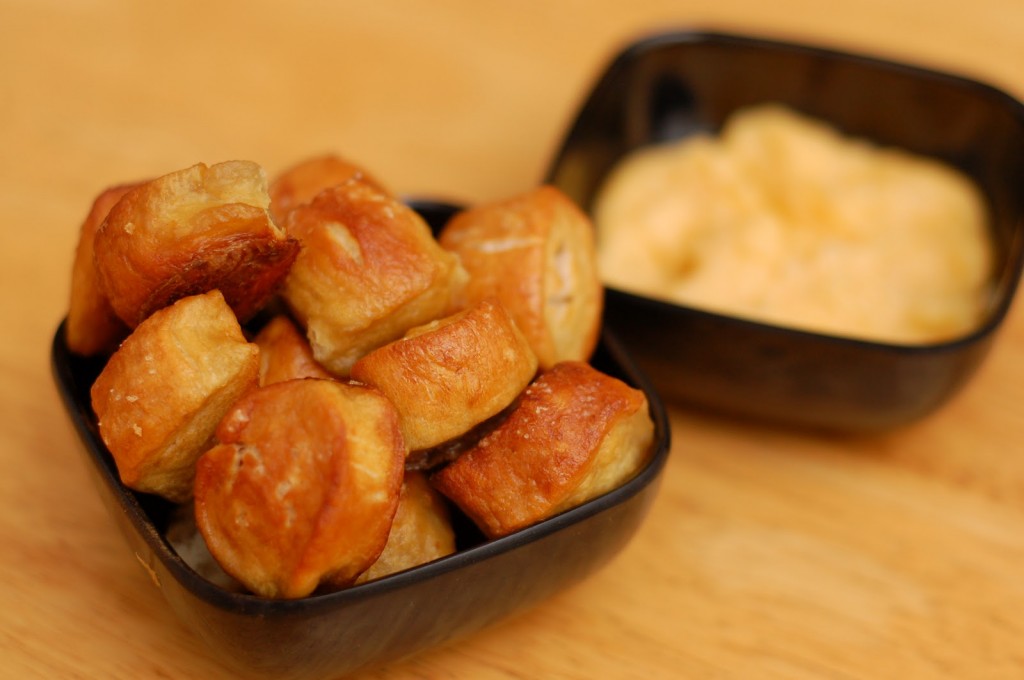 Homemade Pretzel Bites with Cheddar Cheese Sauce Pin It
Adapted from: Two Peas and Their Pod
Ingredients
For Pretzels
1 1/2 C warm water
2 tbsp light brown sugar
2 1/4 tsp active dry yeast
6 tbsp butter, melted
2 1/2 tsp salt
4 1/2 to 5 C all-purpose flour
olive oil
3 quarts water
3/4 C baking soda
1 egg, beaten with 1 tbsp cold water
course salt
For Cheese Sauce
1/2 tbsp unsalted butter
1/2 tbsp all-purpose flour
1/2 C skim milk
8 oz total of reduced-fat white and yellow cheddar cheeses, grated
salt and pepper to taste
pinch of garlic powder
Directions
Combine water, sugar, yeast, and butter in the bowl of a stand mixer and mix until combined. Let sit 5 minutes.
Add the salt and flour and mix on low-speed (using dough hook) until combined. Increase the speed to medium and continue mixing until dough is smooth and begins to pull away from the side of the bowl. This will probably take about 3-4 minutes.
If dough appears too wet, add more flour a tablespoon at a time.
Remove the dough from bowl, place on a flat, floured surface and knead into a ball.
Coat a bowl with olive oil, add the dough and roll to coat with oil. Cover with plastic wrap, place in a warm draft-free spot and allow to rise until doubled in size.
Preheat oven to 425.
Bring water to boil in a medium-sized sauce pan, add baking soda.
Remove the dough and place on floured surface. Divide dough into eight equal pieces.Roll each piece into a rope about 22 inches long. Cut dough into about 1-inch pieces.
Boil the pieces in the water solution in small batches, about 10-15 at a time.Boil for about 30 seconds. Remove with a slotted spoon.
Place pretzel bites on a baking sheet that has been sprayed with cooking spray. Try to keep the bites from touching.
Brush the tops with the egg wash and sprinkle liberally with salt.
Bake for 15-18 minutes or until golden brown.
Remove to baking rack and allow to cool for 5 minutes before eating.
While pretzel bites are baking, make cheese sauce.
Melt the butter in a medium saucepan over medium heat. Add flour and cook 1 minute. Whisk in the milk and cook until slightly thickened.
Remove from heat, stir in the cheese until smooth and all of the cheese is melted. Add the salt, pepper, and garlic powder. Stir until smooth.
Enjoy! 🙂