I bought more grapefruit. You know what that means. Time for more grapefruit recipes!
If I didn't already convince you with these grapefruit poppyseed scones that baking with grapefruit is a good idea, these coconut grapefruit macaroons (that are also dipped in white chocolate!) should do the job!
I don't make coconut macaroons very often, since my husband isn't a big fan of coconut. But, after making those grapefruit poppyseed scones and finding that he liked the grapefruit flavor a lot, I figured I'd give coconut grapefruit macaroons a try.
I'm glad I did, because the flavor was as good as I was hoping it would be, and my husband liked them! Which is good, because it'd be bad having a batch sitting on the counter with only me eating them!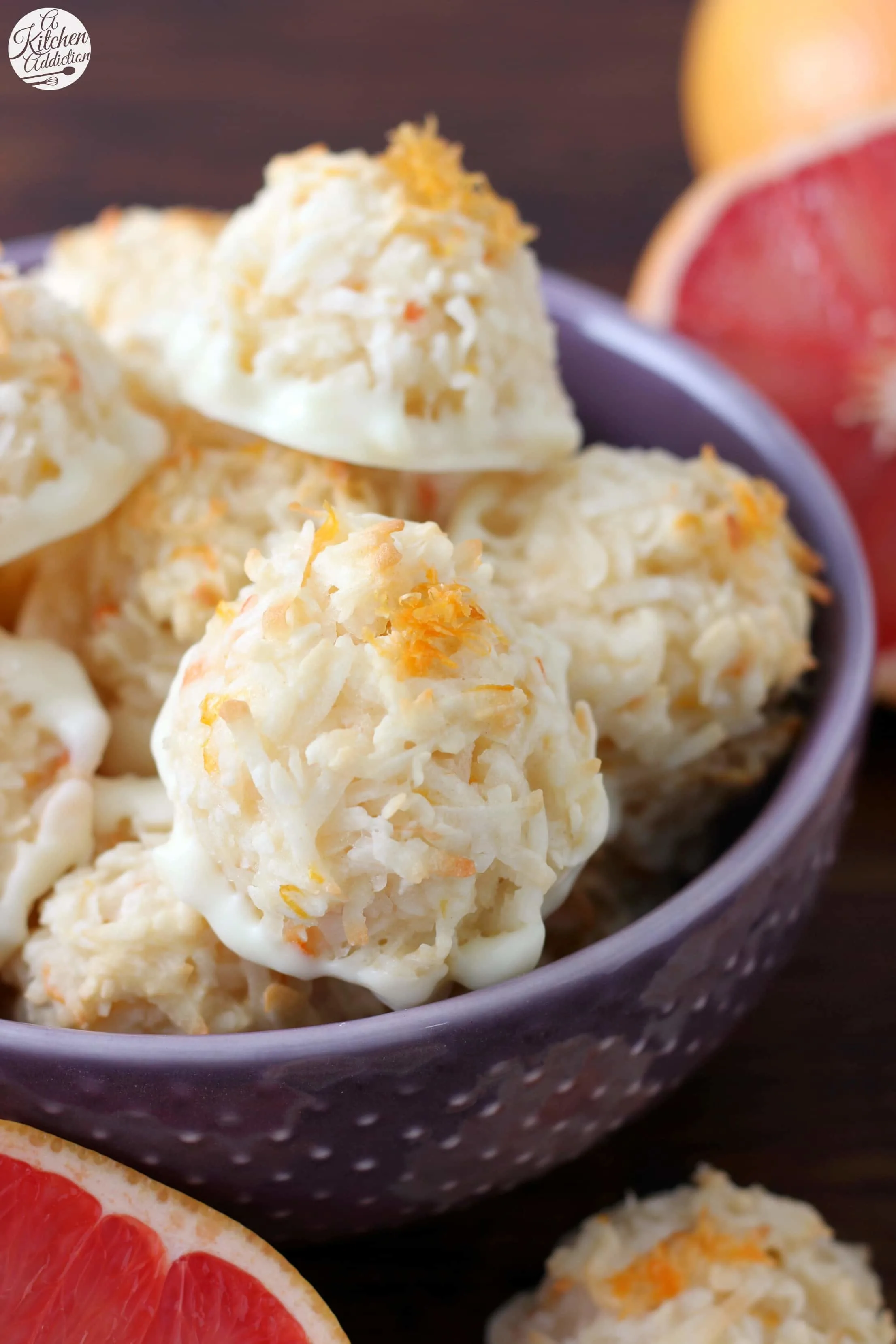 Since the last few days have been kind of dreary with gray skies and melting snow, citrusy desserts are just what are needed to make things a little brighter around here. These coconut grapefruit macaroons did the trick!
Fresh grapefruit juice and grapefruit zest combine to give plain coconut macaroons a burst of tropical flavor. Dip them in white chocolate and you add a layer of creamy sweetness that blends perfectly with the tropical flavors!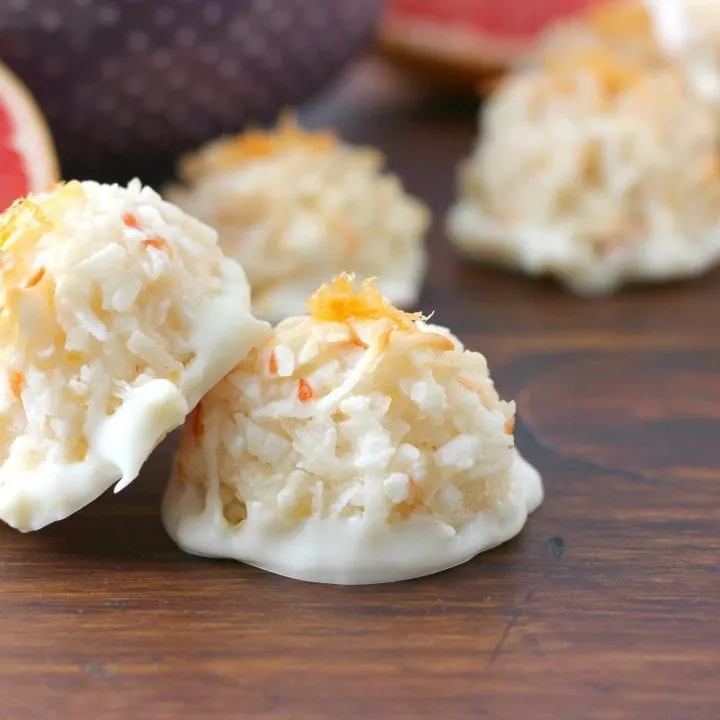 Coconut Grapefruit Macaroons
Ingredients
4 egg whites
2/3 C sugar
3 tbsp fresh grapefruit juice
1/4 tsp salt
1 tsp vanilla extract
3 tsp fresh grapefruit zest
4 1/2 C shredded coconut
1/2 C all-purpose flour
white chocolate for dipping, optional
Instructions
Preheat oven to 325. Line a baking sheet with parchment paper or a baking mat.
In a small bowl, whisk together egg whites, sugar, grapefruit juice, salt, and vanilla extract until creamy. Stir in grapefruit zest.
In a large bowl, toss together coconut and flour. Add wet ingredients to dry ingredients and stir until combined.
Form balls into 2 inch balls, a cookie scoop works well for this. Place on prepared baking sheets a couple inches apart.
Bake for 10-12 minutes or until just starting to turn light golden brown. Remove baking sheet to a wire rack to cool.
Melt white chocolate according to package instructions. Dip bottoms of macaroons into melted chocolate and place on wax paper. Allow chocolate to harden and serve.
Recommended Products
As an Amazon Associate and member of other affiliate programs, I earn from qualifying purchases.