I did something I rarely do. I bought a scone from a local coffee shop. They are usually so dry or loaded with fat and sugar that I can't stand the flavor, but not these. They were tender, light and not at all cloyingly sweet. They also reminded me that it'd been way too long since I had made scones.
So, two days later I found myself in the kitchen whipping up a batch of glazed grapefruit poppyseed scones that were full of fresh grapefruit zest and juice from the dough to the glaze!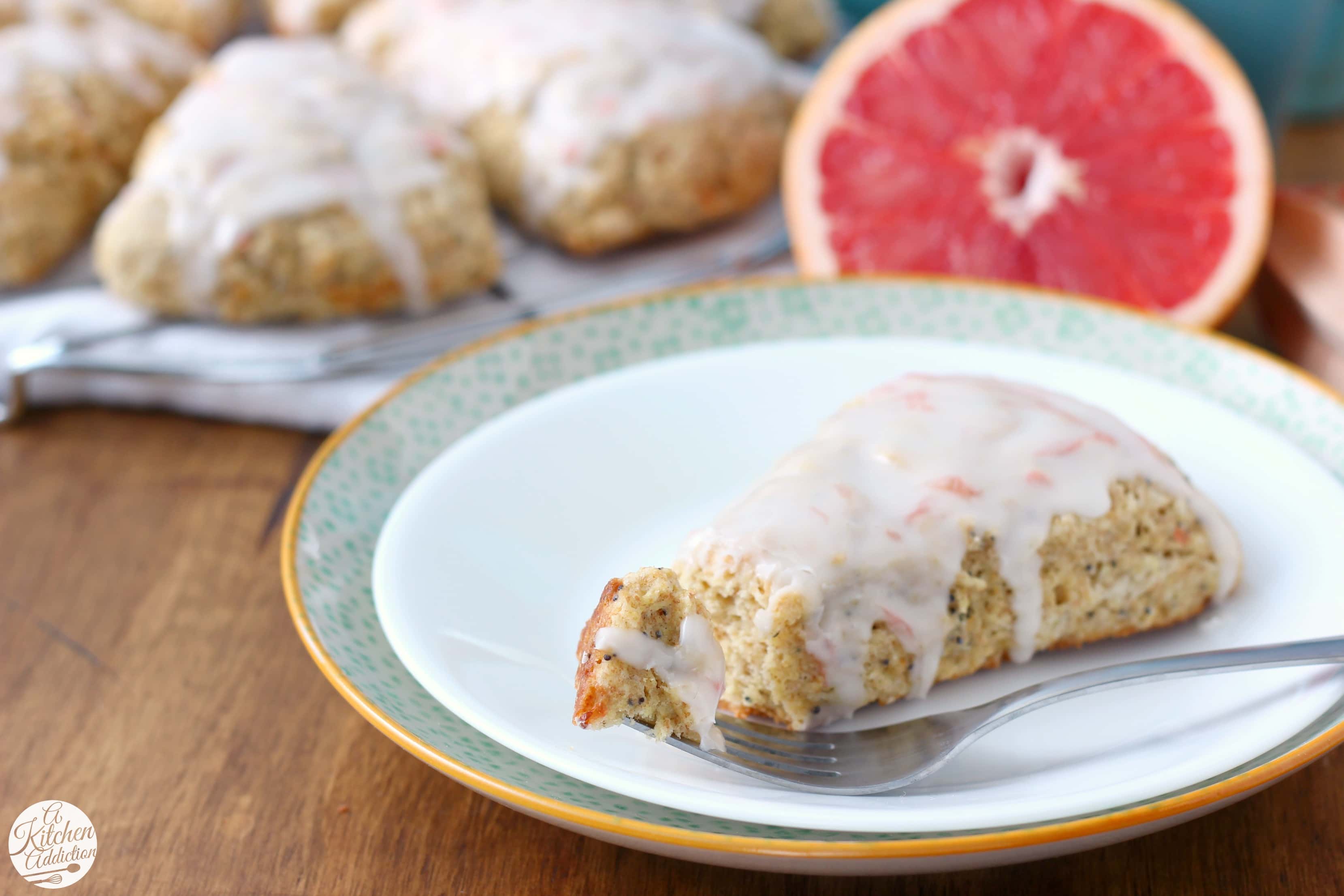 The bright, citrus flavor of grapefruit is perfect for this time of year when it's super cold and the sun doesn't make an appearance that often. Every time I make something with grapefruit I always think that I don't bake with it enough.
That happened again as I mixing these scones. The scent of the fresh grapefruit zest and juice was so inviting, I could hardly wait to get them in the oven.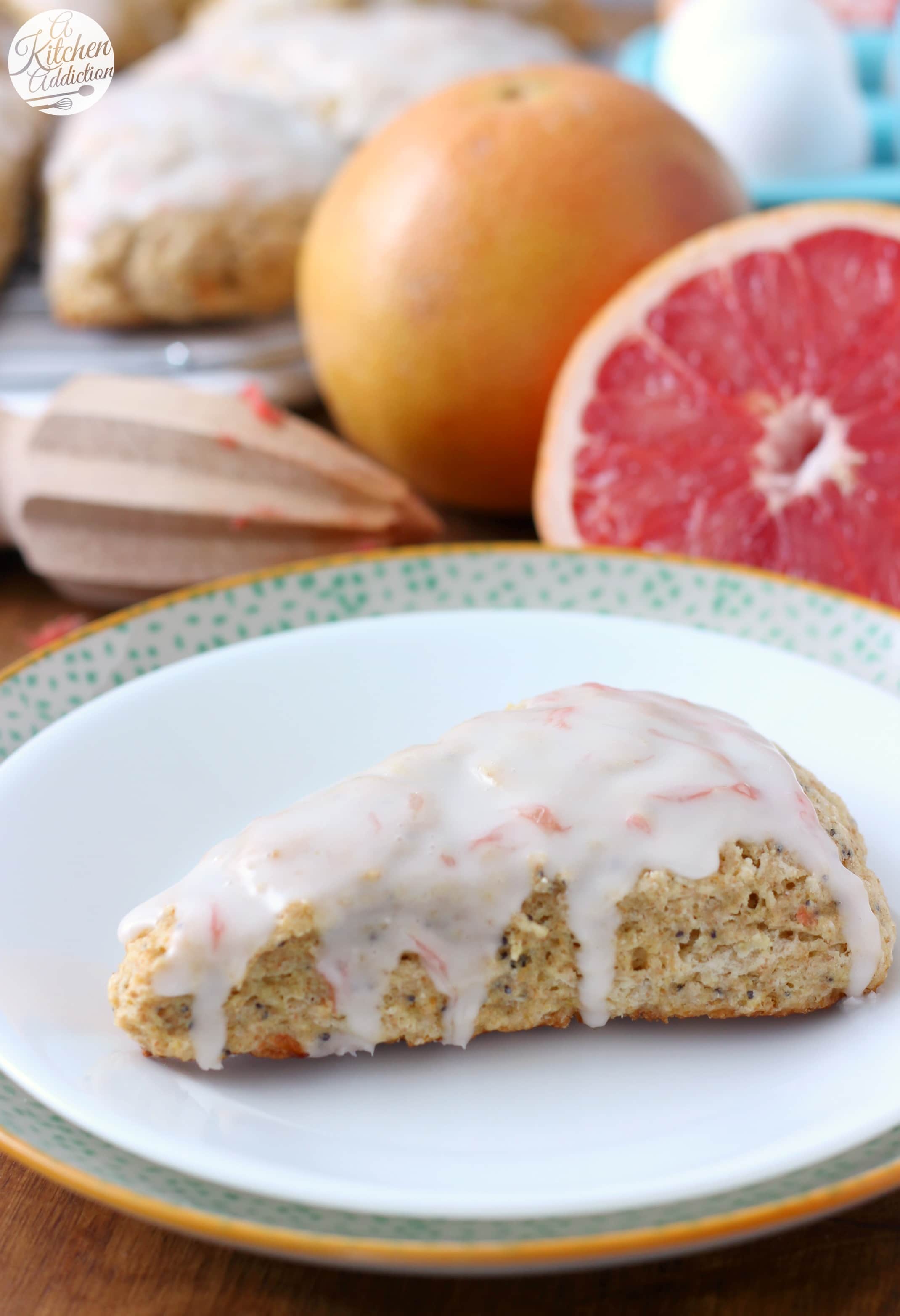 As I was waiting for the scones to bake, I was looking through blog posts and saw that Taylor, from Greens and Chocolate, posted a recipe for yogurt grapefruit poppyseed bread that day. I guess great MN minds think alike! 😉 Her bread is next on my list of grapefruit baked goods to make.
But until I go buy more grapefruit, I'll be savoring these scones and daydreaming of sunny days!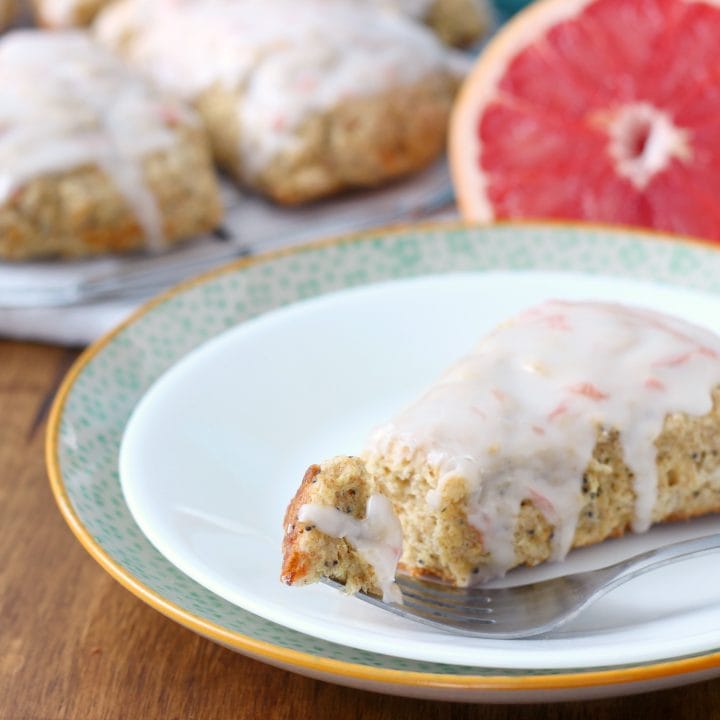 Glazed Grapefruit Poppyseed Scones
Yield: 8 scones

Prep Time: 15 minutes

Cook Time: 18 minutes

Total Time: 33 minutes
Ingredients
For the Scones
1 C white whole wheat flour
1 C all-purpose flour
1/3 C sugar
1/2 tbsp poppyseeds
1 tsp baking powder
1/2 tsp baking soda
1/2 tsp salt
1/2 C unsalted butter, cold and cut into pieces
1/2 C plain yogurt
3 tbsp fresh grapefruit juice
1 tsp grapefruit zest
1 egg
For the Glaze
1/2 C confectioner's sugar
1-2 tbsp fresh grapefruit juice
1-2 tbsp milk
Instructions
Preheat oven to 400. Line a baking sheet with parchment paper or a silicone baking mat.

In a large bowl, whisk together flours, sugar, poppyseeds, baking powder, baking soda, and salt.

Cut in butter with a pastry blender until mixture resembles coarse crumbs.

In a small bowl, whisk together yogurt, grapefruit juice, grapefruit zest, and egg. Add wet ingredients to dry ingredients and stir until just combined.

Turn dough out onto floured surface. Knead dough 5-6 times until dough comes together.

Gently shape into an 8 inch circle. Cut into 8 pieces and place on prepared baking sheet.

Bake for 15-18 minutes or until just turning golden brown. Transfer to wire rack to cool.

Prepare glaze while scones are cooling. Stir together confectioner's sugar, 1 tablespoon grapefruit juice, and 1 tablespoon milk. Add additional grapefruit juice and milk as needed to reach a thick glaze. Dip tops of scones into glaze.

Allow glaze to harden and serve.
Notes
I didn't bother straining the grapefruit juice, but if you don't want pulp in your glaze, you will need to strain the juice.
Recommended Products
As an Amazon Associate and member of other affiliate programs, I earn from qualifying purchases.