*This post is sponsored by Volk Enterprises. As always, all opinions are my own.
Football season is in full swing. We have football Sunday, Monday, Thursday, and Saturday! That means lots of opportunities to tailgate and eat game food. So, even if you're not a fan of football, you can still take advantage of all of the good game day food!
I don't know about you, but when I think of game day food, sliders are one of the first foods that come to mind. So when I had to come up with a tailgating recipe, these cheesy stuffed jalapeño popper sliders instantly came to mind!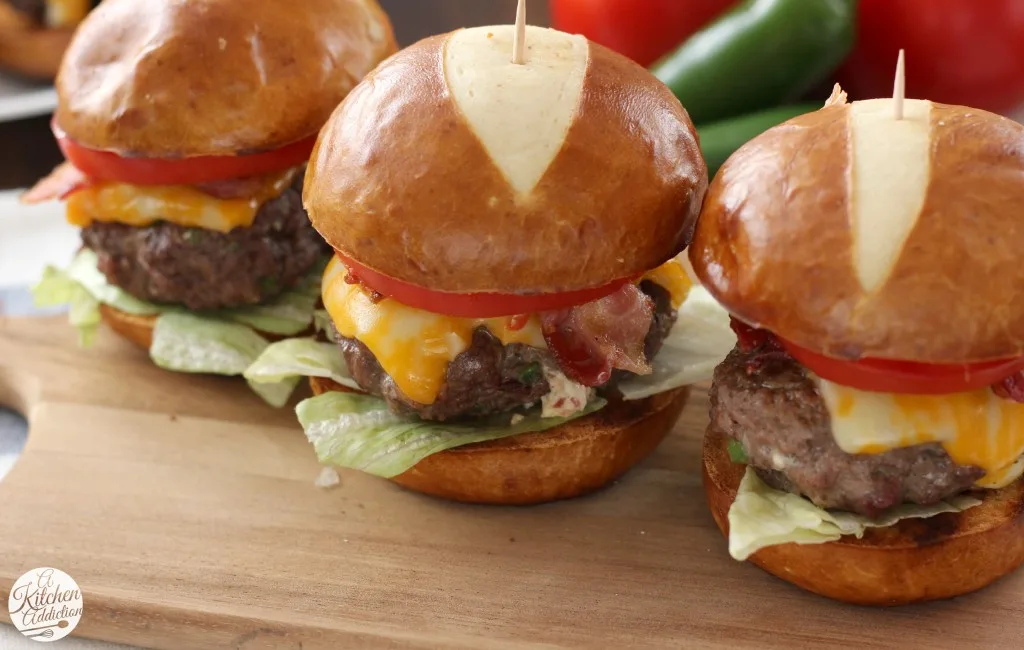 What better tailgating food than a cheeseburger slider stuffed with jalapeño popper dip?! But that's not all, there's bacon. And lots of it. Bacon in the dip, bacon in the beef, and bacon on top. If you love bacon, this burger is for you!
Start by making a small batch of jalapeño popper dip and set it aside. The time it takes to make and assemble the burgers will give the flavors a chance to blend in the dip.
Then, take your ground beef and stir in bacon, jalapeño, and onion. We want these sliders to be loaded with flavor! Take your ground beef mixture and make 12 thin patties. Top half of the patties with a bit of dip. Use the remaining patties to top the dip and form the burgers.
You will want to make sure to seal the edges of each burger and flatten them a bit before cooking. Otherwise you will end up with dip running out the sides and really thick burgers!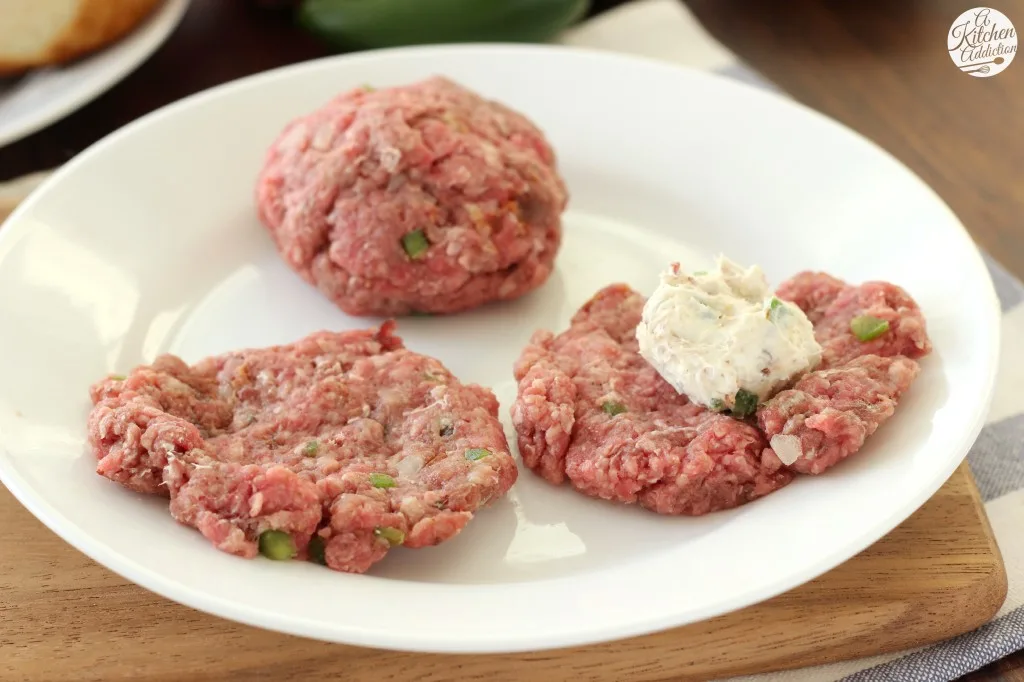 Volk Enterprises helps make game day cooking easier with their Cook'd Right™ Sensors. No more guessing when your meat is done. No more dried out meat because you were afraid your meat wasn't done. Now you can use these inexpensive disposable sensors and be accurate every time!
I used a 165° Cook'd Right™ Sensor for these burgers to make sure they were done. All you have to do is insert the tip of the sensor into the center of your meat and wait 10 seconds. Pull out the sensor and see if the tip has turned red.
If it has, that means the meat is done. If it hasn't, your meat still needs some more time to cook. It's that easy.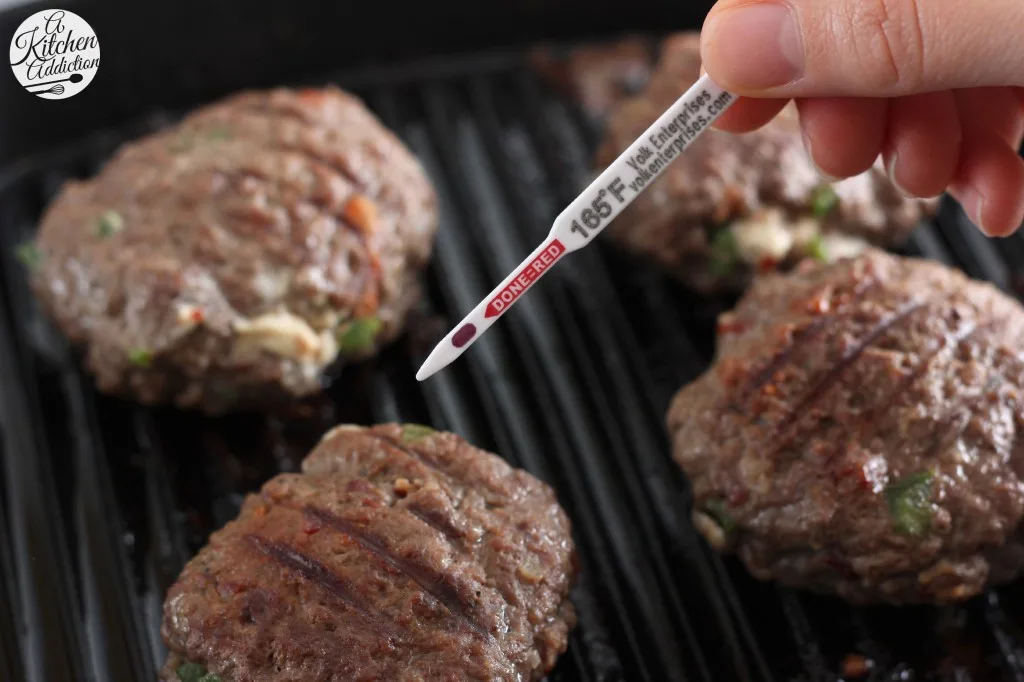 So, take a few sensors with you when you head out to tailgate. You won't have to worry about taking and losing an expensive one, and you still can have peace of mind that your meat will be both fully cooked and tender!
Be sure to ask for them by name at your local butchers and grocery stores. Then go home and make these spicy, cheesy, bacon-y, burgers!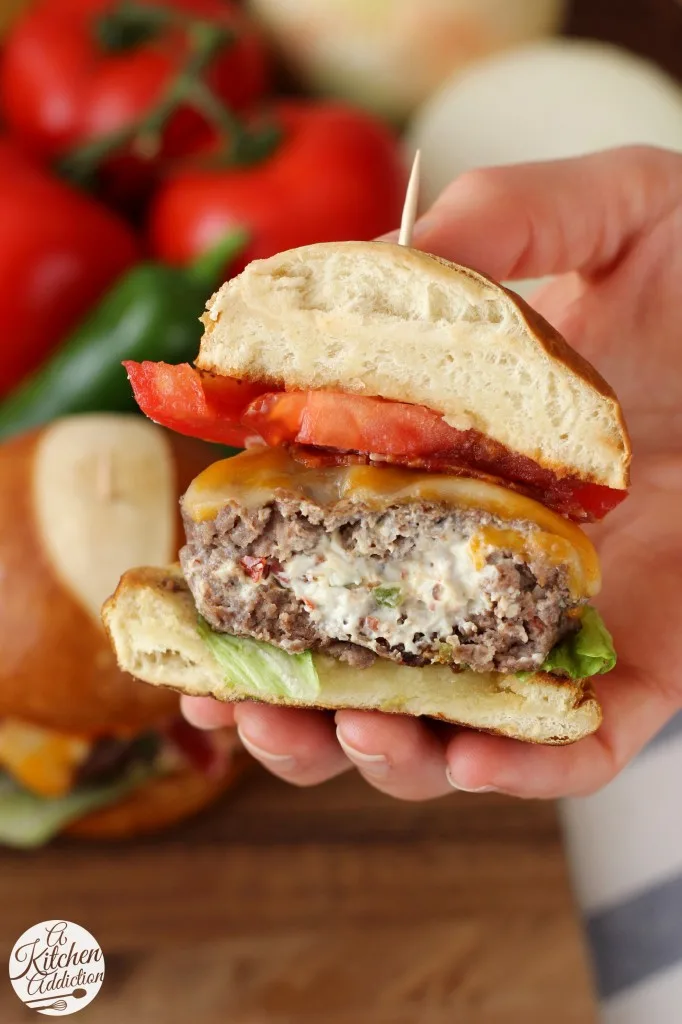 Want to try Cook'd Right™ Sensors for yourself? Well, you can! The first 50 readers can sign up to request a free sensor (One sample per household.) to try in your own home! Sign up here.
When you're done requesting your sample, be sure to check out these food safety tips and cooking tips!
You can also find Volk Enterprises on Facebook, Twitter, and Youtube.
Cheesy Stuffed Jalapeno Popper Sliders
Author:
Ingredients
For the Filling
4 oz cream cheese, softened
2 strips bacon, cooked and crumbled
1 tbsp jalapeno, finely chopped
1 tsp crushed red pepper flakes (If you want a less spicy burger, leave it out)
1 tsp garlic powder
For the Burgers
1 lb ground beef
2 strips bacon, cooked and crumbled
2 tbsp jalapeno, finely choppped
1 tbsp yellow onion, finely chopped
1/2 tsp salt
1/4 tsp pepper
6 slices Colby Jack Cheese (the size of your slider buns)
6 slider pretzel buns
additional bacon, for topping
lettuce, for topping
tomatoes, for topping
Instructions
In a small bowl, stir together cream cheese, bacon, jalapeno, red pepper flakes, and garlic powder until combined. Set aside.
In a medium bowl, mix together ground beef, bacon, jalapeno, onion, salt, and pepper.
Divide ground beef mixture into 6 pieces. Divide each piece in half. Spoon about 1 tablespoon of cream cheese mixture onto 6 of the halves. Top with remaining halves. Press edges of beef to seal and form a burger. Repeat with remaining beef.
Heat a grill pan (or grill) up over medium heat. Grill burgers over medium heat for 6 minutes per side or until a 165° Cook'd Right™ Sensor inserted in the center reads that the burger has reached an internal temperature of 165° Fahrenheit. The tip of the sensor will turn red when this happens. When the sensor reads that the burgers are done, top each burger with a slice of cheese and cover for two minutes, or until cheese is melted.
If you want to toast the pretzel buns, lightly butter the cut sides of the buns and toast them on a skillet until sides start to turn golden brown while the burgers finish cooking.
Place burgers on toasted pretzel buns and top with bacon, lettuce, and tomato. Serve.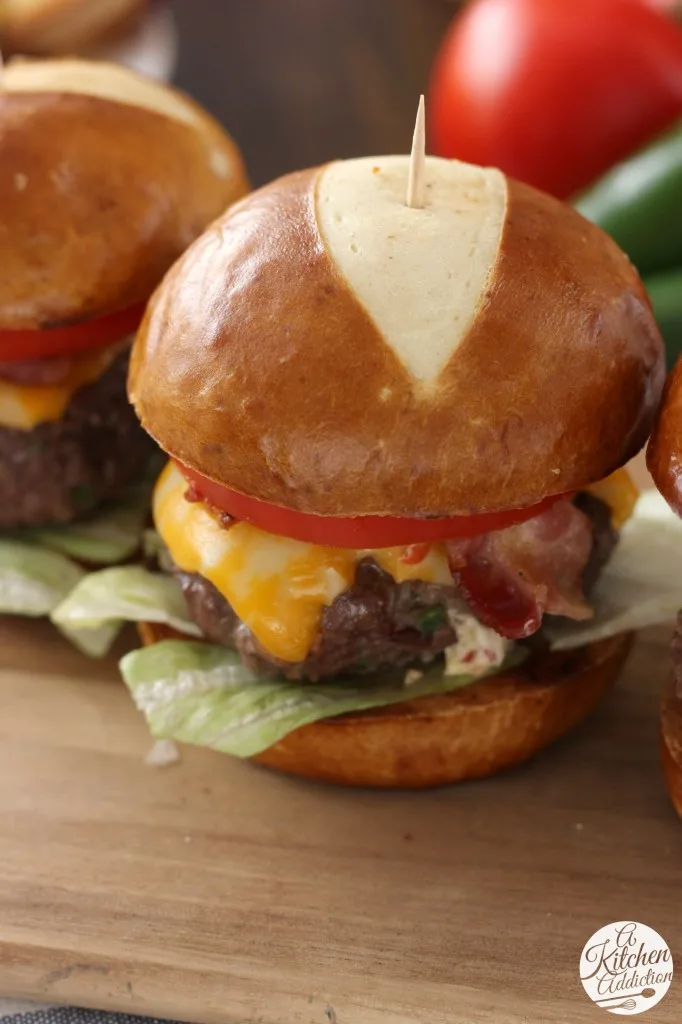 Disclaimer: This post is sponsored by Volk Enterprises. As always, all opinions are 100% my own.