These easy Carrot Cake Granola Bites are filled with the classic flavor of carrot cake while being naturally sweetened! Make a batch of these energy bites to have a convenient snack on hand ready to curb hunger whenever it hits!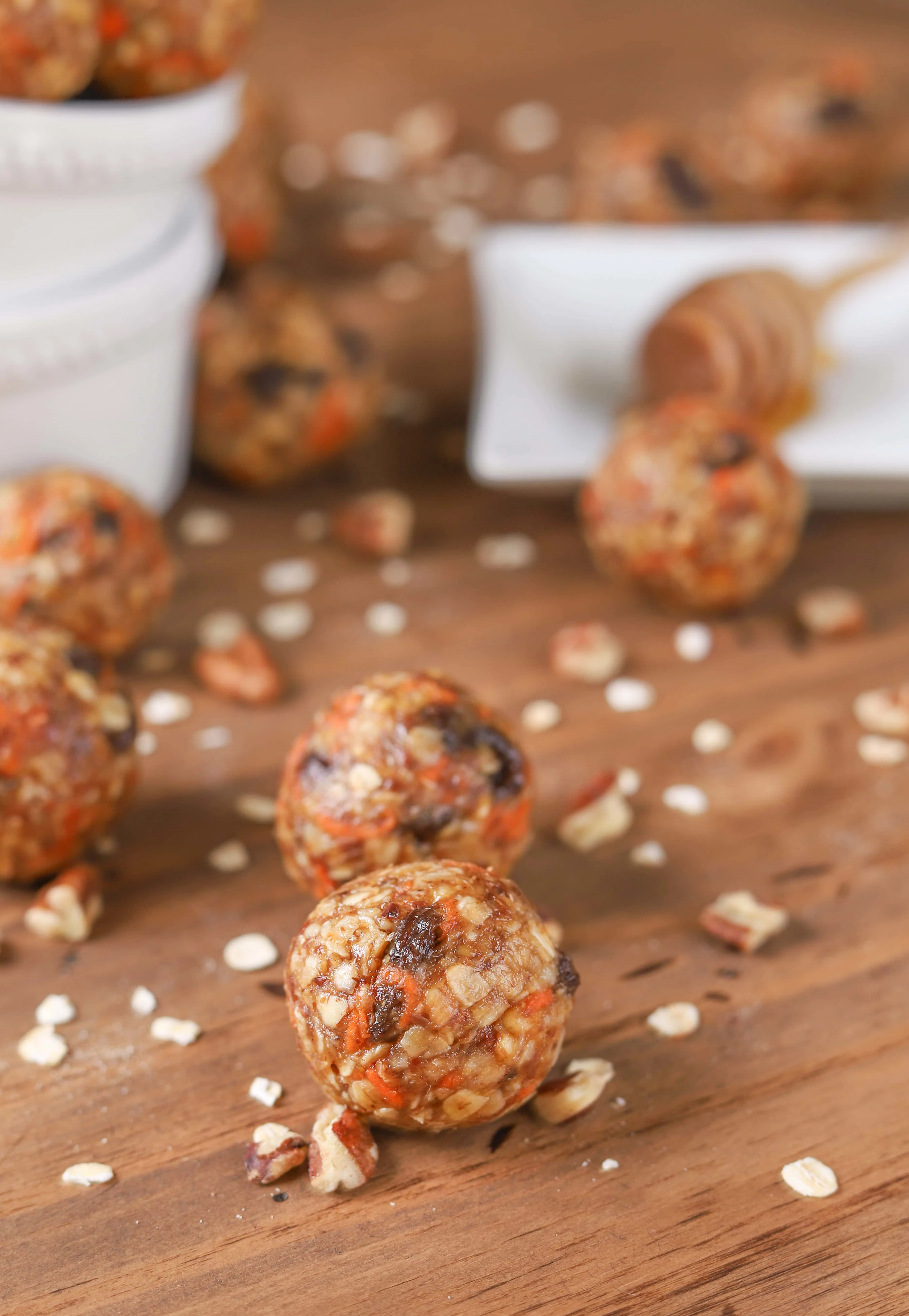 I had to share one more carrot cake flavored recipe before Easter. There will definitely be more carrot cake recipes after Easter, but I should probably spread them out a bit!
Just like the healthier carrot snack cake from last week, you don't have to indulge in order to enjoy these carrot cake granola bites.
Filled with oats, flaxseed, carrot, pecans, and raisins, these little bites are a nice snack to have on hand on a weekend that can be full of unhealthy fats and sugars.
Or when you really want that one more piece of chocolate, but know you shouldn't.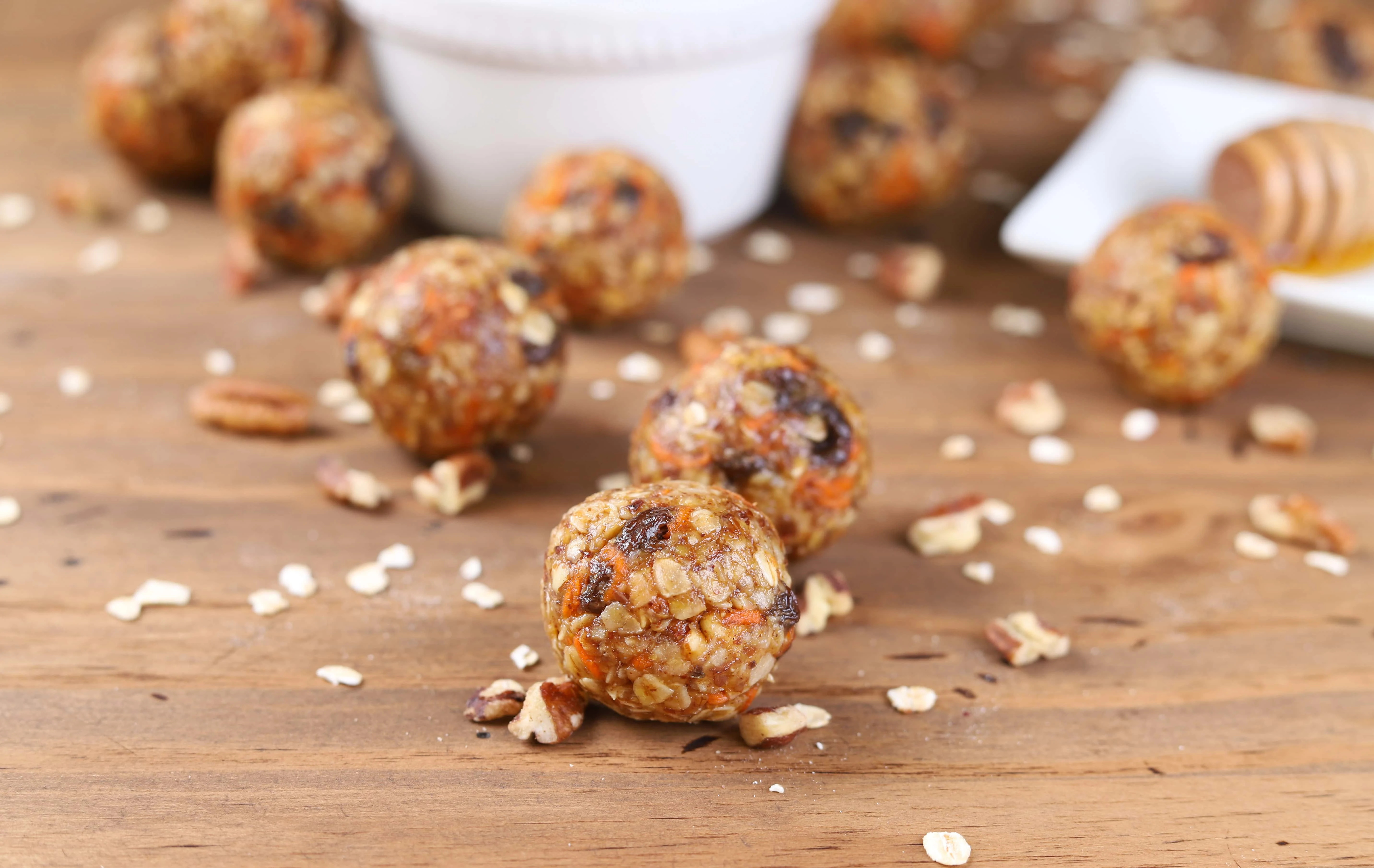 A combination of maple syrup and honey sweeten these energy bites and coconut oil and almond butter help bind the bites together.
Cinnamon, nutmeg, and allspice add to the classic carrot cake flavor.
Just enough sweetness and classic carrot cake flavor to make it seem like you're enjoying dessert without actually eating dessert!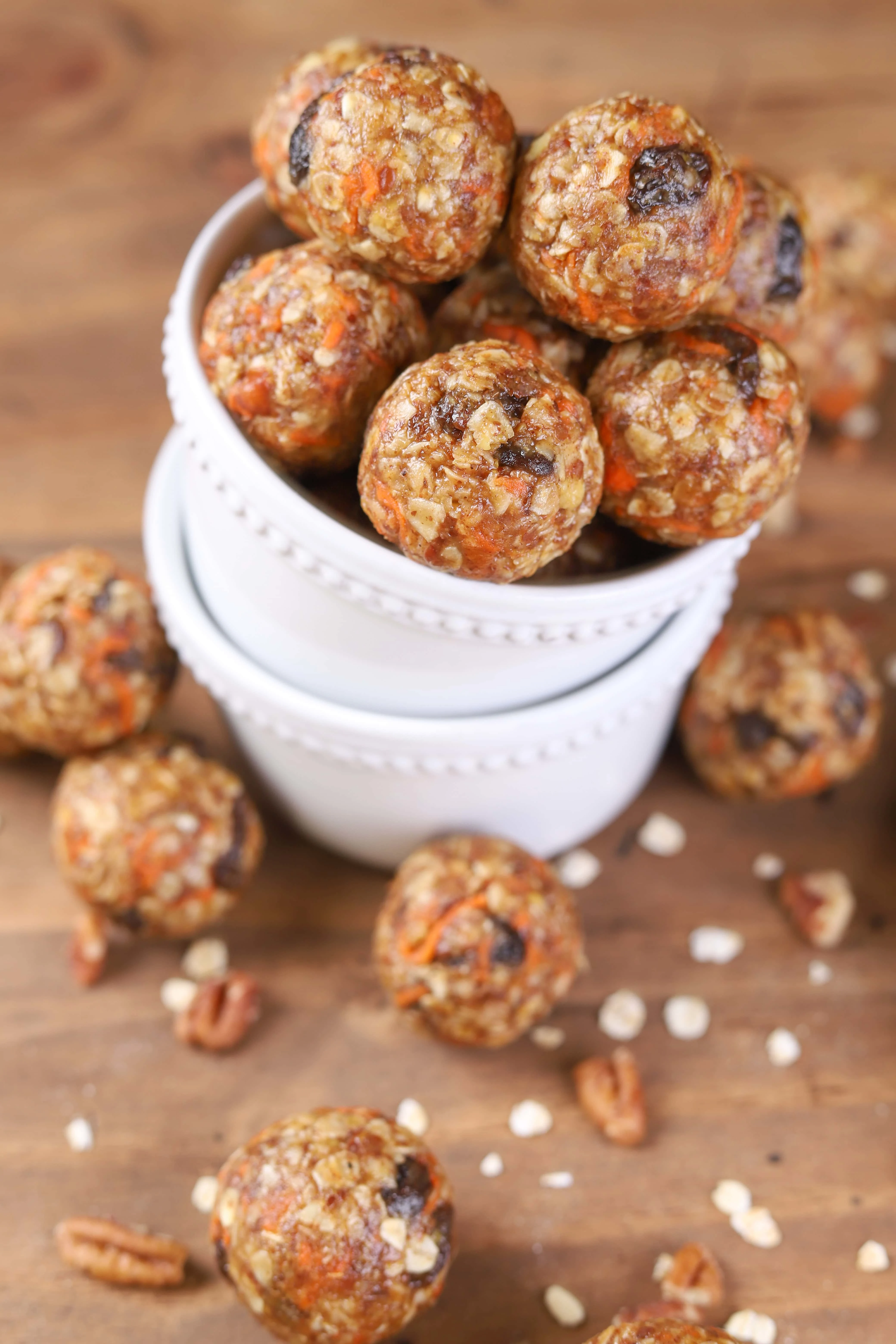 There are a few more notes than usual to go along with this recipe. Because of the variation of natural almond butter and the melting point of coconut oils, there are a few different ways to make these granola bites a success.
Tips for making Carrot Cake Granola Bites
Pay attention to the stickiness of your granola mixture. If it doesn't hold together when pressed, add more flaxseed or oat bran a tablespoon at a time until the mixture holds together.
In order to keep your hands from getting too sticky when forming the bites, lightly coat your hands with coconut oil.
If you want to avoid the stickiness, use about a 1 tablespoon sized cookie scoop and scoop the mixture onto a baking sheet. After refrigerating for 1 hour, roll them into nicer looking bites.
Store these bites in the refrigerator for optimal freshness. We actually like keeping some in the freezer and eating them even colder.
When you've hit an overload of chocolate and jelly beans but still want something a little sweet, grab a couple of these carrot cake granola bites, and enjoy!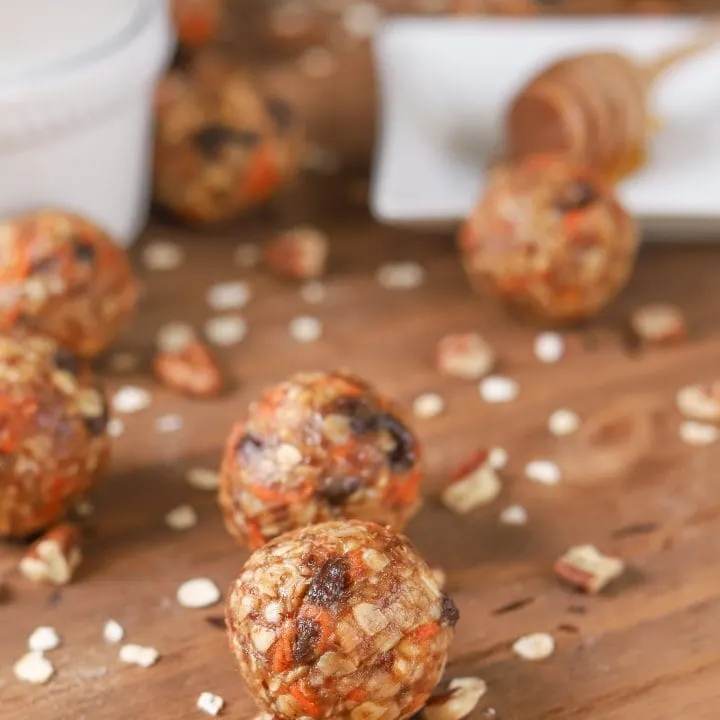 Carrot Cake Granola Bites
Total Time:
1 hour
15 minutes
Ingredients
2 1/3 C quick oats
1/2 C ground flaxseed
1 tsp cinnamon
¼ tsp nutmeg
1/8 tsp allspice
¼ tsp salt
½ C honey
⅓ C maple syrup
¼ C coconut oil
1 tsp vanilla extract
1/2 C natural almond butter, well-stirred
1 C grated carrots
1/2 C chopped walnuts (or pecans)
1/2 C raisins
Instructions
In a large bowl, stir together oats, flaxseed, cinnamon, nutmeg, allspice, and salt.
In a small saucepan, heat together honey, maple syrup, coconut oil, and vanilla extract over medium heat until coconut oil is melted. Bring to a boil, stirring constantly for 4 minutes. Remove from heat.
Pour over oat mixture. Stir until completely combined. Let sit for 5 minutes. *Stir in almond butter until well combined. Stir in grated carrots, chopped walnuts, and raisins. **Form mixture into 1 inch balls.
Refrigerate for 1 hour or until completely cooled and set.
Best stored in the refrigerator.
Notes
*Because the "wetness" of almond butter can vary greatly, you may find that the granola mixture is too sticky and not holding together. Add in a couple more tablespoons of flaxseed (or oat bran) until the mixture holds together when pressed.
**The granola mixture will be sticky. In order to keep your hands from getting too sticky with the mixture, lightly coat with coconut oil or non-stick cooking spray.
**I like to use a 1 tablespoon sized cookie scoop and just scoop the granola mixture onto a baking sheet and refrigerate. After the hour of refrigeration is up, I shape the granola into nicer looking bites.
Recommended Products
As an Amazon Associate and member of other affiliate programs, I earn from qualifying purchases.