These easy Maple Glazed French Toast Scones are filled with all of the warm spices of french toast and topped with a sweet maple glaze!
*Text and recipe from 08/16/13. Images updated 04/19/18.
We're heading up to my parent's this evening for a quick weekend visit. (Yes, it does feel like we live in our car!) I can't just show up empty handed, so I made sure to make a few things to bring with us. I'm always excited about baking for my parents, because my mom likes coffee.
That means I can make baked goods that either have coffee in them or go well with coffee! That doesn't happen very often around here since my husband doesn't like coffee. . .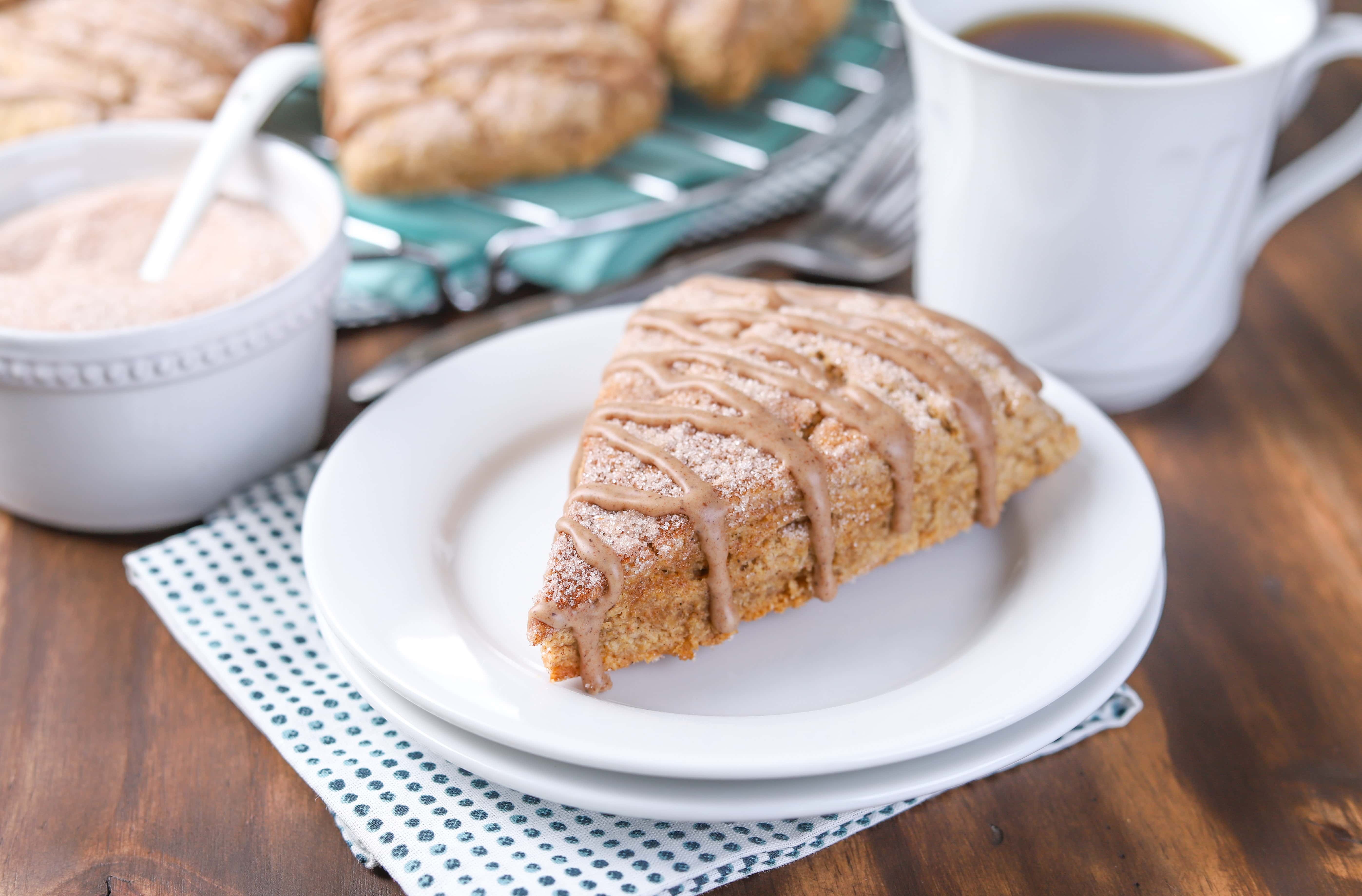 When I started thinking about what to make, my mind went to scones. I love enjoying fresh scones with a hot cup of coffee. You know I love all things cinnamon, so I decided to go for a flavor of scone that is based off of one of my favorite flavors of lattes, french toast.
These maple glazed french toast scones have all of the flavors of french toast, including lots of cinnamon!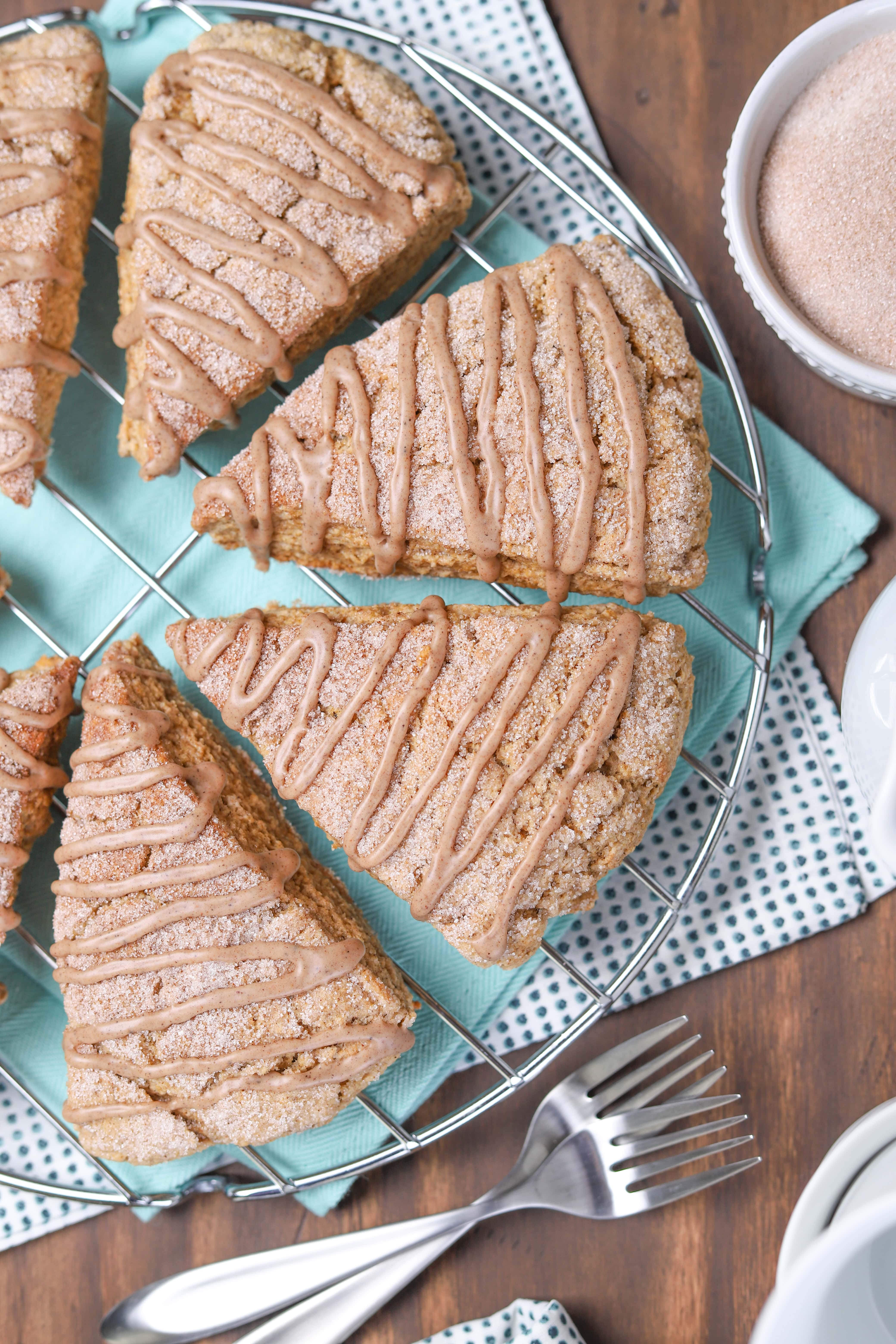 A hint of nutmeg and allspice round out the flavors in the scone. Cinnamon sugar gives the scones a crackly top and a bit of crunch in each bite.
To round out the classic flavors associated with french toast, a drizzle of maple glaze finishes off these irresistible scones.
Your next cup of coffee needs one of these scones!

Maple Glazed French Toast Scones
Author:
A Kitchen Addiction
Ingredients
For the Scones
1 C white whole wheat flour
1 C all-purpose
¼ C sugar
2 tbsp brown sugar
1 tsp baking powder
½ tsp baking soda
½ tsp salt
2 tsp cinnamon
½ tsp nutmeg
¼ tsp allspice
½ C unsalted butter
½ C plain Greek or regular yogurt
1 tbsp milk
¼ tsp vanilla extract
1 egg, beaten
For the Cinnamon Sugar
2 tbsp sugar
¼ tsp cinnamon
For the Glaze
½ C confectioner's sugar
½ tsp cinnamon
½ tsp nutmeg
¼ tsp allspice
¼ tsp maple extract
1 tsp milk
Instructions
Preheat oven to 350. Line a baking sheet with parchment paper or a baking mat.
In a large bowl, whisk together flours, sugar, brown sugar, baking powder, baking soda, salt, cinnamon, nutmeg, and allspice.
Cut in butter using a pastry fork or two forks. Stir in yogurt, milk, vanilla extract, and egg until just combined.
Turn dough out onto a well-floured surface. Knead 5-6 times or until dough comes together. Shape into an 8-inch round.
Stir together sugar and cinnamon and sprinkle over the top. Gently pat into dough. Cut into 8 pieces and transfer pieces onto prepared baking sheet.
Bake for 15-18 minutes or until golden. Transfer to wire rack to cool.
Stir together ingredients for glaze and drizzle over cooled scones. Serve. Scones best eaten same day.