Remember the
Chewy Oatmeal Raisin Cookies
that I posted a couple of weeks ago? Well, those were the start of my spiraling into fall flavors! Ever since then I haven't been able to resist the urge to give in and start baking with all of the comforting flavors of fall.
I even turned on my oven on a 97 degree day to make these! Yeah, while they were baking and the smell of apples, cinnamon, and nutmeg were wafting through the air, you could hear the poor air conditioner moaning at me!
But it was worth it to make these cookie bars that taste like apple pie! These bars are filled with chunks of apples, sweet caramel, nutty oats, and my favorite spice. . .cinnamon!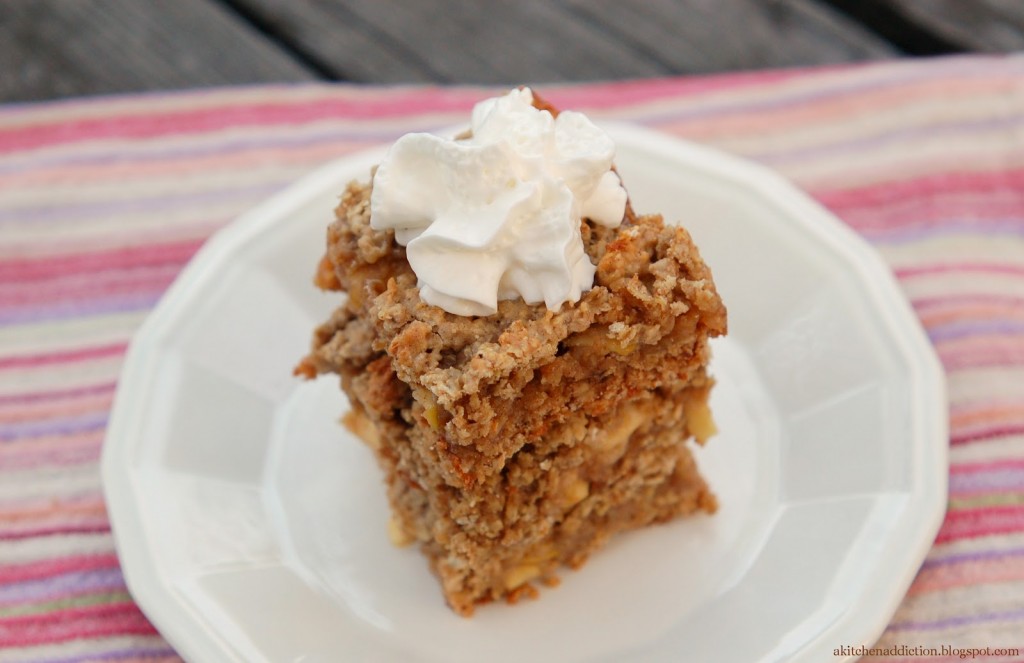 Think of them as portable apple pies to take with you for breakfast on the way to work! Or top them with some whipped cream and caramel for dessert! Oh, and if you close your eyes while you're eating one, you may forget that it's in the upper 90's with temperatures reaching into the 100's before it cools off again! Enjoy!
Caramel Apple Oatmeal Cookie Bars

Yield: 12 bars
Ingredients
5 tbsp butter, softened
1/3 C brown sugar
1/4 C granulated sugar substitute
2 tbsp non-fat plain yogurt
1 egg
1 tsp vanilla extract
3/4 C + 2 tbsp all-purpose or whole wheat pastry flour, divided
1/2 tsp baking soda
1/4 tsp salt
3/4 tsp cinnamon
1/4 tsp nutmeg
1 3/4 C quick (not instant) oats, divided
1/2 C apples, finely chopped
1/2 C reduced-calorie caramel topping
Directions
Preheat oven to 350. Spray an 8×8 baking dish with non-stick cooking spray.
In the bowl of a stand mixer, cream together butter and sugars on medium speed. Add in yogurt, egg, and vanilla. Beat until creamy.
In a small bowl, stir together 3/4 cup flour, baking soda, salt, cinnamon, and nutmeg. Add to creamed butter mixture. Beat until well-combined. Stir in 1 1/2 cups oats.
Press half of the cookie dough into the bottom of the baking dish. Bake for 10 minutes and remove.
Sprinkle apples over the crust. Combine caramel and remaining 2 tablespoons flour. Spread caramel over the top of the apples. Stir remaining 1/4 cup oats into the remaining dough and spread over the apples.
Return to oven and bake for another 20-25 minutes or until light golden brown. Do not overbake. Cool for 30 minutes. Place bars in the refrigerator and cool for 1 hour before cutting into squares.
Store leftovers in an airtight container.
This recipe is linked with Crazy Sweet Tuesday, Heavenly Treats, Iron Chef Mom, Riverton Housewives Round Up, Strut Your Stuff Saturday, Sweet Treats and Swanky Stuff, Tastetastic Thursday, Thriving on Thursdays, Thursday Treasures, Totally Tasty Tuesday, Tuesday Talent Show, Weeekend Potluck, What's Shakin Link Party.