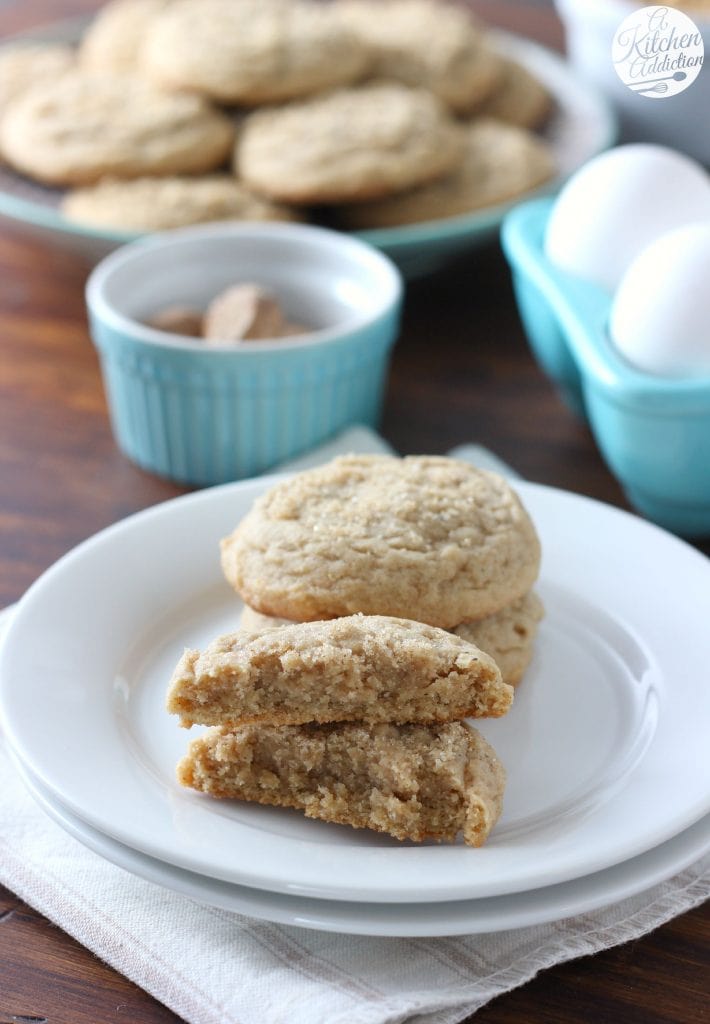 After digging out my maple extract for these granola bites, I couldn't put it back before using it in another recipe. It's been such a long time since I've made cookies, that I found myself wanting a soft maple cookie while I was making healthy granola bites.
That ever happen to you?! It's kind of strange for me, because I'm not really a cookie person. That's reflected here where I have way more recipes for bars than I do for cookies.
I guess I just don't like the whole scoop each cookie out individually, bake multiple batches process. But that process is worth it for these brown sugar maple nutmeg cookies!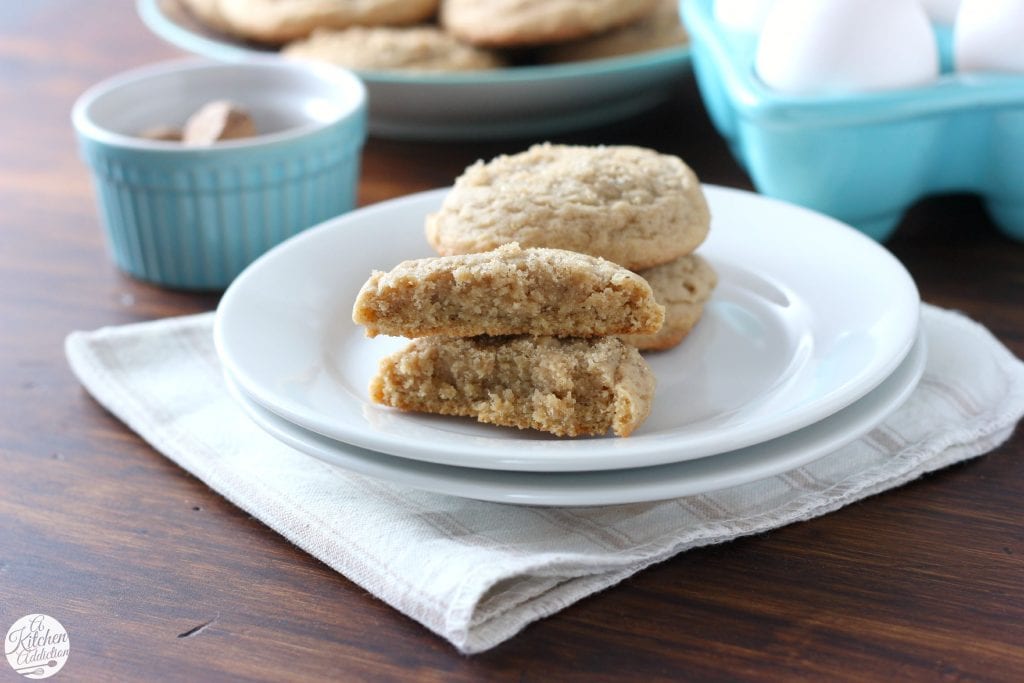 Perfectly soft brown sugar cookies are filled with maple and nutmeg. I used freshly grated nutmeg for lots of flavor, but regular ground nutmeg works as well.
When the house started smelling amazing before the cookies even made it in the oven, I knew they would be good!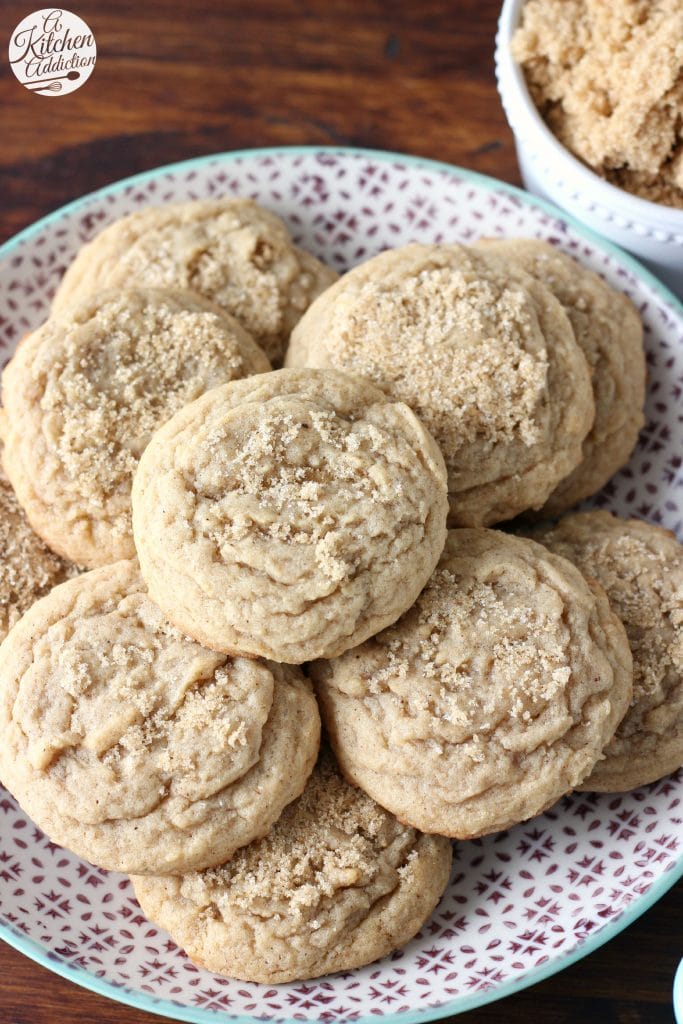 Since yesterday was the first day of fall, it's time to bring out all the fall things in our houses. So why not skip the expensive fall scented candles and make a few batches of these cookies!
Okay, maybe light a fall scented candle and burn it while you enjoy a few of these cookies to get in the spirit of fall!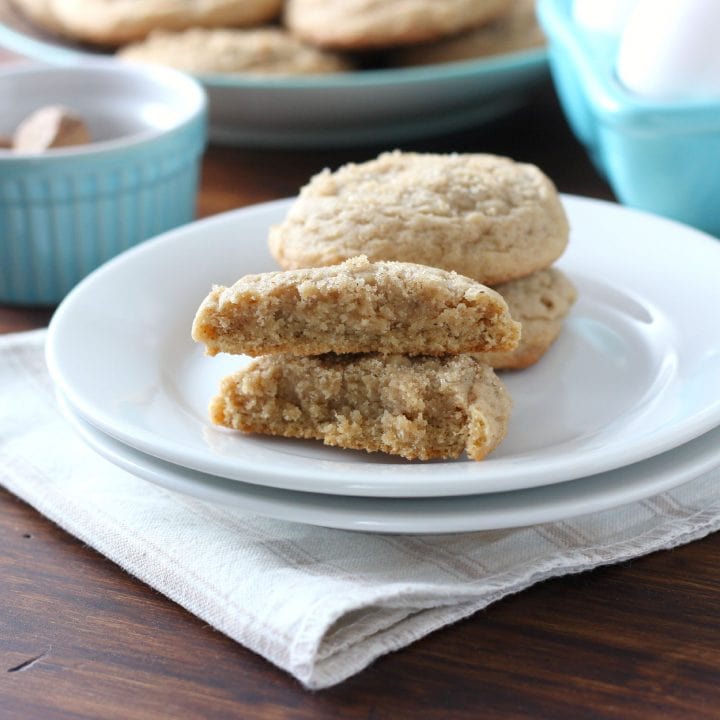 Brown Sugar Maple Nutmeg Cookies
Yield: 18 cookies

Prep Time: 15 minutes

Bake Time: 10 minutes

Total Time: 25 minutes
Ingredients
1 1/2 C all-purpose flour
1 tsp freshly grated nutmeg (or ground nutmeg)
1/2 tsp cinnamon
1/2 tsp baking soda
1/2 tsp salt
1/2 C butter, softened
2/3 C brown sugar
1/4 C sugar
1 egg
1 1/2 tsp maple extract
1 tsp vanilla extract
For the Sugar Topping
2 tbsp brown sugar
1 tbsp sugar
1/4 tsp ground nutmeg
Instructions
Preheat oven to 350. Line a baking sheet with parchment paper or a silicone baking mat.
In a small bowl, whisk together flour, nutmeg, cinnamon, baking soda, and salt. Set aside.
With a mixer, cream together butter and sugars. Add in egg, maple extract, and vanilla extract. Beat until combined. Add dry ingredients to wet ingredients and beat until combined.
Drop by heaping tablespoon full onto prepared baking sheet. Bake for 8-10 minutes or until cookies are just set. Remove to a wire rack to cool.
Stir together sugar topping ingredients and sprinkle over the tops of the cookies as soon as they come out of the oven.
Recommended Products
As an Amazon Associate and member of other affiliate programs, I earn from qualifying purchases.
Nutrition Information:
Yield: 18 Serving Size: 1
Amount Per Serving: Calories: 132Total Fat: 6gSaturated Fat: 3gTrans Fat: 0gUnsaturated Fat: 2gCholesterol: 24mgSodium: 147mgCarbohydrates: 19gFiber: 0gSugar: 11gProtein: 2g

Nutrition data shown is an estimate provided by an online calculator and is for informational purposes only. It should not be considered a substitute for a medical professional's advice.