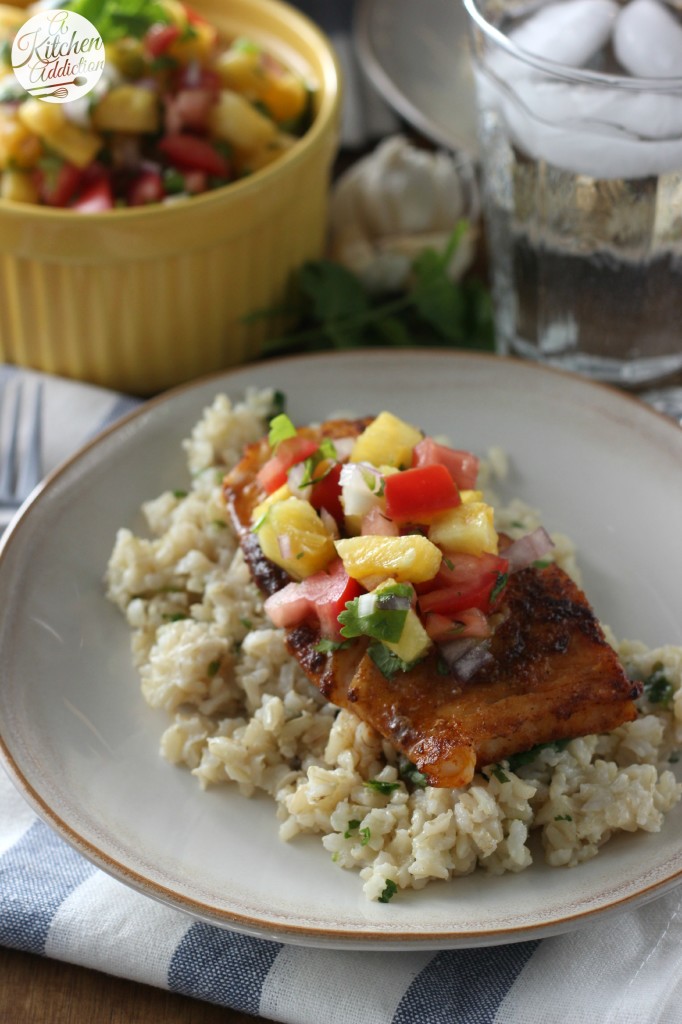 I was selected for this opportunity as a member of Clever Girls and the content and opinions expressed here are all my own.
We're at it again. Looking for a place to live. You'd think that moving 5 times in less than 5 years would make each move easier. It just doesn't seem to be working that way!
Life gets busy and the next thing you know, your well planned schedule for what to do when flies out the window. So does your well intentioned menu planning!
Lately meals have been happening somewhat spur of the moment, and they aren't always the most well-rounded. I'm working on changing that. Healthy meals will happen.
And they won't take forever to make. Starting with this blackened cod with fresh pineapple salsa made with wild Alaska seafood!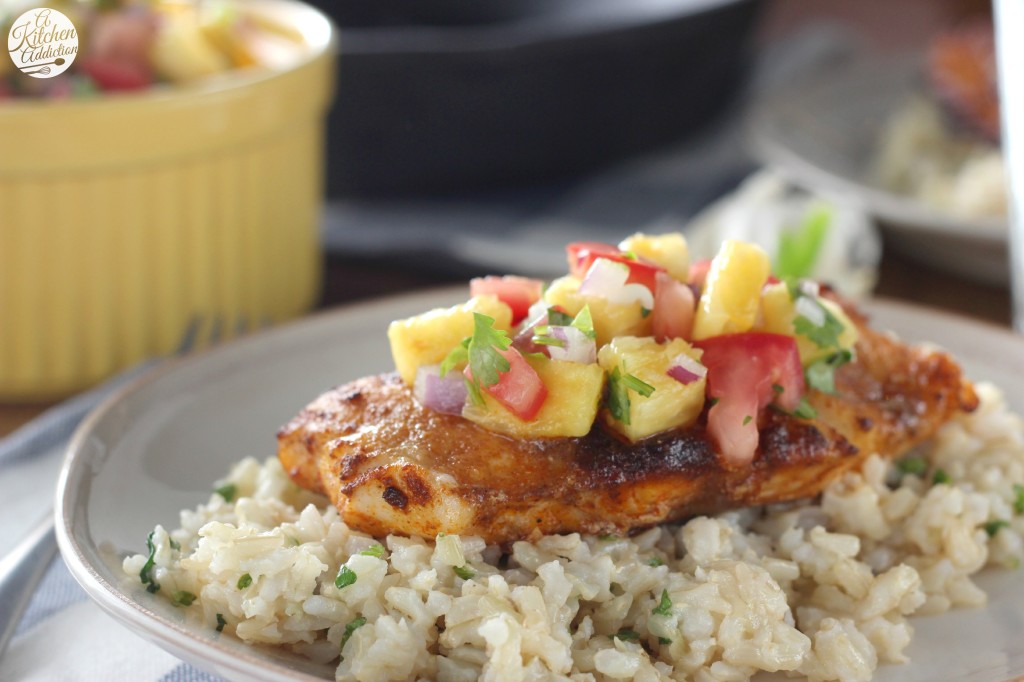 Simple seafood meals are a great way to get essential nutrients without spending a lot of time and effort in the midst of your busy lives. Alaska seafood is high in protein, low in saturated fat, low in sodium and one of the best sources of heart-healthy omega-3 fatty acids.
Just what we need! Plus, the cold water and natural environment of Alaska produces seafood with lean flesh, firm texture, and superior flavor that is full of high quality protein, vitamins, minerals and oils essential to good health.
And, of course, it tastes good. So, it's easy to want to incorporate it into our menus. If you've never prepared seafood at home, give it a shot! It's super easy.
Alaska seafood comes in multiple varieties and species and is fresh, frozen, and canned so there's something for everyone's tastebuds, cooking method, and budget!
Since living in the midwest doesn't allow for much fresh seafood, we purchase frozen seafood. So, when I had blackened cod on my menu recently, I picked up some frozen fillets and the flavor was still great!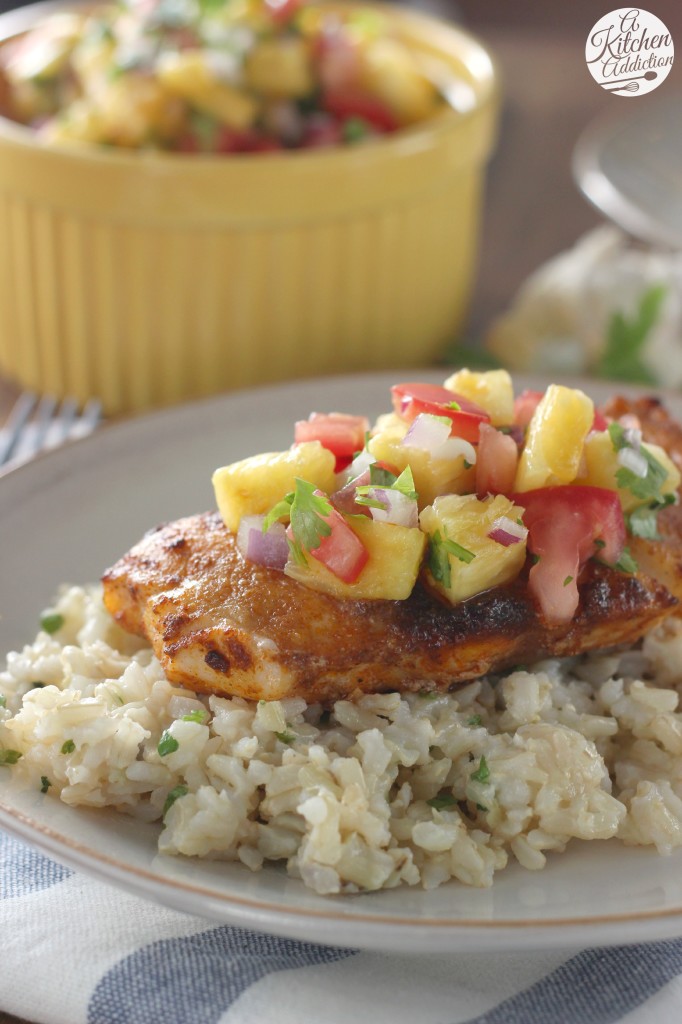 To make the cod blackened, simply mix together a combination of spices with a bit of canola oil and spread over the sides of the cod fillets.
Then all it takes is less than ten minutes in a hot cast iron skillet. Before you know it, you've prepared quality seafood in your own home!
To compliment the flavor of the cod, I paired it with a fresh pineapple salsa. It also is a super easy recipe loaded with fresh flavors. Quick, easy, healthy, and lots of flavor!
No more excuses. We can now all enjoy a healthy meal no matter how busy our lives are!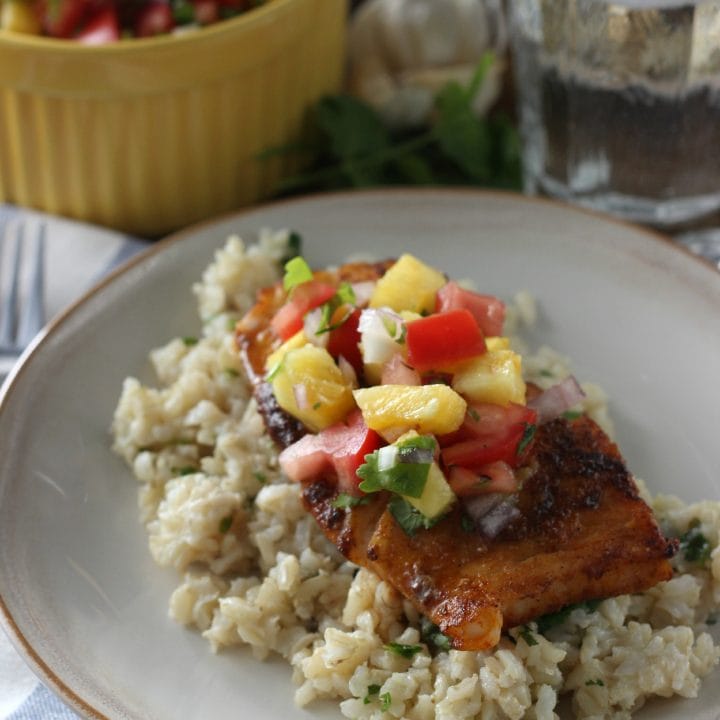 Blackened Cod with Fresh Pineapple Salsa
Ingredients
For the Cod
1 tbsp chili powder
1 tsp garlic powder
1 tsp salt
1/2 tsp paprika
1/2 tsp black pepper
1 tbsp canola oil
1 lb frozen wild Alaska cod fillets, thawed and patted dry
For the Salsa
2 C chopped pineapple
1 C chopped tomato
1/2 C diced red onion
1/2 C chopped cilantro
1 (4 oz) can diced green chiles, drained
1 chopped jalapeño
2 minced garlic cloves
1 tbsp lime juice
salt and pepper, to taste
Instructions
In a medium bowl, stir together pineapple, tomato, red onion, cilantro, green chiles, jalapeno, garlic cloves, lime juice, and salt and pepper. Set aside.
In a small bowl, whisk together chili powder, garlic powder, salt, paprika, black pepper, and canola oil.
Spread spice mixture over the tops and bottoms of cod fillets.
Heat cast iron skillet or heavy saute pan with 1/2 tablespoon canola oil over medium-high heat.
Carefully add cod fillets and cook for 7-9 minutes, flipping half way through, until internal temperature reaches 145 degrees Fahrenheit.
Remove from heat and serve over a bed of rice or alone. Top with pineapple salsa.
Recommended Products
As an Amazon Associate and member of other affiliate programs, I earn from qualifying purchases.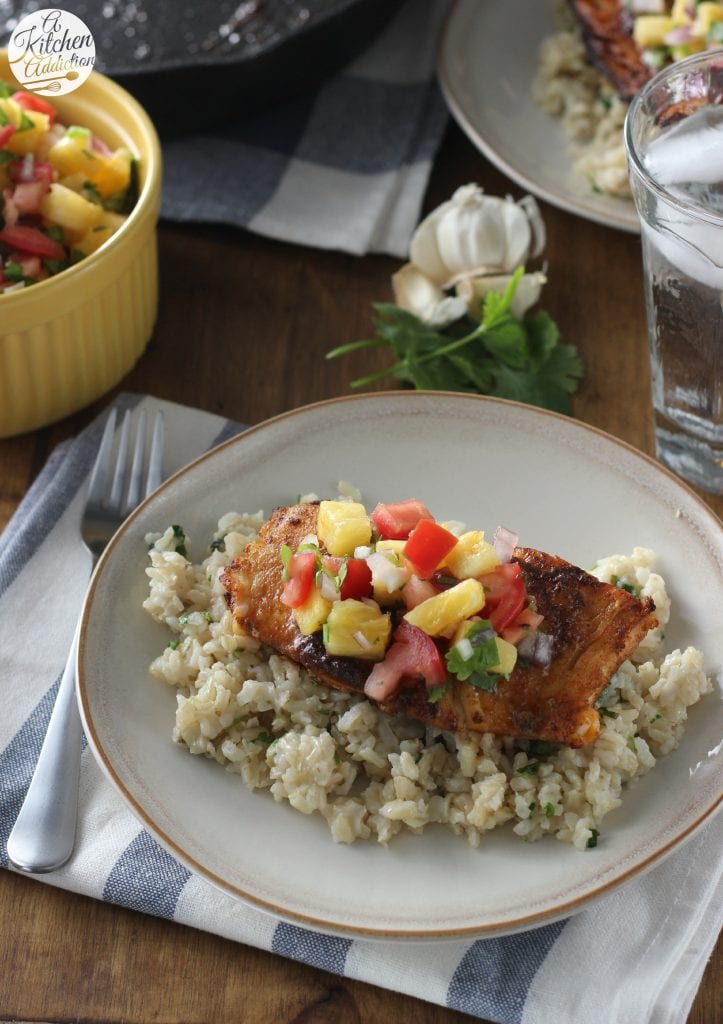 I was selected for this opportunity as a member of Clever Girls and the content and opinions expressed here are all my own.