Here's a spin on a traditional favorite! I like deviled eggs, but I don't like the load of mayo that comes with them. Recipes call for anywhere from 1/3 cup to 2/3 cup mayo for a dozen eggs. At 10 grams of fat per tablespoon (livestrong.com), that's anywhere from 50-110 grams of fat!! Yikes! I swapped out the mayo for plain low-fat yogurt, gave them to my husband to try, and he didn't know that there was anything different about them. The taste hardly changed and my arteries thanked me for thinking of them. 🙂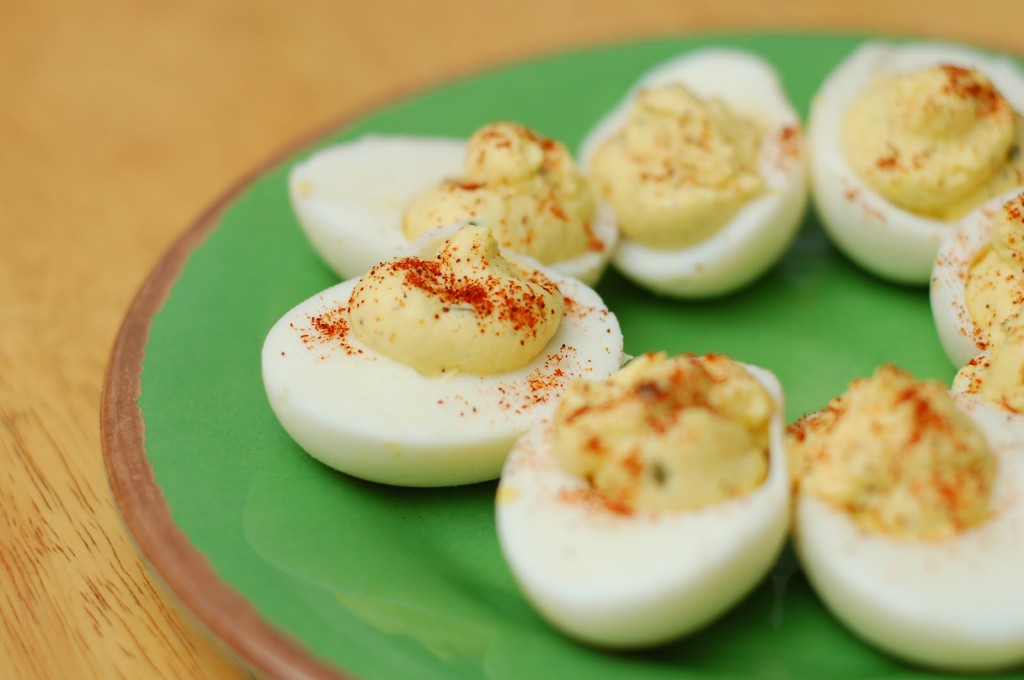 A Deviled Egg Makeover

Yield: 12 servings


Ingredients
12 eggs
1/2 C plain low-fat yogurt
1 tsp yellow or djion mustard
1 tsp white vinegar
1 tsp finely chopped chives
1/8 tsp white pepper
salt, to taste
ground black pepper, to taste
paprika, for garnish
Directions
Place your eggs into a saucepan. Add enough water to cover the eggs by at least 2 inches of water. Bring the water to boil on high. Lower the temperature to medium-high. Let simmer for 10 minutes. Turn off burner and let eggs sit in hot water for 2 minutes.
Using tongs or a slotted spoon, carefully remove eggs to a bowl of ice water. Once eggs have cooled, strain water from the eggs.
Peel eggs and slice in half lengthwise. Arrange whites, cut side up, on a serving platter. Place yolks in a small mixing bowl.
Mash together yolks, yogurt, mustard, vinegar, chives, salt and pepper. Stir together until well-blended.
Spoon or pipe mixture into whites. Sprinkle with paprika. Serve immediately or store in refrigerator until ready to serve.