These bars were made out of necessity. 🙂 I had to do something with the coconut that was left over from my Easter baking. I couldn't just let it dry out or let it sit on the shelf until I forgot about it and it dried out! So, I made these. 🙂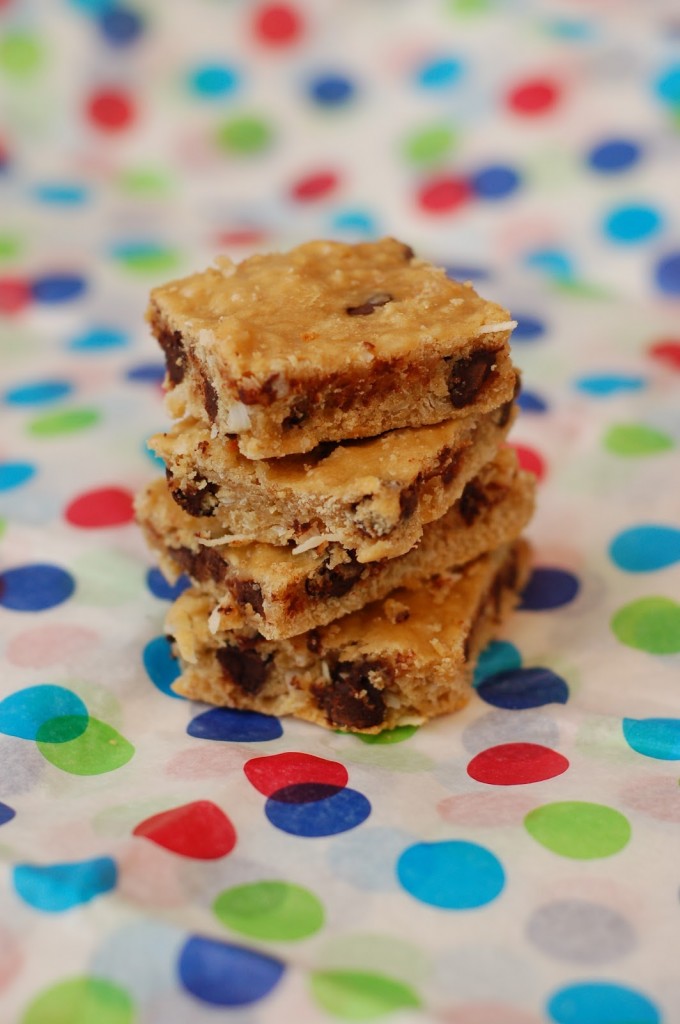 The dark chocolate chips and coconut are great by themselves, but put them together in a blondie and they are amazing. If you have left over coconut, I highly recommend that you try them!
Yum, dark chocolate and coconut! Next time I'm going to try toasting the coconut first to bring out more of the coconut flavor.
Coconut Chocolate Chip Blondies

Adapted from: browneyedbaker
Yield: 16 bars
Ingredients
1 C white whole wheat flour
1/8 tsp salt
3 tbsp butter, melted and cooled to room temperature
4 tbsp plain non-fat yogurt
1/2 C granular sugar substitute
1/3 C brown sugar
1 egg
1 1/2 tsp vanilla extract
1 C sweetened, flaked coconut
1 C semi-sweet chocolate chips
Directions
Preheat oven to 350. Grease and flour an 8×8 pan.
Combine flour and salt. Set aside.
Stir together the melted butter, yogurt, sugar substitute, and brown sugar until smooth. Beat in egg and vanilla extract until well blended.
Slowly beat in the flour mixture until blended, then stir in the coconut and chocolate chips.
Scrape batter into prepared pan and smooth out with rubber spatula.
Bake for 25-30 minutes or until center is set but still soft.