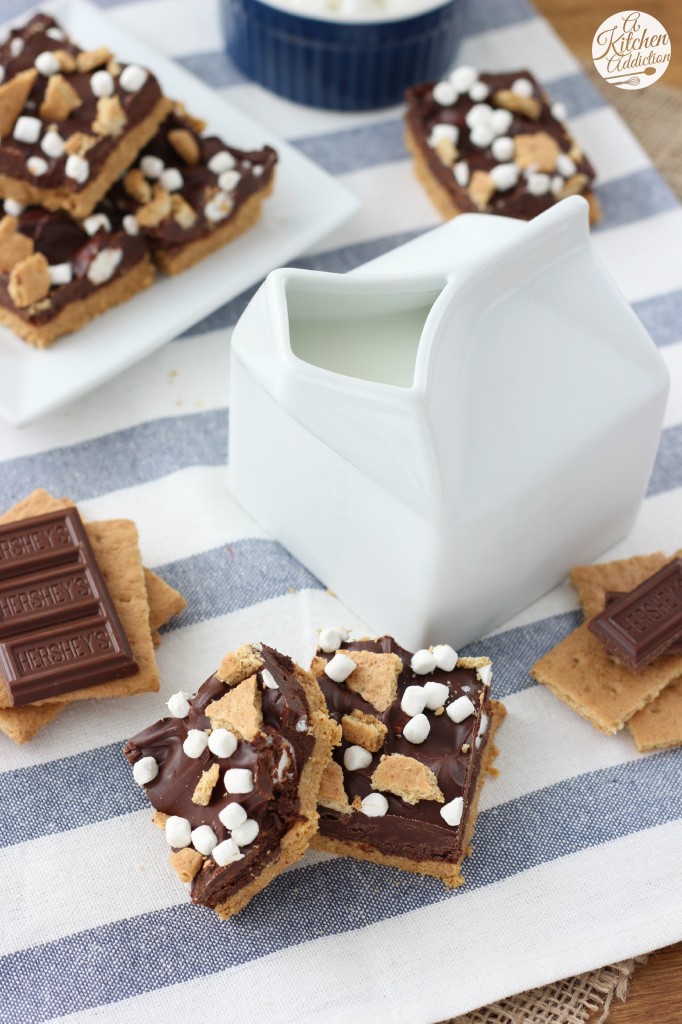 I know I said awhile back that I had found my go-to dessert for this summer. But, I've changed my mind! Those salted chocolate peanut butter bars are definitely still towards the top, but I've found a new favorite.
These no bake peanut butter s'mores bars are now number one!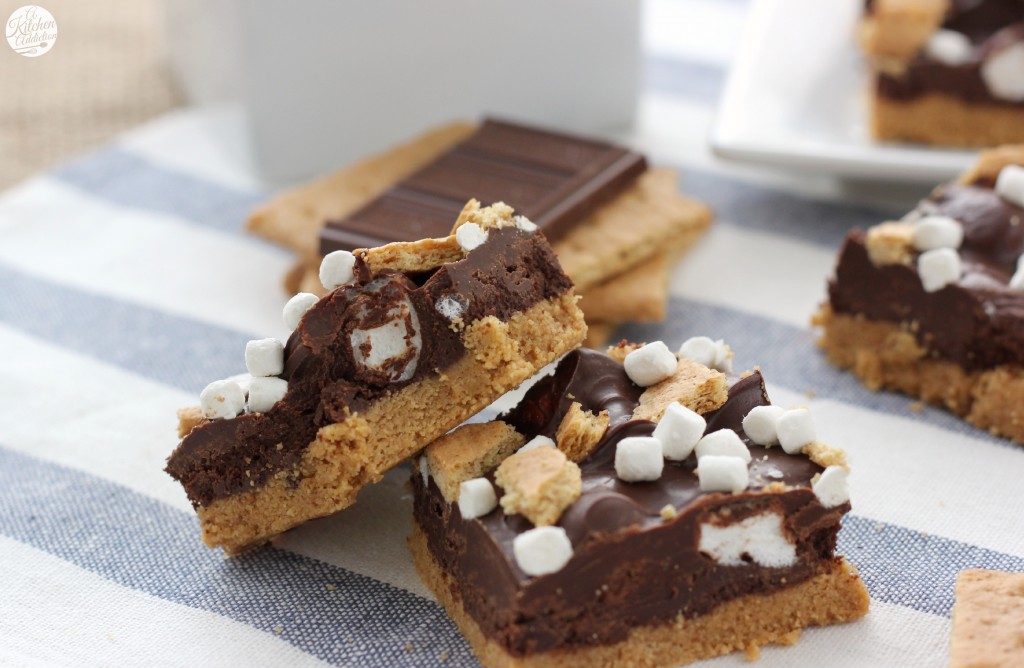 When it comes to all things s'mores, I just can't say no. I'm constantly asking my husband when he's tending the grill if the coals are just right (because I have to have perfectly toasted marshmallows!) for making s'mores.
Fortunately for me, he likes them just about as much as I do so I get to enjoy them quite a bit. I'm thinking it should become an "every time we grill" tradition.
It'd be great. Maybe not for our blood sugar levels, but definitely for our tastebuds!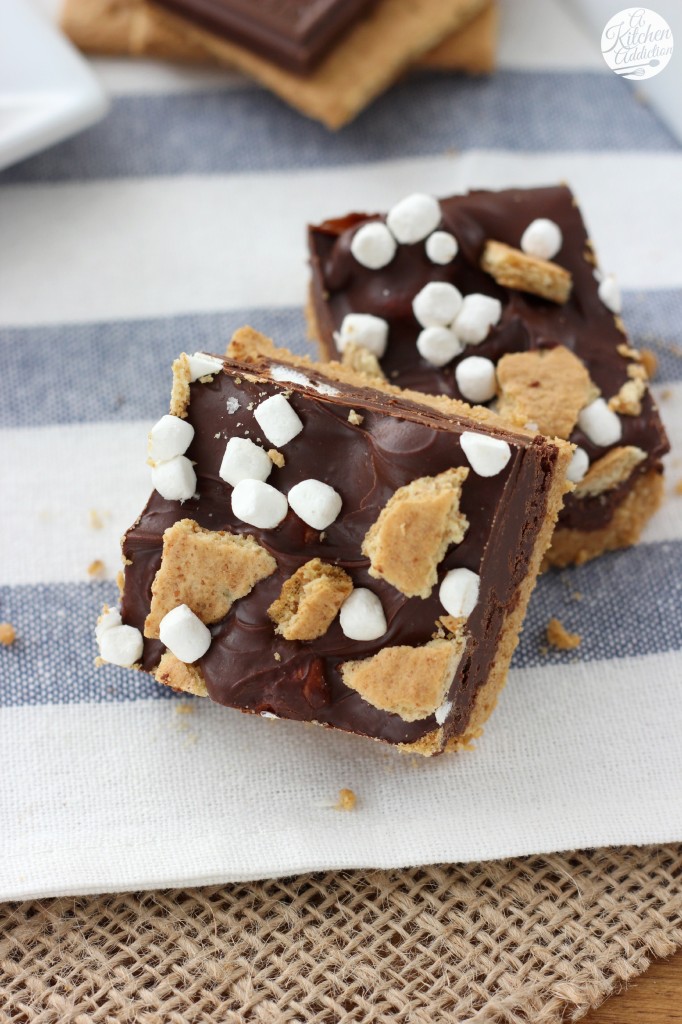 These peanut butter s'mores bars are perfect for those days when we aren't grilling or just about any day, actually. A simple peanut butter graham cracker crust makes up the base of these bars.
Mini marshmallows are sprinkled over the top and covered with a thick layer of soft peanut butter chocolate. Crushed graham crackers and marshmallow bits finish off these super easy no bake bars.
So if you're looking for a new summer favorite, these bars are it!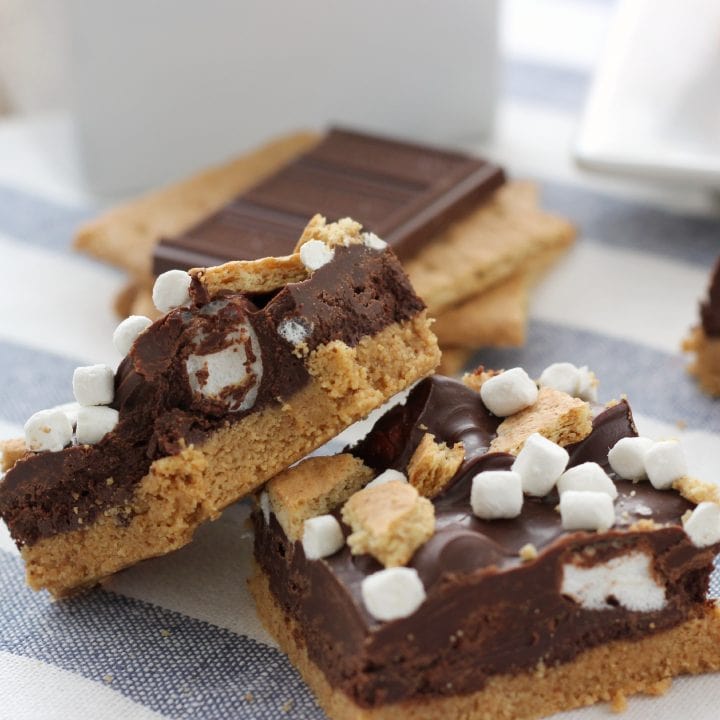 No Bake Peanut Butter S'mores Bars
Ingredients
12 whole sheets of graham crackers, crushed
1/3 C confectioner's sugar
1/2 C creamy peanut butter
3 tbsp butter
For the Topping
1 (11-12 oz) package chocolate chips
1 tbsp butter
1/4 C creamy peanut butter
1/4 C mini marshmallows
1 whole sheet graham cracker, coarsely crushed
2 tbsp marshmallow bits
Instructions
Line an 8x8 inch baking dish with aluminum foil so that the edges hang over the side of the baking dish.
In a food processor, pulse together graham crackers and confectioner's sugar until graham crackers are fine crumbs.
In a small microwave safe bowl, melt peanut butter and butter until butter is melted. Stir together and add to food processor. Pulse until mixture is completely combined.
Press mixture firmly into the bottom of prepared baking dish. Set aside.
In a microwave safe bowl, add chocolate chips and butter. Melt chocolate according to package instructions. Stir in peanut butter until smooth.
Top graham cracker base with mini marshmallows. Pour chocolate mixture over the top. Sprinkle with crushed graham crackers and marshmallow bits. Gently press into chocolate.
Refrigerate for at least 2 hours before lifting bars from dish and cutting into pieces.
Recommended Products
As an Amazon Associate and member of other affiliate programs, I earn from qualifying purchases.