After yesterday's giveaway related to healthy living, I figured this recipe should be a little healthier than Tuesday's! 😉 And it is, even if it doesn't look like it or taste like it! These cupcakes are perfect for those dads who love to fish.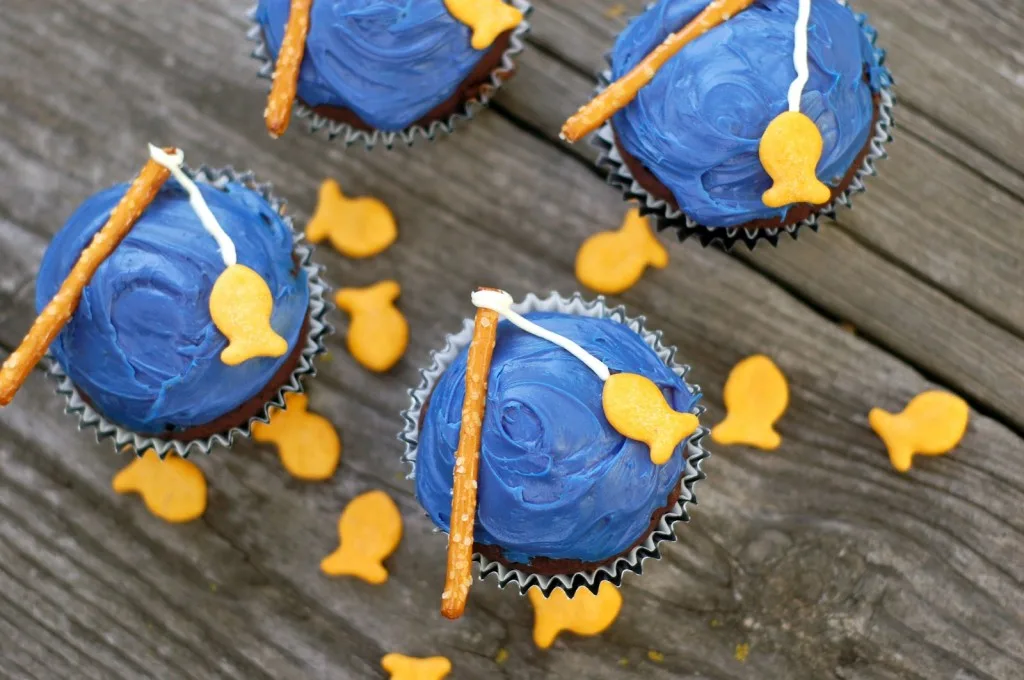 I got the decorating idea from Easy Cupcakes but used my own cupcake recipe. I decided to modify my Chocolate Graham Cupcake slightly to make it a plain chocolate cupcake. It turned out just as tender and delicious as the others just without the graham flavor.
Both the cupcake batter and the decorating are easy enough that the kids can help make these treats and join in the fun! 🙂
These are sure to put a smile on Dad's face!
Be sure to enter the GIVEAWAY going on right now for a chance to win a fancy new Crock-Pot! The winner will be announced next Wednesday.
Going Fishin' Cupcakes

Decorating Idea: Easy Cupcakes
Cupcakes: A Kitchen Addiction
Yield: 12 Cupcakes
Ingredients
For the Cupcakes
1 C non-fat buttermilk
1/4 C granulated sugar
1/4 C granulated sugar substitute
1/2 C non-fat plain yogurt
2 tbsp canola oil
2 tsp vanilla extract
1 C all-purpose flour
1/2 C white whole wheat flour
2/3 C unsweetened baking cocoa
3/4 tsp baking soda
1/2 tsp baking powder
1/4 tsp salt
For the Frosting & Decorations
blue frosting
white frosting
pretzel sticks
whole grain gold fish crackers
Directions
Preheat oven to 350. Line muffin tin with cupcake liners.
Mix together milk, sugar, sugar substitute, yogurt, oil, and vanilla extract. Beat for 30 seconds.
Sift together flours, baking cocoa, baking soda, baking powder, and salt into a small bowl. With mixer on low, slowly add in the dry ingredients. Mix until combined.
Spoon batter into liners about 2/3 full. Bake for 15-20 minutes or until toothpick inserted into the center comes out clean.
Remove cupcakes to wire rack and allow to cool completely.
Frost cupcakes with blue frosting. Place one pretzel rod vertically on each cupcake to represent a fishing pole. Place goldfish cracker off to the side of the pretzel rod. Pipe a white line of frosting between the goldfish cracker and the top of the pretzel rod. (I didn't have a tip that was small enough to pipe the line, so I just cut the very tip off of a sandwich bag and used that.)
Have fun and enjoy!
Store leftovers in an airtight container.