It's Wednesday already, and the sun is shining brightly! And on top of that, I got to have one of these scones for breakfast! 😉 Strawberries are some of my favorite fruit, and I am always looking for new ways to incorporate them into new, delicious recipes. These scones didn't let me down. They have a flaky crust while remaining tender throughout the inside. The sweetness of the strawberries pairs perfectly with the tartness of the lemon making these a tasty treat!
Look at all of those strawberry pieces! 🙂
If you want a sugar coating on the crust, brush with water and sprinkle with sugar before baking.
Drizzling the glaze while still warm allows for some of it to soak into the scone and give it more flavor!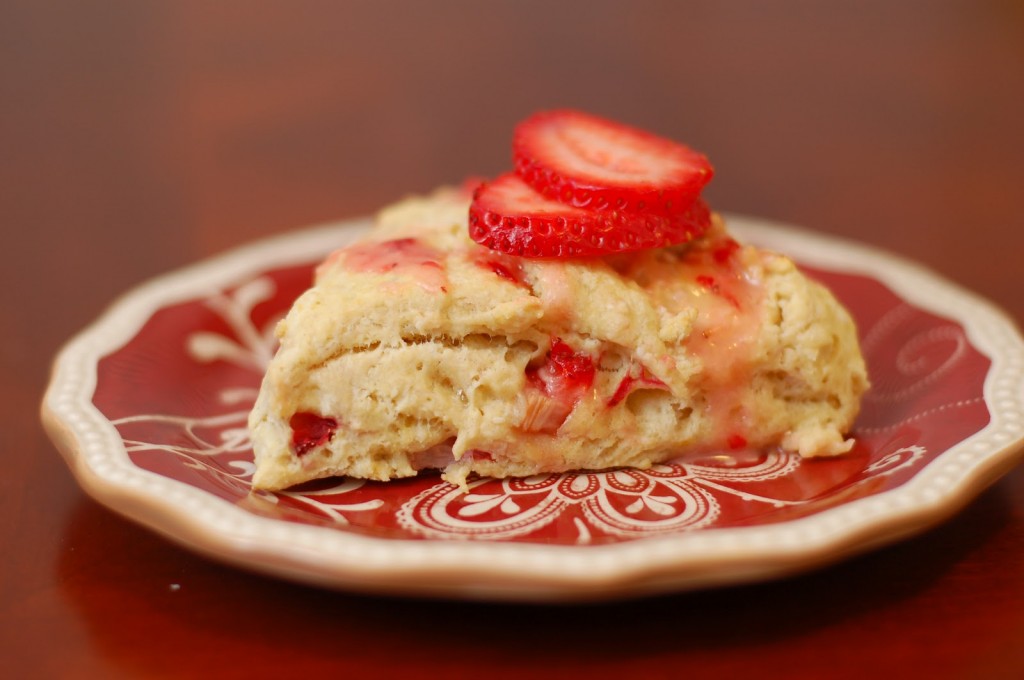 Fresh Strawberry Scones with Lemon-Strawberry Glaze

Scones adapted from: Munchkin Munchies
Yield: 8 scones
Ingredients
For the Scones
1 C white whole wheat flour
1 1/2 C all-purpose flour
2 tbsp sugar substitute, such as Splenda
1 tbsp baking powder
1/4 tsp salt
1/3 C butter, cold and cut into pieces
1 1/4 C fresh strawberries, diced
1 tbsp lemon zest
2 eggs, beaten
1/2 C non-fat milk
sugar for coating, optional
For the Glaze
1 tbsp fresh lemon juice
1 medium-sized strawberry, cut into pieces
1/2 C confectioner's sugar (This will result in a thin glaze, if you prefer a thicker glaze, add sugar until you reach desired consistency.)
Directions
Preheat oven to 400. Line a baking sheet with parchment paper or a silicone baking mat.
In a large bowl, mix together flours, sugar substitute, baking powder, and salt. With a pastry fork or blender, cut in the butter until it turns into course crumbs. Gently stir in strawberries and lemon zest.
In a small bowl, whisk together eggs and milk until well combined. Pour egg mixture over flour mixture. Gently stir until just moistened.
Place dough on floured surface. Knead dough gently about seven times until it forms a shaggy ball. Pat dough into a round about 1-inch thick. Cut into eight pieces. Place pieces onto parchment-lined baking sheet. Optional: Brush with water and sprinkle with sugar.
Bake for 16-20 minutes or until just starting to turn golden brown.
Meanwhile, in a small bowl, combine lemon juice and confectioner's sugar until smooth. Add strawberry and beat with a hand mixer until strawberry is pureed. Refrigerate for about 5 minutes to allow glaze to thicken.
Drizzle on scones after they have cooled for 5-10 minutes.