These soft, tender Glazed Cinnamon Eggnog Scones are filled with the warm spices of cinnamon and nutmeg and are topped with a sweet eggnog glaze! Perfect addition to a holiday brunch!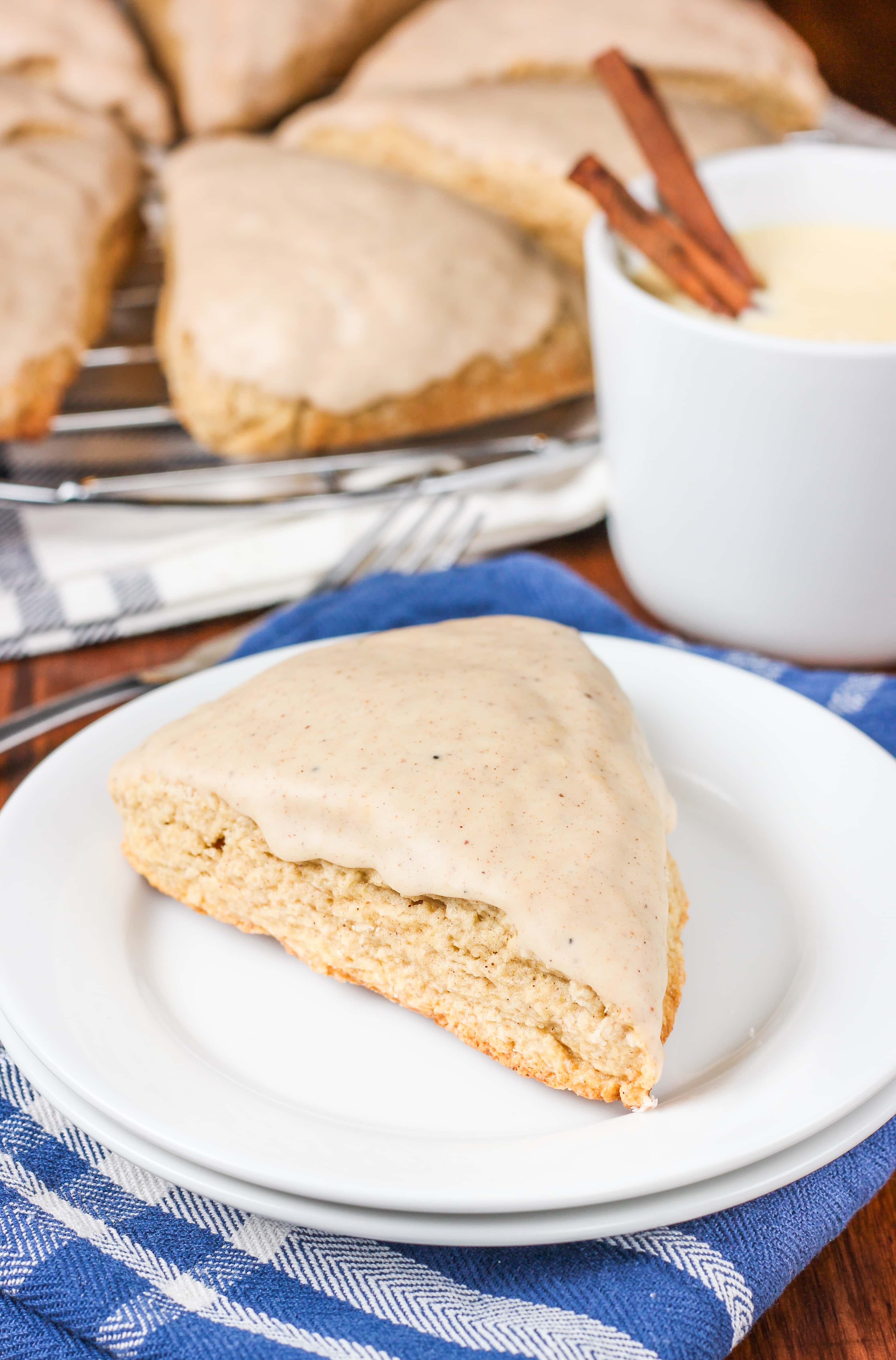 As I was looking back over the types of recipes that I've posted over this past year, I saw that scones were definitely at the top of the list! This is my seventh scone recipe of the year. Which means I had a lot of tasty mornings.
And, I've made more than the recipes that have made it to the blog. I love a good scone to go with my morning coffee!
Tender and soft, scones are the perfect canvas for so many flavors. And while I like many different flavors of scones anytime of year, I usually find myself making scones that are filled with seasonal flavors.
These cinnamon eggnog scones are no different!
When I went to go make scones, I saw the container of eggnog sitting in the fridge and knew that I needed to make some eggnog scones.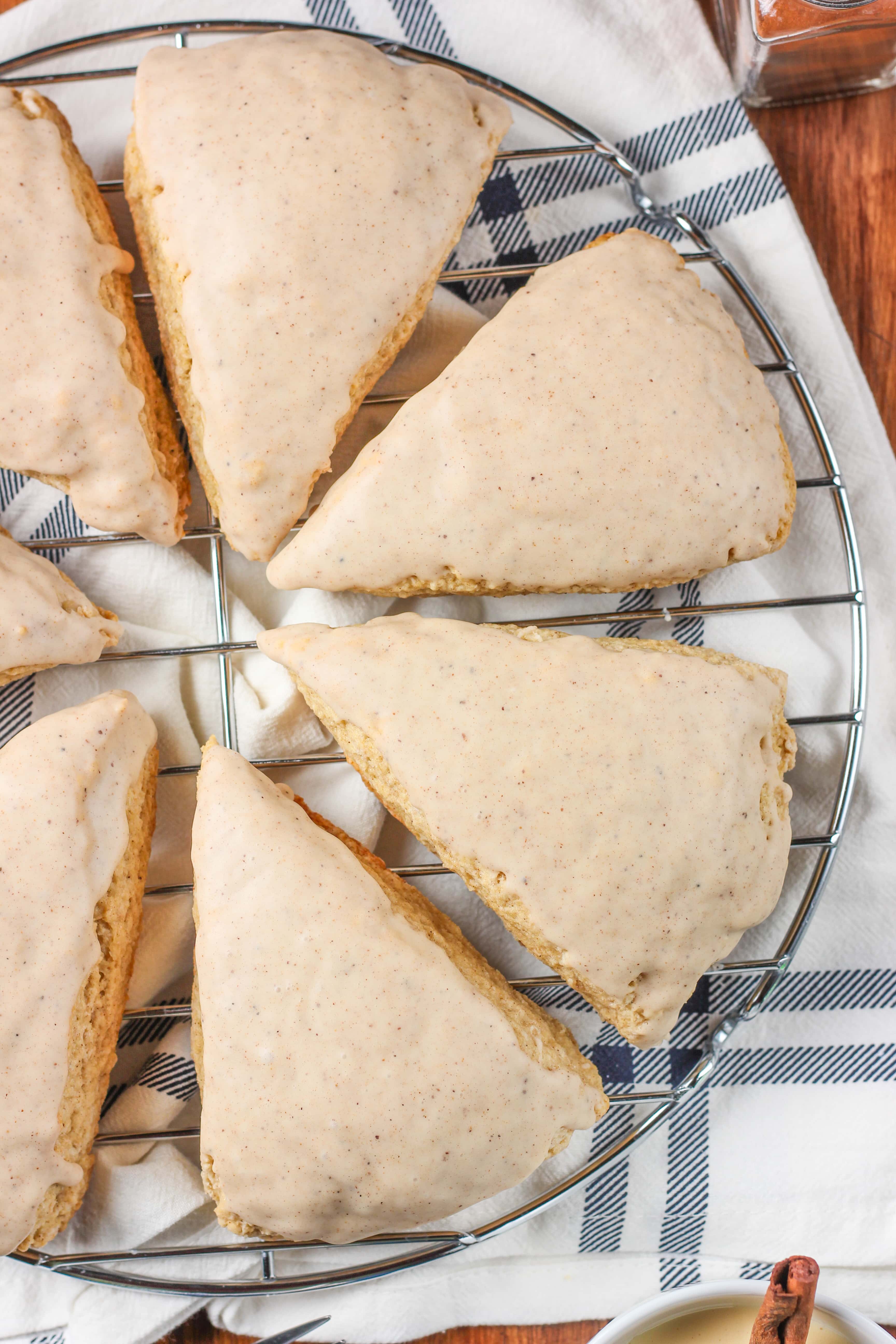 I'm not a huge fan of drinking eggnog plain, but I love baking with it. I usually buy a carton of eggnog each year and end up using it all for baking.
The warm spices of cinnamon and nutmeg pair well with the eggnog flavor and a sweet eggnog glaze tops off these irresistible scones!
Grab a mug of your favorite coffee or tea, a blanket, and a scone, and you're ready for a cozy winter morning!
Glazed Cinnamon Eggnog Scones
Author:
Ingredients
For the Scones
2 C all-purpose flour
1/3 C sugar
1 tsp baking powder
1/2 tsp baking soda
1/2 tsp salt
1 tsp cinnamon
1/4 tsp nutmeg
1/2 C unsalted butter, cold and cut into pieces
1/2 C eggnog
1 egg
2 tsp vanilla extract
For the Glaze
1 C confectioner's sugar
1/4 tsp cinnamon
1/4 tsp nutmeg
2-3 tbsp eggnog
Instructions
Preheat oven to 350 degrees F. Line a baking sheet with parchment paper.
In a large bowl, whisk together flour, sugar, baking powder, baking soda, salt, cinnamon, and nutmeg. Cut in butter until mixture resembles coarse crumbs.
Add in eggnog, egg, and vanilla extract and stir until just combined.
Turn dough onto a lightly floured surface and gently knead 5-6 times until dough just comes together.
Gently pat into 8 inch circle. Cut into 8 pieces, and place on prepared baking sheet.
Bake for 15-20 minutes or until edges just start to turn golden brown. Remove to a wire rack to cool.
Whisk together confectioner's sugar, cinnamon, and nutmeg. Stir in 2 tablespoons eggnog until smooth. Stir in additional eggnog, as needed, to reach desired consistency. Dip tops of scones in glaze or spoon glaze over the top.
Allow glaze to harden and serve.