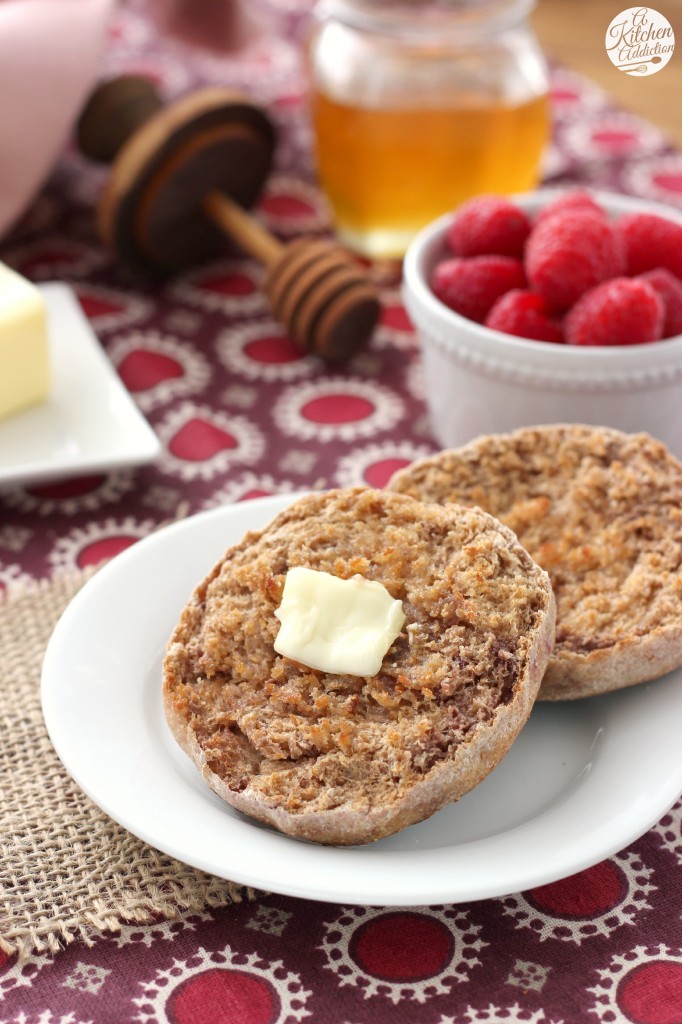 I've already mentioned that I love this time of year when fresh fruits and veggies start appearing in abundance (and at more affordable prices!), and we've definitely been eating our fair share lately!
When raspberries were on a good sale a couple of weeks ago, I knew that it would be the perfect time to experiment with them.
The idea for whole wheat cinnamon raspberry english muffins had popped into my head last month while working on a different recipe and I couldn't wait to finally give them a try.
They turned out just how I imagined. Perfectly chewy with a fruit-filled cinnamon flavor.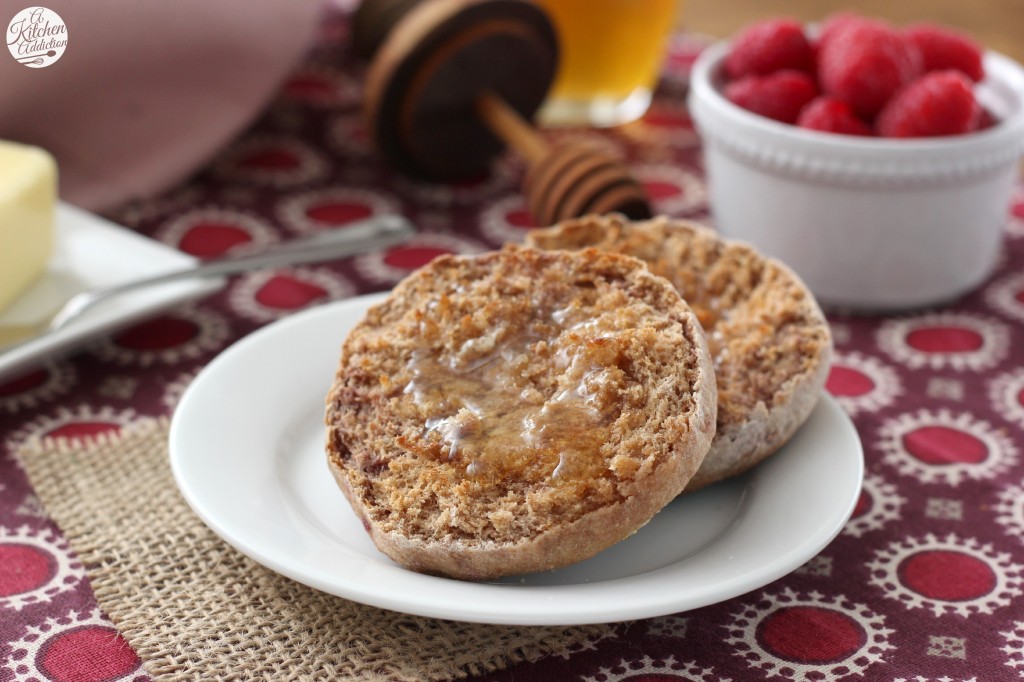 Since I love cinnamon, there is plenty of that warm, comforting flavor. But don't worry, it's not enough to make the cinnamon overwhelming.
The best part though, is the fresh raspberries. Sweet, juicy raspberries are kneaded into the dough right before allowing the dough to rise.
The result is bits of fresh raspberry swirled throughout the muffin giving you a sweet, fruity flavor in each bite. A great summer addition to your breakfast rotation!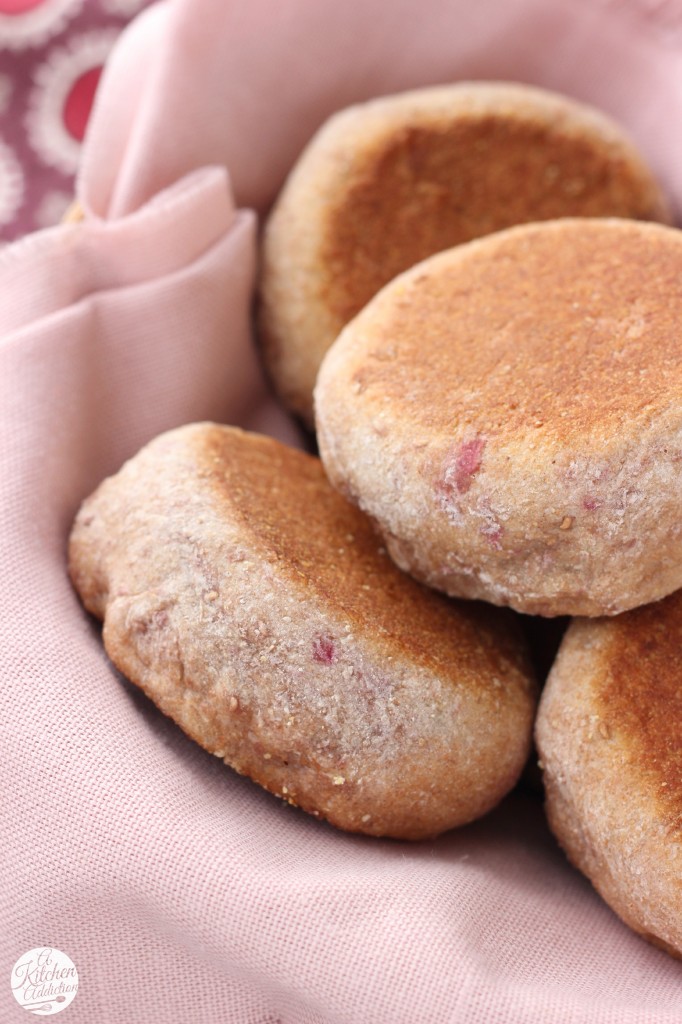 Perfect for eating warm right off the griddle or toasted, these cinnamon raspberry english muffins didn't even last a week at our house.
My husband and I ate them up in no time for quick and easy breakfasts. Next time I may need to make a double batch!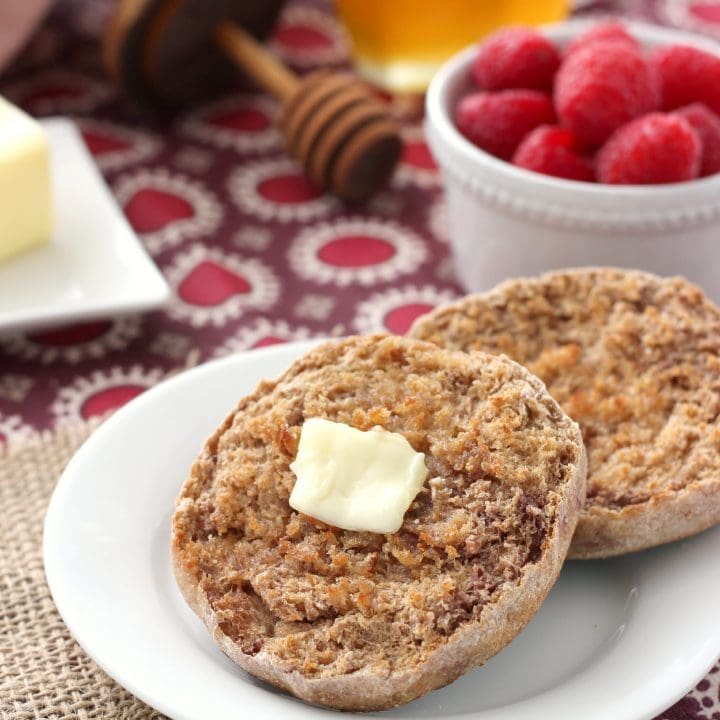 Whole Wheat Cinnamon Raspberry English Muffins
Ingredients
2 C whole wheat flour
1 C bread flour
2 1/2 tsp cinnamon
1 1/2 tsp baking powder
1 1/2 tsp salt
1 C milk, warmed to 120-130F
3 tbsp honey
1/2 C fresh raspberries
Instructions
In the bowl of a stand mixer, mix together flours, yeast, cinnamon, baking powder, and salt.
In a small bowl, whisk together milk and honey. With a mixer on low, slowly add wet ingredients to dry ingredients. Beat until mixture just starts to come together but not all of the flour is worked in. Add raspberries. Beat until flour is completely mixed in, scraping down the sides of the bowl as necessary.
Switch out paddle attachment for dough hook. Turn mixer on medium-high (or medium depending on strength of mixer) and knead until dough is smooth and starts to pull away from the edge of the bowl. This will take anywhere from 5-10 minutes depending on mixer. Dough will be somewhat sticky.
Scoop dough into a bowl that has been buttered or sprayed with non-stick cooking spray. Cover with plastic wrap and allow to rise in a warm spot until doubled in size, about an hour.
Turn dough out onto a lightly floured surface. Gently deflate. Divide into 8 equal pieces. Shape dough into balls. Dough will be sticky but try to use as little flour as possible.
Place balls of dough onto a cookie sheet that has been sprinkled with cornmeal. Gently press dough down until 1 inch thick and about 3 inches in diameter. Lightly mist tops with olive oil or non-stick cooking spray. Cover loosely with plastic wrap and allow dough to rise until doubled in size, about 40 minutes.
Heat griddle or large skillet to medium heat. Brush butter over hot griddle.
Gently place dough, cornmeal side down, onto griddle. Place dough about 2 inches apart. Reduce heat to medium-low and cook until bottoms are golden brown, about 8 minutes. Turn muffins over, reduce to low, and cook for 8-10 minutes or until muffins sound hollow when tapped.
Remove from griddle and allow to cool slightly before serving warm. (For the best nooks and crannies, use a fork to separate the muffins.)
Once cooled, these muffins are best served toasted. Store leftovers in an airtight container.
Recommended Products
As an Amazon Associate and member of other affiliate programs, I earn from qualifying purchases.
I used my go-to Red Star Platinum Yeast to make this bread. It never fails me and gives me consistent results. Be sure to check out Red Star Yeast's Baking Steps Guide for more baking tips and tricks! Want more inspiration for yeast deliciousness? Follow Red Star on Facebook, Twitter, and Pinterest!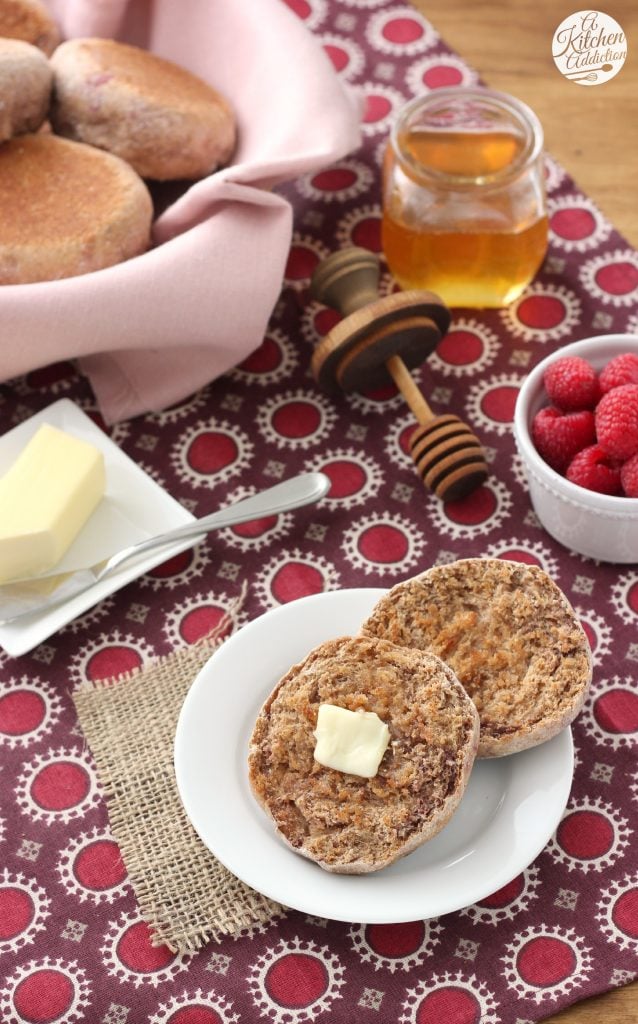 Disclaimer: I received compensation from Red Star Yeast for recipe development purposes. As always, all opinions are my own.