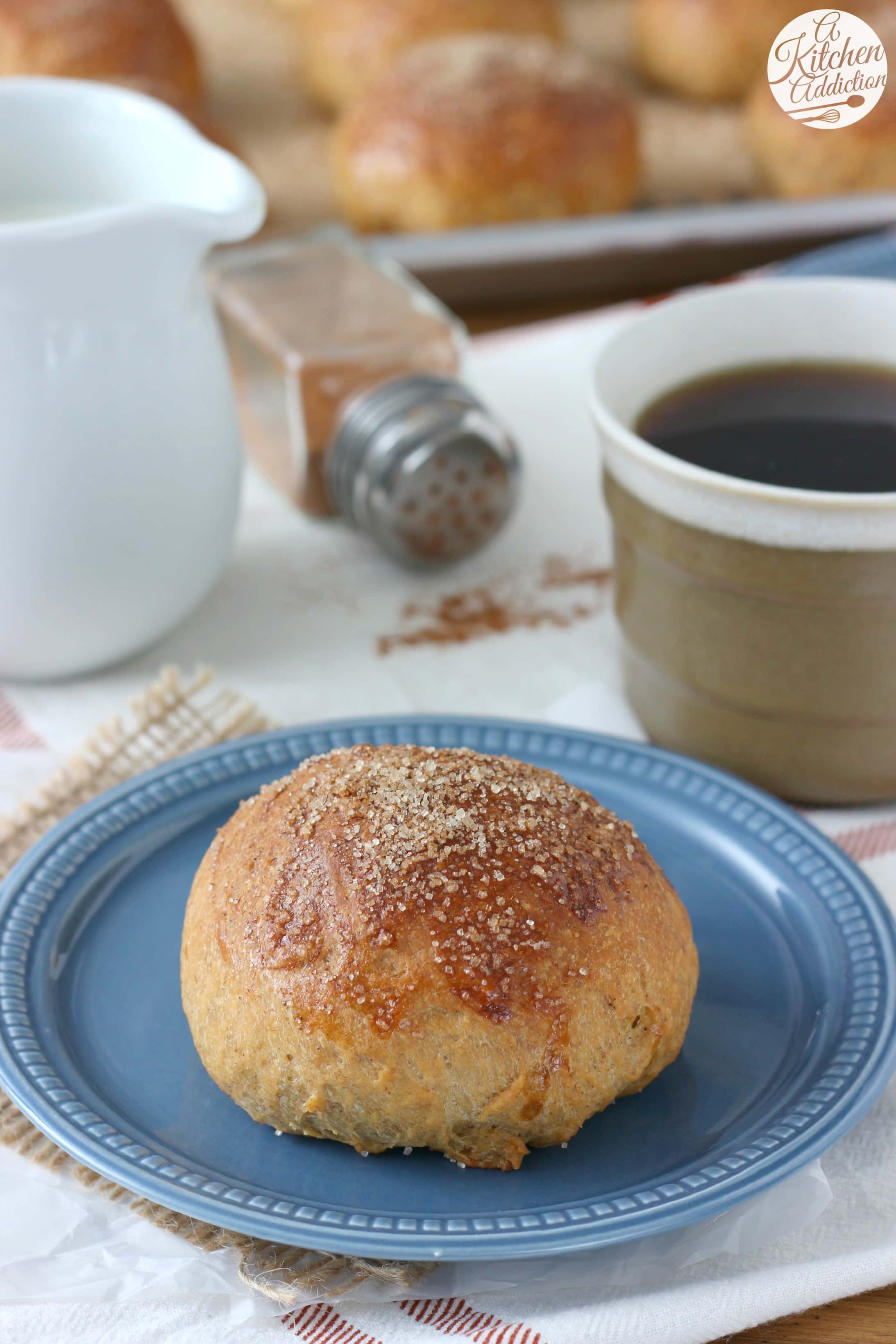 Now that Thanksgiving is over, Christmas baking is in full swing! Do you have recipes that are yearly traditions in your house? I have a handful that make a yearly appearance, but I also enjoy trying new recipes this time of year!
Recently, I was supposed to be sleeping when all I could think about were new recipe ideas (yes, I understand that probably isn't completely normal!).
Gingerbread brioche popped into my head and didn't leave until I made it.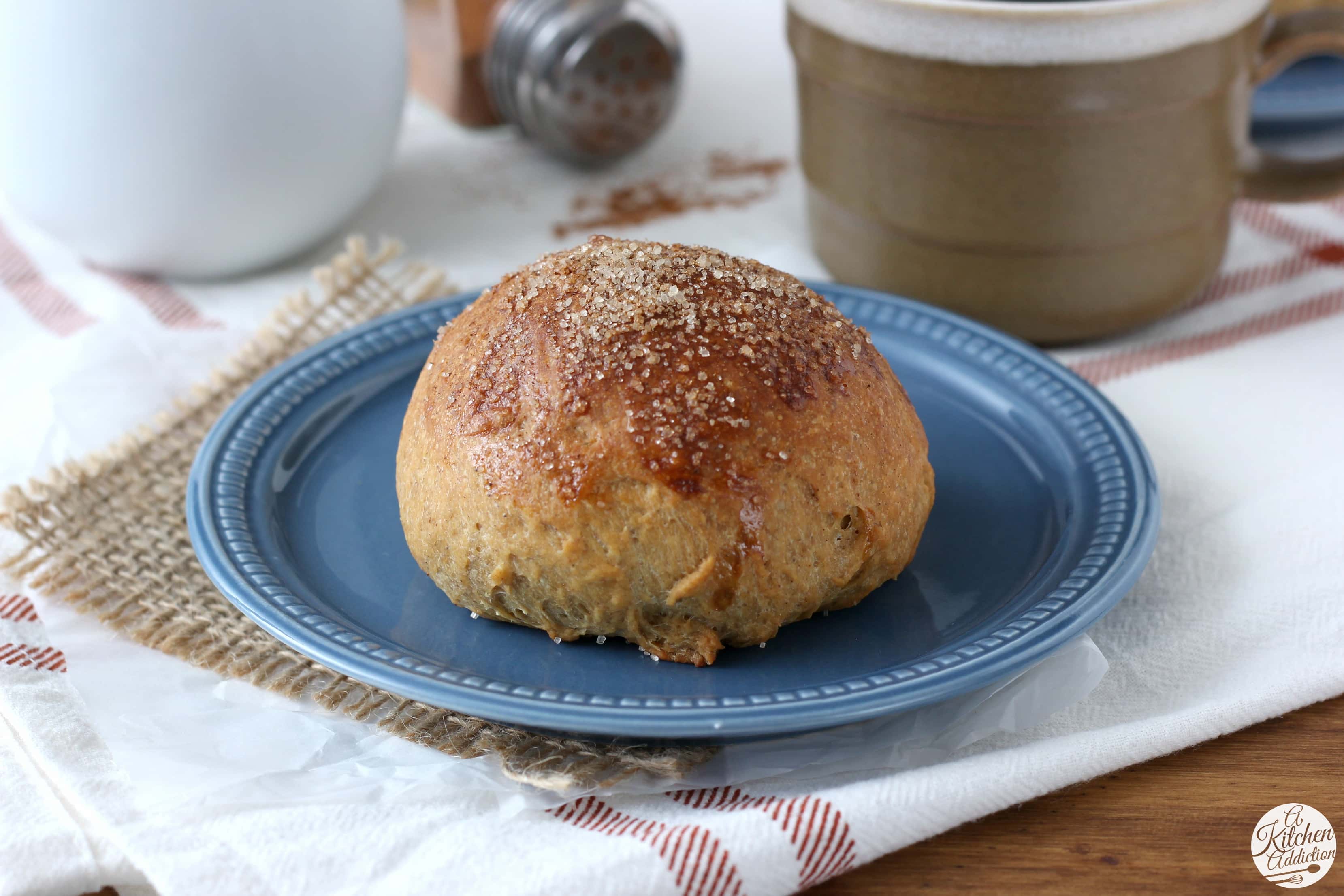 Of course, I couldn't leave it at just gingerbread brioche. I had recently seen gingerbread caramels and knew that I wanted to incorporate caramel into the rolls somehow.
And then I saw the bag of white chocolate chips in my pantry and threw those in as well!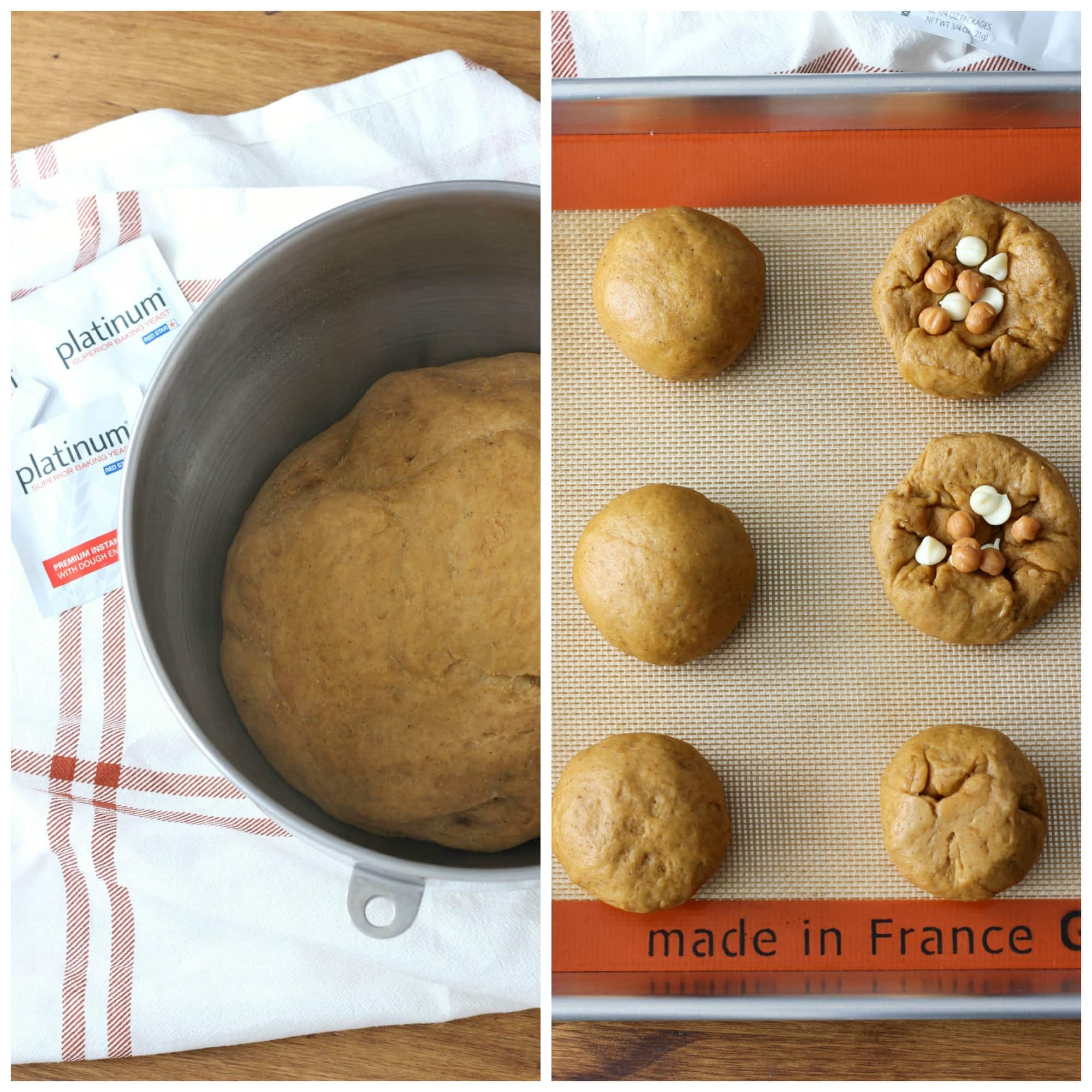 Soft, buttery gingerbread rolls filled with gooey caramel and melty white chocolate. These will be happening again. I realized that I haven't shared a brioche recipe since these pretzels, which is way too long of a time to go without brioche!
So, I'm fixing that problem with this easy recipe. All you have to do is mix the dry ingredients together, yes, even the yeast thanks to my favorite Red Star Platinum Yeast. Then add in your wet ingredients, and beat until a soft dough forms.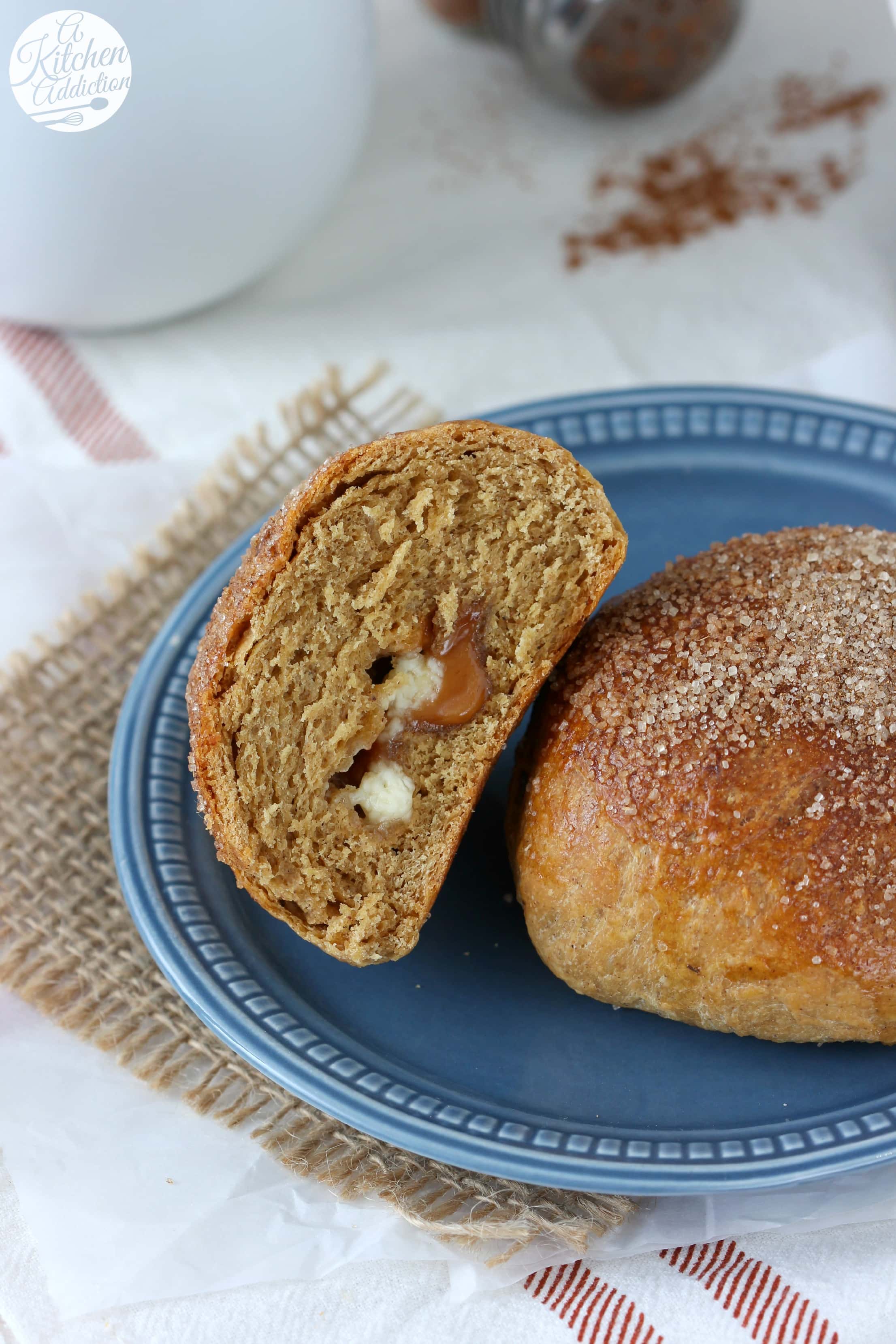 In order to get that gooey center, all you have to do is make an indentation in your dough when shaping the rolls, stick a few caramel bits and white chocolate chips in and pinch the dough around the candy.
You'll want to make sure that you seal off the candy well or else you'll end up with a sticky mess on your baking sheet.
And yes, I know this from personal experience! Sprinkle on a spice sugar mix right before baking for some extract flavor, and these gingerbread brioche rolls will soon become a new yearly tradition!
Be sure to check out Red Star Yeast on Facebook, Twitter, Pinterest, and Instagram!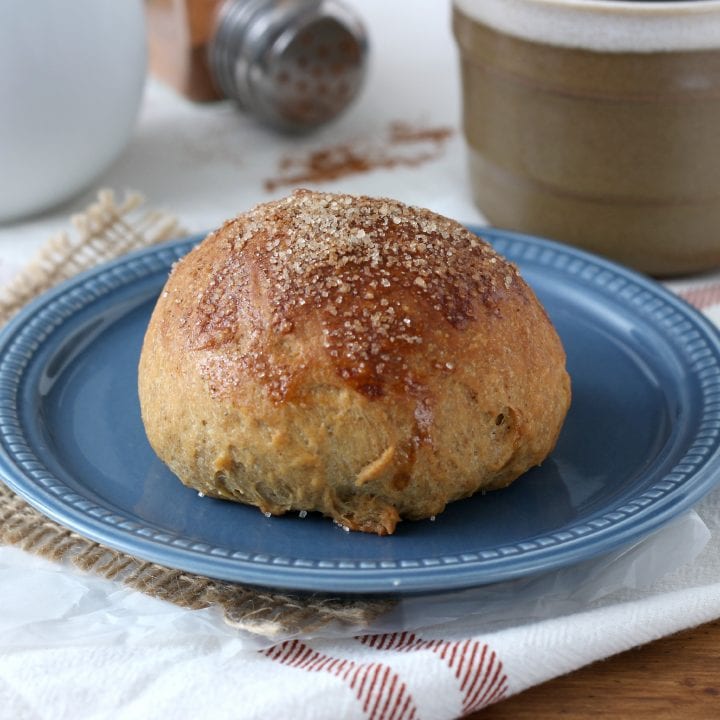 White Chocolate Caramel Gingerbread Brioche Rolls
Ingredients
3 1/2 C all-purpose flour
1 tsp salt
1 pkg Red Star Platinum Yeast
2 tsp ginger
1 1/2 tsp cinnamon
1/2 tsp nutmeg
1/4 tsp cloves
1/2 C water, warmed to 120-130 degrees F
1/2 C butter, room temperature
1/4 C molasses
2 eggs, room temperature
white chocolate chips
caramel bits
For Egg Wash and Topping
1 egg
1 tbsp water
1/4 C sugar
1/2 tsp cinnamon
1/4 tsp nutmeg
1/8 tsp cloves
Instructions
In the bowl of a stand mixer, combine 2 cups flour, salt, yeast, ginger, cinnamon, nutmeg, and cloves.
Add water, butter, molasses, and eggs. Combine while adding remaining 1 1/2 cups flour just until dough forms.
Switch out paddle attachment for dough hook and knead for 5 minutes or until dough is soft and smooth.
Shape dough into a ball and place in a large greased bowl. Cover with a towel or plastic wrap and place in a warm location to rise until doubled in size, about 1-1 1/2 hours.
Turn dough out onto a lightly floured surface. Divide dough into 12 equal pieces and shape into a ball. Press an indentation into each ball and place 4-5 pieces of both white chocolate chips and caramel bits. Roll dough around candy and pinch bottom of dough together to make sure candy doesn't melt out during baking. Place on a baking sheet lined with parchment paper or a silicone mat.
Cover with a towel or plastic wrap and place in a warm location until doubled in size, about 45 minutes.
Preheat oven to 375. Whisk together egg and water. Gently brush over rolls. Stir together sugar and spices. Sprinkle over egg wash.
Bake rolls for 20-25 minutes, until edges of rolls just start to turn golden.
Serve warm.
Recommended Products
As an Amazon Associate and member of other affiliate programs, I earn from qualifying purchases.
Disclosure: This post is sponsored by Red Star Yeast. As always, all opinions are my own. Thanks for supporting brands that make A Kitchen Addiction possible!