I like a good hearty muffin packed with whole grains and healthy goodness. My one problem that I have come across is that I like hearty muffins that aren't heavy. Most bran muffins that I have made are hearty and heavy. These on the other hand, still have that hearty flavor but are light, tender, moist, and seriously addicting.
Next time I will be doubling the batch because 14 muffins only lasted two days at my house!! Yep, it's only me and my husband. . . He happens to find them very addicting as well! 🙂
Lots of strawberry goodness and just enough white chocolate flavor to make these more of a treat than just a regular snack/breakfast. I am sure that these would be just as delicious without the white chocolate chips!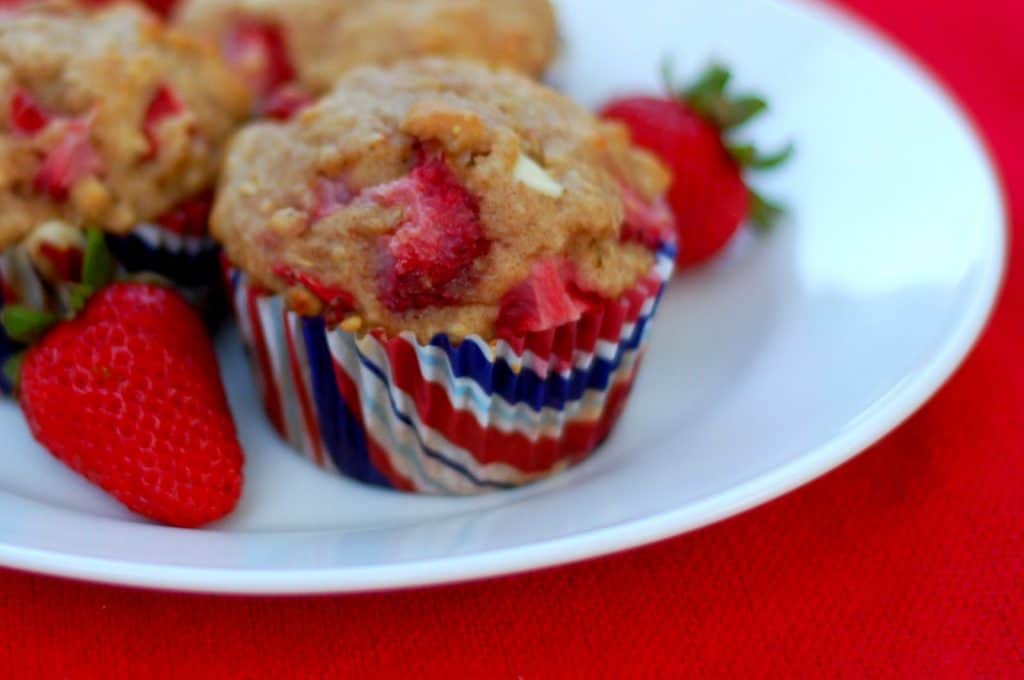 Oh, and I should mention, they are really easy to make and don't fall apart when eating them in the car! That means you can feed your addiction faster and on the go!!


Strawberry White Chip Multi-Grain Muffins

Yield: 14 muffins
Ingredients
1 C whole wheat flour
1/2 C all-purpose flour
1/2 C oat bran
1/2 C quick cooking oats
2 tsp baking powder
1/2 tsp baking soda
1/2 tsp salt
1/4 tsp nutmeg
2 eggs
1/2 C non-fat plain yogurt
1/4 C honey
2 tbsp canola oil
1 tsp vanilla extract
1/2 C non-fat millk
1 C strawberries, washed, hulled, and cut into small pieces
1/3 C white chocolate chips
Directions
Preheat oven to 350. Line muffin tin with cupcake liners.
In a medium-sized bowl, stir together flours, oat bran, oats, baking powder, baking soda, salt, and nutmeg.
In a small bowl, whisk together eggs, yogurt, honey, oil, vanilla, and milk. Slowly add the wet ingredients to the dry ingredients and stir until just combined. Gently stir in strawberries and white chips.
Spoon batter into liners about 3/4 full. Bake for 12-15 minutes or until toothpick inserted into the center comes out clean.
Cool in pan for 5 minutes. Remove muffins from pan and cool completely on wire rack.