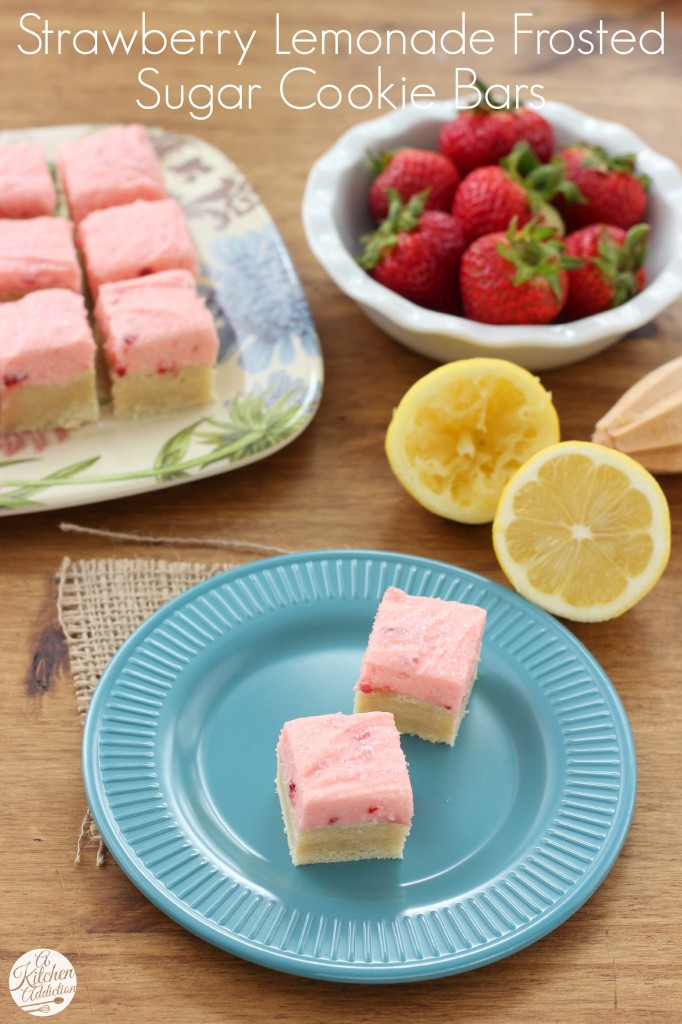 It's time for another baby shower! Erin and Caroline got a group of bloggers together to throw Georgia, from The Comfort of Cooking, a virtual baby shower.
We are all excited for her as she is expecting her first child, a sweet baby girl!
Since we can't all be together to celebrate (and eat delicious food!) in person, we're doing the next best thing. All of us are sharing a pink treat perfect for a baby shower!
My mind instantly went to the fun pink color that strawberries make desserts. Since it's finally starting to warm up, I've had strawberry lemonade on my mind and wanted to create that flavor in a dessert.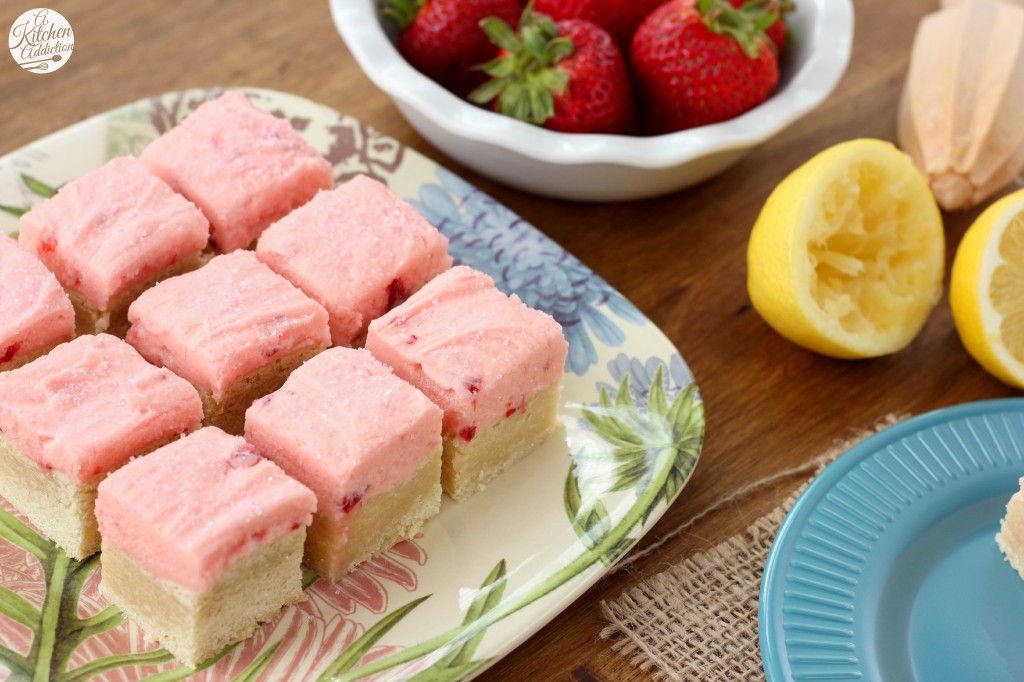 These strawberry lemonade frosted sugar cookie bars were just that dessert. Thick, chewy sugar cookie bars are topped with a thick layer of fresh strawberry lemon buttercream frosting.
The frosting gets its fresh flavor from pureed strawberries, lemon zest, and lemon juice. The combination tastes like summer-y, sweet strawberry lemonade.
A fun, festive flavor for a spring party or gathering!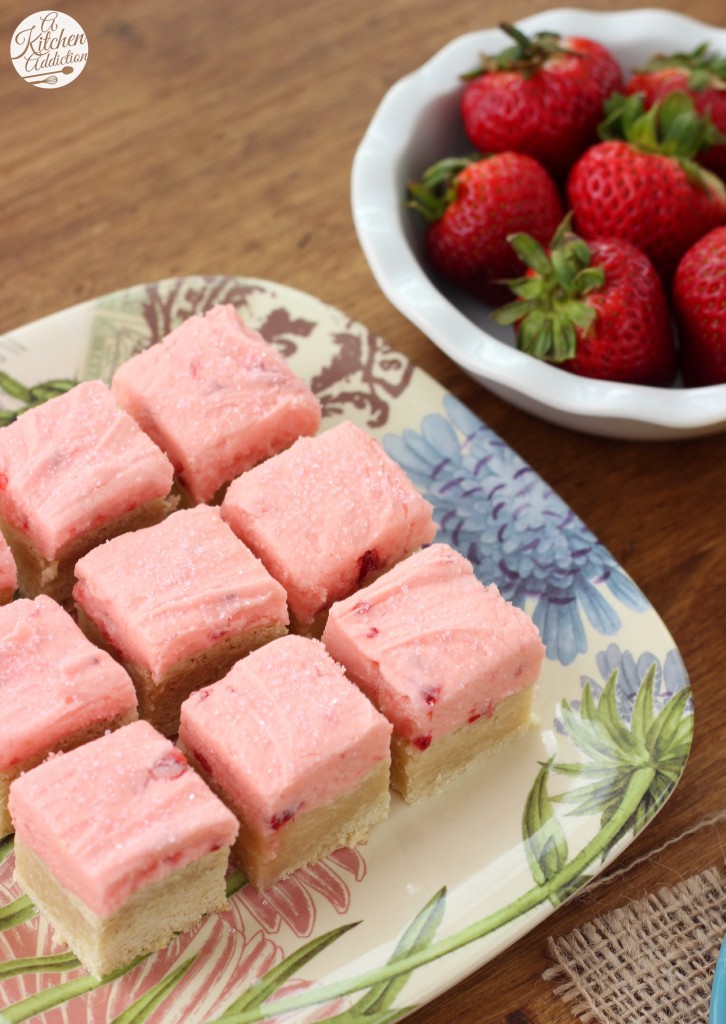 In keeping with the party theme, I cut the cookie bars into small, bite-size pieces. If you don't want such thick layers of cookie and frosting, you can easier make these in a 9×13 inch pan. Just make sure to check on the cookie layer when it's baking a few minutes early.
However you make them, these strawberry lemonade frosted sugar cookie bars won't last long!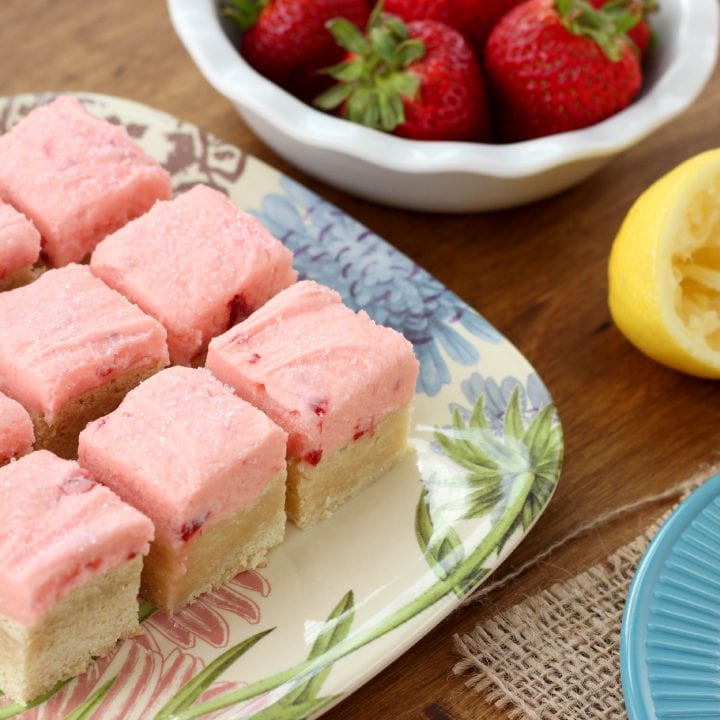 Strawberry Lemonade Frosted Sugar Cookie Bars
Ingredients
For the Cookie Bars
1/2 C butter, room temperature
3/4 C sugar
1 egg
1 tsp vanilla extract
2 1/2 C all-purpose flour
1/2 tsp baking powder
1/2 tsp baking soda
1/2 tsp salt
For the Frosting
1/2 C butter
2 1/2 - 3 C confectioner's sugar
1/3 C finely chopped strawberries
1 tbsp fresh lemon juice
1 tbsp fresh lemon zest, optional
Instructions
Preheat oven to 350. Line an 8x8 inch baking dish with aluminum foil and lightly spray with non-stick cooking spray.
In the bowl of a stand mixer, or with an electric mixer, cream together butter and sugar. Add in egg and vanilla extract. Beat until creamy.
In a separate bowl, whisk together flour, baking powder, baking soda, and salt.
Add dry ingredients to wet ingredients and beat until combined.
Spread dough in the bottom of prepared baking dish.
Bake for 15-20 minutes.
Remove from oven and allow to cool completely.
While bars are cooling, prepare frosting. Beat together butter and confectioner's sugar. Add in strawberries. Beat until strawberries break down and frosting thins a bit. Add in lemon juice and lemon zest. Beat until combined and creamy. (You can add in more confectioner's sugar at this time if you prefer a thicker frosting)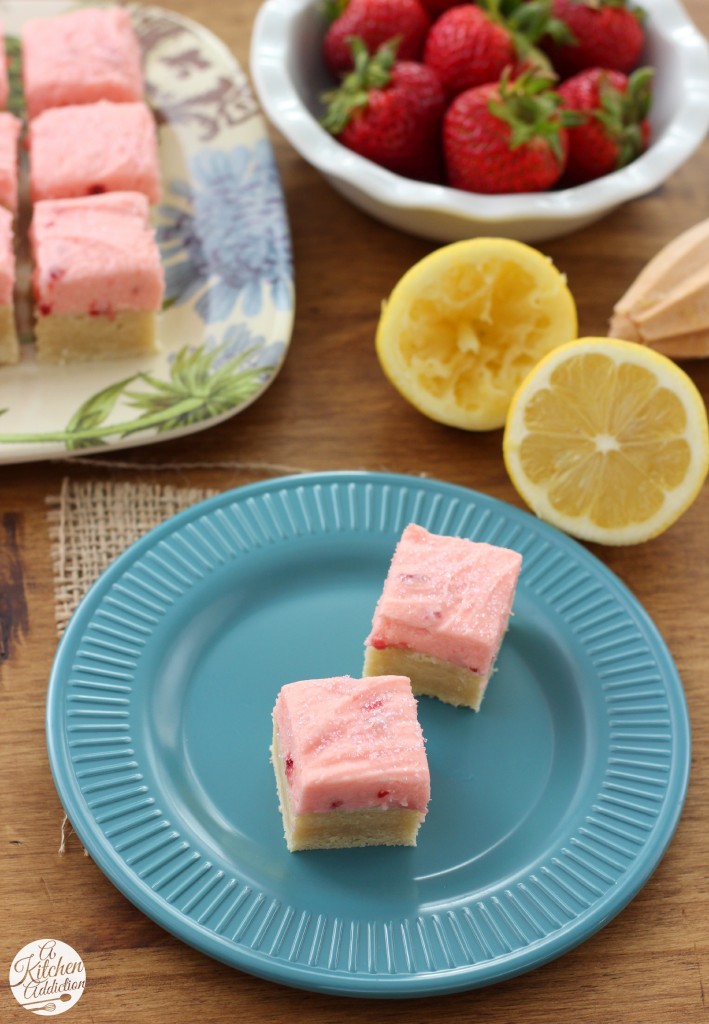 Please join in on this virtual baby shower celebration by visiting the rest of these blogs for more baby shower treats!