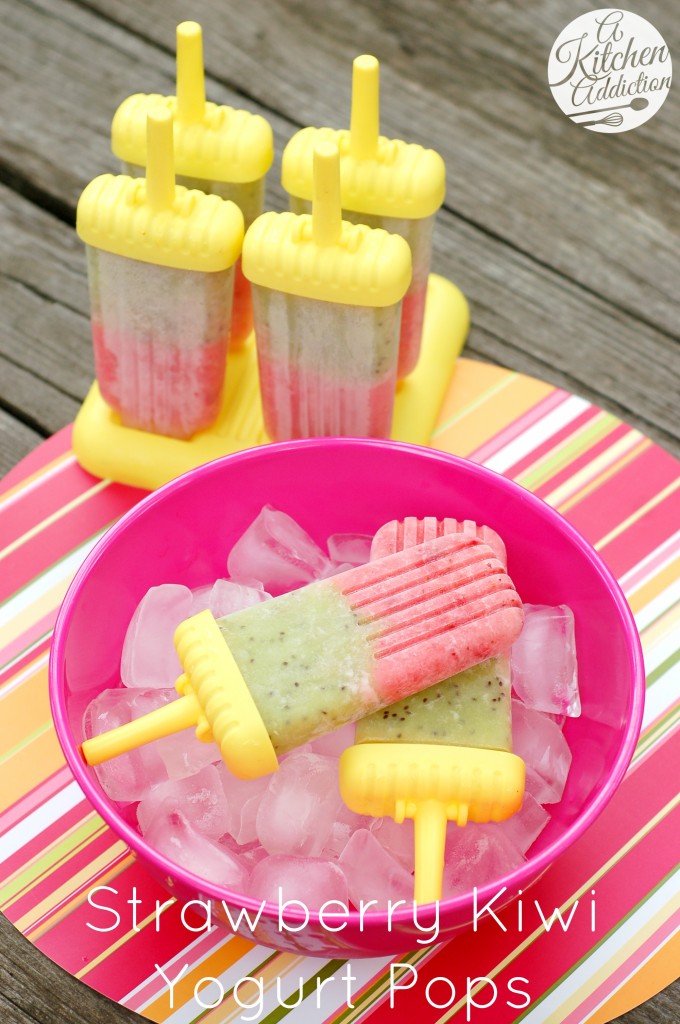 Around here it seems as though we can go through multiple boxes of fruit pops in no time. I'm not sure how that happens with just the two of us, but it does.
It may have something to do with the fact that when it's in the 90's nothing sounds good except a fruit pop, or, of course, watermelon sorbet!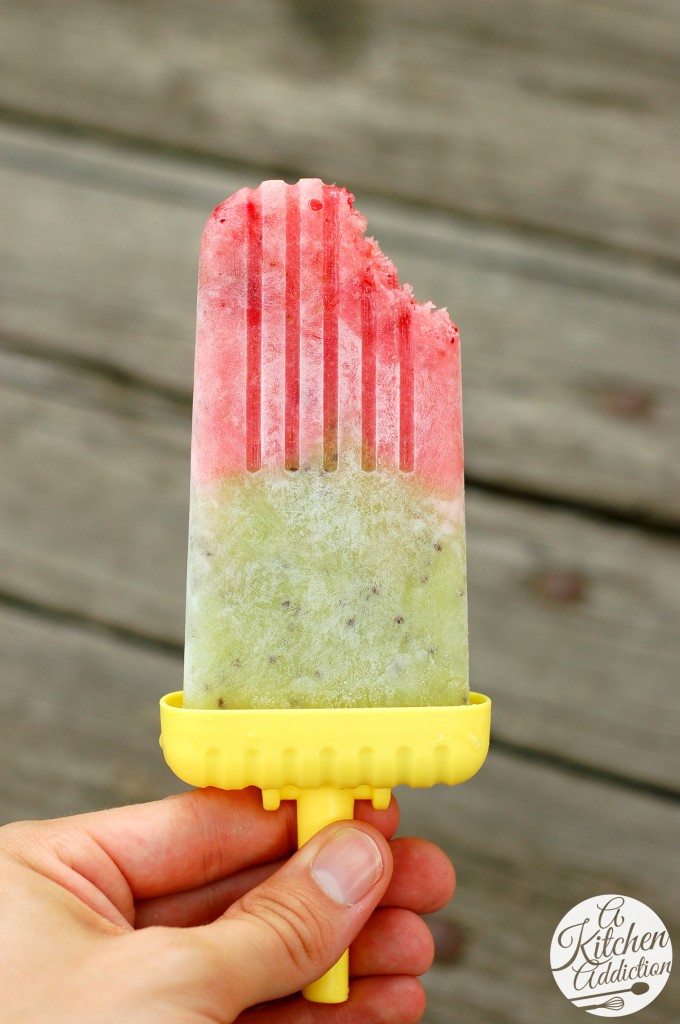 So, in an effort to both save money and keep our fruit pop consumption as healthy as possible, I finally broke down and purchased popsicle molds.
I have no idea why I waited so long! Homemade popsicles are so easy to make and it's nice to be able to tailor them perfectly to your tastes.
Aside from having to plan ahead a little to freeze the two different layers, these yogurt pops are a breeze to make.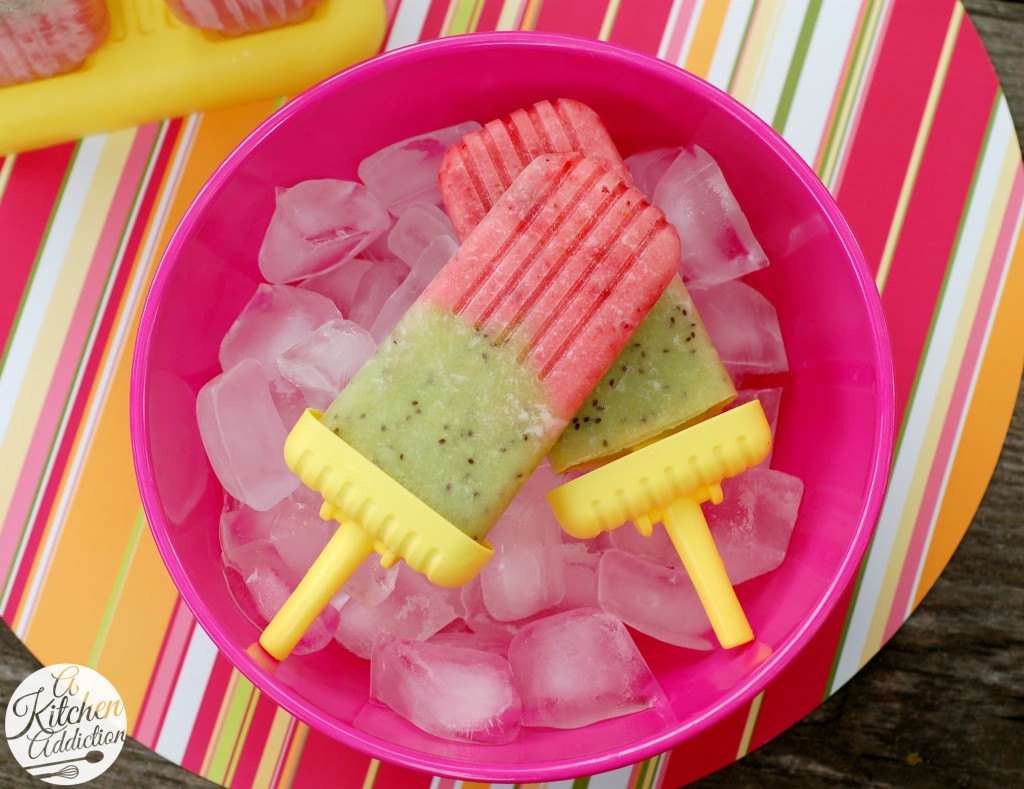 They combine the classic combination of strawberry and kiwi with vanilla yogurt to make the pops a little creamier and to add some protein.
Honey and fresh lime juice are added to the puree mixtures to round out the flavors.
Pour the puree mixture into your molds and a few hours later you will be enjoying real fruits pops that you can feel good about eating!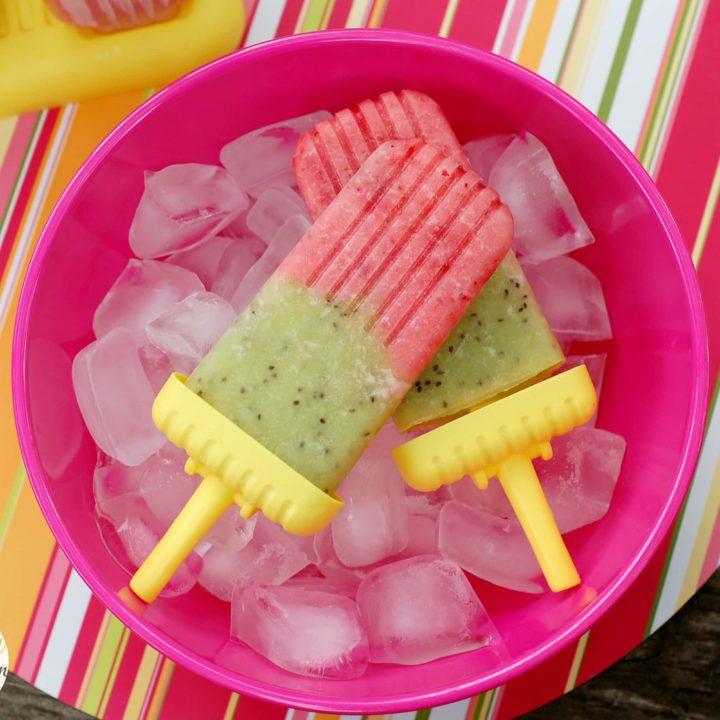 Strawberry Kiwi Yogurt Pops
Yield: 8-10 depending on size

Prep Time: 10 minutes

Inactive Time: 6 hours 4 seconds

Total Time: 6 hours 10 minutes 4 seconds
Ingredients
2 Cups strawberries, diced
2 Cups kiwi, diced
1/2 Cup fresh lime juice, divided
1/4 Cup honey, divided
12 ounces vanilla yogurt, divided
Instructions
Add strawberries and 1/4 cup lime juice to food processor. Pulse until smooth. (If you want to have chunks of fruit in your pops, reserve a 1/4 cup of the diced strawberries and stir them in after pureeing the rest.) Stir in 2 tablespoons honey and 6 ounces vanilla yogurt.
Fill popsicle molds halfway with strawberry mixture. This is about 3-4 tablespoons per mold depending on size.
Stick molds in the freezer for 1-2 hours.
Rinse the bowl of the food processor. Add kiwi pieces and 1/4 cup lime juice. Pulse until smooth. Stir in remaining honey and yogurt.
Top off popsicle molds with kiwi mixture. Freeze for 4-6 hours before enjoying.
Recommended Products
As an Amazon Associate and member of other affiliate programs, I earn from qualifying purchases.
Nutrition Information:
Yield: 10 Serving Size: 1
Amount Per Serving: Calories: 91Total Fat: 1gSaturated Fat: 0gTrans Fat: 0gUnsaturated Fat: 0gCholesterol: 2mgSodium: 24mgCarbohydrates: 21gFiber: 2gSugar: 17gProtein: 2g

Nutrition information shown is an estimate provided by an online calculator and may not always be accurate. It should not be considered a substitute for a medical professional's advice.


This post may contain affiliate links.