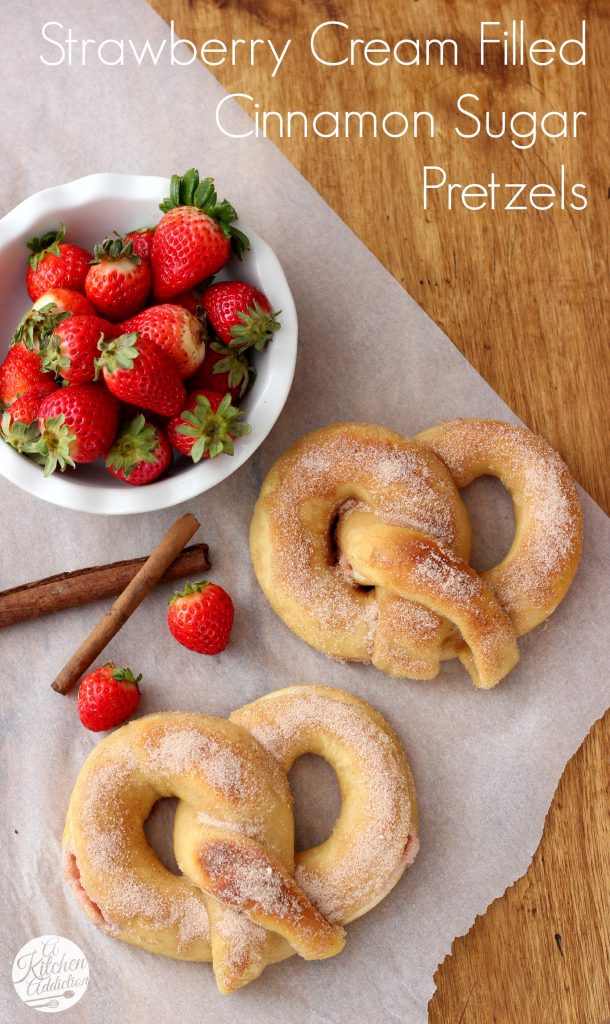 Remember a little over a month ago when I made my first stuffed pretzels? I said then that I was already dreaming up new ideas.
Well, these strawberry cream stuffed cinnamon sugar pretzels were at the top of my list of ideas, and I'm so glad that I'm finally sharing them with you!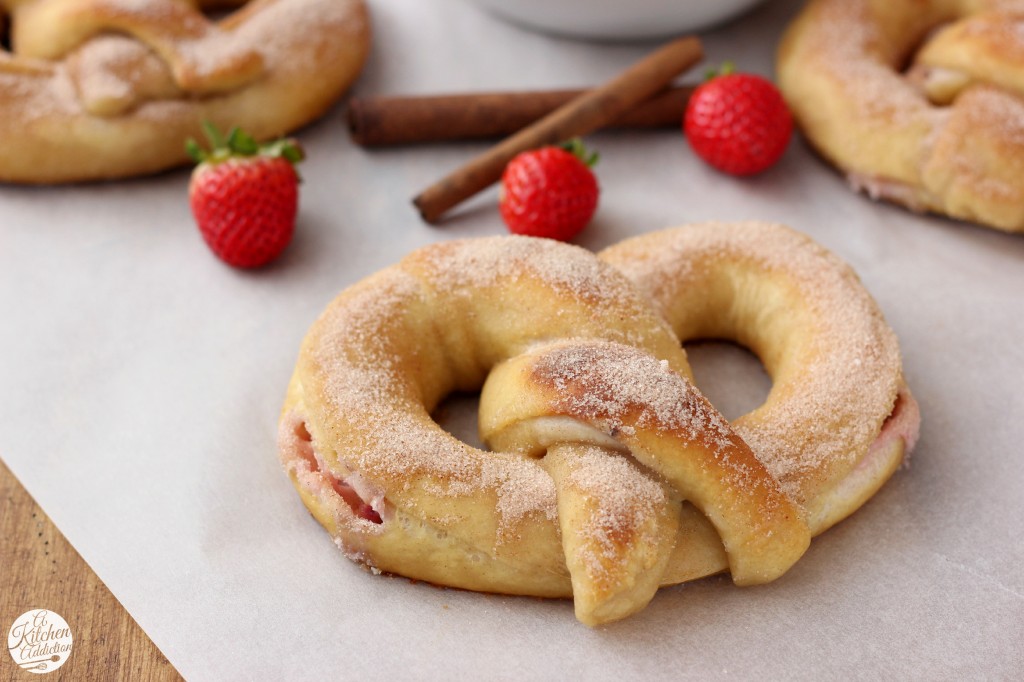 A simple filling of cream cheese, fresh strawberries, and confectioner's sugar is stuffed inside of these soft, chewy pretzels.
As soon as they are pulled out of the oven, they are then brushed with melted butter and generously sprinkled with cinnamon sugar.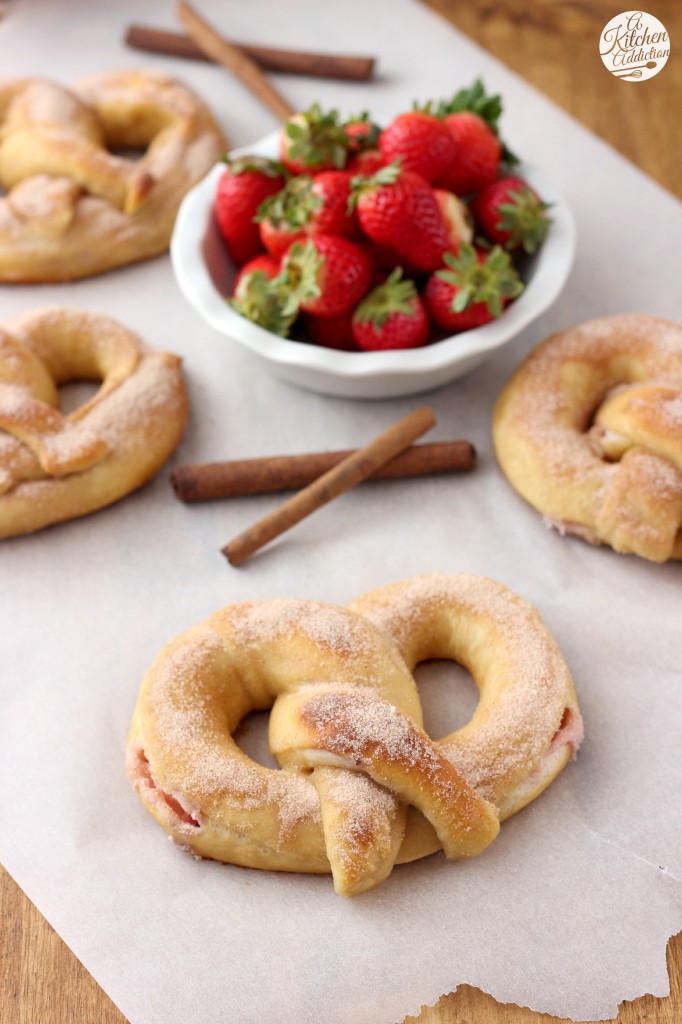 The next step is to bite into a warm, buttery, cinnamon sugary, sweet strawberry filled pretzel!
The most difficult part of these pretzels is having to wait for them to finish baking, and then, when they are done, not eating the whole batch!

Strawberry Cream Stuffed Cinnamon Sugar Pretzels
Author:
A Kitchen Addiction
Ingredients
For the Pretzel
For the Filling
8 oz cream cheese, softened
1 C confectioner's sugar
1 tbsp cornstarch
¼ C strawberries, diced
10 C water
⅔ C baking soda
For the Cinnamon Sugar Topping
¼ C butter, melted
½ C sugar
1 tsp cinnamon
Instructions
In the bowl of a stand mixer, combine 3 cups flour, yeast, sugar, and salt. Add in water and butter. With mixer on low, slowly add another 1½ cups flour. If mixture is still too wet, add up to another additional ½ cup flour. Beat with paddle until dough starts to form.
Switch out paddle attachment for dough hook and knead dough on medium speed for 5-7 minutes or until dough is smooth and pulls away from the edges of the bowl.
Shape dough into a ball and place in a large bowl that has been sprayed with olive oil or non-stick cooking spray. Roll dough in the bottom to coat all sides. Cover and let rise in a warm place for an hour, or until doubled in size.
Sift together confectioner's sugar and cornstarch. Slowly beat in cream cheese and strawberries until strawberries break down.
Preheat oven to 425. Line a baking sheet with a baking mat or parchment paper.
Bring water and baking soda to a boil over medium heat.
Turn dough out onto a lightly floured surface. Divide into 8 equal pieces. Roll each piece of dough out into roughly a 20x3 inch rectangle. Spread about a heaping tablespoon full of filling along the bottom of each rectangle.Carefully roll dough up lengthwise into a rope, making sure to pinch the ends tightly to prevent filling spilling out. Gently roll the dough out an inch or two longer. Shape into a pretzel and press ends down.
Gently place pretzels one by one into the boiling water. Allow to boil for 25 seconds per side.
Place on prepared baking sheet. Bake for 12-15 minutes or until pretzels turn golden brown.
Remove from oven and brush warm pretzels with melted butter. Stir together sugar and cinnamon and generously sprinkle pretzels with cinnamon sugar.
Allow to cool for at least 5 minutes before eating.