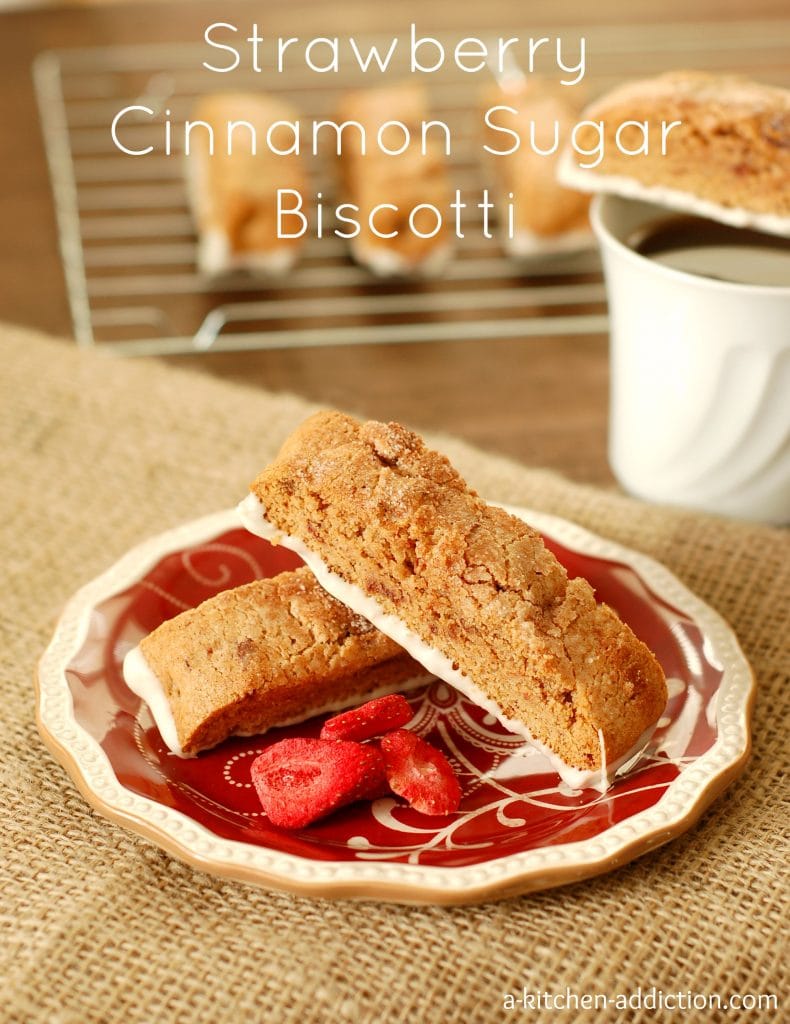 With it still being cold around these parts (it's currently in the 20's), we are still drinking a lot of hot tea, coffee, etc. to stay warm. Sometimes when you are wrapped up in a blanket sipping your tea, you want a little something to go with it.
Biscotti is a great choice because you get to have something sweet without going overboard.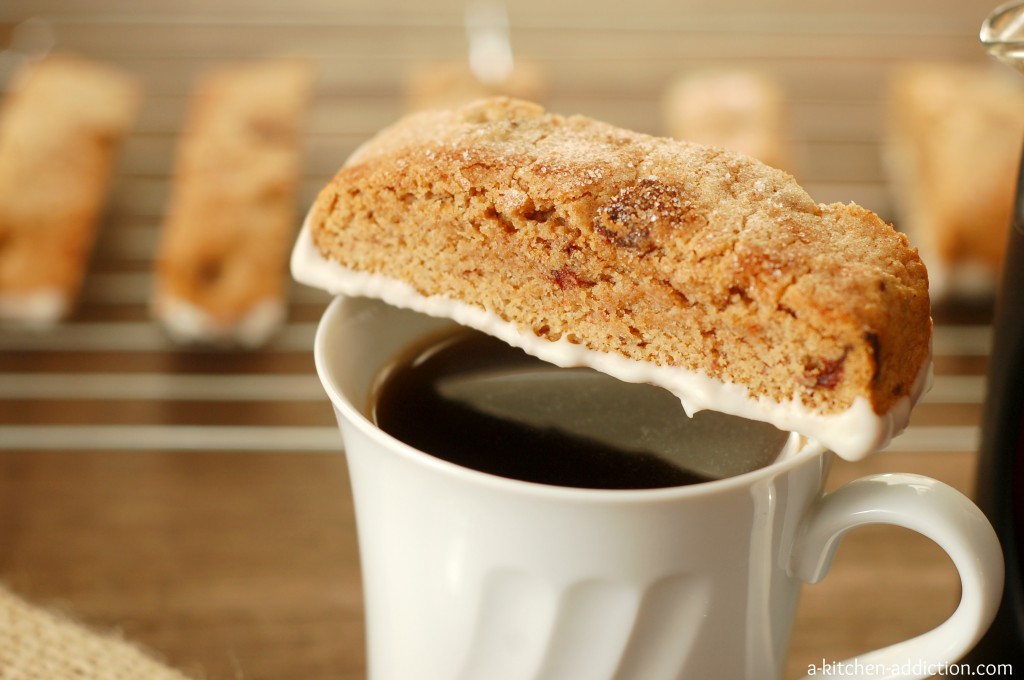 These strawberry cinnamon sugar biscotti have just the right amount of sweetness. They combine two of my favorite ingredients. Cinnamon and strawberries.
Mix them into a buttery dough that has a hint of nutmeg and bake until golden brown! You don't have to dip the bottoms in white chocolate, but the creamy sweetness tops off the biscotti perfectly.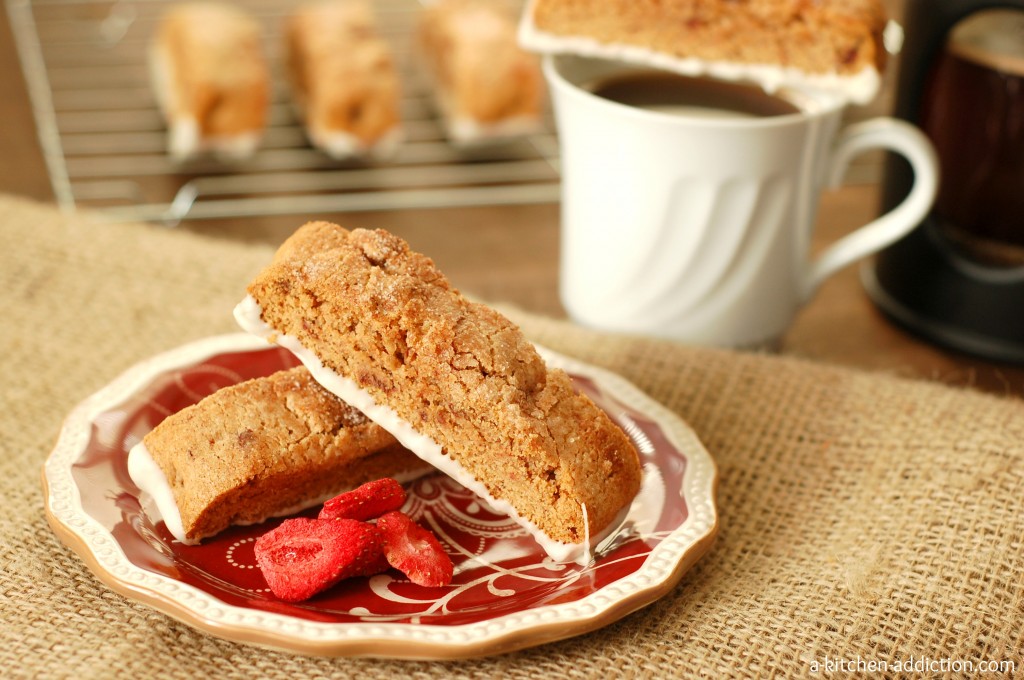 Not only do they make good sides to your own cup of tea or coffee, but they also package well to send to friends to enjoy with their cups of coffee.
Or, if you are starting to look for Mother's Day ideas (it's just a few weeks away!), these biscotti would make a great addition to brunch!

Strawberry Cinnamon Sugar Biscotti
Author:
A Kitchen Addiction
Ingredients
½ C whole wheat flour
½ C all-purpose flour
1 tsp baking powder
¼ tsp salt
1 tsp cinnamon
¼ tsp nutmeg
¼ C sugar or sugar substitute
¼ C brown sugar
¼ C unsalted butter, softened
1 egg
1 tsp vanilla extract
⅓ C freeze dried strawberries, broken into pieces
1 tbsp milk
1 tbsp sugar
1 tsp cinnamon
Instructions
Preheat oven to 350. Line cookie sheet with parchment paper or lightly spray with non-stick cooking spray.
In a small bowl, whisk together flours, baking powder, salt, cinnamon, and nutmeg.
In the bowl of a stand mixer (or with an electric mixer) cream together sugars and butter. Add in egg and vanilla and beat until creamy. Add dry ingredients to wet ingredients and beat until just combined. Stir in strawberries.
Turn dough out onto floured surface. Shape into a 10 inch by 2 inch log. Brush with milk and sprinkle with sugar and cinnamon. Transfer log to cookie sheet.
Bake for 20-22 minutes or firm to touch and edges turn golden brown.
Transfer to a wire rack and allow to cool for 20 minutes. Reduce heat to 300.
Using a serrated knife, cut log into ½ to 1 inch pieces. Arrange pieces on the cookie sheets so that they are not touching.
Return to oven and cook for another 10-12 minutes per side or until dry and crisp.
Remove to a wire rack to cool completely. Store in an airtight container.
If dipping in white chocolate, melt white chocolate in a microwave according to package instructions. Dip the bottoms of biscotti into the chocolate. Allow to cool and harden on wax paper or a baking mat to prevent sticking. Serve when chocolate has hardened.
This recipe is linked with
Tidy Mom
,
Time to Sparkle
, 
Weekend Potluck
,
What's Cookin' Wednesday
,
What's in Your Kitchen Wednesday
.