Warm and hearty, this Spiced Vanilla Pear Butter Baked Oatmeal is filled with warm spices and fresh, homemade vanilla pear butter!

How is it already 2 weeks until Christmas?! This month is flying by! I'm sure I'm not the only one who feels like this time of year can get super busy, and I'm pretty sure that I'm not the only one who feels like there's just a little too much butter and sugar in my diet and needs something a bit more nutritious to keep me fueled.
Thanks to this baked oatmeal, you can power your way through the rest of the holiday craziness with something healthy. This spiced vanilla pear butter baked oatmeal is hearty, filling, and full of flavor!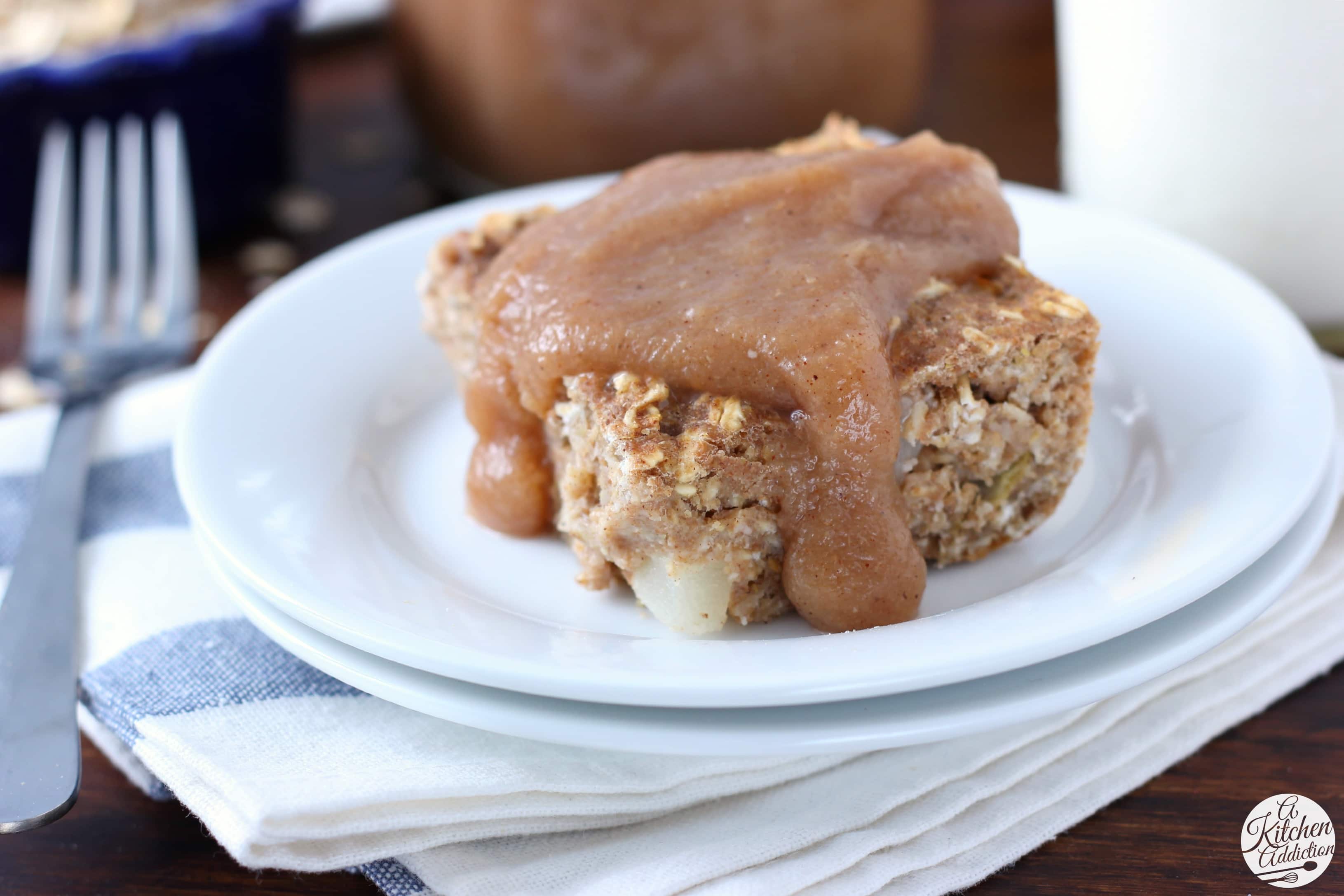 The star of this baked oatmeal is a homemade spiced vanilla pear butter. Lightly sweetened pear butter is mixed into the baked oatmeal and spread over the top right before serving.
If you've never made pear (or apple) butter before, it's super easy. Especially when you have good tools to work with!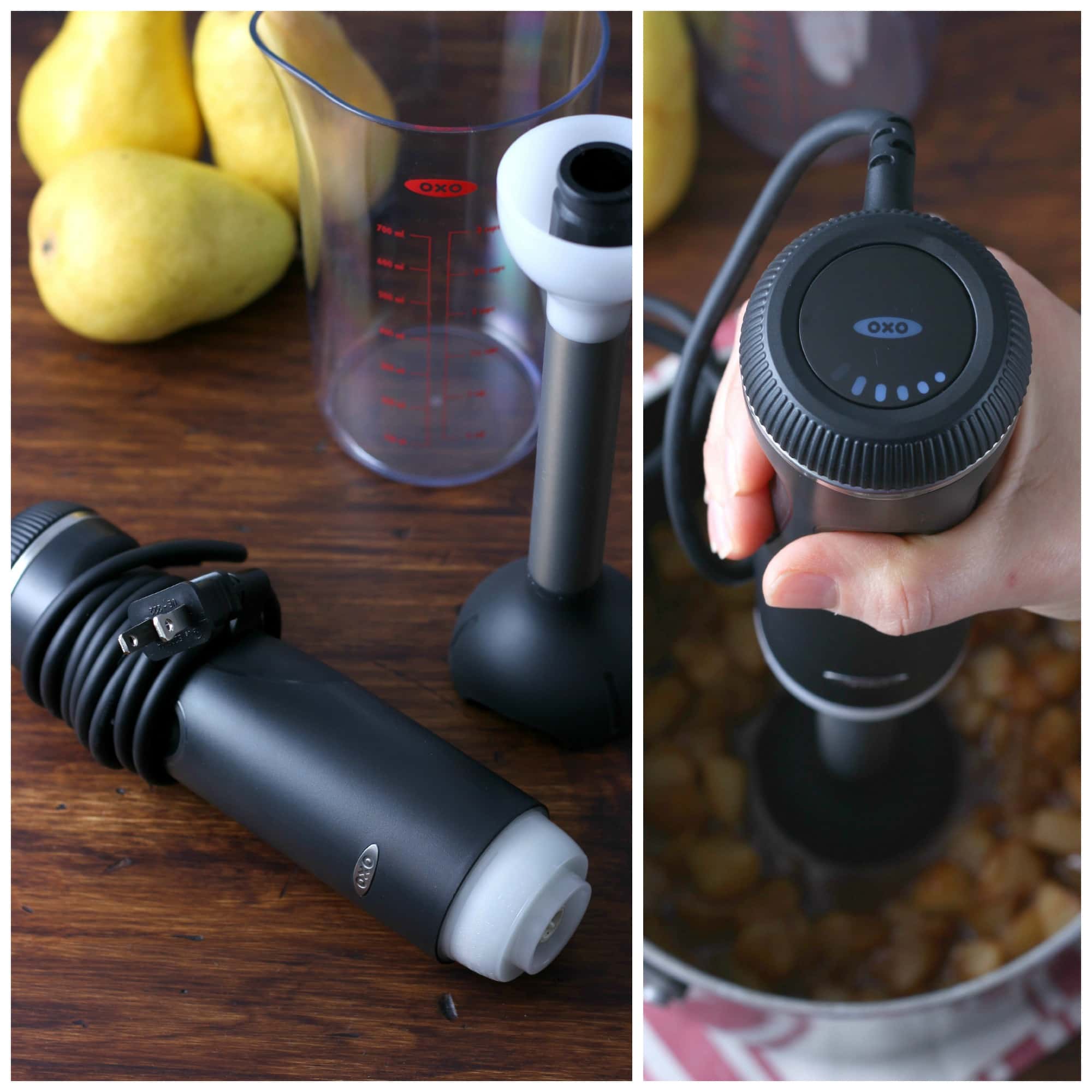 For this recipe, I got some help from the new OXO Illuminating Digital Immersion Blender. One of my favorite parts of this immersion blender is the fact that it's illuminating. My kitchen currently doesn't have the greatest lighting. As in one whole side is pretty dark when you try working there making it difficult to see when it's cloudy or dark outside!
As you can see from the pictures below, the light from the blender significantly brightens the pot so you can see exactly what you're doing (and since the lighting in my kitchen is so bad, these pictures aren't the greatest! Sorry!). That and the nylon head and silicone-coated shaft that make it possible to use with non-stick pots and pans without scratching!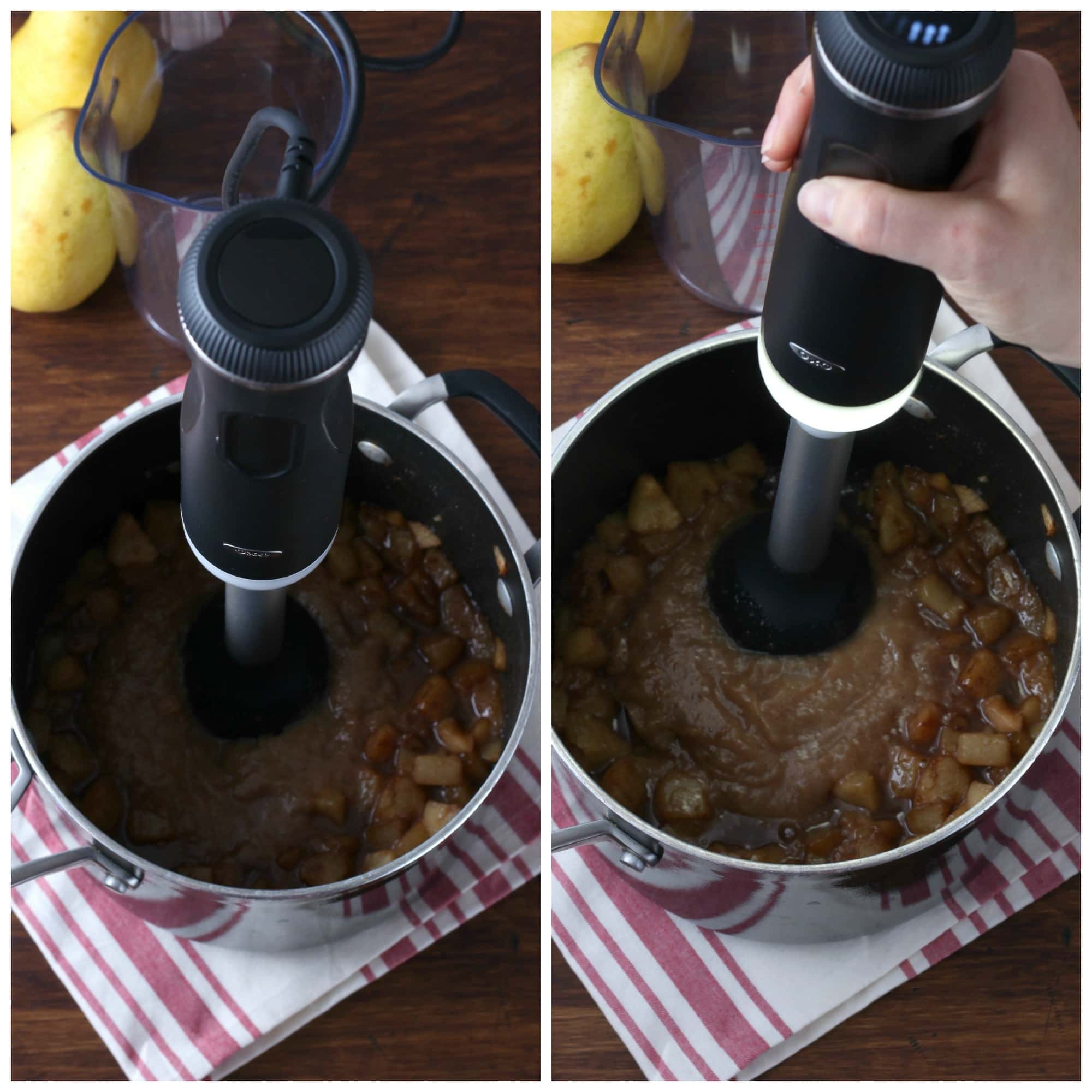 The six speeds gives you a wide range of speed options and the LED backlit display makes it easy to see what speed you're on.
A comfortable handle and easy wrap cord are just a couple more reason why this immersion blender is worth the space in your kitchen! That and it pureed this pear butter in no time!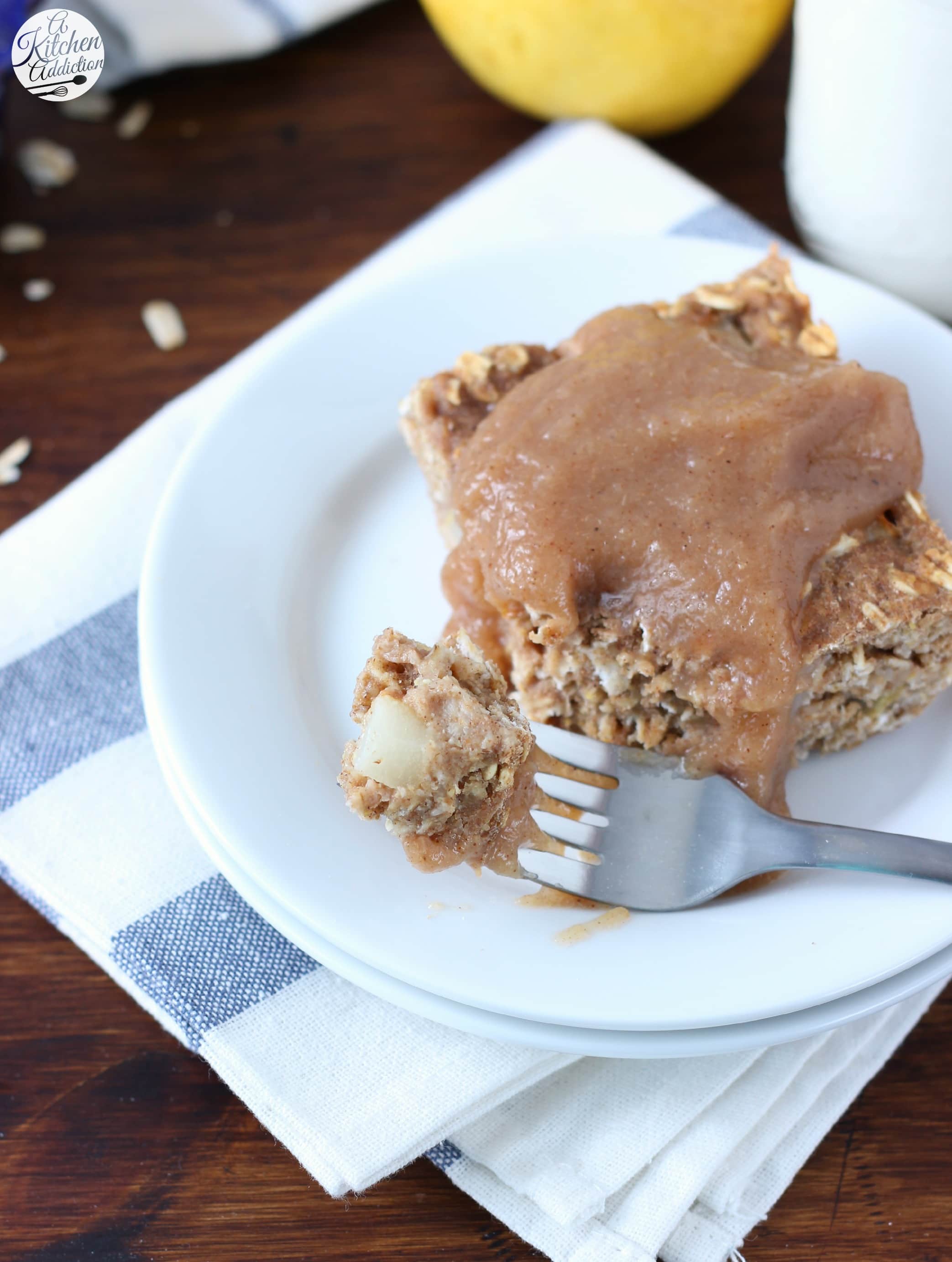 So, make a batch of spiced vanilla pear butter baked oatmeal at the beginning of the week, or this weekend, and you'll have a healthy, delicious breakfast that will give you the energy you need to get through this busy time of year!
Spiced Vanilla Pear Butter Baked Oatmeal
Author:
Ingredients
For the Pear Butter
3 lbs pears, peeled, cored and diced
3 tbsp honey*
1 1/2 tbsp lemon juice
1 tsp vanilla extract
1 tsp cinnamon
1/2 tsp nutmeg
1/4 tsp cloves
1/8 tsp salt
For the Baked Oatmeal
1 1/2 C regular oats
1 C whole wheat flour
1/4 C ground flaxseed
1/2 tsp baking powder
1/4 tsp salt
1 1/2 tsp cinnamon
1 C milk of your choice
1/2 C spiced vanilla pear butter
1 egg
1 tsp vanilla extract
1/2 C chopped pears
Instructions
In a medium saucepan, combine chopped pears, honey, lemon juice, vanilla extract, cinnamon, nutmeg, cloves, and salt. Bring to a boil over medium-high heat.
Reduce heat to medium and simmer for 45-50 minutes, stirring occasionally to prevent scorching.
Preheat oven to 350. Spray an 8×8 inch baking dish with non-stick cooking spray.
In a large bowl, whisk together oats, whole wheat flour, flaxseed, baking powder, salt, and cinnamon.
In a small bowl, whisk together milk, pear butter, egg, and vanilla extract. Add wet ingredients to dry ingredients and stir until combined. Stir in chopped pears.
Pour batter into prepared baking dish. Bake for 15-20 minutes or until toothpick inserted in the center comes out clean. Remove to a wire rack to cool for 10 minutes before cutting into pieces and serving with remaining pear butter.
Notes
*If your pears aren't very sweet, you will want to add another tablespoon or two of honey.
I received an OXO Illuminating Immersion Blender for review purposes only. As always, all opinions are my own.