Happy National Pancake Day!! This day makes me excited, because I will take any opportunity to eat breakfast food at a meal other than breakfast! 🙂 Want to take part? What better way to celebrate than to make a pancake that is both fun to eat and fun to look at! Use the fruit that you and your family like best and decorate it together. Then take a peek during the baking process and watch it puff!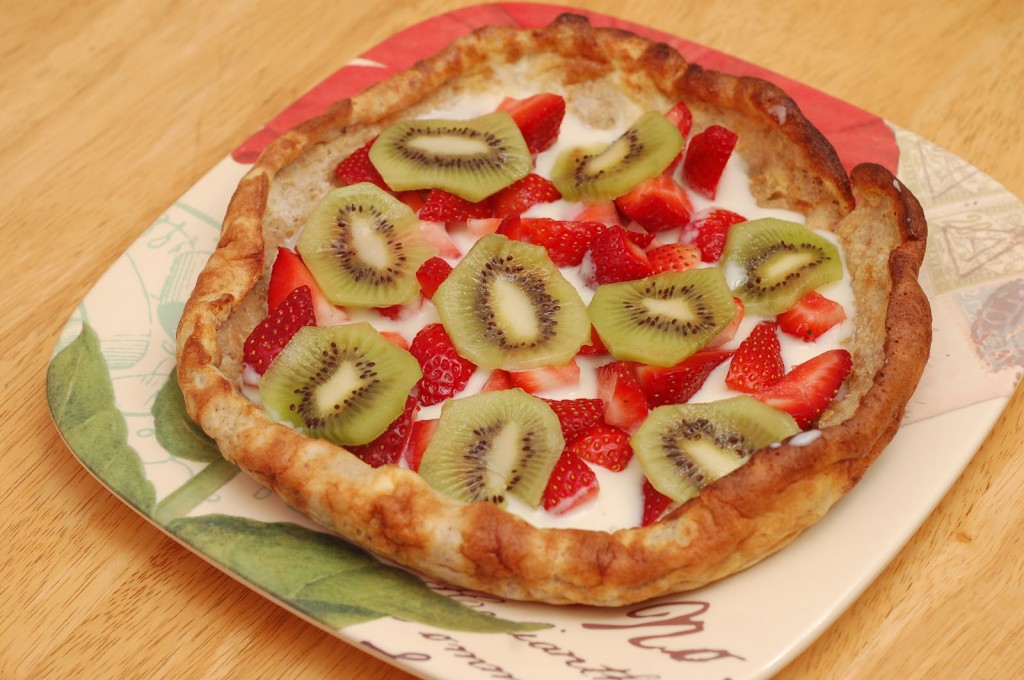 Spiced Puffed Pancake with Fresh Berries and Lemon Yogurt Sauce Pin It
Yield: 2-4 servings
Ingredients:
1/2 C all purpose flour
3 tbsp sugar
1/4 tsp salt
1/4 tsp cinnamon
1/8 tsp nutmeg
1/8 tsp allspice
1/2 C fat-free milk
2 eggs
2 tbsp butter
1 C nonfat plain yogurt
2-4tbsp honey depending on desired sweetness
1 1/2 tsp lemon juice
2 C fresh fruit
confectioner's sugar for dusting
Directions:
Preheat oven to 400.
In a medium-sized bowl, whisk together the milk and eggs.
In a small bowl, whisk together the flour, sugar, salt, cinnamon, nutmeg, and allspice.
Pour the flour mixture over the egg mixture and whisk until no large dry spots remain. Do not over mix. The batter will be lumpy.
Place the butter in a 9 1/2 inch pie plate. Place pie plate in oven for 4-6 minutes or until butter is melted and bubbly.
Take out plate and pour batter into it. It is okay if the batter isn't perfectly even.
Bake for 20-25 minutes or until sides get tall and and puffy.
While pancake is baking, mix together the yogurt, honey, and lemon juice in a small bowl for the sauce.
As soon as the pancake is out of the oven, dab the excess butter out of the center with a paper towel and pour sauce into the center. Decorate with fruit.
Try to serve the pancake as quickly as possible as the sides begin to fall as it cools.