No tricky pie crust to roll out with these Spiced Honey Pecan Pie Bars! Loaded with warm spices, sweetened with honey, and topped with a creamy white chocolate drizzle, these honey pecan pie bars are the perfect addition to your holiday dessert table!
This unseasonably warm weather is making it hard for me to believe that Thanksgiving is sneaking up on us! But we're taking advantage of the warm weather to air out our house of all the sick germs floating around.
My husband and I have had a wonderful head and chest cold this past week that has us going through an alarming number of tissues and cough drops.
So, when it hit 61 this weekend, we threw open all the windows in hopes that we could get rid of this cold once and for all!
Since I wasn't good for much else, I also finally worked out our Thanksgiving menu. Planning dessert first, of course! Top of the list? Spiced honey pecan pie bars!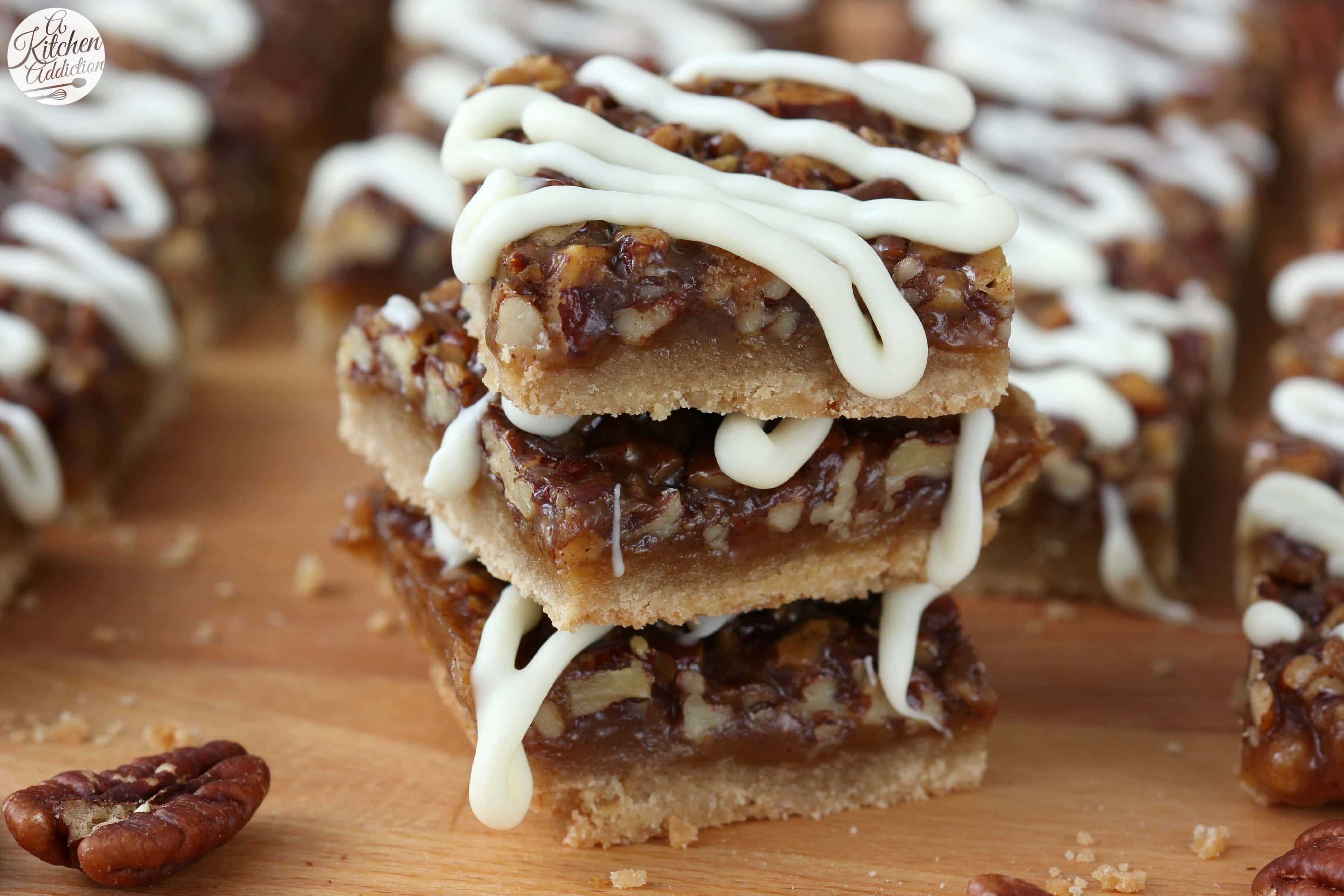 These honey pecan pie bars are always a popular recipe on the blog this time of year. So, knowing that you guys liked them so much, I just had to share this spiced honey pecan pie bars variation with you!
Cinnamon, nutmeg, and cloves give these bars a kick of flavor, and a creamy white chocolate drizzle adds the finishing touch.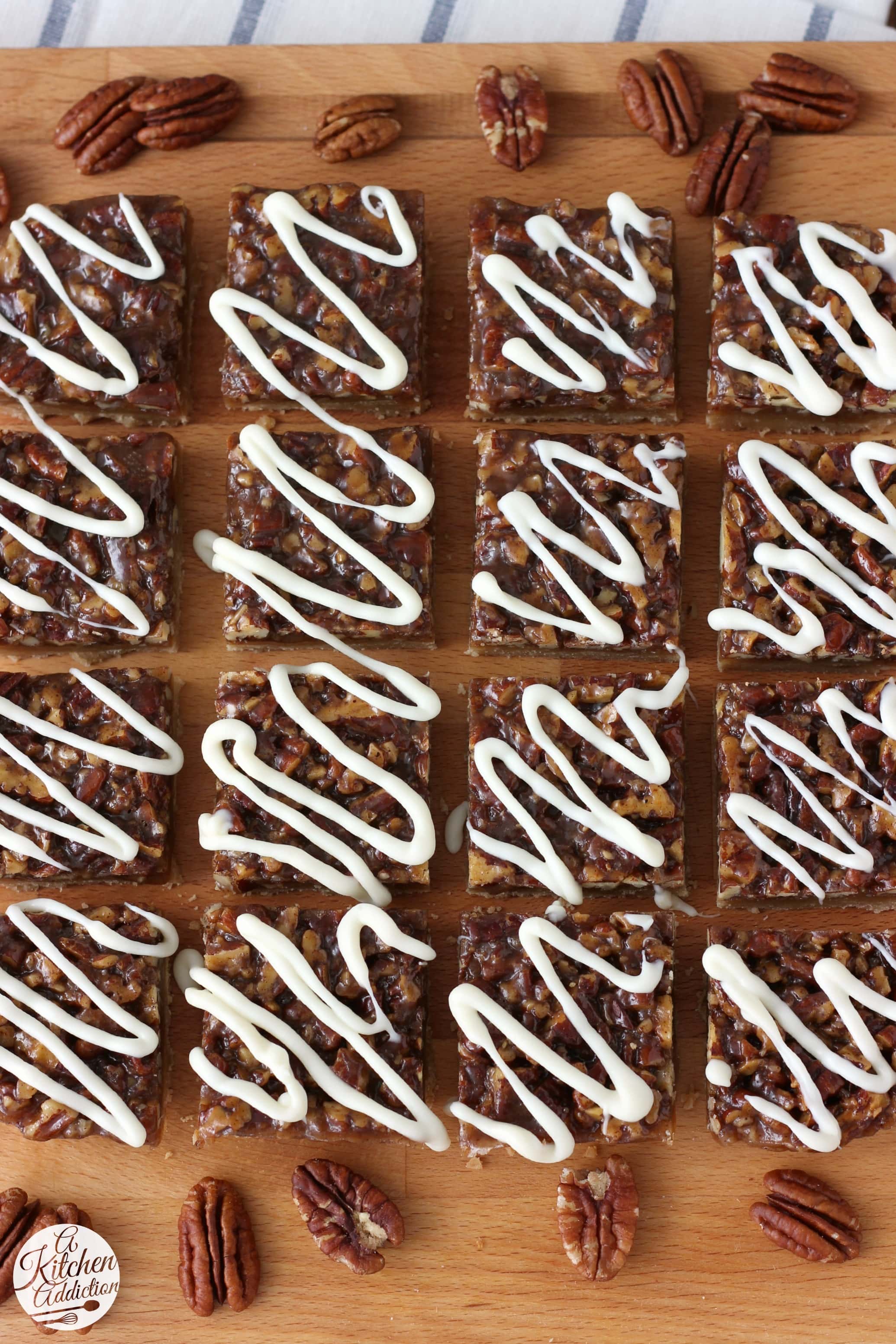 While these honey pecan pie bars still have sugar and butter in them, you won't find any corn syrup and the amount of butter is significantly less than your typical pecan pie.
But don't worry, you won't miss the extra sugar and butter. These bars are rich, sweet, and full of nutty pecan flavor!
Plus, no tricky pie crust to roll out. Just press it in the pan and bake.
I'm all for making Thanksgiving dinner less stressful!

Spiced Honey Pecan Pie Bars
Author:
A Kitchen Addiction
Ingredients
For the Crust
⅓ C unsalted butter, softened
⅓ C brown sugar
1 C all-purpose flour
¼ tsp salt
For the Filling
¼ C unsalted butter
⅓ C brown sugar
⅓ C honey
1 tbsp half & half
1 tsp cinnamon
¼ tsp nutmeg
⅛ tsp cloves
½ tsp vanilla
1 C chopped pecans
For the Topping
⅓ C white chocolate chips
Instructions
Preheat oven to 350. Line an 8x8 inch baking dish with aluminum foil and butter or spray with non-stick cooking spray.
In the bowl of a stand mixer (or with an electric mixer), cream together butter and sugar. Add in flour and salt and beat until crumbly. Press mixture into the bottom of prepared baking dish. Bake for 15 minutes. Remove to a wire rack.
While crust is baking, prepare filling by combining butter, brown sugar, honey, and half & half in a saucepan over medium heat. Bring to a simmer and allow to simmer for 1 minute, stirring constantly to prevent scorching.
Remove from heat and stir in cinnamon, nutmeg, cloves, vanilla extract, and chopped pecans. Pour filling over the top of crust. Bake for 15 minutes.
Remove from oven to a wire rack to cool. Melt white chocolate according to package instructions. Drizzle over cooled bars. Allow chocolate to harden and serve.