These Smashed Potatoes with Bacon and Parsley are rich, creamy and filled with real bacon crumbles and fresh parsley! No more dry, tasteless mashed potatoes!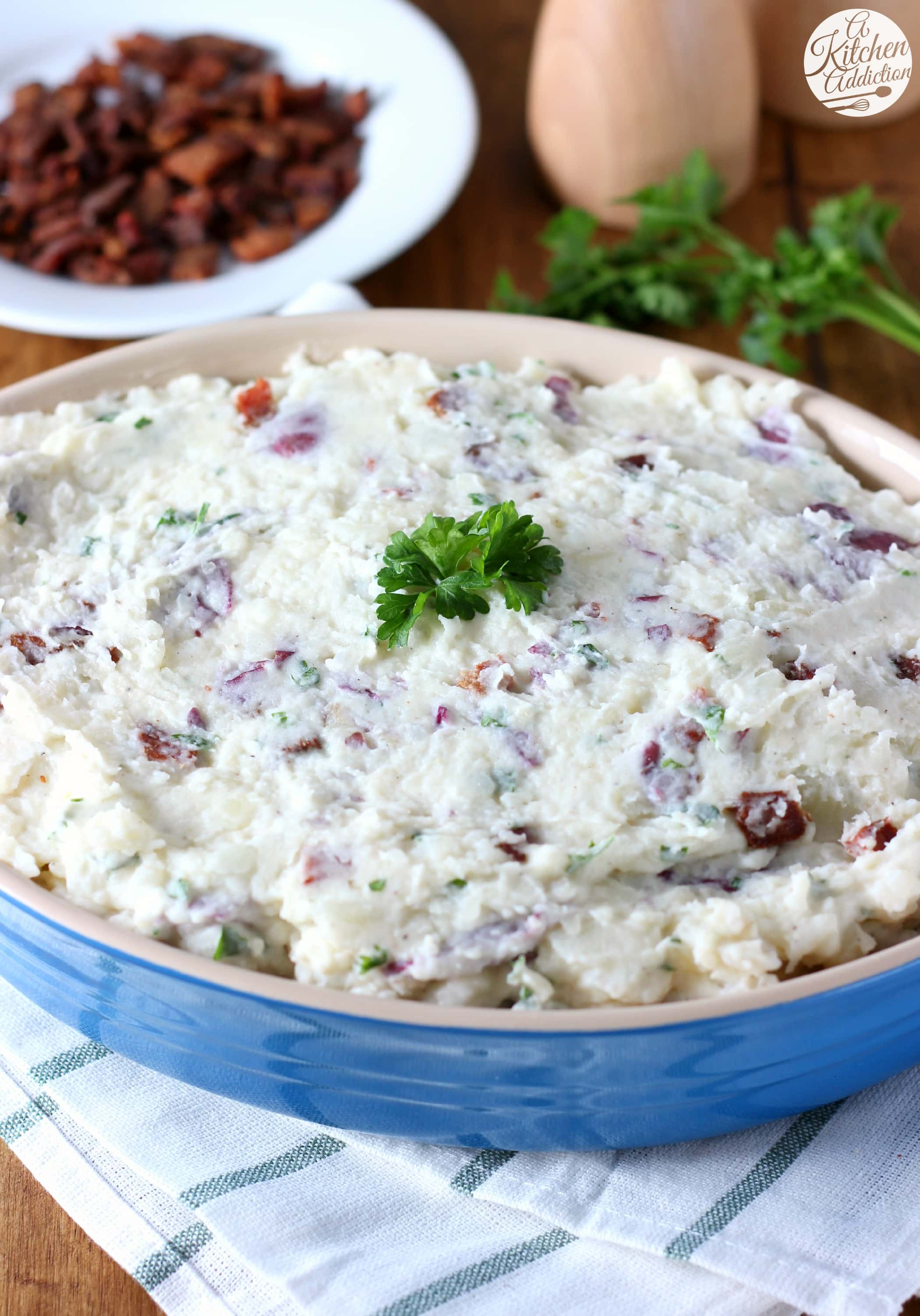 I have another great cookbook to share with you today! I've long been a fan of America's Test Kitchen and their cookbooks, so I wasn't going to turn down the opportunity to review their latest.
And if I had, I wouldn't be able to share these delicious smashed potatoes with bacon and parsley with you!
This recipe is just one of many that I want to try from America's Test Kitchen 100 Recipes: The Absolute Best Ways to Make the Essentials. (Don't miss the opportunity at a chance to win one for yourself at the bottom of this post!) A cookbook filled with recipes that everyone should know how to make!
The cookbook is broken into three sections; The Absolute Essentials, The Surprising Essentials, and The Global Essentials. And just as you would expect from America's Test Kitchen, each recipe has an explanation as to why it's important, the challenges in making it, and how they arrived at this fool-proof recipe.
I always find these sections so helpful not only for the particular recipe that it's referring to, but also in transferring that knowledge to other recipes.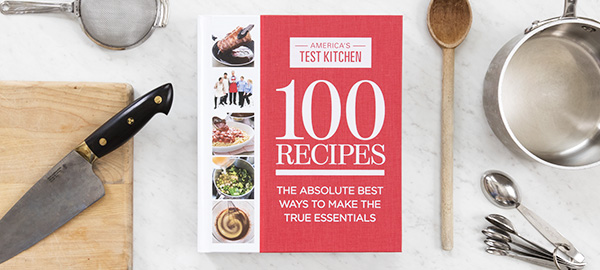 Along with the major sections, they have broken the recipes into smaller categories such as Recipes for the Reluctant Cook, Recipes for the Anyone Bored with Chicken, Recipes that Will Change Your Mind, and my favorite for this busy time of year. . .Recipes for the Tired Cook!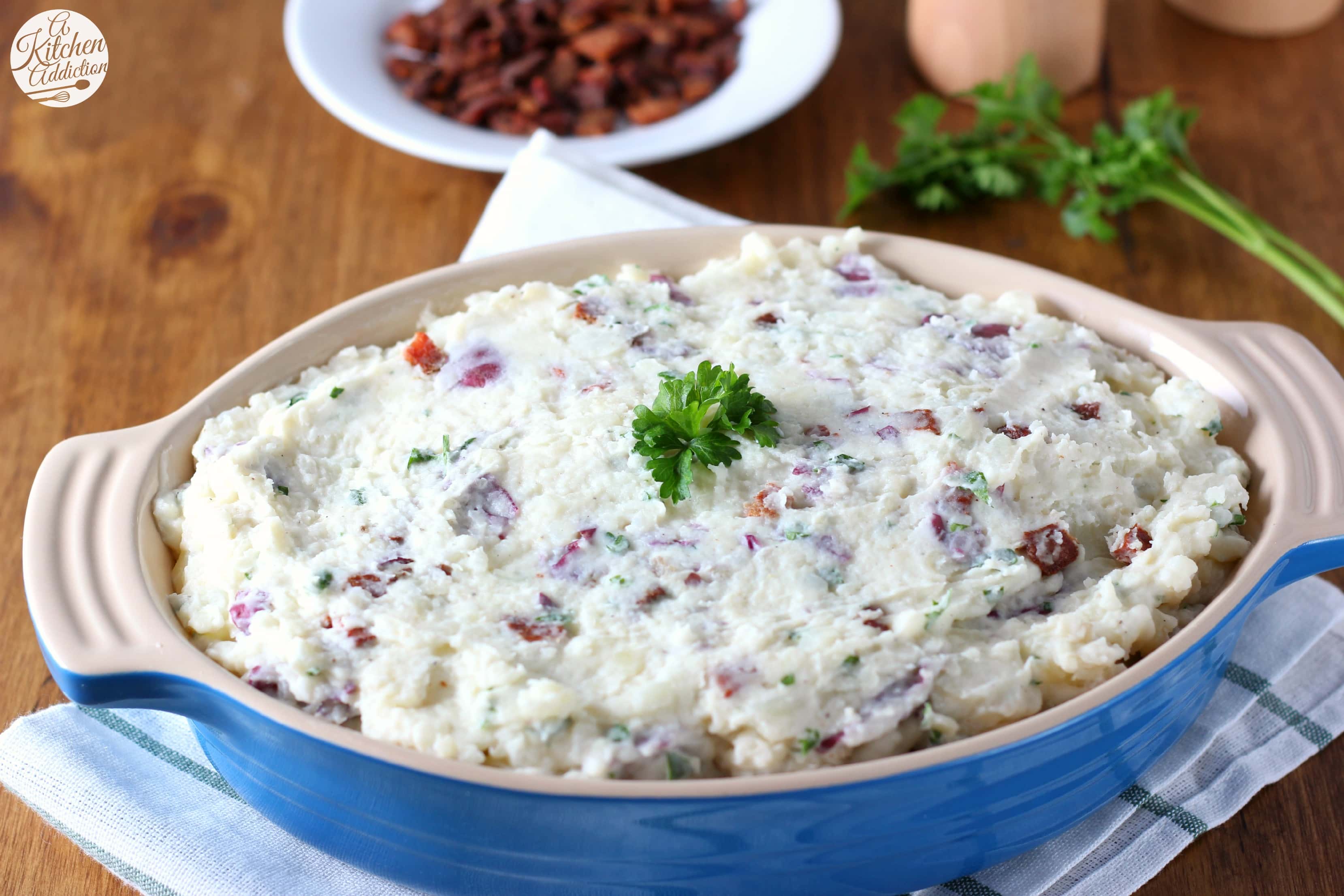 While there were many recipes that I wanted to try, I thought it would be good to give one a try that could be served at upcoming holiday meals.
Potatoes are must with holiday meals and these smashed potatoes with bacon and parsley definitely deserve a place at your next gathering! No dry, tasteless potatoes here!
Instead we have creamy, rich potatoes that are mashed just enough to hold together while still leaving chunks of potato.
Oh, and there's bacon. You can't go wrong adding bacon to potatoes!
I also love the freshness that the chopped parsley gives. It helps make a "heavy" dish seem not so heavy.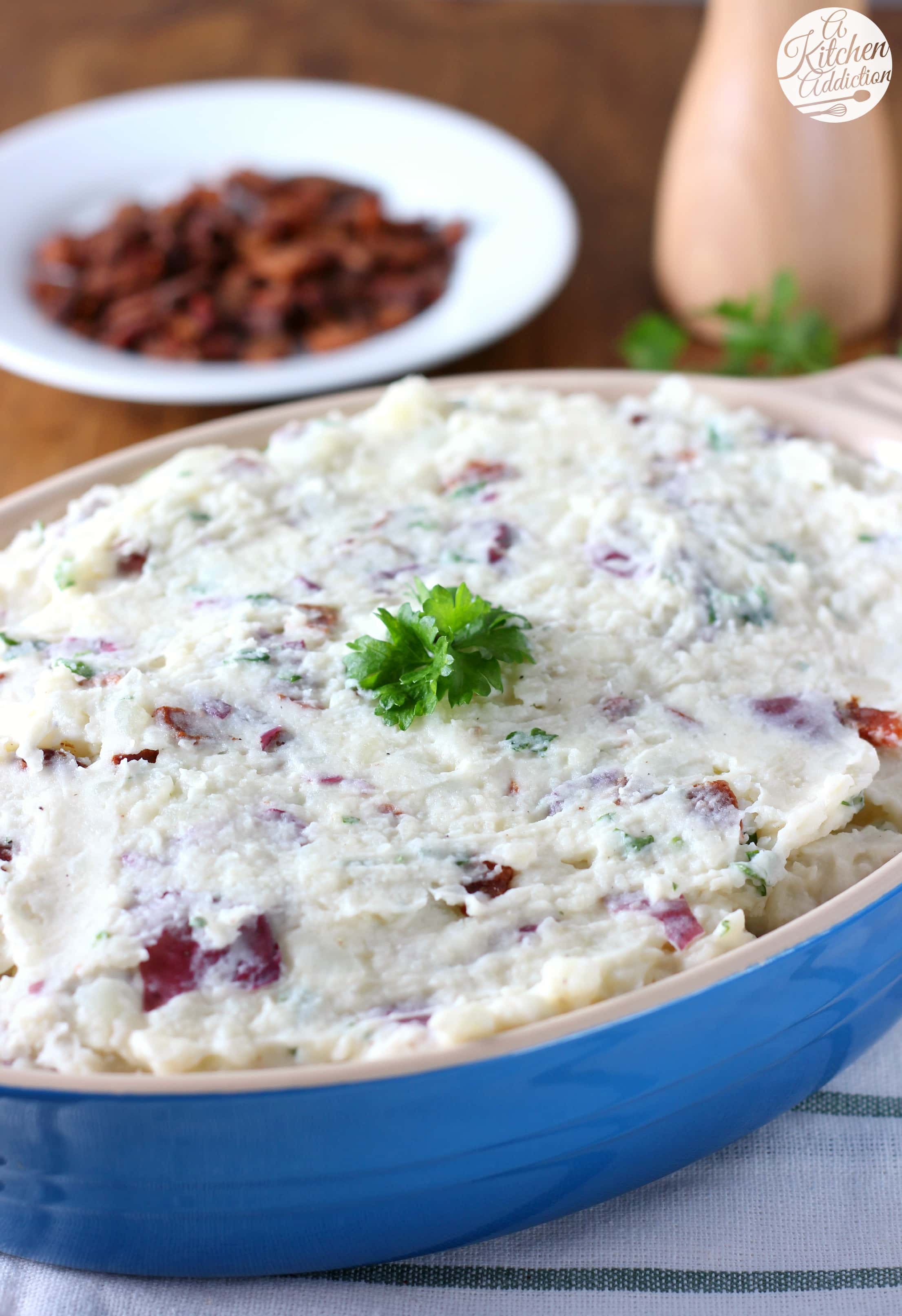 One of the secrets to the creaminess of these potatoes is the addition of cream cheese. I don't know if I'll be able to make smashed potatoes without it now! The cream cheese keeps the potatoes creamy and moist even when you reheat them.
A variation of this recipe included garlic and rosemary. Those will be next on the list to try! Along with all of the other pages I've already marked to try!
Want a chance to win this cookbook for yourself? Simply leave a comment below telling me one of your "essential" recipes! That's it. Good luck!
If you can't wait to see if you won, you can buy a copy here!
Smashed Potatoes with Bacon and Parsley
These Smashed Potatoes with Bacon and Parsley are rich, creamy and filled with real bacon crumbles and fresh parsley! No more dry, tasteless mashed potatoes!
Ingredients
2 pounds small red potatoes, unpeeled
salt and pepper
1 bay leaf
6 slices bacon, cut lengthwise in half then crosswise into 1/4 inch pieces
4 ounces cream cheese, room temperature
3 Tablespoons unsalted butter, melted
2 Tablespoons chopped fresh parsley
Instructions
Place potatoes in a large saucepan and cover with 1 inch cold water. Add 1 teaspoon salt and bay leaf. Bring to boil over high heat, then reduce heat to medium-low and simmer gently until paring knife can be inserted into potatoes with no resistance, 35-45 minutes.
Reserve 1/2 cup cooking water, then drain potatoes. Return potatoes to pot, discard bay leaf, and let potatoes sit in pot, uncovered, until surfaces are dry, about 5 minutes.
While potatoes are cooking, cook bacon in 10 inch skillet over medium heat until crisp, about 5-7 minutes. Using slotted spoon, transfer bacon to paper towel-lined plate. Reserve 1 tablespoon fat.
While potatoes dry, whisk cream cheese, melted butter, and reserved bacon fat in medium bowl until smooth and fully incorporated. Add in 1/4 cup of reserved water, chopped parsley, 1/2 teaspoon black pepper, and 1/4 teaspoon salt and stir to combine.
Using a rubber spatula or back of a wooden spoon, smash potatoes just enough to break skins. Fold in cream cheese mixture until most of the liquid has been absorbed and chunks of potato remain. Add more cooking water as needed, 1 tablespoon at a time, until potatoes are slightly looser than desired (potatoes will thicken slightly while sitting). Season with salt and pepper to taste. Stir in chopped bacon. Serve immediately.
Notes
This recipe can easily be doubled. You will need a Dutch oven or stock pot instead of specified saucepan. Also, you may need to add an additional 5 to 10 minutes of cook time.
Nutrition Information:
Yield:

4
Serving Size:

1
Amount Per Serving:
Calories:

459
Total Fat:

25g
Saturated Fat:

13g
Trans Fat:

0g
Unsaturated Fat:

10g
Cholesterol:

69mg
Sodium:

483mg
Carbohydrates:

47g
Fiber:

4g
Sugar:

4g
Protein:

13g
Nutrition information shown is an estimate provided by an online calculator and may not always be accurate. Nutrition values can vary greatly based on brand used. It should not be considered a substitute for a medical professional's advice.
This recipe is used with permission from: America's Test Kitchen 100 Recipes: The Absolute Best Ways to Make the True Essentials. Giveaway runs from 12/02/15 – 12/16/15