This week's recipe that goes along with our Healthy Habit couldn't really be any easier! This time instead of you doing all of the work, your bread machine does it! I have a BREADMAN convection machine and it works wonderfully for me. My husband and I love fresh bread and this guy does most of the work for me making it possible for us to enjoy fresh bread on a regular basis.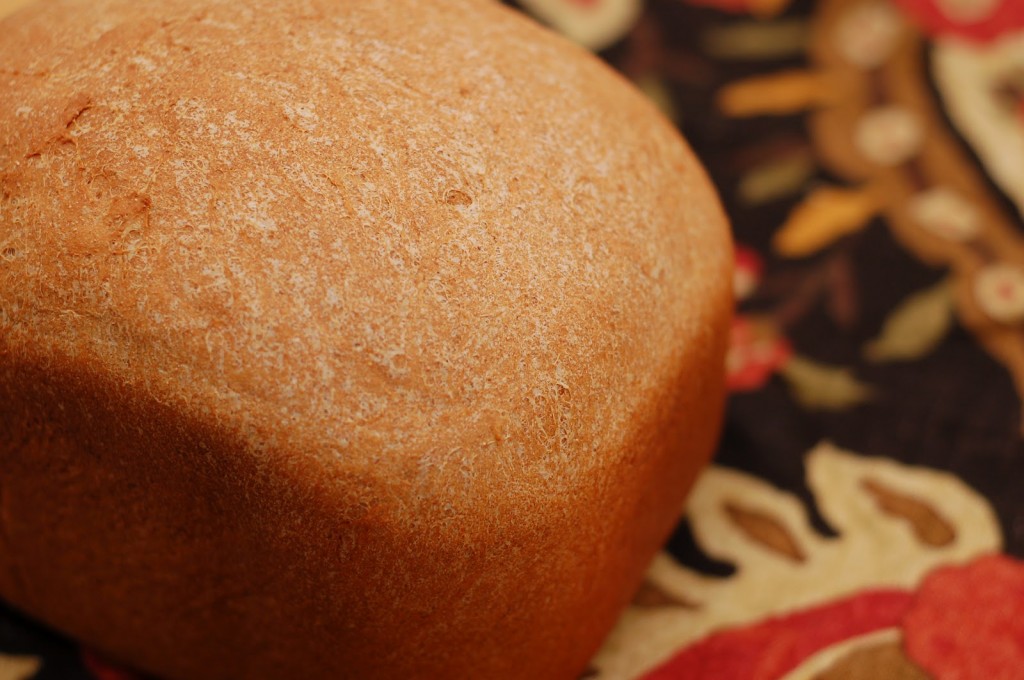 This whole wheat sandwich bread is perfect for both those who already enjoy whole wheat and those who are still skeptics. Good plain, toasted, with pb&j, or however else you like your bread! It is moist, smooth and hearty. Plus, it provides a wonderful aroma to fill your house throughout the baking process! 🙂
Make a loaf this weekend and you'll have fresh, healthy bread for school lunches. And this week you can bring your lunch to work, too!
Fresh from the oven and ready to be eaten!
Mmm. . .a nice thick slice with honey. . .
Simple Whole Wheat Sandwich Bread Pin It
Yield: 1 – 1.5 lb loaf
Ingredients:
1 C + 3 tbsp buttermilk (80 degrees F)
1 egg white
3 tbsp canola oil
3 tbsp molasses
1 1/2 tsp salt
1 tsp baking soda
3 C whole wheat flour (If you want a heartier bread, feel free to experiment with adding flaxseed or oat/wheat bran. This recipe adapts nicely to add-ins.)
2 tsp instant dry yeast (If you are using a rapid rise cycle, use 2 1/2 tsp yeast)
Directions:
Place ingredients into machine according to the instructions for your specific machine.
Use the Whole Wheat setting and set the size to 1.5 lbs.
Start and let the machine do the work!
When the machine beeps, take out the bread, inhale deeply :), and enjoy!