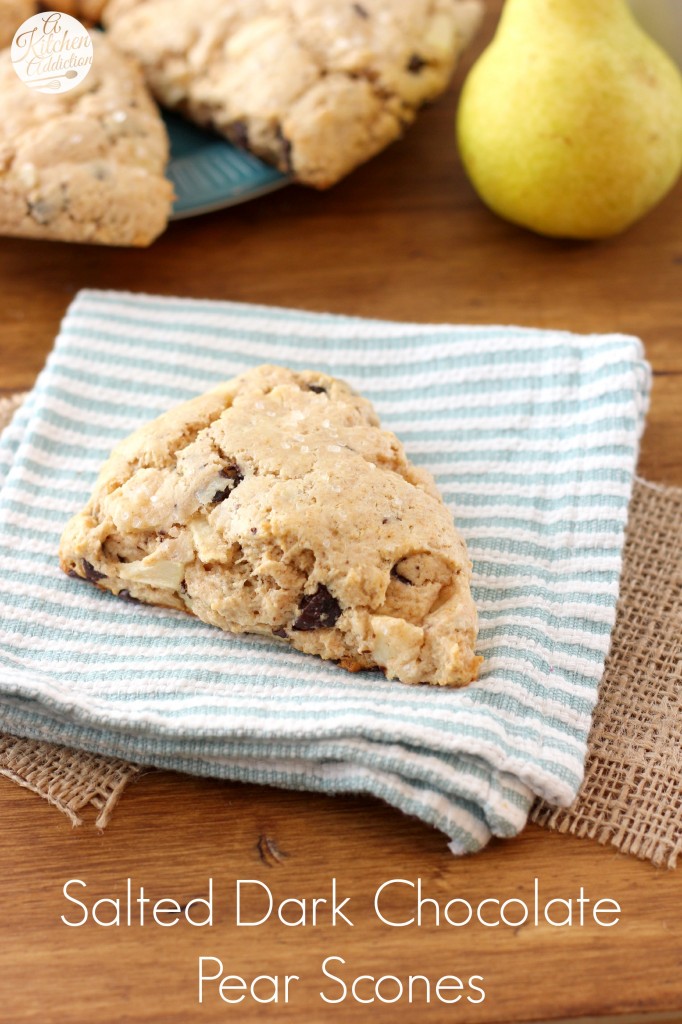 Have you heard? My friend Stephanie, from Girl Versus Dough, just released an e-cookbook! It's called Quick Bread Love and it's loaded with beautiful photos, tasty recipes, and helpful tips!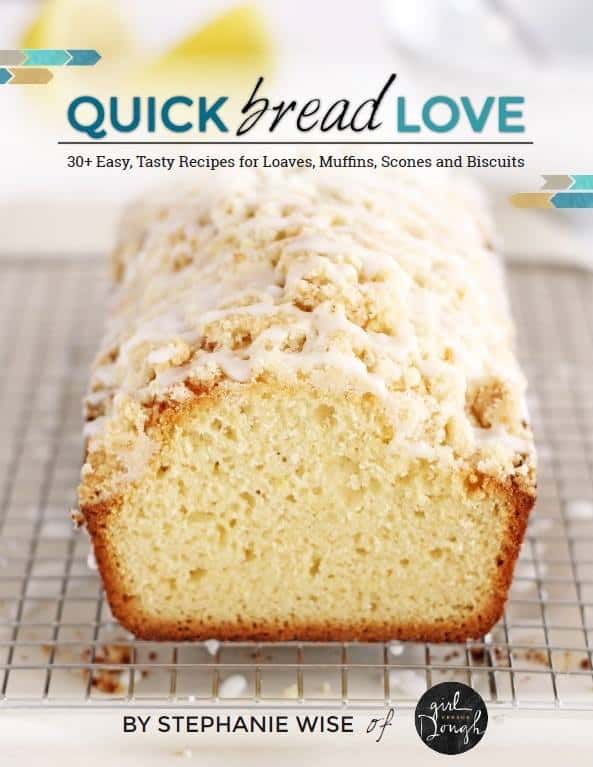 I couldn't wait to spend some time looking at it when I first got it. Of course, as soon as I started making a list of what I wanted to try, I realized that I was pretty much writing down every recipe. From Loaded Baked Potato Bread to Coconut Chai Tres Leches Muffins to Salted Dark Chocolate Pear scones, Stephanie filled this cookbook with all kinds of sweet and savory goodness!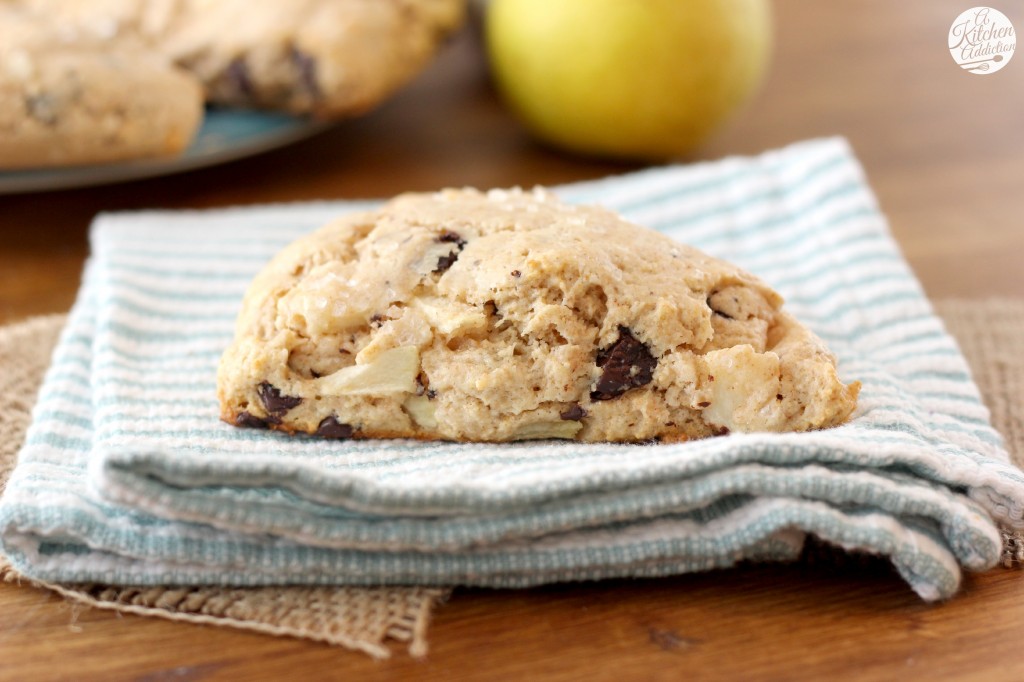 Since I have a slight scone addiction, I just had to try these salted dark chocolate pear scones first. I'm glad I did! The combination is amazing! Rich, dark chocolate and sweet, delicate pears combine with a sprinkling of sea salt to create soft, tender scone perfection! You won't even be able to tell that there's almost half whole wheat flour tucked away in them.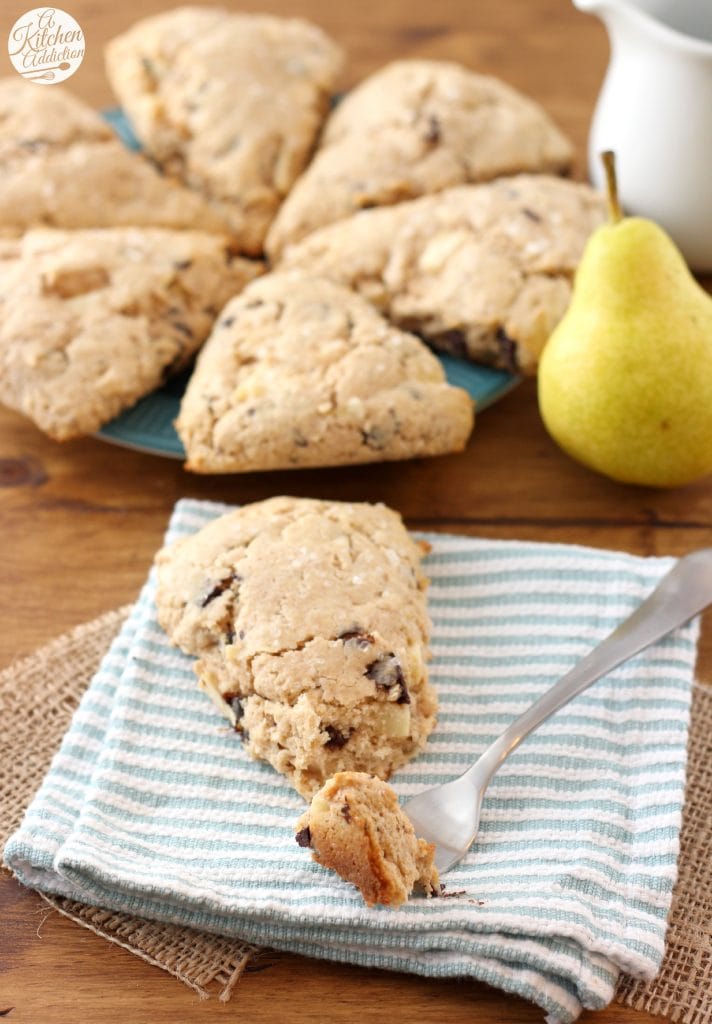 Do you want to own this e-cookbook for yourself? Well, you're in luck! Stephanie is giving away one to a lucky reader! But not only that, she's giving away a whole package of goodies that includes:
Quick Bread Love eCookbook with 31 quick bread recipes
Mini Companion eBook with Butters, Spreads, and Glazes
Printable Recipe Cards
Baking Cheat Sheet
Wallpapers for computers and phones!
Video Tutorial
Scroll to the bottom of the post to enter the giveaway widget!
Don't want to wait?? Buy Your Own Copy Now! You can get your own eCookbook along with Tips for Baking Bliss for just $8! There are 3 packages to choose from, so you can find the one that's just right for you.
Salted Dark Chocolate Pear Scones
Ingredients
1 1/4 C all-purpose flour, plus more for kneading and shaping
1 C whole wheat flour
2 1/2 tsp baking powder
1/2 tsp salt
6 tbsp unsalted butter, cold and cut into pieces
1 C milk or heavy cream
1 C fresh pears, peeled, cored, and cut into pieces
1/2 C dark chocolate chips/chunks
Heavy cream, for brushing
Sea salt, for topping
Instructions
Heat oven to 425. Line a baking sheet with parchment or a baking mat.
In a large bowl, whisk together flours, baking powder, and salt.
Using a pastry blender or fork, cut in butter until mixture resembles a coarse meal.
Add milk, pears, and chocolate chips/chunks. Stir just a few times until dough comes together.
Transfer dough to a lightly floured surface. Sprinkle dough with flour and gently knead into a ball. Gently pat down dough into a 1-inch tall circle. Use a well-floured knife to cut dough into 8 wedges. Transfer wedges to prepared baking sheet.
Brush lightly with heavy cream and sprinkle with sea salt. Bake for 18-20 minutes or until scones are golden brown and puffy. Cool for at least 5 minutes before serving.
This recipe is from Quick Bread Love.