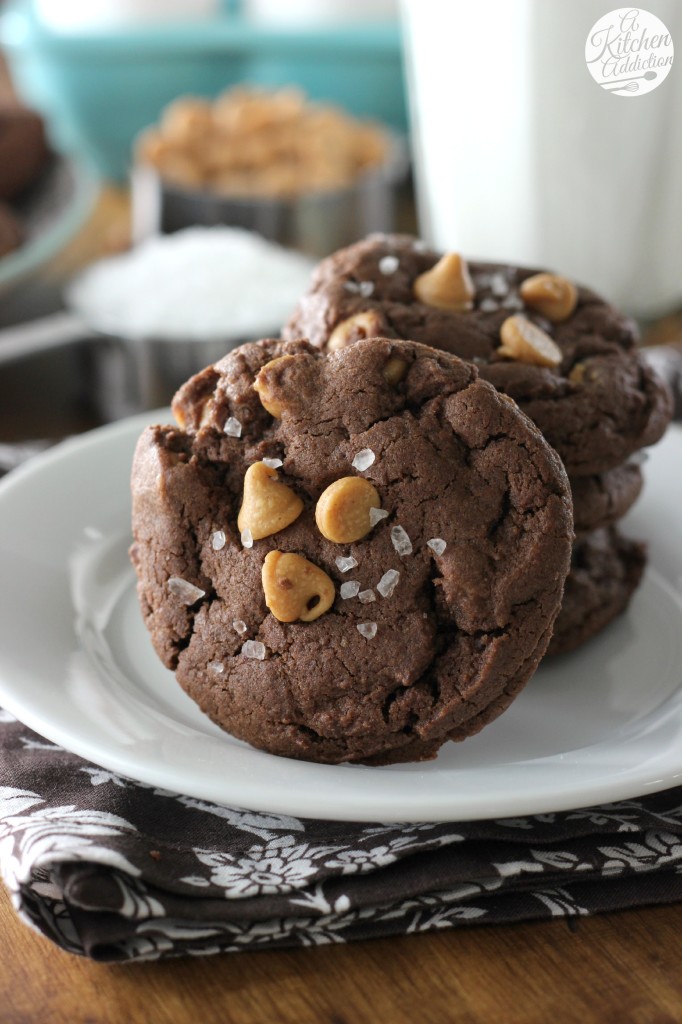 I had the entire morning to bake yesterday and since I never know when the house will have a showing, I took advantage of it!
There were quite a few recipes that I wanted to get through, but first I had to make these cookies. They aren't just any cookies. They are salted chocolate peanut butter chip cookies.
Salted chocolate peanut butter chip cookies that make a minimal mess, have a minimal cooking time, and require minimal effort to eat! I knew I had to share them right away so I wouldn't forget!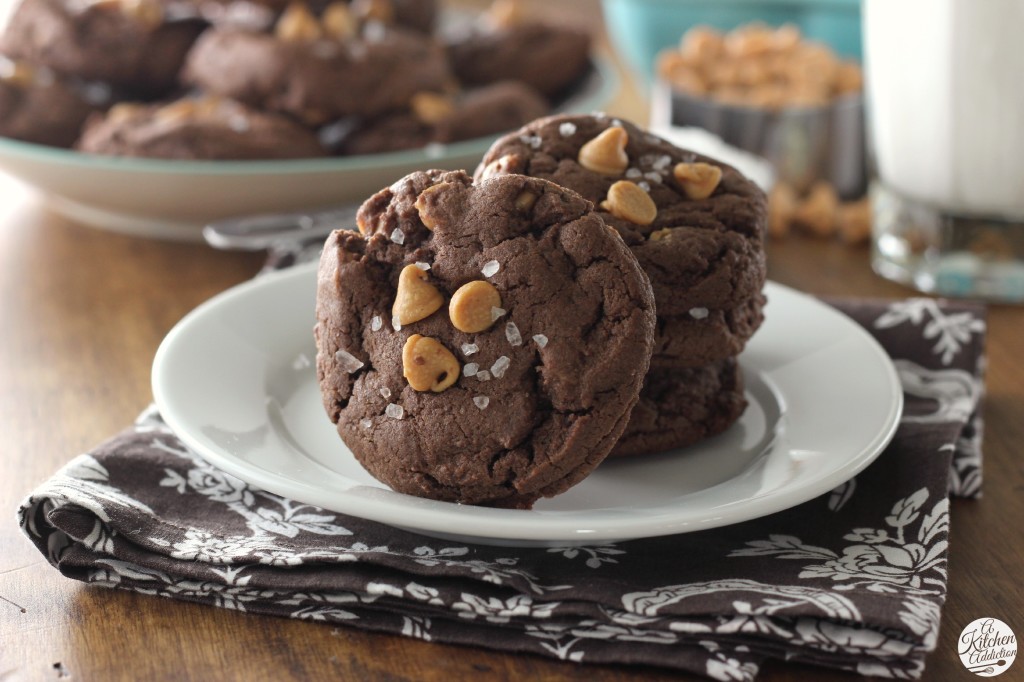 I made these cookies at 8:00 in the morning and had to hide them away as soon as they cooled because they smelled so good!
I can't resist chocolate and peanut butter as it is, but sprinkle on some sea salt and these cookies are irresistible!
I managed to only eat one since I figured having only cookies for breakfast wouldn't be the best way to start off my day. But, hey, if you choose to do that, no judgement here!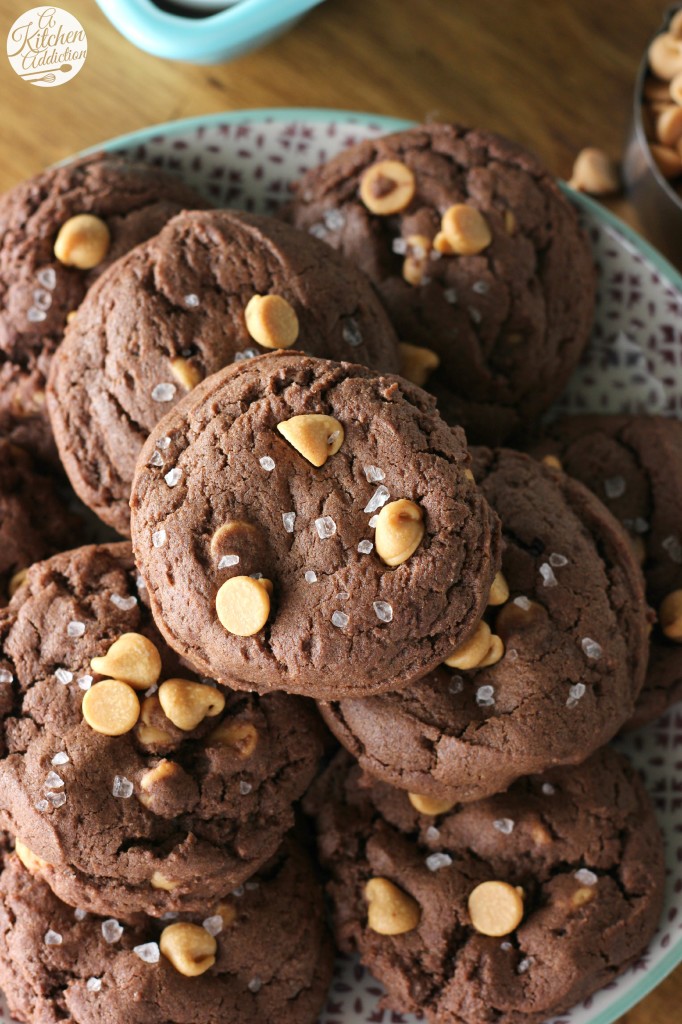 The base of the cookies is a soft, rich chocolate cookie. Sweet peanut butter chips are stirred in to offset the rich chocolate and give them that classic combination.
If you're a little wary of sprinkling sea salt on top of your cookies, you could always leave it off. However, I strongly recommend that you try it on at least a few of the cookies. You'd really be missing out on the sweet and salty combo!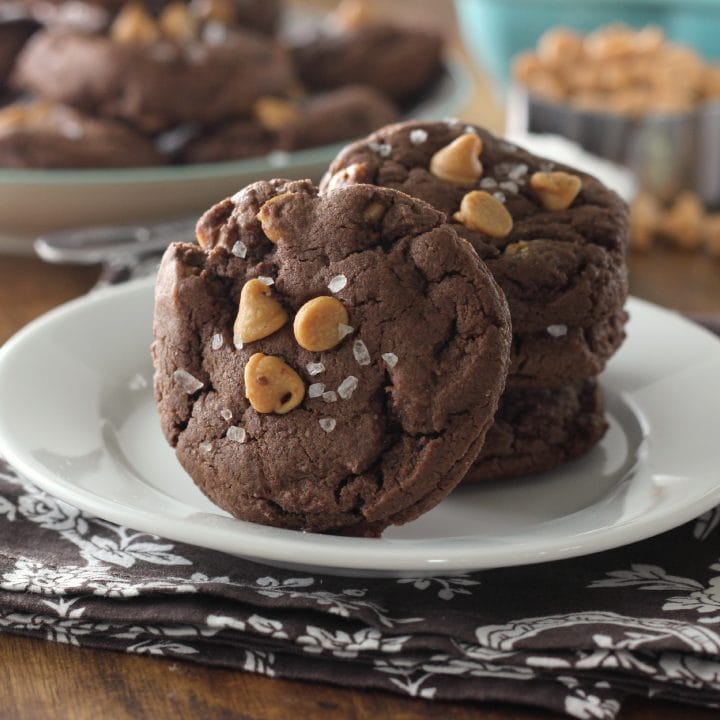 Salted Chocolate Peanut Butter Chip Cookies
Ingredients
1 1/4 C all-purpose flour
1/3 C unsweetened baking cocoa
1/2 tsp baking soda
1/2 tsp salt
1/2 C butter, softened
1/2 C sugar
1/3 C brown sugar
1 egg
1 tsp vanilla extract
1/3 C peanut butter chips
coarse sea salt for sprinkling
Instructions
Preheat oven to 350. Line a baking sheet with parchment paper or a silicone baking mat.
Whisk together flour, baking cocoa, baking soda, and salt.
With a mixer, cream together butter and sugars. Add in egg and vanilla extract. Beat until creamy. Add dry ingredients to wet ingredients and beat until combined. Stir in peanut butter chips.
Drop cookie dough by heaping tablespoon full onto prepared baking sheet. Sprinkle with coarse sea salt.
Bake for 8-10 minutes or until cookies are just set. Cool for 5 minutes on baking sheet before removing to a wire rack to cool completely. Store in an airtight container.
Recommended Products
As an Amazon Associate and member of other affiliate programs, I earn from qualifying purchases.